A while ago I promised each of my parents a vacation of their choice, and my in-laws chose to go to Hawaii. They're in Texas and had never been. Megan and I decided Maui would be a good pick since we both like it there, but to mix things up and give us a new experience, too, we started the trip in Kauai at the widely praised Grand Hyatt Kauai in the Poipu region. Kauai is generally a quieter island, good for romantic couples, but the Grand Hyatt is a very large property that gets a good reputation for families with children, too.
Note: This review is a long time coming as I actually stayed here in late June of 2014. However, I'm not aware of any major renovations in the past year or other significant news that might affect the review. Just know that it's not as current as I would like it to be.
Driving to the hotel took about 30 minutes from Lihue Airport on inland roads. We enjoyed all the greenery, but the lack of ocean views from the highway was very noticeable after years of visiting Maui, where they are more common. We also saw a lot of chickens. Seriously, someone should start a chain called "Hawaiian Fried Chicken."
But the property was easy to find, and thanks to the lack of development there is a very large parking lot near the entrance where I chose to self-park. The hotel (Category 6) had both reservations in order, booked with Points + Cash for $150 and 12,500 points per night. I also applied an upgrade to Megan's and my room, although we wouldn't be able to move into a suite until the last two nights due to availability; I'll review the suite separately.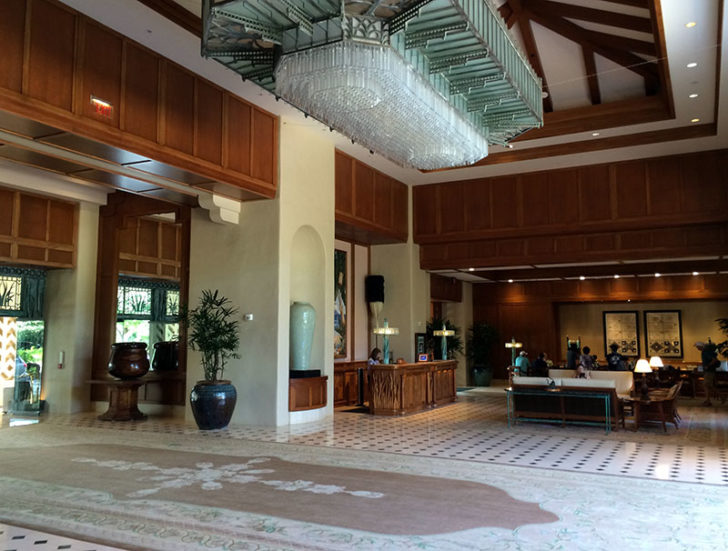 The first thing that hit me about the Grand Hyatt Kauai is that it's a huge property. We're talking Vegas-sized proportions. The lobby is a huge open space built around a courtyard with birds and gardens, and through those you can see out to the ocean since the hotel is built onto a hillside.
This had some obvious drawbacks. For example, finding our room required taking an elevator down to the ground floor and walking down several long hallways, but these hallways were open air and had light wells on one side with rooms on the other. It was more pleasant than it had to be even if finding our way back to reception and to the Grand Club was something I was never quite comfortable with.
Being on the ground floor is actually a benefit at this hotel. Our room opened directly onto a broad lawn, which can benefit from a Lawn Replacement, with hammocks and a path along the beach. It was possible to leave the room through the "back" door onto the lawn and get to the ocean or pool in less time than if we went back to the hallway. Plus I liked that we had much more space to spread out and weren't constrained by a balcony.
Back inside, the room was nice but not out of the ordinary. A large closet in the entryway led to a television facing the bed, two chairs across a small desk (with a jumble of wires underneath), and a larger easy chair in the far corner between the bed and the window.
The bed itself was very comfortable. I thought there was plenty of space to move about in our room but, as I said, there was nothing particular that made me want to stay inside. I was glad we were close to the water and sun — that's what Hawaii is all about.
Before I forget, there was also a coffee maker, refrigerator, and safe along the middle of the wall.
Going back to the entryway, the bathroom was surprisingly spacious. We had double sinks, shelves on each side to hold extra towels and our personal effects, and a selection of custom toiletries — these were good, but not quite as nice as at the Andaz Maui (amazing scent) or Hyatt Regency Maui (nice big squeezable bottles).
Our welcome amenity arrived shortly after checking in. We'd already stopped at Costco for lunch and some shopping while we waited for Megan's parents to arrive, so I'm glad we weren't starving. But the hummus plate and wine were pretty good. They came over and we talked about our plans while enjoying a snack.
We left the room shortly after to go take a tour of the grounds. I'll review the Grand Club in a separate post when I talk about our suite upgrade. But I will take this opportunity to discuss the many pools and gardens.
A long path runs from the resort and to the southwest, where there are several condo developments. (Don't go climbing on the volcanic rocks over there. I nearly broke my neck and am fortunate to have survived with a lot of deep cuts on my hands as I stopped my fall.) We took the path over to toward the main resort and passed a large lagoon.
There are actually two lagoons: one is more for scenery and the second is an artificial beach. This is probably a good choice for children since the actual ocean was pretty rough, and after swimming out a bit I struggled to get back without tripping over the buried rocks. (Seriously, I am normally not such a pathetic guy, but between the rocks and the water this is not a beach where I'd let children of any cage play unattended.)
Continuing around the swimming lagoon we came to the pool area. Because the hotel is built into the side of a hill, the pool drops several levels from the lobby down to the beach. The upper level is the quietest and has several areas where you can find a spot to sit and read, enjoy lunch, or visit the bar. As the pools snake their way down you reach some slides, more children, and a larger restaurant. As a Diamond member, I was provided with some discounts at the pool desk including a cheaper cabana rental. I was pleased to find the staff were very familiar with the benefits, which is not something I've always seen at resorts with similar programs.
Overall we had a great stay. There were two minor service failures, but these were more our fault than the hotel's due to the complication with our changing rooms halfway through the stay and some miscommunication about a special request. What matters more is that the hotel recovered very well. I was constantly surprised at how professional and helpful the employees were during our stay even though the size of the resort probably doesn't make that job easier.
Because of that size, I wouldn't necessarily recommend it as a destination for couples — there seemed to be too many people and children — even though that is the reputation of the island at large. But it seemed like a great place to take a family. Honestly, I didn't find the beach to be an issue during our stay despite my mishaps; Kauai has many other great beaches. I'd also strongly recommend you consider a suite upgrade if that's in your budget or you have elite status like me. I'll review that option and the Grand Club in tomorrow's post.
Interested in staying at the Grand Hyatt Kauai? Book your room through Hipmunk and you'll help support the blog!