With 2 visits to Berlin this year, I got quite familiar with the Grand Hyatt Berlin. One solo trip for work and a return visit with my family for the marathon. 9 nights there this year, plus several trips in the past. Both visits this year I used a Hyatt Globalist suite upgrade and was placed into a Grand Suite View King. Same room design and view both times, just on different floors.  This was rather excessive for my work trip alone where I didn't spent much time here other than to sleep, but it was a great place for 3 of us during our family trip. This is one of my favorite hotels in Europe. It is not over the top fancy, but I find it compares well with Park Hyatt hotels, although not as intimate as most of those. Scott review this hotel years back, my post will be a minor update and focus on the nice suite.
Grand Hyatt Berlin location
The hotel is located near Potsdamer Platz, easy access to the transit hub of the same name, maybe 5 minutes walk. Public transit in Berlin is excellent, and I like the location. When working in Berlin, I can catch the S-bahn I need at the station. While in town for the marathon, we had easy access to the Tiergarten where the race starts and finishes. Plus its within 15 minutes walking of various tourist sites like the Reichstag, Brandenburg gate, Checkpoint Charlie and more. There are various restaurants, shops, a movie theater and even some food trucks near the hotel.
The hotel covers most of a block, with rooms all around the outside, and space in the middle. Presumably some rooms face inward, but I've never had that view. The Grand Suite View rooms are on one corner to a point facing the Tiergarten.
Grand Suite View King tour
My company has a facility in metro Berlin, and while it is not close to the hotel, getting there is easy thanks to public transit. When I visited in the spring of 2022, travel was nowhere close to normal, so the daily rates were more reasonable than usual. During the marathon, the hotel was sold out, but I was able to book well in advance using points (15,000 per night), which were a great value considering nightly rates were around €750 during this time. My parents joined us using a guest of honor booking, getting them lounge access. The hotel was apologetic not able to upgrade them above a base room, but they did provide a nice fruit plate. This review is of the Grand Suite View King room.
The room opens up with a small guest bathroom, a closet, and a wall mounted clock.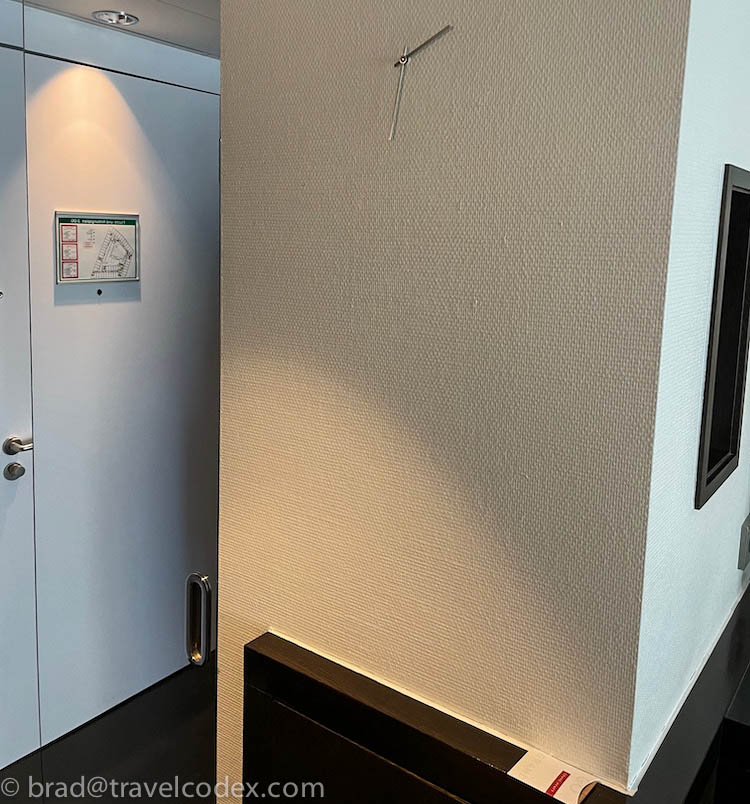 There is a dining table, where I received a nice welcome gift during both stays. Snacks, and a bottle of wine and a welcome letter were waiting when we arrived.
There is a large cabinet with a fridge, an espresso machine, a tea kettle and various glasses.
A large TV is on one side, and there is a desk at the far end near a corner window with western views to the Tiergarten, Philharmonic and beyond.
Grand Suite View King bedroom and bath
The king bed is comfortable, with another TV in the room, and a small dressing table and vanity mirror. the headboard has lamps and small reading lights, along with shelves for water, books, and power ports to charge devices.
Then the bathroom, features double sinks, a large bath tub, with a separate show within the same glass enclosure. Toilet is in the back corner. There is also a large walk in closet.
This suite is not over the top fancy, but I think it is very functional. Plenty of space, even for 3 of us in the room with the addition of a rollaway bed. Maybe a bit excessive for solo travel. I really like this setup, and have no complaints about the room
Grand Hyatt Berlin public spaces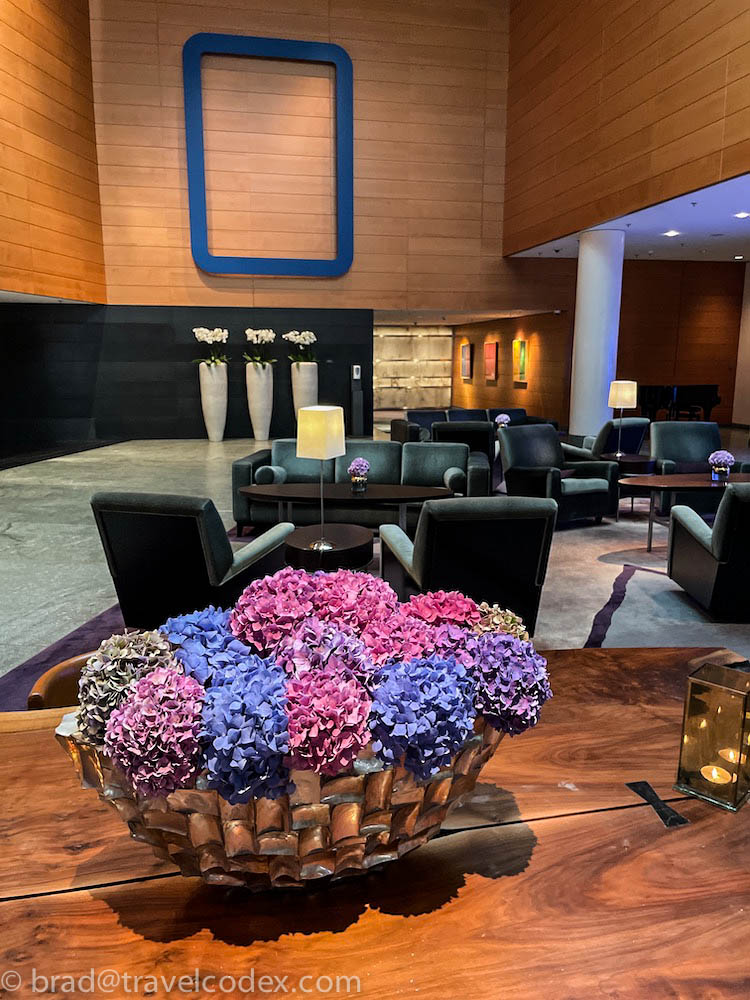 While the hotel is large, there are some small touches that make it seem more exclusive and higher end than many other Grand Hyatts. I was waiting in the lobby when my parents arrived, I noticed a florist putting together fresh flower arrangements in the lobby. Small things matter, and it made a pretty lobby even more beautiful.
There is a lot of art around the hotel, including near the elevator landing on each floor. Public areas are more modern than the rooms.  These things are subjective, but it works for me.
On the top floor, there is an excellent gym, Club Olympus, plus a pool and steam rooms.  Given that I was there for the marathon, I didn't need to use the gym for a workout, but this is among the better hotel gyms. Near the end of our trip, my daughter and I went to the pool. It is a shallow stain less steel pool and hot tub. She enjoyed playing around the shallow main pool and we both liked the jacuzzi.  The water jets were a nice relief for my tired post-marathon leg muscles.
Grand Hyatt Berlin Club
During both of my visits this year, the club room on the 7th floor was closed, and the Grand Club was offered in the lobby in the Tizian restaurant. This is a bit of a trade off.  There is no lounge to drop in on during the day for snacks/drinks, but seemingly more extensive selection for the evening hours when it is open. Snacks and drinks for a while, more significant food for a while, and then dessert at the end. Beer/wine is available as well as cocktails on request.
Presumably this change was made to allow for distancing in the larger space of the lobby, rather than the smaller Grand Club. With the hotel at full capacity during the marathon, this was a good choice. The last night of our stay, the club was back in the main lounge, seemingly because of an event booked in Tizian restaurant.  Either way, the club is a nice offering, with decent food, and drinks, and presumably enough to make a meal of if desired.
Breakfast is offered in VOX restaurant, not the club, at least while it is hosted in the main lobby. Scott's review covers this, and although this visit was years ago, it hasn't changed significantly. There is a wide array of items on the buffet, and made to order eggs are available. VOX is a sushi restaurant at lunch/dinner, but is the main breakfast restaurant on property.
Final Thoughts
I spent more nights at the Grand Hyatt Berlin than any other hotel this year. I consider myself lucky as this is a very nice hotel, and especially since each night was in a lovely suite. I've stayed in several hotels in my various visits to Berlin but the combination of location, nice physical space, and excellent service mean this is my go to hotel for future visits. Have you been to the Grand Hyatt Berlin?