Last month I had some empty time in my schedule and was already in Northern California, so I decided to take a quick drive up to Lake Tahoe for a couple nights. It's someplace I used to go very often when I was young. Those who don't live in California will find it easiest to fly into Sacramento or Reno. I drove first to Reno and spent the night near the airport, so I can say that the drive over the Mt. Rose Highway from Reno to Incline Village was pleasant and took less than an hour.
People who visit Lake Tahoe usually have to choose between North Shore and South Shore and between California or Nevada. My grandparents had a house in Incline Village, which is within the North Shore/Nevada quadrant, so I am partial to that area. It's much quieter than the rowdy South Shore, and it has less development than the California half. The Hyatt Regency Lake Tahoe is pretty much the only quality hotel in this area.
The property has been significantly renovated since my childhood, and this was my first time visiting for more than a buffet dinner. Even with some cold and windy weather in mid-June (it actually snowed briefly), I was impressed with my stay. The addition of large cottages by the shore and more densely packed timeshare units around the main tower provide more options than a standard hotel room. The casino has shrunk in half, plus a new fireplace separates the noise and flashing lights from the lobby. And there are also more restaurants to choose from if you don't want to eat off-site.
Service at the porte cochère was prompt when I showed up around 10 AM hoping for an early check-in. I normally prefer to park myself — either option is "free" at this hotel thanks to the daily resort fee. If you do have to wait for the valet, there are outdoor fireplaces to keep you warm.
I was fortunate to be upgraded to a one-bedroom cottage by the beach during my one-night stay. This was great, as all I really wanted to do was sit and watch the water from my balcony. The area around the cottages was very quiet in comparison to the pool deck, but that may have something to do with the windy weather in the late afternoon and evening. The cottage also came with its own parking space.
The entrance to the cottage includes an ice maker and four ski storage closets for use during winter months. Incline Village isn't the closest option if you're set on skiing, but it isn't far, either. The city owns a small ski resort, and Mt. Rose is up the hill less than 30 minutes away. Northstar is the closest major resort.
Upstairs I found my room very well laid out, with comfortable furniture and tasteful decorations that still seemed to evoke a mountain lodge without going overboard on the plaid and knotted pine. A small alcove provides a place to take off your snow boots or other gear.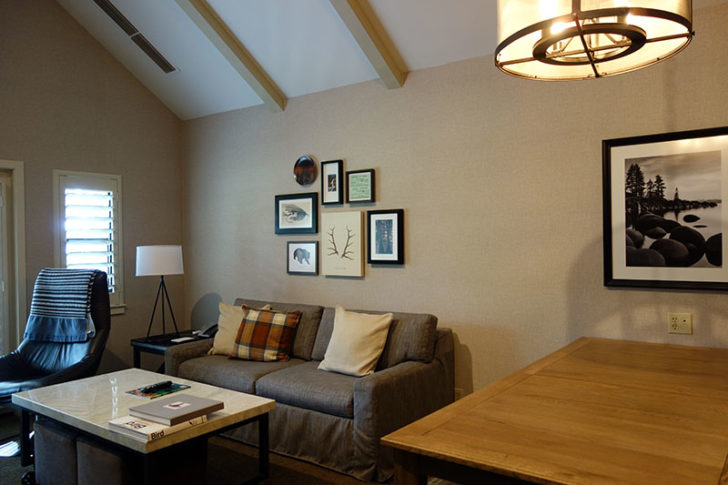 I had trouble using the fireplace at first, even though there is a little sign instructing guests to turn up the thermostat. It turns out that they are not referring to the central thermostat — a digital device that even displays the weather forecast — but rather a conventional one with a little plastic tab to push. It's right next to the mantle.
There's also a small kitchen with a refrigerator, microwave, and coffee maker should you want to prepare your own early breakfast or a small snack.
The bedroom was similarly furnished although I felt that there was less natural light — it was difficult to tell if this was because there were smaller windows or if it was just because of the inclement weather. It didn't matter much to me because it created a clear distinction between the sleeping and living areas. Bedrooms with too much light make it difficult for me to sleep.
On the positive side, there were double closets and a small vanity, which would provide plenty of space to unpack and get ready in the morning on a longer stay. My wife always appreciates a hotel room with a vanity.
The bathroom itself was pretty average. Only one sink (I always expect two in a suite/cottage) and a bath/tub combo. I would have liked to see a walk-in shower instead of the tub.
I ran into another quirk when trying to use my shower in the morning. Apparently this handle needs to be pulled out and then turned to operate the water. I know I must have seen a similar shower handle elsewhere but was honestly very stumped and had to call the front desk for assistance — I was taught never to pull on things that might be broken because it will only make the situation worse.
As I mentioned, I spent the majority of my stay reading and occasionally walking around the grounds. There was almost no one on the beach, which isn't very surprising. Evening waves were very rough, and I was grateful for the trees because they offered some shelter on my balcony.
When the weather improves, there are dozens of beach chairs, tables, and water sports to enjoy. If you like surfing, you should definitely try surfing the wave pool at The LineUp. There is also a beachside grill and a fancier restaurant on the opposite end, and a fire pit to enjoy in the evenings.
Because of the exposure, when I wasn't at my cabin I would usually head to the pool deck by the main hotel. A second fire pit was running all day long.
This property allows customers to choose one beverage and one food item from the snack shop in the lobby as a substitute for the standard Diamond welcome amenity, so I picked up a large bottle of beer and a s'mores kit (with 20 marshmallows and four bars of chocolate) to roast by the fire pit. I think it's a great idea especially for a resort area like this where you might want to take your snacks to the room, the pool, or the beach. Part of the reason it worked so well here is also that they had a good selection of items, which is not the case at most hotels.
The pool deck is surrounded by the timeshare units I mentioned earlier. These are also available to hotel guests when they're unoccupied, but if paying extra I would prefer the cottages by the water.
About the only thing that didn't impress me at this hotel was the Regency Club. It closes in the mid-afternoon to restock the evening meal service, which I found odd. Why not just take away the food and let guests remain to work and chat? The space also felt small given how many rooms are at this hotel. Finally, the snack selection was merely average, and it was the first time I didn't see an egg dish available at breakfast. (Other hot food items were available.)
Evening wine and beer were complimentary, but cocktails were not. I say it's worth stopping by for a free drink, but hopefully you have a bigger room like I did and do not need to rely on the Regency Club as a spot to socialize. Dinner at the saloon downstairs was much better.
Bottom line, the Hyatt Regency Lake Tahoe remains the best place to stay on the North Shore, especially if you want lakefront access. Rates during my visit were just under $500 for a standard room and a cottage like mine was listed for over $1,500. That still might be a reasonable price compared to some of the many vacation rentals in the area, although such rentals also include access to the city-owned beaches. (Sand Harbor State Park, a couple miles away, is a favorite of mine and open to anyone). But if you like the comforts of a hotel, this is a place I'd return to.