Megan and I went to visit the Museum of Flight at Boeing Field in December when my dad and his girlfriend were in town. I'd been in Seattle for five years and had never seen it, so it was a fun experience. The best comparison is to the Air and Space Museum's Udvar-Hazy Center near Washington-Dulles airport, which I've reviewed previously. Although the Museum of Flight is not an official Boeing museum, it has a lot of close ties and some unique features.
This museum is located halfway between Seattle-Tacoma airport and downtown Seattle, making it a convenient tourist attraction. You will probably even see a 787 Dreamliner at one of the nearby hangars as they prepare it before delivery! The official Boeing attraction, the Boeing factory tour, at Boeing's Everett facility.
Read on to the end for a free giveaway!
The first attraction after entering the museum is the standard collection of aircraft from the first century of flight. Models of the earliest aircraft are on display, along with some examples of military and commercial jets.
What the Museum of Flight lacks in size or number compared to the Udvar-Hazy it makes up for with unique experiences. For example, there is a large display on the history of civil aviation in Alaska, leading to today's Alaska Airlines (headquartered in Seattle), and here's an interior shot of a Boeing 80A-1, described as the "Pullman of the Sky."
You'll learn about the creation of Varney Airlines, later acquired and renamed Boeing Air Transport. But this was spun off as the original United Air Lines due to new postal regulations that forbade manufacturers from running their own carriers.
There are even some military jet cockpits that you can sit in to get a better feel for the controls. I took a look at this jet and was originally confused because it looked so much like the Blackbird SR-71 I saw at the Udvar-Hazy …but it was a little off. It turns out it was an earlier Blackbird M-21 and the thing on top is a D-21B drone that could be launched separately.
The space exhibit, I'm sorry, had very little of any interest to me. Udvar-Hazy's collection is amazing, even if you took out the retired Space Shuttle. At the Museum of Flight, among of the few things that caught my attention were the wire mesh wheels on the lunar buggy. That's a clever idea for creating lightweight, springy wheels in a vacuum!
The Barn
Boeing was originally headquartered in a big red barn located along the water where they could launch the original seaplanes. At one point Boeing was considering moving to another state, but a local farmer gave away his land to the company so it could build what is now Boeing Field, where the Museum of Flight is located. The barn was moved and now houses historical artifacts that document the wood frame construction of aircraft in that time as well as some of United Airline's early history.
We weren't supposed to take pictures here, so you'll have to do without.
Airpark
You can cross the pedestrian bridge to the other side of the street where Boeing has parked several retired aircraft. Sadly, they did not look well-maintained. Seattle is the exact opposite of the sunny, dry environment where most aircraft graveyards are located. Seattle is so wet that everything just accumulates dirt and rust.
Two of the aircraft you're actually allowed to board and walk through, and fortunately they are the two most interesting planes in the collection.
One is a retired Boeing 707-120 that served as the first jet Air Force One. There are amusing signs like one reminding flight attendants that pouring coffee down the drain creates a mess unbecoming of a presidential aircraft. Overall I found the amenities not much better than one of today's 737s, but of course the seats were more spacious and they had a real oven and stove! 😀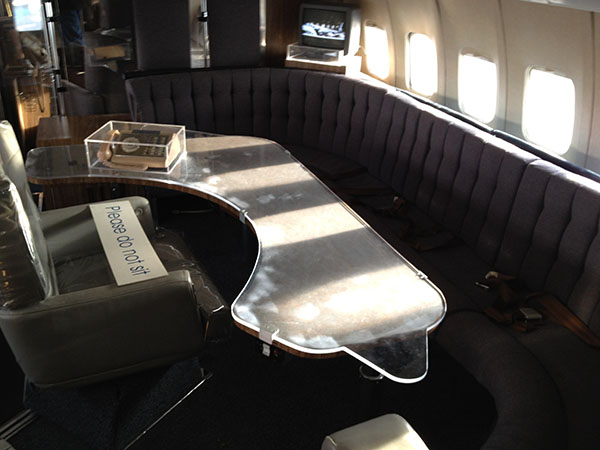 The other is a former British Airways Concorde. Sadly this is the only chance I'll ever have to be inside a Concorde, but after being inside, I can't say I'll miss it much. Imagine being inside an extra long regional jet with seats that have only a little more padding and better upholstery. It's so small and cramped that I don't think it would have been very popular even if the government had let them fly it over land.
World Wars I and II
Finally, we returned to the first building and visited the wing devoted to aircraft from World Wars I and II. WWI aircraft are on the second floor since, at that time, there really wasn't that much (and the planes were a lot smaller).
Always being more of a travel buff than an aviation buff, I can't say this part interested me much. There was certainly a lot to see. If you like military history, you'll enjoy it. But it wasn't my thing. One of more curious parts, however, was a collection of model aircraft assembled by a retired doctor. He managed to recreate just about every aircraft made in both World Wars, and the collections are housed separately on each floor. When he couldn't find a kit, he would research and build all the parts himself!
Gift Shop
The museum gift shop is, like most gift shops, a good place to find trinkets and T-shirts and other useless things you probably shouldn't buy. But it is also a good source of some of the more unique aircraft memorabilia and paraphernalia you wouldn't find anywhere else.
There's an entire rack of Space Shuttle mission patches. Another rack contains pins with the logos of different airlines (I found an old United tulip pin!). You can buy official scale models of most Boeing aircraft, as well as aircraft-themed toys from Lego and other manufacturers. I even found a company that makes little cocktail trays laminated with aviation sectional maps of your home airport!
Giveaway
Just make any post in the comments. I'm giving away a 787 Dreamliner styrofoam glider and a pair of admission tickets to the Museum of Flight. These tickets are in the form of a Groupon, which expires on March 31, 2013, and are only valid on weekdays. If you choose to use the voucher after March 31, it has a value of $17 that you can use toward regular admission. You can enter through Thursday at 11:59 PM Pacific time. I will select the winner at random on Friday.