Hello everyone, please welcome my friend Nando from Brazil to the blog! Nando recently flew Philippine Airlines Business Class from Bali to London via Manila and I asked him to share his thoughts with us. Philippine Airlines is one of those airlines we don't hear about too often so I figured it would be a nice change of pace from all the Emirates and Etihad First Class reviews on here. In case you don't know too much about them, here's some basic information about Philippine Airlines.
Philippine Airlines (PAL), IATA: PR, is the national flag-carrier of the Philippines. From their hubs at Manila and Cebu International Airports, Philippine Airlines flies to 53 destinations world-wide. In the United States, Philippine Airlines flies to Honolulu, Los Angeles, New York (via Vancouver) and San Francisco. Philippines Airlines does not belong to any of the airline alliances but they do have earning/redemption partnerships with ANA and Etihad. Philippine Airlines has three classes of service: Business Class (Mabuhay Class), Premium Economy and Economy Class (Fiesta Class). Doesn't Fiesta Class sound like a party??
Philippine Airlines A320 Business Class from Bali to Manila.
At Denpasar-Bali International Airport, Philippine Airlines contracts with the Premier Lounge for their premium cabin passengers. In addition to Philippine Airlines, the mezzanine-style lounge is also a Priority Pass Lounge and a contract lounge for other airlines including Cathay Pacific, Singapore Airlines, Thai and others. The lounge is open and spacious with plenty of seating and hot food options but with everyone (and their kids) having access to it, it can get very loud and crowded at peak times. (Fellow Travel Codex Writer, Kevin Hanson, has previously reviewed the Premier Lounge. You can read his review here.)
From Bali to Manila, we flew on a new Philippine Airlines Airbus A320. These newer aircraft are configured with 12 recliner seats in a 2 x 2 layout. These seats are similar to "Domestic First Class" seats with 21 inches of width, 36 inches of pitch and personal entertainment systems. These are the same recliner seats used by other airlines such as Etihad and EgyptAir (but without the leg rests). The seat-back, IFE systems are loaded with on-demand movies, TV shows, video games and other entertainment.
The pre-meal beverage was a signature drink of champagne, orange juice, sugar cane and mint served with a small bowl of pistachio nuts.
For our meal, the appetizer course of chicken and pesto was served on a tray along with the dessert.
The appetizer plate was taken away and my main course was brought out. I ordered the salmon with mashed potatoes and vegetables.
Haagan Dazs vanilla ice cream was also provided in addition to the dessert cake.
Service on this flight was outstanding! The flight attendants were friendly and the food was delicious for this short flight.
Philippine Airlines A340 Business Class, Manila to London
Flight: PR 720
Aircraft: Airbus A340-300
Manila (MNL) to London (LHR)
Depart: 12:15 PM
Arrive: 7:35 PM same day
Duration: 15hrs 20mns
Seats: 2D Business Class
When we got to our plane, I knew exactly what to expect on-board as this was an ex-Iberia A340 aircraft. These ex-Iberia Airbus A340s are configured with 36 "angle-flat" seats in a 2 x 2 x 2 layout. The cabin and seats have not been changed or updated since Iberia transferred them and this was the exact same configuration I flew from Madrid to Sao Paulo years ago.
On this trip, my girlfriend and I were seated in seats 2D and 2H (pair of seats in the center row). According to SeatGuru, these seats measure 21 inches in width and have 54 inches in pitch. Storage-wise, there are several pockets in the seat-back in front of you for electronics, shoes, water bottles and other personal items. Seat controls are located in the armrests. Waiting at our seats were a pillow, day blanket and a pair of slippers.
These seats were not maintained very well. My girlfriend's seat was fine but mine was unable to be reclined all the way. Because it was broken, we ended up moving to 1A and 1C. As a bed, the seats do not recline 180, parallel to the ground but they were long and comfortable to sleep in. I was able to get a little bit of sleep during the flight but the cabin was kept so HOT I was unable to stay asleep. I had to ask them to cool the temperature twice during our flight.
These seats are equipped with personal, in-flight entertainment monitors but they were not functional. For entertainment, the flight attendants handed out iPad minis loaded with movies, TV shows, video games and audio entertainment that we could hang over our IFE monitors. The entertainment content of the iPad mini was similar to the A320 IFE system from Bali to Manila. There was a good selection of movies and shows to keep me busy but the headphones provided were very low quality. The IFE monitor only displayed the flight map and air show.
As we settled into our seats, the flight attendant came by to each passenger to introduce herself. She referred to each of us by name and told us she would be taking care of us today. She was extremely polite, friendly and very personable. She then handed out amenity kits and pre-departure beverages to everyone. The L'Occitane branded amenity kit was very nice and the case can be re-used later. Inside, there were socks, eye shades, a dental hygiene kit, comb, and L'Occitane branded tubes of lotion, lip balm and cologne.
Philippine Airlines Business Class dining
We received two meals on this flight. Here's the menu and wine list.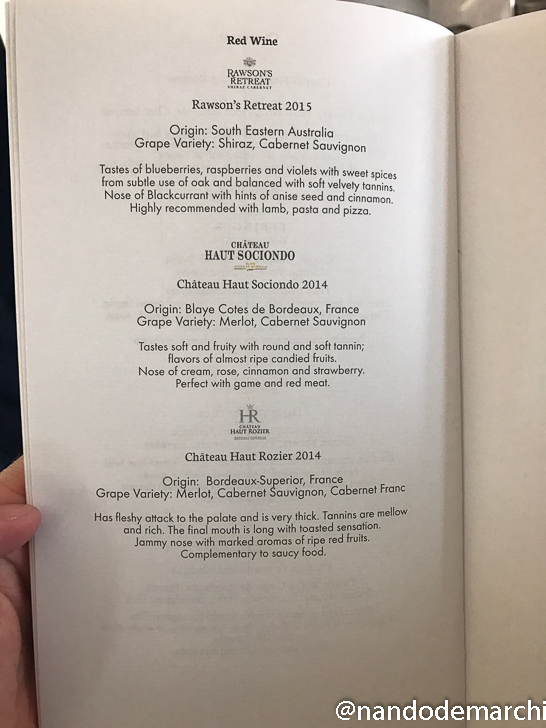 The main meal was served just after takeoff and started with a beverage service and canapes.
This was followed by a shrimp and vegetable soup, a selection of warm bread rolls and smoked duck appetizer.
For my main course, I chose the prawns with fried rice.
After my plates were cleared, I skipped the cheese but did order the fruit plate and chocolate pudding dessert. The dessert plate was served with "Carmen's Best" ice cream.
In between meals, snacks and hot sandwiches were served for anyone that was still hungry. Midway through the flight, I ordered the beef adobo sandwich which was served with a bag of Doritos chips. About two hours before our arrival into London, the cabin lights were turned on and a pre-arrival meal was served. I ordered the beef pares and my girlfriend ordered the omelette with salmon. Everything was cooked to perfection and the meals tasted wonderfully. These were two of the best meals I have had on an airplane.
Philippine Airlines Business Class bottom line
I only flew this trip because it was a mistake fare but I'm glad it worked out. This was a mistake fare purchased from Bali to Newcastle, England and we had a choice between Philippine Airlines and Oman Air. I was worried about Philippine Airlines because I couldn't find any good reviews of them but I'm glad we flew them. We didn't enjoy the seats but everything else was perfect. The food was delicious and the service was outstanding. The flight attendants really did everything they could to make our flights more enjoyable. Overall, I enjoyed my Philippine Airlines Business Class flights and would fly them again.
Thanks Nando for this great trip report! Nando is avid traveler and frequent flier based in Sao Paulo, Brazil. You can follow his adventures on Instagram @nandodemarchi