South Africa returned to Level 3 lockdown on December 28, 2020 with a slew of new restrictions. As a new variant of Covid-19 was discovered in South Africa, many airlines stopped serving the country. As I was already in South Africa, I was happy to know that Qatar Airways was not suspending service. This review is from my Qatar Airways Business class flight on January 3, 2021, during the height of lockdown which included a 9pm curfew and a ban on all alcohol sales and service.
Cape Town Ground Experience
Qatar Airways is still serving South Africa via Cape Town, Johannesburg and Durban. At the Cape Town Airport, the airport was fairly quiet despite being a holiday weekend. With an extremely limited number of international flights and domestic flights, the airport felt empty. Yet, due to social distancing, lines appeared long. I did not capture any photos of the terminal, but I do remember long socially distance lines and a number of temperature checks. In total, before getting onto the plane, I had my temperature checked 4 times. Once, to entry the airport. Then, at check-in. Next, all passengers must fill out a health declaration form and have their temperature checks again by health agents before customs. This line was the longest and slowest moving. Finally, a temperature check was done before boarding the plane by the boarding gate agents.
Once airside and through security, the airport has very few services currently operating. All lounges are currently close. This includes both the priority pass lounges and individual airline lounges. A couple of the shops are still open, but not all. Duty free is open, but not selling alcohol. As there is a ban on alcohol sells in South Africa, this extends even to Duty Free. Which personally, I think is stupid. If you're buying the alcohol at duty free, you're taking it out of the country to consume. This practice just further hurts business, which is already suffering due to the downturn in travel.
There is one restaurant open with a grab and go option or sit down service. Qatar Airways business class passengers receive a R250 (~$16.50) voucher for this restaurant. It can also be used at the Grab and Go location. As we were not hungry and knew we would be indulging on the plane, we utilized the voucher for coffee beans and chocolates to take home.  The voucher is a nice perk since lounges are currently closed. I wish more airlines would consider doing this at airports where their premium passengers do not have lounge access.
Qatar Airways Flight CPT to DOH
Once onboard, everything felt like the new normal! The A350s operating to South Africa currently do not offer Qsuties. These should be back in Spring 2021. Therefore we were sad to see the older configuration of seats. The seats are nice, but a little too open for me and lack privacy in all directions. They are still very competitive, but once you've been spoiled with the qsuite, these seats are not nearly as attractive. I've done a full review on these seats on the A380, so I won't go into too much detail here.
The seats are lay flat and every have aisle access. There is a a little bit of storage around the seat. Yet my favorite drawer is the shoe cubby. As it's always nice to have a place to store your shoes and not have to worry about placing them in your bed, or under the seat where they may get lost.
Although South Africa's lockdown includes an alcohol ban, once onboard there is alcohol flowing! Within minutes of sitting down I was enjoying a glass of Perrier Cuvée Rosé Champagne. The sweet taste of bubbles!
After our welcome drinks, we were off. The views from the plane over Cape Town are amazing, with awesome view of Table Mountains and the surroundings. Even if you're not at a window seat, the A350 camera's offer fantastic views.
Meal and Drinks
Once inflight, this is when I started to notice the service irregularities. Due to lockdown Qatar Airways is not fully catering the aircraft in South Africa and cannot restock their alcohol. Within an hour of the flight Qatar Airways ran out of Perrier Cuvée Rosé. When I asked for a bourbon, same answer, out of stock. The same issue came to the food. Initially, we were told that they were out of nearly every option we asked for. No soup, no prawn appetizer, no cheese plate. Nearly everything we asked for, they were out of.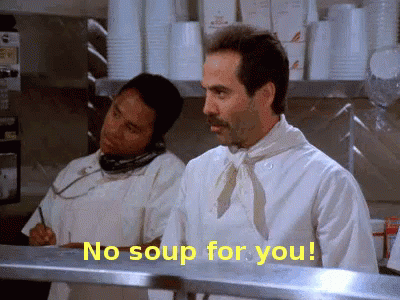 Eventually, the flight attendants came back and said, surprise we do have  soup for you. My partner and I didn't get our first meal choices, but the flight attendants were very nice and apologetic. After all, we were lucky to be able to be flying home despite South Africa's lockdown.
The wine list to and from South Africa are not completely the same as those to North America. Despite being a 10+ hour flight, the more premium wines are saved for other destinations. Many of the wines on this flight retailed for around $14 with a few closer to $30.
Despite the airline being out of items when requested, we were able to enjoy a good meal and service felt as normal. In addition, because of a shortage of some of the more popular items, we ended up being able to try nearly everything on the menu between the two of us. So there's the upside.
Soup of the day – Corn chowder
Conclusion
Flying Qatar Airways right now is still a great flight experience. There has been some changes to service, but overall it basically pre-pandemic light. This flight really felt no different than my previous LAX to Doha business class flight. I was expecting more service cuts because of South Africa's lockdown. I was wrong, just shorter with a different seat configuration.
Remember, when flying you must wear a mask and it's important to wash your hands and use sanitizer often. Qatar Airways provides masks and face shields for all passengers. In addition, each passenger now gets an safety first amenity kit, which includes gloves, a mask, and hand sanitizer. Other amentias include pajama's by The White Company and a Bric amenity kit.
On the A350, non qsuite equipped aircrafts, there is a self-serve bar area. This area is now just a place to wait for the bathrooms or to stretch. There's no self-serve items and has become wasted space in many aspects. As this configuration of the A350 only has the forward galley, which is very busy, flight attendants ask passengers to only use the two bathrooms in the center of the business class cabin.
Overall, this was another flight in the books and a very satisfying one. If you're flying to or from South Africa on Qatar Airways, you will not be disappointed.