Scandinavian Airlines aka "SAS" is the national flag carrier for the countries of Denmark, Norway and Sweden. From its hubs at Copenhagen, Stockholm and Olso, SAS flies to Boston, Chicago, Los Angeles, Miami, New York, San Francisco and Washington DC in the United States. SAS offers three classes of service: business, premium economy (SAS Plus) and economy (SAS Go). This flight review is for SAS Economy Class from Chicago to Copenhagen, Denmark on an Airbus A340-300.
The other related reviews in this series include:
SAS Economy Class, Chicago to Copenhagen
At Chicago O'hare, SAS operates from terminal 5 and uses its own lounge for premium cabin passengers and Star Alliance Gold members. The SAS Lounge Chicago is small and rather average but does offer a place to sit and relax before your flight. Limited hot food options and alcohol are provided but it's not a lounge I would arrive early to experience. My full review of the SAS Lounge Chicago can be found here.
SAS A340 Economy Class, Chicago to Copenhagen
We arrived into Chicago O'hare on an American Airlines flight at approximately 5:30 PM on a Wednesday evening. From gate to gate, it took us approximately 45 minutes to connect from terminal 3 to terminal 5 and clear through security. Keep in mind that the terminals are not connected airside so plan accordingly if you are not arriving into terminal 5. Not only do you have to take a train from one terminal to another, you will also have to clear through TSA security again.
Flight: SK944
Aircraft: Airbus A340-300
Chicago (ORD) to Copenhagen (CPH)
Depart: 10:05 PM (10:02 PM actual) on Wednesday
Arrive: 1:20 PM (12:58 PM actual) next day
Duration: 7hr 56mn
Seat: 46B Economy Class
After a visit to the SAS Lounge, my friends and I made our way to gate M17 where our bird was waiting. I took some pictures of the SAS Airbus A340-300 and waited for boarding to be called. On this trip, the gate agents were trying to up-sell all the economy class passengers to SAS Plus (premium economy class) for $199/one way. Three of my friends upgraded to SAS Plus but the rest of us didn't.
Boarding started with business class passengers, SAS Plus passengers, SAS Eurobonus elite members and Star Alliance Gold members, followed by SAS Economy Class passengers. All passengers boarded through door 2L.
SAS Airbus A340-300s are configured with three classes of service. There are 40 Thompson Vantage XL business class seats configured in a 1 X 2 X 1 layout, 28 premium economy seats in a 2 x 3 x 2 layout and 179 economy class seats in a 2 x 4 x 2 layout. Here's a picture of the SAS Business Class cabin. These are the same seats Delta will be adding a door to for their new A350 Delta One Suites.
Behind the mini business class cabin is the SAS Plus section. Unlike other airlines, SAS Plus offers a true premium economy class product, not just an economy class seat with extra legroom. These premium economy class seats are wider (18.3 inches), offer more legroom (38 inches) and provide a footrest and other amenities for premium economy class passengers.
Behind SAS Plus section are two economy class cabins. In SAS Go, the seats offer 17.3 inches of width, 31 inches of pitch and a deep recline of approximately 6 inches. The seats are a little on the narrow side but are not bad. They are decently padded for your rear-end and are equipped with personal in-flight entertainment (IFE) systems, power outlets, reading lamp and an adjustable headrest.
Waiting at our seats were a menu, pillow, blanket, personal ear buds and a 16 oz bottle of water.
There is one universal electrical outlet for every two seats (located underneath) and the USB outlet is located next to the IFE monitor. The fold-down trays are equipped with a cup holder to hold your beverage cup without having to fold down your tray.
Wifi was provided on this flight but I did not connect to it so I can't comment on how fast or reliable it was. SAS Elite members, business class and SAS Plus passengers received complimentary WiFi during flight. For the rest of us, the cost was $19 USD for the duration of the flight. Kind of expensive, if you ask me.
The IFE system does a decent job of keeping you entertained during flight. The monitor is large, crisp and clear and the touchscreen is responsive to the touch and easy to use. Entertainment-wise, there was only a mediocre selection of new and classic movies, TV shows, video games, audio entertainment and a flight map.
There were two proper meals served on this flight. The first meal service started approximately one hour after takeoff and consisted of a side salad, cheese and crackers, chocolate cake dessert and an unknown stew dish with rice and broccoli. There was only one meal option and the flight attendants did not provide any further details on what it was (but to be fair, none of us asked). They just came by, asked if you wanted a meal and plopped the tray down on your table. My friends and I couldn't decide what it was. I think it was fish.
The second meal service was served approximately two hours outside of Copenhagen. The pre-arrival meal consisted of a warm bread roll, cold cuts, yogurt cup, fruit, granola and an orange juice cup. Again, there was only one option available and no further description of the food was provided.
If you need a vegetarian or vegan option, you can pre-select those ahead of time through the SAS website at least 24 hours in advance. On the way back from Copenhagen to Chicago, one of my friends ordered the vegan option meal and she said it was delicious. It was a lot healthier than our meal.
In between meals, snacks can be purchased from the flight attendants. During meals, you only get one non-alcoholic beverage free of charge. Additional beverages and alcoholic drinks are provided for a fee.
Overall, the meals were quite tasty. I didn't like that there was only one meal option but luckily, I was able to put down whatever they put in front of me. If you are a picky eater, I would recommend ordering a vegan or vegetarian option as you won't have a second option for meals on-board.
As with most European carriers, the meal services were quick and efficient and as with most European flight attendants, they were polite but not overly friendly. Everything was just very mechanical and impersonal. They didn't walk the cabin during flight nor were they very proactive in taking care of the passengers.
After dinner, the lights were dimmed and I got some sleep in my seat.
Being LAX based, I always forget how quick these flights to Europe from Chicago or the East Coast fly by. But luckily, I was tired and got a few hours of sleep. If you have problems falling asleep (or staying asleep) on airplanes, I recommend this GoSleep travel pillow and sleep mask. It will help support your neck and head and allow you to get more restful and uninterrupted sleep. I'm not sponsored by this company but I swear by it. It's literally the one travel product I always carry with me. You can read my review of the GoSleep travel pillow and sleep mask here or buy it on Amazon here.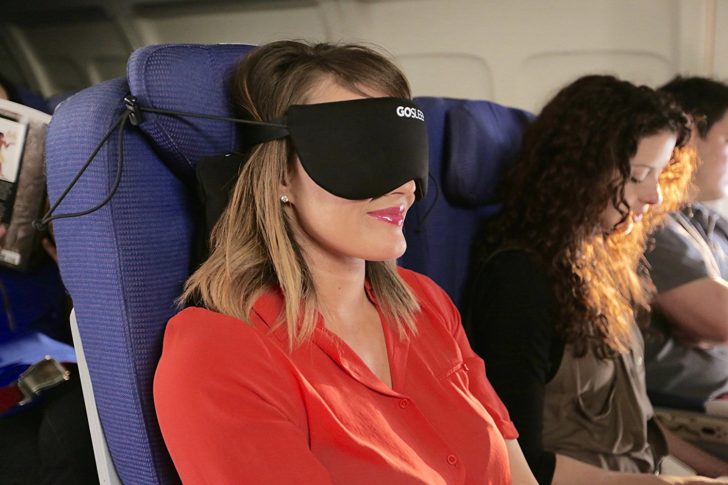 SAS A340 Economy Class seat recommendations
All the seats are the same with the exception of the bulkhead and emergency exit row seats. Pick these if you want extra legroom but keep in mind the IFE monitors and tray tables are located in the armrests, which will reduce seat width slightly.
In the main SAS Economy Class cabin, I would pick seats 51 G and H. 51G and H do not have seats behind them but still have full recline. That way, no one is ever pulling on the back of your seat to get up out of their seat. The center column of seats in row 51 are a little awkward as they don't line up with the seats in front of them. These seats will have the tray tables located in the fixed armrests thus limiting seat width as well.
The seats to avoid in SAS Economy Class would be anything in rows 37, 38 or 55. Seats in these rows have limited recline and are located right next to the lavatories. These seats will be noisier and the bright light will illuminate in your face every time someone goes in and out of the lavatories. Also, keep in mind that the further back in the plane your seat is, the cooler it will be. Our seats were in row 45 and 46 and it was pretty warm whereas the back of the plane was near freezing.
SAS Economy Class overall thoughts
Overall, this was a perfectly acceptable flight experience. The seat was a little narrow but well-padded and I appreciated the extra inch of recline. The meals were tasty but the "no drink refills" and single meal option felt a little LCC (low cost carrier) to me. The service wasn't wasn't bad but it wasn't spectacular either. The whole experience was no different than what you would expect from any other airline and there is no reason to pick SAS over any of their competitors.
Have you flow SAS Economy Class? If so, please share your thoughts with us in the comments section below. Thanks for reading!