Singapore Airlines operates two daily flights into San Francisco. The first departure is a nonstop, which leaves around midday and is operated by an Airbus A350-900. The second leaves around 1:15 AM and operates via Hong Kong, as SQ 1. United also operates a nonstop from San Francisco to Singapore that leaves late evening.
The purpose of my trip was to attend a one-week yoga retreat in Bali. The catch was that I had to arrive in Denpasar (DPS) by noon on a Sunday, which is more difficult to arrange than thought. The cheapest fares and most plentiful options arriving into DPS were from Singapore that morning, and most people were choosing to route their journeys via SIN anyways and do a 1-2 day stopover.
Trip Report Series
Review: Singapore Airlines Economy Class, San Francisco – Singapore (via Hong Kong)
I initially thought it would be cool to take the A350 nonstop, but then I rationalized the opportunity cost of taking an entire day off work for a flight that would arrive into Singapore on Saturday evening, but I could take a flight 12 hours earlier that left on the same day and afforded an additional amount of time on layover in Singapore. So, I opted for SQ1, which was marginally more expensive.
I figured I could take this flight and credit the miles to Virgin America, which would suit me as an Alaska elite. I booked my flight on Singapore Airlines pretty easy-to-navigate website, although I was surprised that I could not pre-select a seat at purchase. When I called SQ, I was told that my fare class restricted this, and either a seat would open up closer to departure or I would have to wait until check-in.
Granted, SQ 1 is on a 77W, which is 9 abreast in a 3-3-3 configuration, so it wasn't as much of a big deal as if I were on a 10-abreast config, but still, I wanted to make a selection. I noticed that the only way to guarantee a seat was to pre-purchase a bulkhead for $100 USD. Window bulkhead seats were not available, but aisles were. I decided to bite the bullet after waiting several weeks and not seeing any seats open up, despite what the customer service agent had said on the phone.
I was also offered the option to "bid" to upgrade to Premium Economy on SIA, but I opted not to.
Fast forward to the day of departure, and I'm transitioning at SFO after a VERY close call to missing the flight (you can read about the story here) and then made my way to the International Terminal for my flight to Singapore.
Transiting at San Francisco
The SFO airport is actually pretty quiet around the time that SQ1 departs, which I wasn't expecting. There are two EVA Airways flights leaving after 1 am, but that is pretty much the end of the Asian late night bank. Check-in lines were pretty much non-existent.
Whenever I am flying a new international airline for the first time, I usually print my boarding pass at home (if applicable) but then ask for an extra copy at either the check-in counter or at the gate for two reasons: 1) to keep as a souvenir, and 2) just in case my miles don't post to the loyalty program I intend to credit it towards. For these reasons, I went to the SQ counter to have my boarding pass printed, but I was then outed for having too much carry-on luggage. SQ's policy in Y class is to allow only 1 hand-item per person. I probably would have had to gate-check my bag anyway at a later juncture, but this, of course, was something I was reluctant to do, as I hate checking luggage. Alas, I paid a cheap fare for this flight, and those are the rules, which can't be molded around me.
Alas, I paid a cheap fare for this flight, and those are the rules, which can't be molded around me.
However, the agent also ripped up my printed boarding pass, which I didn't expect. She was kind of standoffish about it, to be honest. Oh well. I proceeded to the security screening area.
TSA PreCheck was open at that hour (wow!) and there was no one going through it, except for myself and the EVA Air cabin crew. It is unbelievable how professional they appear, and how they behave, and their professionalism is remarkable. It is also pathetic that TSA PreCheck was closed at Terminal A at DFW Airport at 8:00 PM on a Thursday, yet open at SFO airport at 11 PM for an INTL flight. You'd think the situations were reversed…
I was hoping to use the Air France – KLM lounge as part of priority pass, which is open until midnight, but it is located on the other side of the International pier (I was on the G side that was 90 – 100) so that wasn't an option. Given that I don't have lounge access with any other airline (not sure if Alaska MVP Golds can use any lounges at that time if they're traveling on Singapore Airlines) I proceeded to the gate and headed down the escalator to get some work done.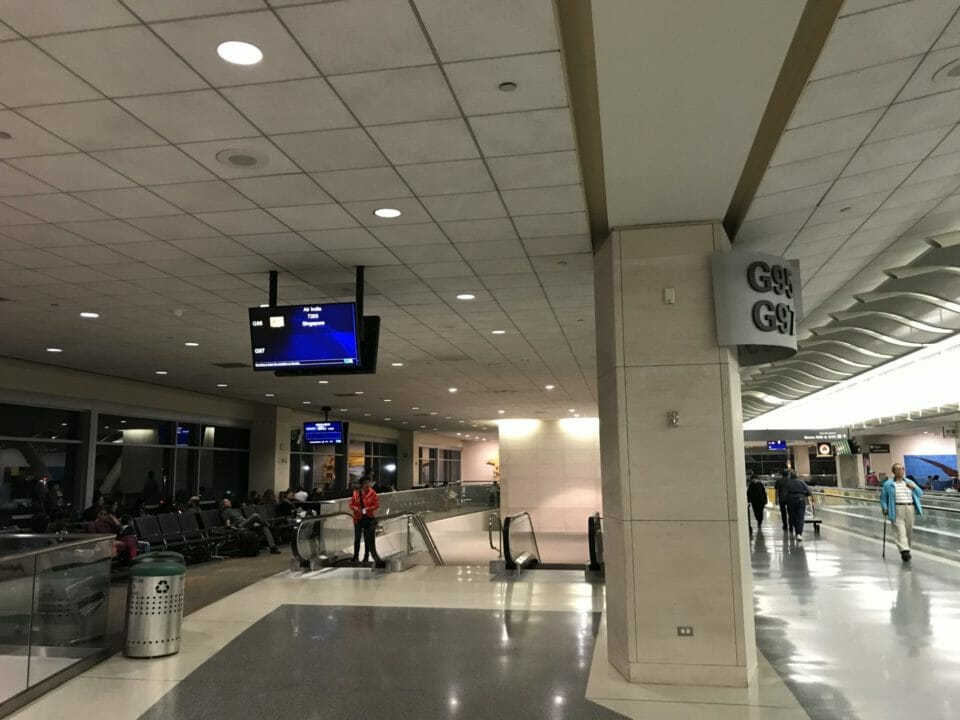 I worked for about 45 minutes and noticed the area fill up. The passenger mix was predominantly Southeast Asian, mainland Chinese, Hong Kong residents or Indians. I noticed very few people outside of this demographic. The flight was completely full.
On-Board
Boarding was exceptionally organized, orderly and efficient. Again, it's sometimes just a stark contrast to the standard operating procedures of having to board a US carrier. But, I digress.
Newspapers were available on the jetway just prior to entering the cabin, and a very grumpy lady was handing out headsets (I think she was part of the Grounds team at SFO, not an SQ employee) barking at people to show their boarding passes.
Every seat was taken on today's flight. While on the ground, flight attendants came around and passed out hot towels as passengers took their seats. The cabin configuration of SQ 1 is quite premium-heavy, with First Class, Business Class, Premium Economy, and Economy. Seated at row 41C, I was directly behind Premium Economy, which I opted not to bid for as my "upgrade" for the flight, and anecdotally-speaking, I am glad that I did not.
The doors closed shortly around 1:10 AM. My inbound flight from Dallas, the original Southwest flight I was booked on, had arrived at 12:34. I wonder if I would have made it after all, but by and large, I really wasn't all that upset by the amount of stress that I had avoided, despite the costs involved.
The SIA seat is very comfortable, as it is a cushion seat with a nice, plump pillow. The bulkhead seats do not have movable arm rests, and the TV screens are mounted on the cabin walls unless you're in the aisle seats (they swivel up). This is something to take note of if you are traveling in Y Class in the bulkhead aisle, in that you will not be able to watch TV during takeoff and landing.
In the seat pocket were the Kris World Magazine (SQ's in-flight magazine), the duty-free catalog and an entire guide to the Kris World entertainment system. True to its name, Kris World is probably one of the most comprehensive In-Flight Entertainment programs in the marketplace. There are over 290 films available for selection (almost a third of them are Bollywood) and plenty of TV shows, podcasts, news and music selections. I personally loved the music playlist feature as I could use this to compile playlists to listen to while I slept.
The headphones were lousy, though. Crap quality. I still used them, but save yourself the trouble and just use your two-pronged headphones.
WiFi was also available on this flight. I didn't personally explore the option of purchasing it on the SFO-HKG leg, because I wanted to maximize my sleep on this sector. I did purchase it on the HKG-SIN leg, which was very reasonably priced: $11.95 for an hour, $16.95 for 3 hours (what I chose) and $21.95 for an all-day pass. I did not know if the last version would have been available for me on the entire route as I did not connect until I was on the second leg of the journey.
Menus were distributed on the ground. After take-off, there would be a dinner/supper service, followed by a breakfast service prior to landing. Economy class had two choices of meals, and even though the Indian vegetarian option was listed, those were for those who had ordered special meals (although you could request to have that option if it was available, as I did on the HKG-SIN flight later). There were also snacks available for selection in the galley mid-flight.
Noticeably, the flight attendants rarely did drink services in addition to the meal. Rather, during the dinner service, as well as the breakfast service (both prior to landing in HKG and again on the HKG-SIN flight) they have beverages on the cart and you can ask if you want anything. For breakfast, they pour you Orange Juice and ask if you want coffee or Tea. On the first meal service, I did ask to try a Singapore sling, which was about as sugary as I expected (not bad though!)
We were also handed amenity kits prior to takeoff, which contained socks and a toothbrush/toothpaste combo. Pillows and blankets were also available, but I was really glad that I had brought my eye shades and neck pillow.
In-Flight
Take-off was smooth and we were high above the clouds in a matter of time. The meal service brought my attention to the fact that my seat was, unfortunately, sub-optimal for in-flight services: the cart had to be angled 45 degrees to make it around the bend in the cabin to get into the Premium Economy section. Not to mention, passengers heading to the lavatories would trip over my feet. This became a regular occurrence throughout the night. At one point, the inflight service manager fell onto the aisle way while I was fast asleep. I felt terrible. Serious design flaw on SQ's part.
For the first meal service, I chose the fish curry. Honestly, it was sub-par. There wasn't much flavor to it and the noodles were lukewarm and dry. The corn salad left a lot to be desired. The mango mousse was nice, though.
I personally thought the crew was just O-K. They seemed a bit robotic, to be honest. Nothing out of the ordinary, but maybe I had thought that the Singapore Girls would be just legendary. Perhaps it was just that they were standard, "all-business" and friendly enough. But I did notice little things like how they always bent down to pick up a stray bit of plastic or discarded item to make sure that the clutter was out of the way and that the cabin was clean. The meal service delivery felt very slow, though.
About two hours outside of San Francisco, I was ready to hit the hay. I plugged in my headphones and managed to get about 3 hours of pretty decent sleep. It wasn't perfect, but it did the trick. I was pretty hungry after I woke up, and so I went back and helped myself to some of the snacks. I chose the vegetarian wrap, some sun chips, and an apple.
I then came back to my seat and then proceeded to sleep for another 3-4 hours. By the time I woke up, we were about 3 hours from Hong Kong. I freshened up a bit, stretched my legs and then watched a little bit of TV to pass the time by.
Roughly 1 hour and 45 minutes prior to landing, breakfast service commenced. I was very hungry by now, and options for our meals were either the Asian option or a Parsley omelet. The omelet was actually pretty phenomenal. It had a delicious cheese filling and came with some yummy baked beans. Even the sausage was good, as it was chicken sausage that had some fruit filling of sorts.
The rest of the flight passed very uneventfully, and soon the window shades were opened for our arrival into a sleepy Hong Kong at the break of dawn.
We had a really long taxi-way into our gate at Hong Kong airport and we were told that we had to take all of our belongings and disembark if we were traveling to Singapore on the onward connection. After deplaning, we were given the transit cards, as well as a Singapore Airlines sticker, and had to go through a relatively painless security check.
After the transfer, we came back to the gate area and, once again, boarding was really organized and quick. I was surprised by how many people were continuing on to Singapore, despite the fact that there is now a nonstop from SFO that leaves earlier in the day. We were handed menus for this flight, same as before, and we had a new cabin crew.
After take-off, I decided to spend this 3-hour flight doing some work, so I explored the WiFi option. Singapore Airlines has a very decent WIFI plan that has three pricing tiers: $11.95 for one hour (ripoff), $16.95 for 3 hours (decent) or $21.95 for a 24-hour pass. Presumably, had I looked into this on the first leg of my journey, I would have probably been better off purchasing the 24-hour pass to get the most out of it, but since I opted to sleep that first leg, it was my loss.
So I opted for the 3-hour option and did some work. As I was working, something happened that absolutely shocked me: my friends FaceTimed me.
One of my good friends back home was proposing to his girlfriend (now fiancé) on Friday night, and I was patched in for the surprise. I could not believe how the wifi strength must have been strong enough to permit this. Can you imagine! We really do live in 2017.
After that whole shin-dig was over, it was time for breakfast. I decided to be adventurous this time and see if I could order "off" the menu, so to speak, by requesting one of the Indian vegetarian meals that were available, in case any were left over.
Sure enough, they were. There is absolutely nothing that I love more than a nice delicious South Indian meal for breakfast (or lunch, or dinner) and this meal was no exception.
The South Asian option was a Masala Uttapam, which is kind of similar to a Dosa or rice pancake, and it came with Sabzi  (vegetables) and Sambar (coconut, tamarind and spice sauce). It also came with delicious dragon fruit and traditional plain Dahi (yogurt). I know, I am sounding like a true FOB (fresh off the boat) but my heart and tummy were so full.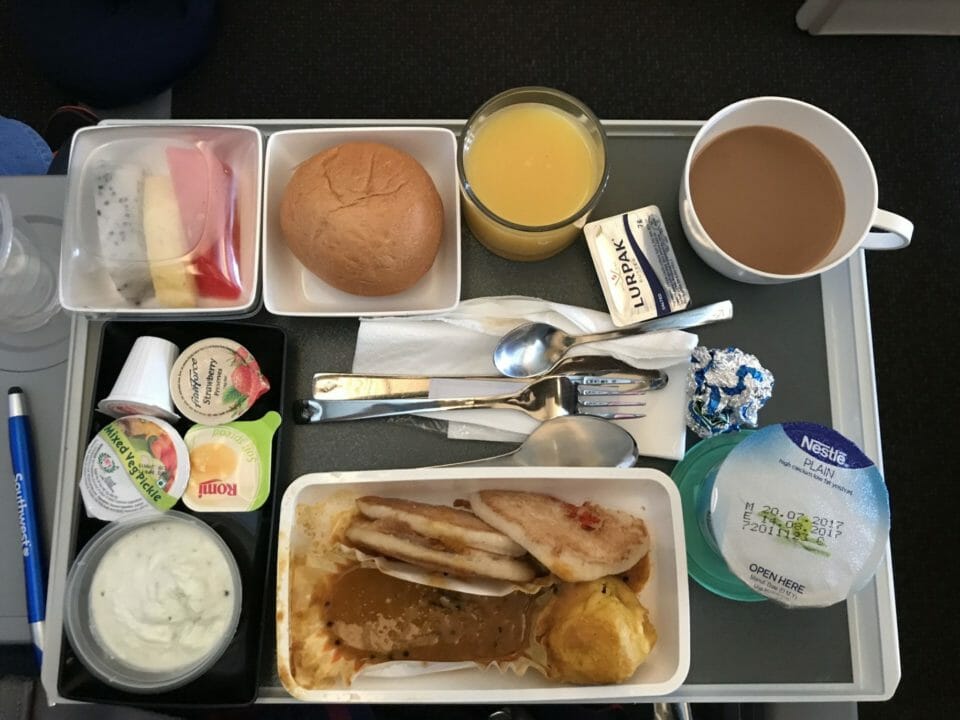 I had made an extensive jukebox of tracks on the Krisworld entertainment system so that I could listen to them as the flight proceeded, and also during landing I (since my TV had to be stowed). Working on this flight allowed me to adjust to the time difference with a bit more ease.
Before long, it was time to arrive in Singapore. The landing was smooth and upon disembarkation, I went to the Transit area in the "B" section of Terminal 3 to sign up for the free Singapore tour that left at 2:30 (more on that later).
Immigration took much longer than it should have, and truthfully speaking, I was a bit disappointed by this experience. But, they were simply being thorough. My luggage was already cleared from the rack by the time I got to it.
Changi airport is absolutely delightful. I feel like in the short time I spent there, I got to know it VERY well.
Singapore Airlines SQ1 Verdict
In hindsight, I was really glad that I took this flight for the first few legs of my trip to Bali. There were some major PROS of taking this flight, which included:
The fare: it was relatively inexpensive for a one-way (less than $600) and the price of a bulk-head seat was pretty marginal ($100)
It was a 9-abreast 777-300ER which is becoming a rarity nowadays
Departure time of 1:15 AM is very conducive to getting a decent amount of sleep
The Hong Kong transfer is relatively painless, even though it adds a couple of hours to the journey
The SIA hard product in Y class is very good
The SIA soft product in Y class is still way better than on U.S. carriers
You get OK mileage for this flight (a little over 4,000 Alaska miles, which is something, and better than nothing)
That said, there are also a few things that could be improved:
The first meal service sucked
The flight attendants on the first leg could have been a bit more cheery, although it's a late night flight, oh well
The Changi immigration process took much longer than it should have
Overall, I would highly recommend Singapore Airlines in Economy, and especially SQ 1, it is a great flight.