Singapore Airlines is known for having among the world's best product and cabin crews. Flying from Singapore to Sydney on Singapore Airlines' A350, I was ready for a real treat. I was on my way to my National Geographic expedition and we purposely opted for the day time flight, to experience the best of Singapore Airlines. Most flights between Singapore and Sydney depart early in the morning, just after midnight, and arrive in Sydney just after breakfast. Instead, we opted for SQ 241 departing at 7:05am with a scheduled arrival around 6pm.
People rave about Singapore Airlines Business and First-Class products. I have flown Singapore Airlines several times and although I find them great, I often time do not understand what the hype is all about. Even when flying Singapore Airlines First Class, I wasn't overly impressed. This was going to be my first flight with Singapore Airlines in Business class, outside of Asia. With the longer flight time I was excited for the newer product and enhance offerings and service.
Inflight Service
There are two things that make for a great flight. The hard product, meaning the items that cannot be easily changed, such as the seat. Then, the soft product. The soft product is the food, amenities, and service. In the case of Singapore airlines, both products are nice, but are not the world's best.
Before departing Singapore, Diego and I changed out of our clothing and into our Qatar Pajamas. As we still had these in our carryon from our flight a couple of days previous.
On midhaul flights, Singapore airline does not provide amenity kits and all extras are provided on demand. I prefer this, as it reduces waste. I did get a pair of slippers for the flight, but did not request any additional amenity. There are also noise canceling headphones at each seat.
Overall, Singapore airlines humdrum soft product between Singapore and Sydney fails to excite. This is especially true at meal time.
Business Class Meal Service
After take-off a continental breakfast is available for those who are hungry. The breakfast is on a single tray and a single round of drinks is provided. This was the first time we saw the flight attendants since taking off, about 45 minutes into flight. As soon as the crew was done serving from the rear to the forward galley, they went to the back of the business class cabin to pick up trays of those who were done and refill drinks again. The breakfast was very basic, especially for Singapore Airlines. After this service, the crew dimmed the cabin lights and ask guests to close their window shades. It was 8:30 in the morning, on a daytime flight to Australia and the crew wanted everyone to sleep! Sleep at 8am?!
For the next 5 hours, the crew did not check on guests and only came out of the galley when someone rang the call light. For a night flight this may be acceptable. Yet, this was a daytime flight, flying to a location where we'd be landing at early evening. No Singapore wow factor here. Just laziness. Behavior expected from American Airlines, not Singapore Airlines.
About 90 minutes before landing lunch was served. For those of us who booked the cooked and pre-order our meals were available. Otherwise, there were options to select from.
The meal started with a round of drinks and satay. My favorite part of any Singapore Airlines flight.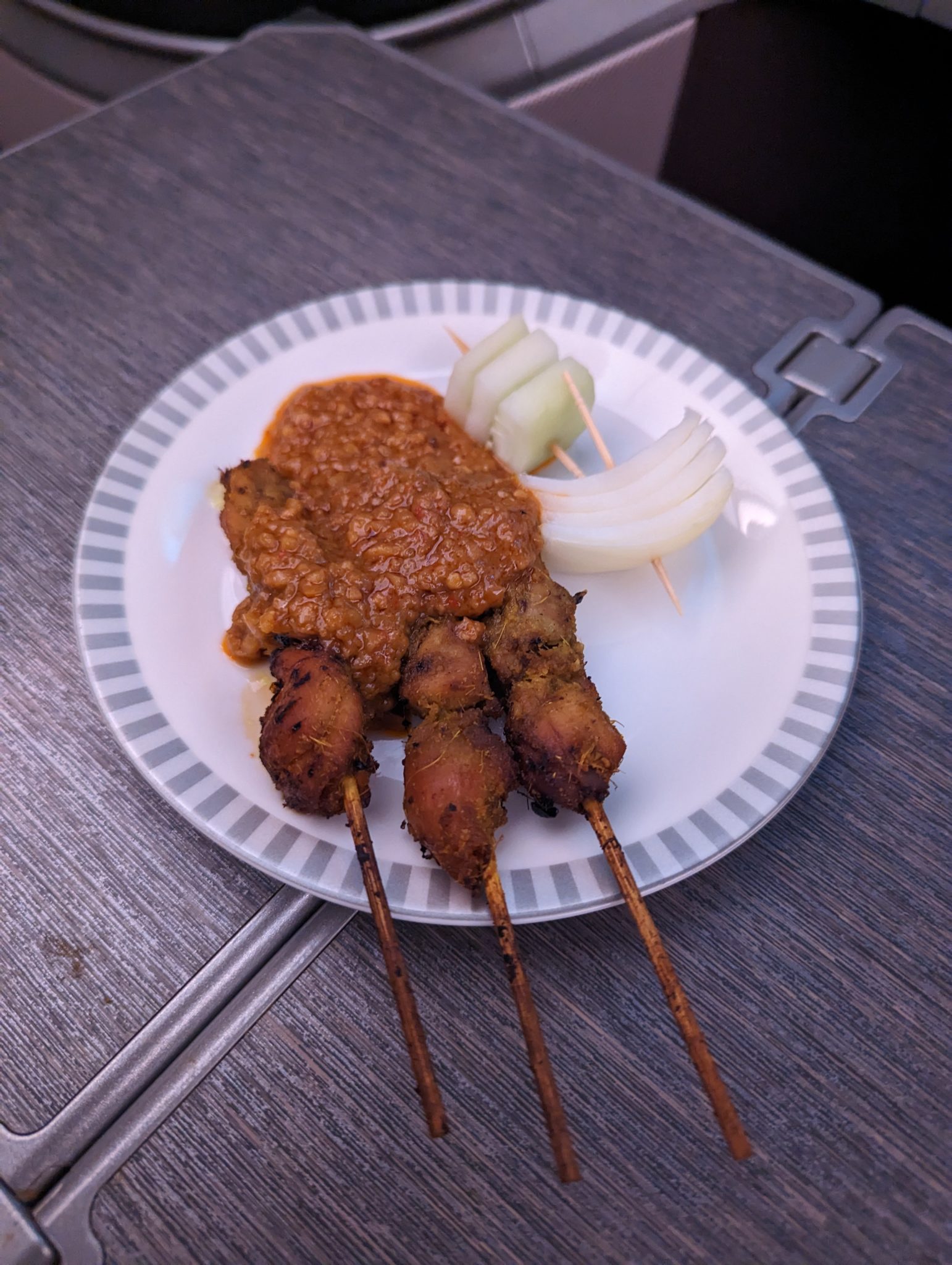 For lunch, My main course was gross, I made a bad decision via the Book the Cook service and very much regret it.
Song Fa Bak Kut Teh.

Prime pork ribs in a clear and peppery soup simmered with garlic, peppercorn and spices to perfection.  Served with steamed rice and salted vegetable.

Five-time Michelin Bib Gourmand Award Winner from 2016 to 2019 and 2021.
I found the soup to be too pepper forward and lacking any real taste or complexity. Quite boring, but my fault for ordering this boring soup.
The crew was very nice and allowed me to change it for one of the options onboard. The Nasi lemak was MUCH better.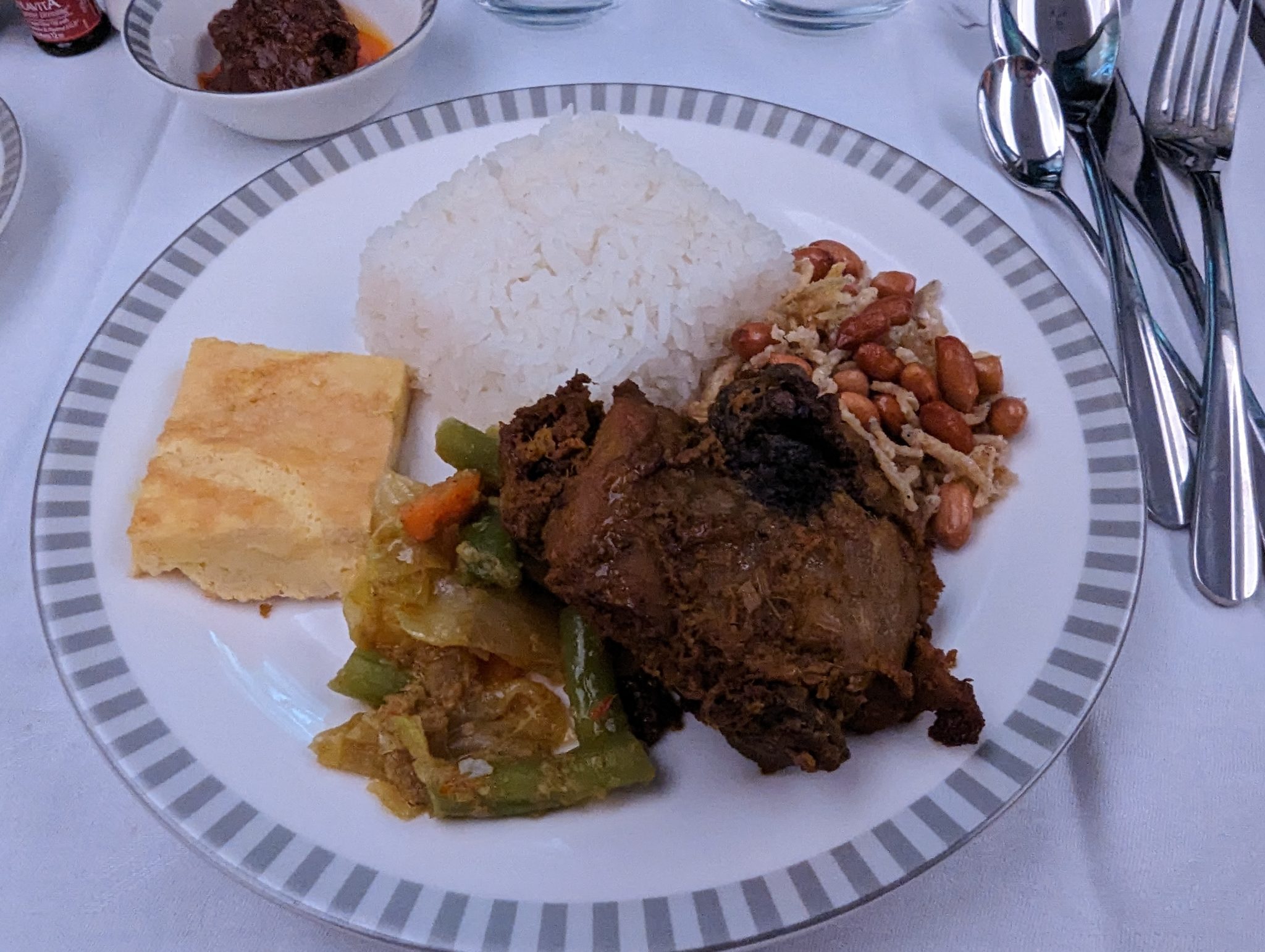 Diego also opted for a book the cook option. His meal was quite good.
Kok Kee Wonton Noodle

Springy egg noodles tossed in Kok Kee's special secret recipe sauce, with pork char siew and handmade pork dumplings (wonton).

Authentic Singapore wonton noodles acclaimed by various local food critics and mainstream news and media outlets as "One of the Best Wonton Noodles in Singapore"
The meal was rounded of by fruit and dessert. We had one of each desserts.
Singapore Airlines A350 Seat
The Singapore airlines Business class seat on the A350 is nice. It feels extra wide and faces forward, feeling larger than most business class seats. It does not have a door, but many suites with doors are more gimmick than anything. Overall I like the A350 seat and think of the seat as a win for Singapore Airline Customers.
The only issue was the middle seats are not well designed for couples. Flying with my partner, I thought the privacy wing projected too far forward. There is a wall which retracts, but you still have to lean forward to have a conversation. A simple fix would be to extend the wall and make the head rest or wing smaller. On newer generations, the seat converts to a double bed, we unfortunately were flying on an older aircraft.
The seat has all the gadget and some storage. I honestly did not take a bunch of photos of the seat or the surrounding area as I just wasn't overly impressed by it. The seat does become a fully flat bed, but since this was a daytime flight and I had just slept 7 hours in the airport, I never put my seat into bed mode. I reclined it to a comfortable position and watched a few movies via the inflight entertainment system. If this was a night flight, it would have been a comfortable bed, or so it seemed.
Bottom Line
Singapore Airlines business class to Australia is likely better at night vs the day. During the day Singapore Airlines treats the flight like an overnight flight with minimal service. With limited interaction from the staff you are best off sleeping. Singapore Airlines once again failed to impress me. There was no Wow factor. The staff were friendly, but disengaged for the majority of the flight. I have had better experiences with other Asian carriers on similar routes. With all the rave about the Singapore Girl, I expected more. Instead the flight was just pleasantly alright. I really think Singapore airlines should not try to make passengers sleep on a daytime flight. Maybe, that is what turned me off the most about this entire experience.