This was a special trip. Flying the A380 in First Class is a unique experience, and now thankfully not as rare as it was during much of 2020-2021. The last portion of my trip to Australia had me needing a flight from Frankfurt back home to the US. Before finding this option, I had several other trips booked for this, but when Singapore Airlines dedicated their refurbished A380 to the the Frankfurt (and New York JFK) flights, I checked for availability, and finding some Suites space, I went for it. Q-Suites and Singapore Suites in the same trip…not bad. I'm kind of ruined now, especially for my mostly domestic travel.
Redeeming 86,000 KrisFlyer miles plus cash may not the best value for a relatively short flight, and very much not maximizing the amazing Singapore Airlines on board experience, but still a great way to fly across the Atlantic. Singapore premium cabins are a special experience, and First/Suites class is totally indulgent. My birthday was during this trip, and I didn't know when else I would have the opportunity to use some soon to expire KrisFlyer miles. I transferred the rest required for the ticket, and booked the flight from Frankfurt to JFK. From there I flew JetBlue nonstop home to Milwaukee.
Departing Frankfurt on Singapore Airlines
After arriving from Doha the prior afternoon, I opted to spend the night at the Sheraton Frankfurt Airport. My first stay here since it has been split into a Marriott and the Sheraton, but hard to beat the convenience, just steps from Terminal 1. Knowing I would have an early departure the next morning, this seemed like the best choice.  Lots of time in transit, as I started in Sydney, I went for convenience here.
Due to document and test requirements to fly to the USA, I could not check in online, so I made my way to the check in counter. This took a bit of extra time since rather than showing proof of a negative test to enter the US, I showed documentation of COVID recovery from the past 90 days. This was eventually accepted, and I made my way to security. This trip was in April, and while the airport was busy, it was not like peak summer travel.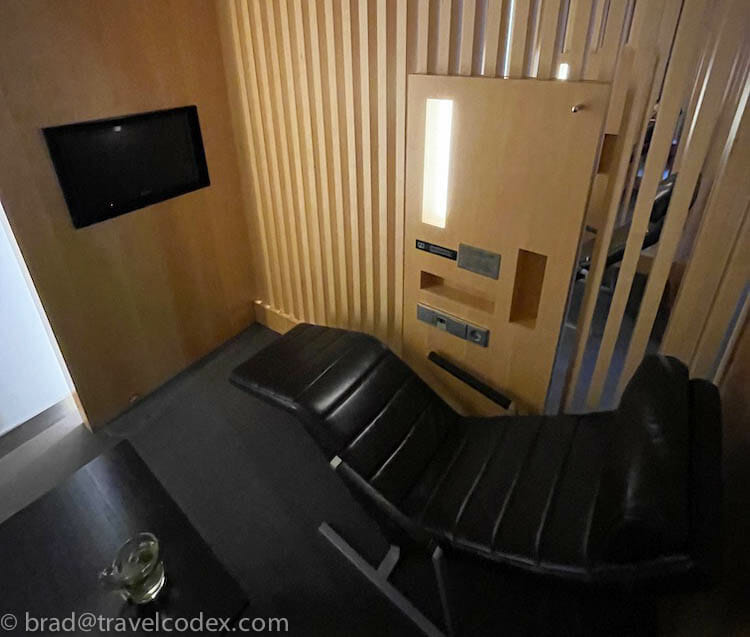 With lots of time until boarding, I decided to head to the Air Canada lounge due to proximity to the departure gate, and for variety, as I have visited Lufthansa Senator lounges many times. I didn't sleep a lot the night before departure as I was trying to get adapted to US time, and I got up early to get a workout in knowing I would be feasting on the flight to JFK.  So I had a very light breakfast in the Maple Leaf lounge and some tea, and then found a comfortable area to rest/snooze until heading to my gate.  Soon it was time to board, and I used the upper jet bridge and turned left into the beautiful Singapore Suites cabin upstairs on the A380.
Onboard Singapore Suites on the A380
Once on board, I was quickly embarrassed at how over the top service is. Countless flight attendants, leading stewards, in flight managers came by to introduce themselves. I quite possibly missed a few titles. It has been almost 9 years since my last flight in Singapore First Class. This really is special, and for me a rare experience. The same can be said for the Suites cabin on the A380.  Impressive use of space.
I was offered an amenity kit, pajamas, an offer to take my jacket, a drink of my choice (2008 Dom Perignon, of course), a photo and more.  Unfortunately, the flight attendant photo didn't turn out very well, so I took my own. Also not great…It was hard to keep up with all the action before departure, even in a cabin that was only half full. But still, this was great fun.
I sat in Seat 1A. I was hoping the row behind me would remain open, but alas it did not, so no double bed for myself, not that I needed much sleep on the short daytime flight across the Atlantic.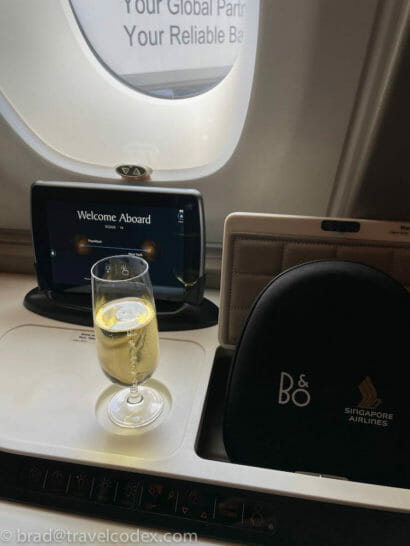 I've been pretty fortunate to fly more first class flights on the A380 than anything else. I believe I have had 7 A380 flights prior to this.  The 2 in Qantas First Class are special, and uniquely on the lower deck. Lufthansa First Class on the A380 is good, with the service better than the seat itself. One flight on Etihad in their Apartments, was awesome, and I think the most similar comparison to the new Singapore suite. Uniquely with a 1-1 configuration in the upper deck.  Finally, I did fly on both the Qatar A380 once, and British Airways A380 (twice) on the upper deck, but in economy!
The Singapore A380 has to large lavatories at the front of the Suites cabin, no shower, but lots of space to change, lounge, and of course, the original intent of the lavatory. The 2 lavs are set up differently, but both have various seating areas besides the toilet…
Well hydrated before departure with a few glasses of Dom, we were finally ready to depart. I did laugh at the flight attendant who took my glass away before departure with the comment, "we don't want you to get too drunk yet".  Fair point.  This experience is a marathon, not a sprint.
Singapore Suite…the actual suite
The amount of personal space in this configuration is pretty amazing. as I mentoned, similar to the  Etihad First Apartment, but I think the flexibility of seating options here puts this a notch above that product. Of course as of today, the A380 is not active in Etihad's fleet.
The seat is like a very nice lounger with countless flexible positions.  It can be adjusted using a touchscreen  found in the left armrest.  The seat can be rotated nearly 360 degrees, from facing forward for takeoff and landing, to towards the aisle and the large TV monitor, to face rearward towards the bed, or out the windows. That same armrest also holds an IFE controller.
Also on the window side of the suite are  several storage areas, and other lighting controls.  There is also a tablet that control some of the same seat functions, and a more intuitive touchscreen for the IFE. There are brackets for that tablet both here and at the front of the suite. Tablet is nice, but not the best interface, and notably it is not a second screen for additional content.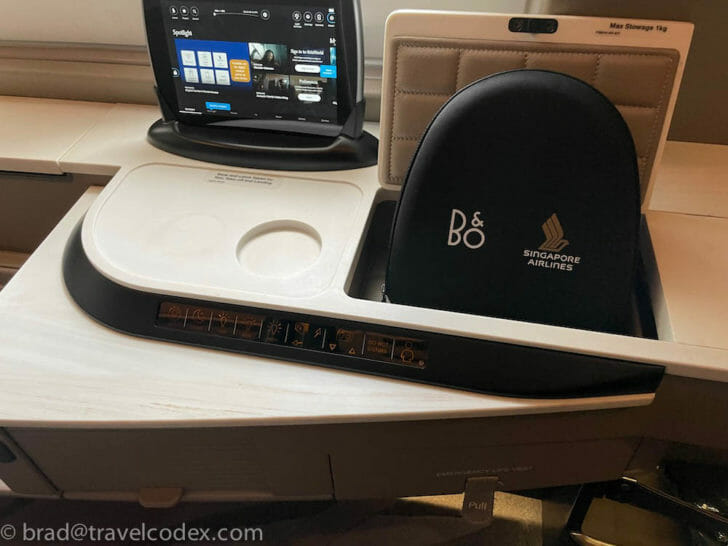 A small lighted vanity mirror is located here too.
There is a small wall mounted monitor on the front/bulkhead for viewing during takeoff/landing
Also a much larger monitor on the door side of the suite.This screen rotates to accommodate viewing in the chair or in the bed.
There is no foot rest for the seat, and early on in the flight, one of the attendants offered me a small ottoman so I could rest my feet. Tall people problems.
Another instance of the little things is when I returned to the seat after visiting the lavatory, I noticed the blanket was folded and placed over the armrest of my seat.  Wow.
I wasn't particularly tired, but with a separate bed on board, I had to take advantage.  Several drinks, and a lot of food helped a bit too.  Plus the desire to help adapt to my home timezone a little bit was good motivation.  Asked to make up my bed, and it was quickly converted to this:
The bed is comfortable, a nice soft pad, and very soft sheets.  I didn't find the cabin that warm, but unfortunately no air vents in the suite.  The day blanket was fine while lounging, but the heavy down duvet was too warm for sleeping while fully covered.
In all, a pretty novel seating concept.  Separate bed and a luxe chair are quite nice. That bed is great, and if the cabin was cooler (and had air vents, it would be among the best beds in the sky.  Some instances of style over substance. I would have like to have seen a moving map on the tablet while watching something else on the monitor, but that wasn't possible.
Singapore Suites:  The Food
Singapore Airlines has an extensive in flight menu, and their Book the Cook menu for pre-selecting items is excellent. Unfortunately, this is somewhat limited when not departing from Singapore (link).  Still I did select most items in advance.  No menus offered on board is definitely a miss, but I did grab screenshots from the online menu using the free wifi for suites passengers.
This flight is a through flight from Singapore to Frankfurt to New York, so the menu shows all segments, but on the flight from Frankfurt, we were served lunch and a refreshment.  These are served at any time.
Once on the way, the signature Singapore Airlines satay is served.  Funny how this is usually street food in Singapore, but onboard, it is treated as an almost luxury item often served with vintage champagne. I've had it both places, and both are tasty, but quite different settings. No fine china when purchased at hawker centres.
Next, caviar.  I rarely drink champagne when not traveling, but caviar is something I don't think I've ever eaten except on first class flights. Singapore does it right, with an individual tin served with a mother of pearl spoon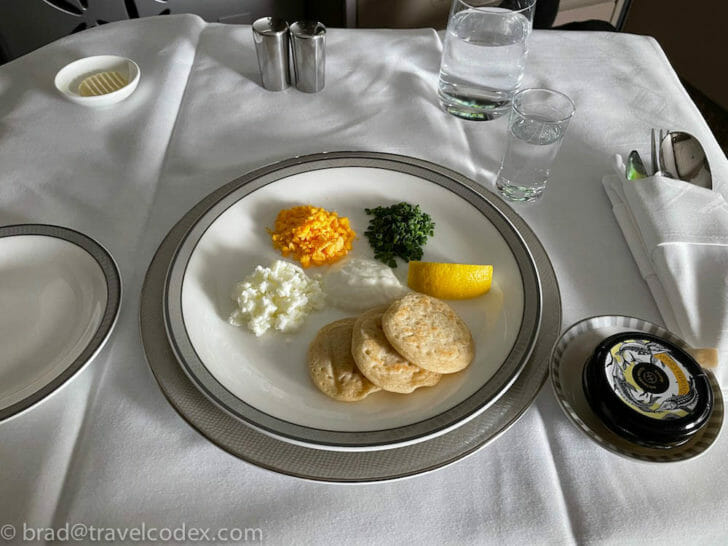 To compare, here is the caviar service way back in 2012 (Photo credit to Scott):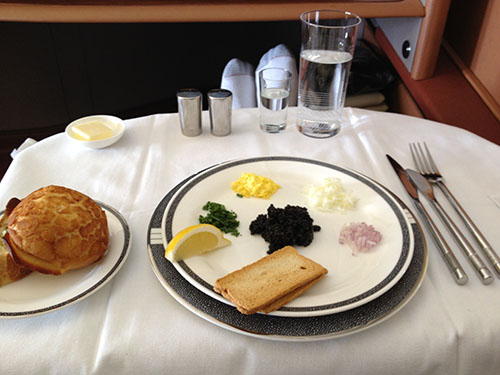 I like the current presentation better, and I even got more blinis to finish up…

Main course is a chicken massaman curry I ordered via Book the Cook. Always of the opinion that spicier foods have a better chance of standing up to the conditions in flight.  Similar logic for choosing garlic bread.  And the fact that it is good! I ate pretty far into the flight, so seemingly there wasn't much garlic bread left.  At least I enjoyed one piece.
Not a large portion, but with everything else, this has been plenty of food. Curry was good, not that notable, but seemed like my best option on the menu. I wasn't sure what to pair with my lunch, so the flight attendants suggested I try out both white wines.  Of course they did. A riesling or Aussie chardonnay. Neither are my preferred white wine styles, and honestly I don't remember which I liked more.
Finally dessert. Another flight attendant recommendation. I'm not that much of a chocolate person, but I was sold on this being the best option, and I can't complain.  A nice mix of textures and flavors.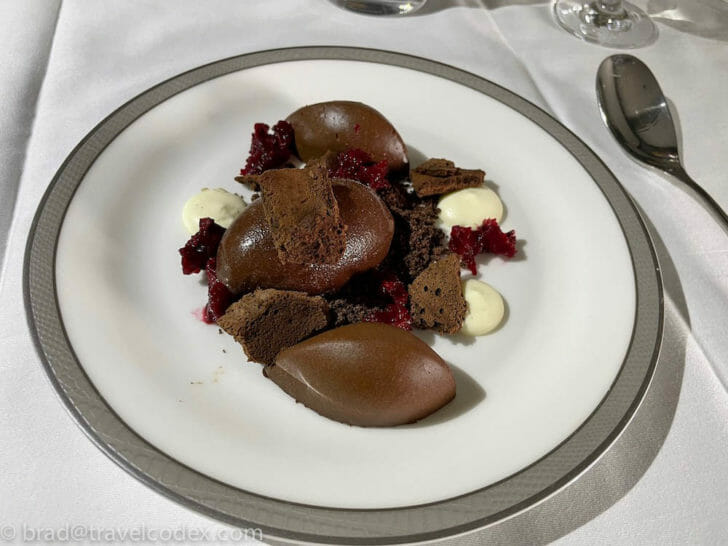 Finally I asked for some tea which is served with some more sweets.
After the meal, I decided to nap. And I wasn't that hungry afterwards, but the flight attendants seem so happy to see people eating like I'm with my grandmothers (may they rest in peace). I took one for "blog research", and ordered a refreshment before landing, the Khao Tom Moo, rice porridge with ground pork. Delicious actually. The entire meal service is prescribed, down to how each item is placed on the tray.
After all of this didn't need any food for a while.  It was fine, because I was delayed getting home
Arrival and layover in New York and Final Thoughts
Sadly the lovely Singapore Suites experience was over all too quickly.  I'd love to fly the product on a longer flight.  Some day maybe, but I'm grateful I tried it when I did, and this was a great way to return home after a special trip. We arrived into JFK, and a Singapore Airlines agent escorted suites passengers off the plane.  Maybe one person in particular, as she was far ahead of me by the time I got off the plane.
There was no wait for a Global Entry kiosk, and as always, I did a #GlobalEntrySelfie
From here I flew a JetBlue nonstop home to Milwaukee. After much eating and drinking on board, I happily walked from T4 to T5 at JFK. It was a nice warm spring day in NYC. My flight already showing a delay, I had more time than planned, so I decided to visit the TWA hotel. With several hours to kill, I hung out in the lobby and caught up on emails and other things after being gone.
The TWA hotel (excellent review by Steve) is located at Terminal 5 of JFK, upstairs from JetBlue's flights and across the street. The lobby has lots of space to spread out, and I found a table and spent a few hours there. A layover due to separate tickets had more time added due to JetBlue delays. They are a new entry flying to Milwaukee with daily nonstops to Boston and New York. I've used this new option a few times, but each of my JetBlue flights, there was a delay of at least an hour. Some bad luck of course, but kind of annoying. Still, nonstops and credit to my AA account, I'll probably do it again…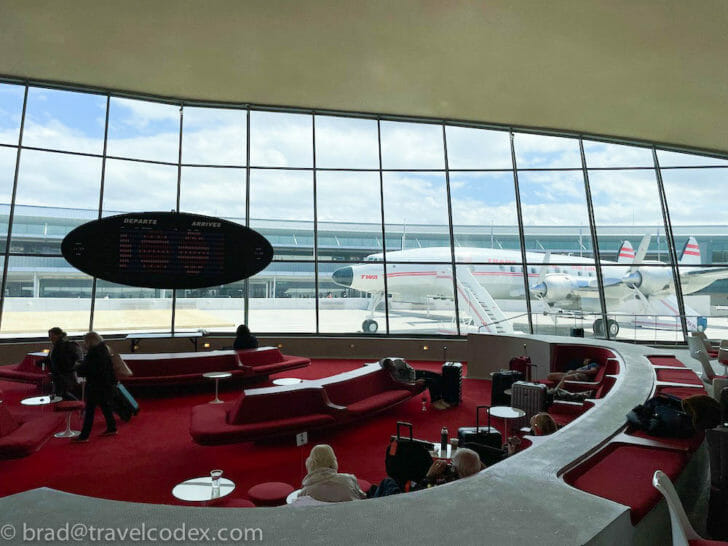 Finally boarded the flight home after a long but fun trip.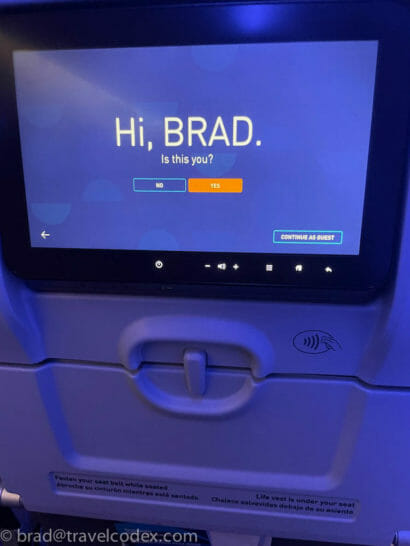 It was great to fly Singapore Suites.  Extravagant, very much so.  Service is exquisite as always.  The hard product is good, but not perfect.  I hope to fly it again on a longer flight, but most likely will settle for business class which is quite good itself.
Have you flown Singapore Suites?  What did you think?