United introduced their new Polaris business class seat on the 777-300 last month.  Eventually (March 25th to be exact), the new plane will operate Polaris service internationally.  Through May 4th, however, United operates domestic flights from San Francisco to Newark using the Polaris-equipped plane.  That provides an opportunity to sample the United 777-300 Polaris business class seat without having to leave the country.  Though I wanted to get on the inaugural flight on February 16th, I couldn't make the dates work.  But, United offered a very reasonable Saturday fare of $649 a couple of weeks later.  Although a tight fit, I could leave Saturday morning, and be back in time for dinner Sunday.
Note:  though the 777-300 features the Polaris seat, the transcon flight does NOT feature Polaris service.  Instead, it's the standard "p.s." service found on the SFO-EWR route.  You'll have to wait until the plane's first flight to Hong Kong on the 25th to try the real deal.
United Airlines (UA) Flight 443
Saturday, March 4, 2017
Depart: San Francisco International (SFO), Terminal 3, Gate 89, 13:51, 1 hr 1 min late
Arrive: Newark Liberty International Airport (EWR), Gate C110, 21:45, 45 min late
Duration: 4 hours 54 minutes
Seat: 2A
Equipment: Boeing 777-3000ER
Check-in and Boarding
I arrived from Dallas on American in Terminal 2, necessitating a transfer to United's Terminal 3.  Unfortunately, transferring from T2 to T3 is a pain.  The terminals aren't connected airside, thus, passengers must take the Air Train and re-clear security.  Luckily, the process only took about 25 minutes, thanks to light traffic at midday Saturday.  I checked in online using the United app; therefore, I didn't have to stop at a kiosk first.
I had my first encounter with United's designated boarding group lines, as this was my first UA flight since 2012.  It was, to put it nicely, a fustercluck…
In fairness, the sheer size of the plane probably contributed to the congestion.  But still – yikes.  Making matters worse, we were subjected to the dreaded United Creeping Delay™.  An inbound aircraft delayed until scheduled boarding time meant trouble from the start.  Eventually, a 10-minute delay posted about 10 minutes before scheduled departure.  Which then became a 25-minute delay.  And eventually, 45 minutes, which turned out to be about right.  Needless to say, not a good first impression.  Granted, I should have checked the inbound flight status earlier, and just stayed in the United Club.  Of course, the Club was so lame, I didn't want to stay any longer, anyway.  More on that in next week's post.
United 777-300 Polaris Business Class Seat and Interior
If the chaotic boarding put me in a bad mood to start, that changed quickly once on board.  The new set features 60 seats in a staggered 1-2-1 configuration.  While perhaps a bit understated, I found the cabin beautiful, especially with the blue/violet mood lighting.  The new plane smell certainly didn't hurt, either.
Here's a view of the cabin facing forward with the lights out, later in the flight.
Up front, there's aPolaris logo at the bulkhead.
As someone who usually travels with my wife, one of my pet peeves of newer business class configurations is the lack of choices for couples traveling together.  Privacy, in other words, rules the day, as seen on aircraft like American's 787-8.  The nice thing about the Polaris cabin: there's a little something for everyone.  Middle seats in odd rows are close together – perfect for those who want to socialize.  Want privacy?  Choose a middle seat in an even row, or a window in an odd row.  Prefer more elbow room to store gadgets?  A window in an even row is right or you (more on that in a second).
As for the seat itself, the cabin lighting distorts the color a bit, but I think it's a nice look.  I also found the seat wider than American's 787 Business Class seat.
My seat included a shoulder belt, something I've increasingly seen in business class products.  I must admit, the idea of a shoulder belt in an airplane seat still weirds me out a little.
I found footspace plentiful, and there is enough space to store a small item underneath the ottoman.
Window seats in even rows are something of a mixed bag.  On the one had, these aren't "true" window seats, so you have to lean in a bit to look outside.  Also, since the seats lead directly to the aisle, privacy isn't the best.  If that's your biggest factor, you'll want an odd row, which are flush with the window, and thus, removed from the aisle.  On the other hand, the extra space between the seat and the window provides a nice storage area for small electronics.  With a plug and USB at the far end, this makes it really convenient to charge your laptop and phone out of the way while eating.
Behind the seat is another useful storage bin, like a small hotel room safe.  It's a useful space for storing phones, wallets, etc. while sleeping.  However, someone forgetful like me is liable to forget stuff in there…
The storage locker also contains a small vanity mirror.  Helpful for brushing away bed head after a long flight, I guess.
Meanwhile, a reading light is located on the outside of the locker.
United places seat controls on the armrest below the storage table.  The sliding knob on the left controls overall recline, and puts the seat in bed mode.  It's a little counter-intuitive, however, in that you slide the knob forward to recline into bed mode.  Other buttons control legrest recline, lumbar support, and the reading lamp.  However, I'm not sure if the lumbar adjustments actually worked.  I didn't notice a difference when using them.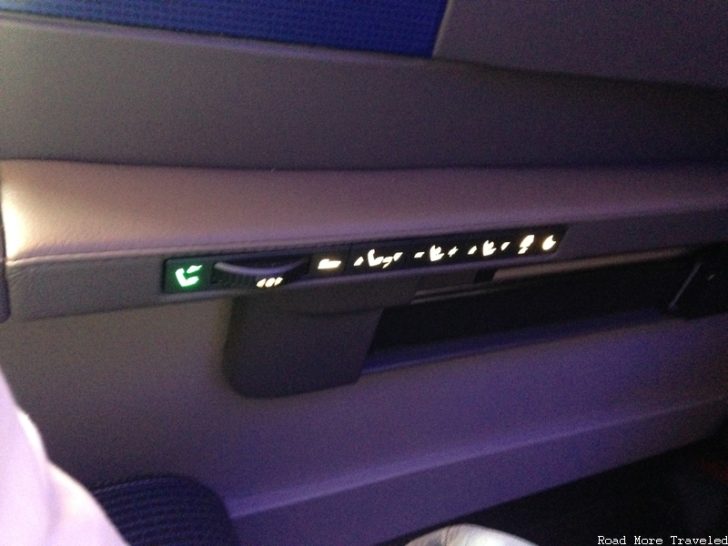 Also waiting at each seat were the new Polaris signature Saks Fifth Avenue pillow and blanket.
Notably absent, though, was an amenity kit.  I always thought p.s. flights included one.  Maybe I just missed seeing it.
Later, after the meal, I briefly tried the seat in full bed mode.  Overall, I found the bed comfortable, with plenty of space all around.  (Disclaimer: I'm not exactly a large person.)  I think it would make a perfectly comfortable bed for sleeping on a long flight.
Finally, the lavatory is standard-issue 777, and contains the usual Cowshed amenities.
United 777-300 Polaris Business Class Seat – In-seat Entertainment
Each seat features a large seatback monitor, of course.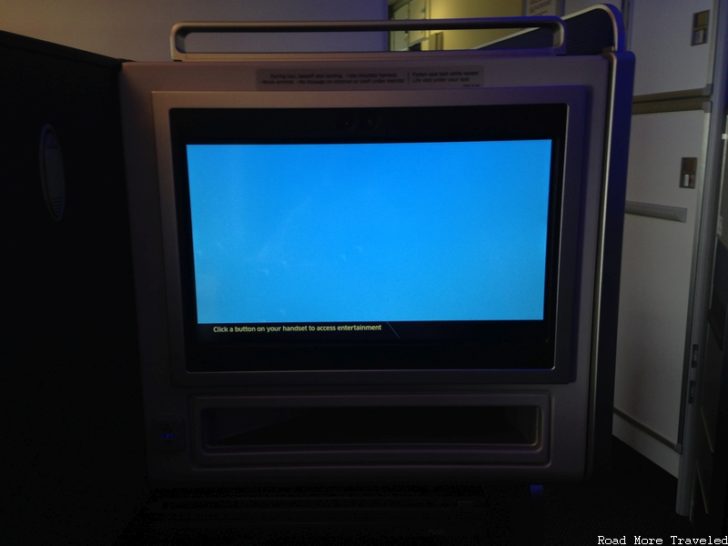 The bottom of the monitor contains a second USB port.  You can't really access the port from the seat unless you have a really long cable.  However, combined with the storage compartment under the monitor, it comes in handy to charge and store an iPhone/iPad.
You may have noticed the headphones hanging from the storage closet above.  United provides these noise-canceling headphones to all Polaris passengers.  They don't quite compare to the Bose headsets on AA, but the sound quality is pretty decent.  I wish the ear padding was a little thicker, though.  They got a little uncomfortable over the ears after a couple of hours.  NOTE: even though the headphones use dual-plug adapters, they work just fine on an iPhone if you plug the large connector into the speaker port.
I did encounter one rather serious problem with the entertainment system.  Namely, my controller didn't work, rendering the entire unit unusable (or so I thought).  In fact, the delay on both the inbound and outbound was due to malfunctioning Polaris seats throughout the cabin.  A couple of seats on the opposite aisle got stuck in the bed position.  Meanwhile, the gentleman in 1D sat down to find the power crapped out in his.  And my controller didn't work.  The fact that the seats already face electronic gremlins concerns me.  Remember, this plane entered service just 16 days prior to my flight.  Perhaps this has something to do with the impending delays in rolling out the Polaris retrofit.
Anyway, the problem turned out to be moot, because the other aspect of the entertainment system worked fine.  That was United's streaming service via the WiFi system, designed to compete with AA's and Delta's offerings.  The exact same content viewable on the screen can be streamed to a personal device instead.  I found a few episodes of Planet Earth, and watched one about mountains on my phone.  Because the mountains episode has snow leopards, and snow leopards are way cool.
As the screenshot from my phone shows, the streaming quality is quite good.  Although I generally prefer watching on the big screen, this was good enough that I didn't bother complaining about the busted controller.  It wasn't worth delaying the flight any further, anyway.  (Aside: as we landed, I saw that the screen is actually a touch screen.  Oops.  The screen showed a message at the bottom to use the controller to access entertainment, though, so not sure what I missed.)
Speaking of WiFi, I actually had work to do or a change, so I paid for a WiFi package.  United uses Panasonic satellite WiFi on these planes, and I purchased 2 hours of access for $12.99.  I believe a whole flight pass was $16.99, but between dinner and taking photos, I didn't think I'd use more than 2 hours.  Speeds started off pretty good, fast enough to support my online tax preparation software.  As the flight progressed, though, it became slow as molasses.  It wasn't even fast enough to load a basic webpage by the end.  So buyer beware.
Food & Beverage
Here, the review switches from a Polaris review to a regular p.s. review.  That's because even though the plane features Polaris seats, the SFO-EWR transcon is still branded "p.s.", not Polaris.  Meanwhile, United now sells all international Business Class flights as Polaris, but only a few planes actually have Polaris seating.  Confusing, eh?
Anyway, the afternoon's food & beverage service began with a pre-departure beverage.  I selected my cocktail of choice, a gin & tonic.  United serves Bombay Sapphire on p.s. flights, making for an enjoyable start to the flight despite the delay.
Menus were waiting for us at our seats upon boarding, listing the options for the day.
A few minutes later, the FAs came through the cabin taking dinner orders.  Our FA was friendly and pleasant, if not particularly polished.  Instead of addressing passengers by name, we received a simple "Hi, how are you doing?"  I ordered the beef short rib.  I know, I know – beef on planes is a bad idea.  I've documented countless hammered Business Class steaks on this blog.  But like former colleague Matthew from Live and Let's Fly, I just can't help myself.  The 1 in 4 chance of a great steak in the sky is just too good to pass up.
Anyway, meal service began about half an hour after takeoff with standard mixed nuts.  I also switched over to red wine, which wasn't half bad.
All passengers received the same appetizer and salad.
The appetizer was OK – good prosciutto, decent fruit, but a rather sad looking slice of gruyere cheese buried at the bottom.  The salad was pretty good, with fresh veggies and a not-too-tart balsamic vinaigrette.  Then, it was time for the main course.  Would my gamble on the beef pay off?
Oh my goodness, did it ever.  Based on its looks, I figured it was hammered, but much to my delight, it was tender, juicy, and cooked perfectly.  The bordelaise sauce was just a touch bland, but otherwise complemented the beef nicely.  Even the kale was tasty, the orange sauce hiding the vegetable's normal bitterness. Meanwhile, the FA kept my wine topped up without asking, which I appreciated.
Finally, we capped off the meal with an ice cream sundae.  I kept it simple, with chocolate and nuts.
There's not much I can really add to the photo.  It was good, as an ice cream sundae should be.  Overall, this was a good meal.  Probably one of the top 5 main courses I've had in the air.  United has really stepped up their game in this department, it seems.  Perhaps some UA regulars can comment if this is the norm, or if I just got lucky.
Service otherwise was alright.  The Business Class flight attendants were cheerful, though not especially proactive outside of mealtime.  They were happy to help when asked, but you had to affirmatively ask.
Flightseeing
I've only done one other transcon flight, the US Airways swan song flight.  That was in the dead of night, so I looked forward to the view out the window while we had daylight.  I didn't have far to look for some AvGeek excitement.  A gorgeous United 747 did a drive by as we backed out of the gate area.  I'm going to miss the Queen when she's retired.
We just beat a late winter storm by a few hours, so it was a nice afternoon at SFO at takeoff.
I hoped a seat on the left would yield a nice view of San Francisco after takeoff.  No such luck, as our routing took us immediately off to the northeast.  But the view of San Francisco Bay wasn't bad.
With strong tailwinds, we made it to the Utah/Wyoming border in no time, with a winter wonderland of mountains far below.
As daylight faded, we caught a glimpse of the Nebraska Sandhills in the state's northwest corner.
The bad part of flying east is that sunset goes by in a flash.  At least this one over northern Nebraska was a good one.
United 777-300 Polaris Business Class Seat – Final Thoughts
Clearly, the Polaris hard product is miles ahead of the uncompetitive 2-4-2 product it replaces.  The seat is a good one, with a cabin layout that provides good choices for everyone.  If the p.s. meal service is any indication, the even more upscale Polaris service promises to be a real selling point.  On the other hand, onboard service still has a ways to go before it can match the best foreign carriers.  But my biggest concern are the bugs already afflicting the seats.  Hopefully these are just growing pains, but it won't be good if seat problems impact reliability.  Plus, I don't see the seat as truly game changing.  It's very good, but is it really the best Business Class seat out there?  Probably not.
Overall, though, Polaris has the makings of a solid product.  If only there were more planes featuring the new seat.  Also, a word of warning:  the coach cabin looks pretty brutal.  10-across in a 777 is bad enough, but if you get stuck in the middle section of 4, you might not even have room for your personal item.  That's because the entertainment system leaves space for just 3 items per 4 seats.  That sounds like fun…
Note: this post is part of my trip report series about my recent weekend trip to New York the long way.  Click here for the trip report index and introductory post.