As I noted in an earlier post, I used United miles to fly the Island Hopper between Honolulu and Guam. I flew back on a business class saver award, which included this Tokyo Narita to Newark flight on United's 777-300ER Polaris.
United Polaris is the fairly new branding for their international business class, but it can still be a bit confusing. To me, there are 3 aspects of the Polaris experience:
The Polaris Lounge – at the moment, this is only available in Chicago, with lounges in San Francisco, Newark, and Houston set to open later in 2018. There are future plans for lounges in Los Angeles, Washington-Dulles, London, Hong Kong, and Tokyo.
The Polaris Hard Product – right now, this is only guaranteed on United's 777-300ER, since this aircraft type was rolled out to United at the same time Polaris was introduced. There are some 767-300ER aircraft that will get their version of Polaris, but other 777 aircraft (the -200ER variants) still have yet to get retrofitted.
The Polaris Soft Product – this is guaranteed for all international business class flights that are labeled as "Polaris business class." Because of this, United often advertises Polaris business class even on flights that have the old hard product, which can understandably lead to disappointment amongst passengers.
For this flight between Tokyo and Newark, I only got the latter 2, but I'd say the onboard hard product is the key aspect of the Polaris experience.
I spent most of my connection in Tokyo in the ANA lounge – the Satellite 5 location is on the 4th floor and has windows that let in natural light. The Satellite 4 location is closer to the United gates, but is on the 2nd floor and doesn't have any windows. Both, in my opinion, are better than the United Club. Once United has a Polaris lounge in Tokyo, I may choose to spend time there, but if you have a business class ticket, you have ANA lounge access.
The Flight
United 78
Tokyo-Narita (NRT) to Newark (EWR)
Wednesday, January 24, 2018
5:55pm-4:45pm (actual 5:41pm-4:17pm)
Duration: 12h50m (actual 12h36m)
Boeing 777-300ER, Seat 11A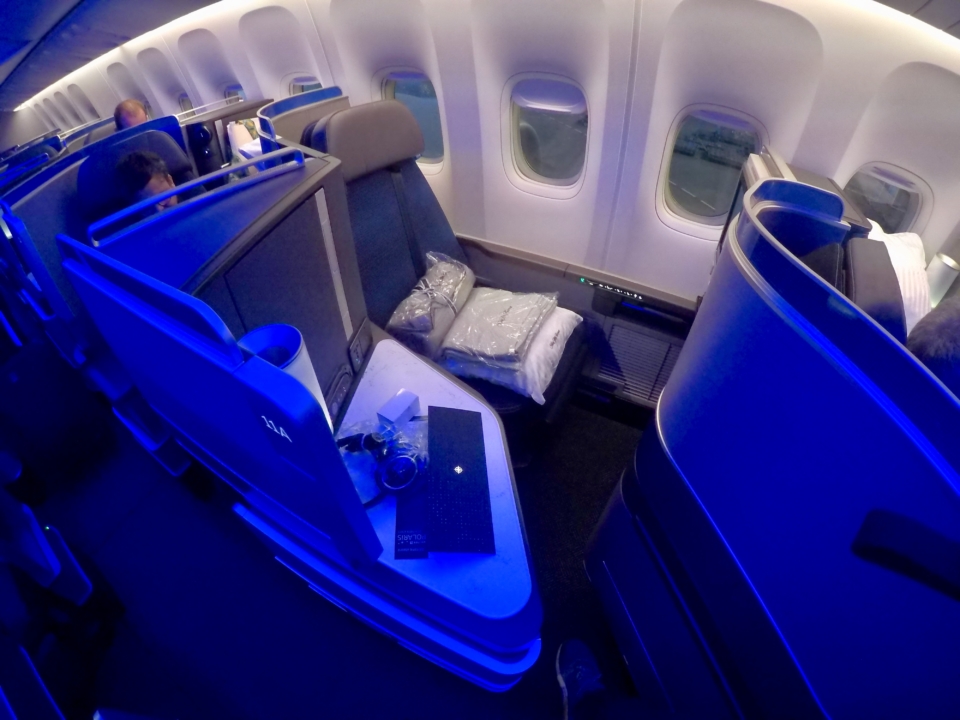 I booked fairly late, so I had limited options when it came time to choosing my seat. I was glad to get an odd-row seat though, because this seat would be next to the window with my storage module next to the aisle. I'd have much more privacy than the even number rows, where the seat is next to the aisle.
If you're a couple, I'd go for an odd-number row in the center, since you have two seats next to each other set away from the aisle. If you're a single traveler, there is a screen that goes up that can be up for taxi/takeoff/landing, so I'd still call it better than an even-number row aisle seat.
Boarding was a quick affair, both due to Japanese efficiency, but also due to a fairly empty economy class. Both the first and second doors are used for boarding at Tokyo, so grabbing a seat in the first Polaris section would allow a bit more privacy on boarding, but with a fairly empty economy class, I didn't mind being in the second section since every odd-number window seat in the front section was already taken. I prefer sitting further up since it's further from the engines, but my noise canceling headphones helped with sitting just in front of the port engine at row 11.
The hard product is absolutely a winner here, at least for this particular seat next to the window. It did not feel cramped at all. The module next to the aisle had a small storage space that housed an amenity kit, welcome candies, headphones, and menu, as well as mirror within the door. There is a classy lamp there as well which adds to the ambiance. The hard surface has a faux-marble look and was fairly large. On the module, there is a power outlet and USB charging port, as well as headphone jack and IFE remote (the screen is touch-screen as well). Next to the seat is a small reading light with 3 brightness levels. There is another USB outlet next to the TV screen, which has another small storage drawer to keep a phone or battery pack to charge.
Seat controls are a bit odd but fairly intuitive. There is a slider that moves the bed from upright to bed position. Other than that, you can only adjust the lumbar support and the legrest. I found a few comfortable reclined positions by using the "bed slider" to adjust the backrest, and then adjust the legrest after that. Lastly, I was rather amazed by how deep the footwell was. One passenger across the aisle was easily 6-foot-3 and said that his feet didn't touch the front.
At my seat was the Saks Fifth Avenue bedding, including duvet, blanket, and pillow. There were already slippers at my seat. One can also request a foam pillow, mattress cushion pad, and – since this flight was over 12 hours – pajamas. The passenger across from me requested this from the flight attendant shortly after boarding, and I mentioned to her that I would like these as well. Little did I know that I would get them as we began taxiing, which gave me the very first-world-problem of figuring out where to put all my plush items. However, it's worth noting that United does not provision enough mattress cushions or foam pillows for each passenger, so first come, first served!
Pre-departure beverages were served and I asked for champagne, but it was pretty terrible and served in a shoddy plastic cup on a Coca-Cola napkin. At least something reminded me this was still definitely United Airlines.
Meal orders were taken before departure. I chose the chicken entree.The flight attendant also asked what BREAKFAST OPTION I'd like to eat before the 4:45PM SCHEDULED ARRIVAL (emphasis mine) and I opined that neither of those options really made sense. The whole point of business class is to better help passengers adjust to their destination, and so the pre-arrival meal should mirror the destination's time zone. A light lunch would make more sense.
Even for passengers connecting from Newark, other reasonable destinations are at most a 1 hour additional time difference. I asked that they keep a hot bites item on hand for me for the meal service. This seemed like a very foreign concept to her, and I decided to just skip the meal. I had dinner plans in New Jersey anyhow.
With the quick boarding, we left the gate early and settled in for the 12.5-hour flight to Newark. With all the boarding hubbub complete, I finally got to sit back and enjoy the Polaris experience. The level of privacy in the window seat is fantastic, particularly considering other flights on United's older business class products, where it felt like you were having a sleepover with strangers.
Before the dinner service, I changed into the pajamas. I was surprised that the crew gave me a Small/Medium set – I'm usually a Medium (and quite frankly, after the cold winter that curtailed my exercise regimen, more of a Large now …). However, they fit me pretty well, and for business class pajamas, were pretty comfortable. I'd also note that the lavatories behind row 8 (well, at least the one on the left side) are much larger than the lavatories behind the flight deck, and make it much easier to change into pajamas.
Due to some turbulence departing Narita, the meal service took about an hour to get underway. As this was my first proper taste of United Polaris, I deemed it fitting to do the wine tasting. While I didn't ask for the express service, dinner was served fairly quickly, with the salad/starter, entree, and cheese assortment coming in good time, with a decent amount of time to digest before dessert ;).
The United salt and pepper shakers reminded me of something other than a globe.
One thing I loved about the seat was the tray table – I forgot to take pictures of the entire thing, but it pulls out from under the TV rather than folding out of a console. It also had a divot in which to place a tablet. During the meal service, I was able to push it partially back in while still keeping my beverages on the table and get up to go to the lavatory. It's little things like that which really make me enjoy the hard product.
I put down my mattress pad and duvet and watched the IFE as I dosed to sleep, waking up about 6 hours later with about 3 hours left before arrival. It was some of the best sleep I've had in business class in a while. When I awoke, I was approached within a few minutes to see if I wanted a hot bite and ordered a grilled cheese and tomato soup, perfect for it being shortly after noon in Newark.  Because of this, I skipped the second meal service about 90 minutes before arrival.
Conclusion
I've been using United (and before that, Continental) miles for years now, but I always made it a point to book on partner airlines when I could. I just wasn't a fan of United's old hard product, and their poor soft product made it even worse. Polaris has me rethinking that. I could have booked a similar itinerary with ANA, but I'm glad I didn't. While the improved soft product still has some catching up to do, the hard product is simply fantastic, at least on the window seats.