The Westin Anaheim Resort, Disneyland is a beautiful resort located in the heart of Anaheim with easy access to both the Anaheim Convention Center and the Happiest Place on Earth. Opened just last year (June 2021), this upscale, AAA four-diamond resort is designed for business travelers with plenty of meeting and coworking spaces but the spacious rooms, great amenities and easy access to both Disneyland parks make it a great option for family travelers as well.
If you're in town for a convention, the Anaheim Convention Center is located right next door to the resort and if you're in town for Disneyland/California Adventure, the walk to the main entrance is about 20 minutes on foot.
Pro tip: There are no shuttles from the resort to Disneyland so the best way to get to Disneyland/California Adventure is by walking. As you exit the front entrance of the resort, make a left on Katella and walk to the first street light. Make a right on Disneyland Drive and walk to Downtown Disney. From there, you can enjoy the leisurely stroll to the front gate of Disney's California Adventure or you can enter Disneyland through the monorail station, which will take you directly to Tomorrow Land. If you will already have your tickets in hand, or in the Disneyland app, this will save you a ton of time as you won't have to walk to the main entrance of Disneyland and wait in line with everyone else coming in from the parking lots.
If you're only in town for a convention or Disneyland, you won't need a car. There are plenty of shops and restaurants located within walking distance and the area is safe at all hours of the day and night. If you will have a car, parking at the resort will cost you $35/night. I don't really recommend driving from the resort to Disneyland as you'll have to pay for parking there also and honestly, it won't save that much more time. If you really don't want to walk the 20 minutes, you can take a 3-minute Uber/Lyft ride to/from the resort and it will cost you about $10.
The Westin Anaheim Resort, Disneyland is definitely one of the nicer resorts in the area with clean, comfortable and spacious rooms, secured parking, ample meeting spaces and plenty of fine dining options located onsite including a Fleming's Prime Steakhouse, Puesto Mexican and a beautiful rooftop bar overlooking Disney's California Adventure. The Rise rooftop bar offers great drinks and a small tapas-style menu but the star of the show is the view of California Adventure at night. Make sure to come here on weekend nights to enjoy the Disneyland fireworks.
The hotel lobby and check-in areas are just massive with plenty of seating areas to sit and relax or collaborate with coworkers.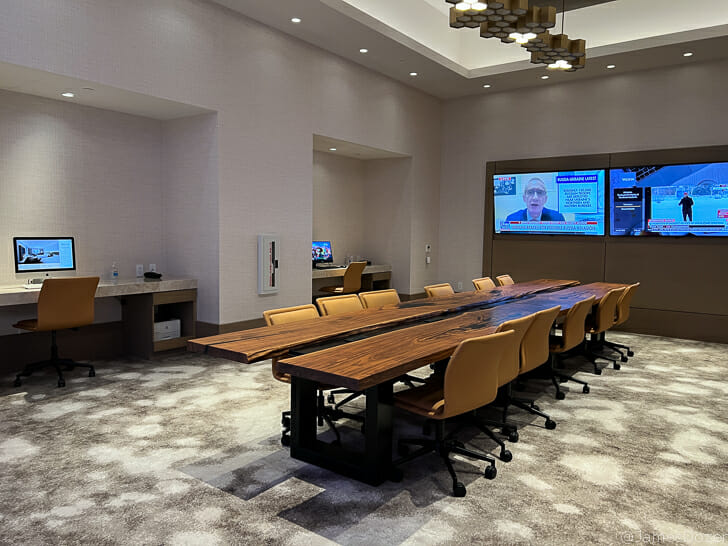 On this trip, we booked a standard king-bed room with no view and were upgraded to a park-view room with a balcony. The room was very spacious and furnished with a comfortable Westin Heavenly bed, pull-out sofa bed and a small sitting area. A desk would have been more convenient for business travelers but I appreciated the small table for families to enjoy a quick breakfast before heading out into the parks.
Our room also had a small balcony with a table, two chairs and a view of Disney's California Adventure.
The ensuite bathroom was spacious with a huge walk-in shower but I admit it wasn't very family-friendly as there was only one sink. There wasn't a lot of counter space and the toilet was unenclosed. I really wished this bathroom was designed a tad better for families.
Room amenities included a Keurig coffee machine, small refrigerator, iron/ironing board, security safe and two bathrobes. A welcome plate with macarons, oranges and cans of sparkling water were also provided; orange-flavored to highlight Orange County.
Other resort amenities included a small fitness studio, outdoor pool and jacuzzi. The pool area was nice with plenty of lounge chairs and a large jacuzzi but it was a very simple setup. If you're looking for a resort with a huge pool area, water slides and a lazy river, then this resort is not for you.
If you have Marriott Platinum or above elite status, then there is a Westin Club located on the 8th floor of the hotel for you to enjoy. The indoor portion of the club is not very big but it has a great outdoor patio overlooking Disney's California Adventure. For breakfast, you can expect a light continental offering of pastries, fruit, yogurt, cereal and oatmeal and in the afternoon, you can expect a simple offering of hor d'oeuvres and some wine. The menu won't fill you up by any means but it's a nice perk to enjoy some coffee and carbs to get you going in the morning and some light snacks to pick you up in the afternoon.
Here's the outdoor deck of the Westin Club and the view of Disney's California Adventure.
This was the afternoon hor d'oeuvres selection on the day of my visit.
Westin Anaheim Resort, Disneyland Bottom Line
Overall, the Westin Anaheim Resort, Disneyland is a fantastic resort and I would recommend it to anyone. It's not the closest hotel to the park's main entrance but it's definitely one of the nicest resorts in the area. The resort is modern, spacious, beautifully decorated and convenient for both business travelers and families alike. There are plenty of shops and restaurants located nearby and the resort's amenities offer a nice reprieve to escape to after a long day at the park.
Have you stayed at the Westin Anaheim Resort? If so, please share your thoughts with us in the comments section below. Thanks for reading!