Austrian Airlines is based out of Vienna and is a member of the Lufthansa Group. All of its long-haul routes operate out of Vienna International Airport (VIE).
Route Network
In North America, Austrian flies to Los Angeles, Toronto, Chicago O'Hare, Washington Dulles, New York JFK, Miami, and Havana.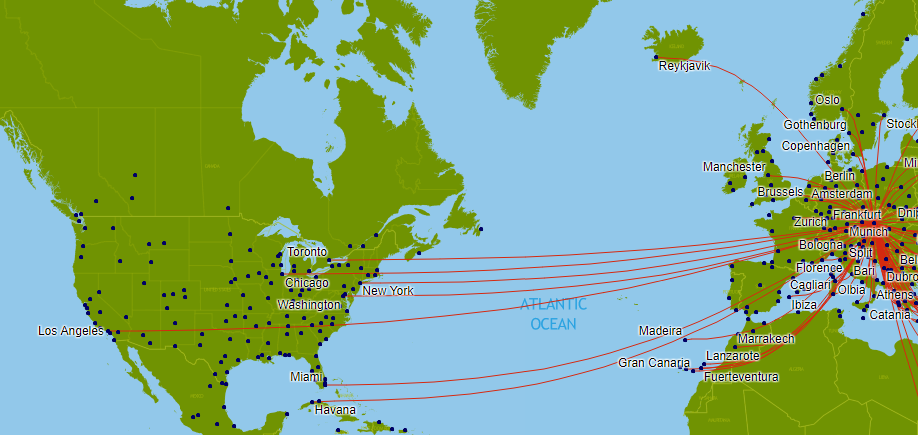 In the Middle and Near East, Austrian flies to Erbil (currently suspended), Teheran, Esfahan, and Shiraz, as well as Mahe Island, Mauritius, Male and Colombo in South Asia and the Indian Ocean. In the Far East, Austrian flies to Beijing, Shanghai, Hong Kong and Bangkok. Service to Tokyo and Delhi have been terminated within the past year. Austrian also intends to start service to Cape Town sometime in 2018.
Meanwhile, its European Network is exceptionally strong and provides a very robust gateway hub from Vienna to Eastern, Northern, and Southern Europe.
A large proportion of Austrians long-haul routes are seasonal, however, including Colombo, Havana, Los Angeles, Mahe, Male, and Mauritius,
Fleet
Austrian Airlines' fleet operates 82 aircraft in service. Of these, 11 are widebodies, 38 are narrowbodies, 19 are regional jets, and 14 are turbo-probs.
Widebody Fleet
Austrian operates 6 Boeing 767-300ERs and 5 Boeing 777-200ERs. The 767s are used to service Toronto, Newark, Washington, Chicago, New York JFK, Miami, and Shanghai. The 777s are flown to Los Angeles, Washington, Beijing, Shanghai, Bangkok, and Hong Kong. There will also be an additional 777 to join the fleet which will be leased from AerCap sometime in the next few months.
Austrian has started to fit out Premium Economy class on its long-haul fleet. A total of 18 Premium Economy class seats will be installed on its 767s and 24 on its 777s by 2018.
Narrowbody, Regional, and Turboprop Fleet
The remaining fleet consists of 7 Airbus A319s, 22 Airbus A320s, 6 Airbus A321s, 3 Fokker F100s, 2 CRJ-900s, 17 CRJ-195s, and 14 DHC-8s.
Terminal Map at Vienna
Featured image credit: Austrian Airlines