I recently had a conference in New Orleans which was held at the Sheraton. The hotel is conveniently located across Canal Street from the French Quarter and near downtown and the Riverwalk.
I received a nice upgrade to an Executive suite, but other than that, the hotel was nothing special. While on the subject of upgrades…While waiting in Houston for my connecting flight to New Orleans, I noticed the seat map for the flight had changed, showing 5 across in first and 7 across in economy.  This certainly appeared to be a plane change.  I asked the agent at the United Club, but she said its still listed as at 737-800.  She called the gate and confirmed that the short IAH-MSY flight would indeed be operated by a 767-200, and she changed my upgraded seat to a solo seat in the middle.  The 762 doesn't really add many more seats, but clearly there was some operational need for this change.
Nice way to fly domestically, albeit only about 45 minutes in the air. 
Back to the Sheraton in NOLA. (apologies for the harsh sunlight washing out some of the photos).
Executive Suite, Sheraton New Orleans
Executive suites are located at the end of the hall, and the sitting rooms contain a full wall of windows.
View from bar area near entry.
The bedroom was small, but perfectly functional with the large adjacent sitting room.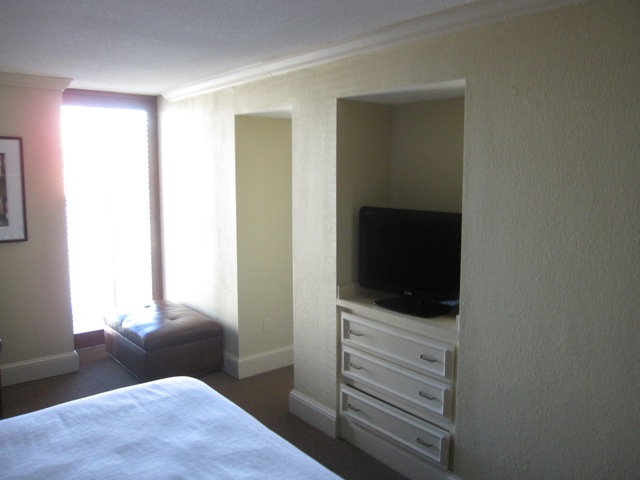 Closet with the requisite bathrobe
Functional if a bit dated bathroom
The room upgrade was nice, and from what I understand, this is a common upgrade for platinum members.  Spending 5 nights in one hotel room is a bit unusual for my typical travel patterns, so the extra space was appreciated.  Unfortunately, this room was on the 11th floor, and the Sheraton Club lounge was on 42.  There are 2 elevator banks, so a trip from my room to the lounge required 2 elevator rides.  I'd prefer the more spacious room to a standard room on the club floor, but it was a bit of a hassle.
More issues on property
Other issues included being charged for in room internet . This is free to platinums, but it took 3 calls to get this removed from my bill.  Also, I was charged $5 (plus $0.45 tax) for a package fee.  This for a fedex shipment I received.  I was charged this fee despite having to call to get the package delivered to me.  I was expecting it, and noticed the charge on my bill despite no notification that it had arrived.  Another annoyance was a $3 per day occupancy fee.  What?  What else do you do in a hotel?  Why was this an additional fee?
In all, this was a convenient location in the city, but the hotel has a few issues that need to be worked out before I would recommend this property or make a return visit. While staff I encountered were generally friendly, they seemed rather indifferent to customers.   I'm still waiting on some SPG points for the "Make a Green Choice" program to post, despite being told "these will post right away".  It is a large conference hotel, so service can be lacking at times at these large properties, but this hotel is one of the worst conference hotels I have experienced from a service perspective.