One of the most frequent questions I get from friends and family is whether they should sleep on an upcoming long flight. Or WHEN they should sleep. This can cause some anxiety because nobody likes to feel jet lagged for the first few days on their trip or when back home.
Put in action, here are a few examples for the most common types of long-haul flights and how I would approach them.
Westbound (3-9 hour time change)
Example Flights:
Europe —> North America (usually late morning departures)
North America —> Asia / Australia (usually late morning / early afternoon departures – sleep in if you can before going to the airport)
These are the easiest, and the most bearable in coach. Typically going westbound over many timezones means staying up so that you're dead tired when you get in (usually the late afternoon) – have a light dinner after landing and/or go straight to sleep. This is fairly easy on Europe morning departures, a bit more difficult on departures westbound from North America to Asia or Australia. Have coffee onboard, maybe with a 1-2 hour nap halfway through.
Eastbound (3-6 hour time change, usually overnight)
Example Flights:
North America West Coast —> East Coast redeyes (these are terrible, but there's no meal service, so try to sleep right away)
North America East Coast —> Europe (typically afternoon or evening departures)
South America and Australia eastbound transcons (ugh – fly during the day)
These are the hardest because the flights are generally too short to get a full night's sleep, yet you'll typically arrive in the morning (unless it's a US transcon or the rare morning departure to Europe). I really try to avoid shorter redeyes like these because there really isn't an optimal strategy that will leave you feeling even close to 100%. Try to fly morning departures for these and take a sleeping pill at your destination or choose the latest departures you can so you're tired onboard and land as late in the morning as possible.
Eastbound (6-9 hour time change, usually overnight)
Example Flights:
North America West Coast —> Europe
Asia —> North America
Australia —> North America
This is the sweet spot – go to sleep right after the meal and aim to wake up just before landing. Ideally, you'll be landing in the early afternoon, so it's a matter of powering through 6 hours to get to evening in your destination
Polar Routes (9-12 hour time change)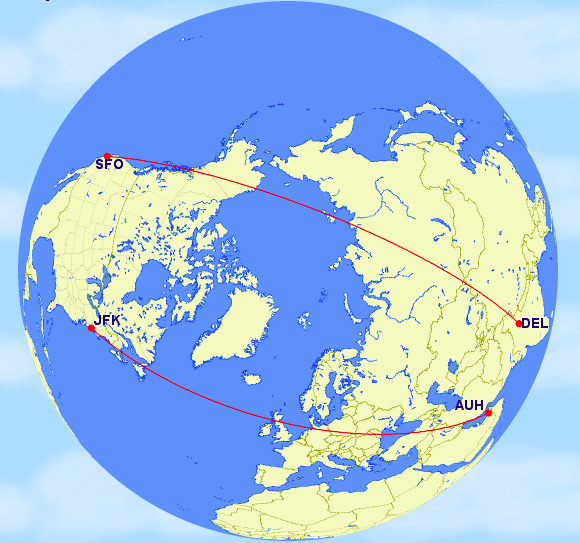 Example Flights:
North America —> Middle East / India and vice versa
Southeast Asia to North America East Coast (rare)
Strangely enough, these aren't actually as bad as they sound because at some point you'll naturally be tired and want to sleep onboard. Plus, the flights are so long that you can get a full 6-8 hours of shuteye. Just don't drink too much or get too chatty or engrossed in the IFE. Remember it's not the actual timezones, it's the chair, alcohol and dehydration. Bring a pillow and comfy pants.
North-South Routes (0-3 hour time change)
Example Flights:
North America —> South America and vice versa
Europe —> Southern Africa and vice versa
East Asia —> Australia/New Zealand and vice versa
These are great because theoretically there shouldn't be any jetlag! Sleep if it's night time outside (usually is) or stay up if it isn't (rare).
Ultimately, you have remember that your goal is to get on your destination's timezone as fast as possible. It can also be important to keep arrival times in mind when you book – there's a reason why those redeye flights are cheaper (or tend to have award space).
Hope this post provides some quick guidance on when to sleep for your upcoming flight!