I am resurfacing this deal because the price has dropped even further!  There is a new jaw dropping price, and this trip is now cheaper than many trips to Antarctica only! Seabourn has dropped the price to $18,999 per person. Yet, I have the price available for just $12,300 per person! Or $14K if you travel in Feb 2024. I have NEVER seen 21 day expeditions for this low, this deal is insane!
Highlights of South Georgia Expedition:
6 full days in Antarctica, including Christmas Eve and Day
3 full days in South Georgia, including New Years eve and Day in South Georgia
3 full days in the Falkland Islands
1 night in Buenos Aires & Charter flights to Ushuaia
Travel Dates Dec 19, 2023 – Jan 9, 2024
Or go in Feb 2024 at 50% off. Similar itinerary on Seabourn.  Pricing is just $13,998.01 per person Feb 20 – March 9, 2024! Do these dates not work? Don't worry, you can still save 20% any Venture or Pursuit sailing in 2024 or 2025 by booking before 10/31!
Why travel to South Georgia? King Penguins. Colonies of 100,000 King Penguins and their chicks! South Georgia is not only one of the most remote and least visited place on earth, it has the most diverse marine ecosystem. Even more so than the Galapagos! Contact me to book
Original Post below
If you have been considering an expedition cruise to South Georgia, Falkland Islands and Antarctica I have an amazing deal for you. It is a bit last minute as it's for travel for this Christmas. This Seabourn 21-Day Antarctica, South Georgia & Falkland holiday Antarctic cruise deal cannot be beat! Typically these types of expeditions cost over $30,000 per person. Yet, right now, you can save $8,000 below direct booking prices by booking via Scott and Thomas Travel. Plus, I'll be on the ship too. Come travel with me, Dec 19, 2023–Jan 9, 2024. I had such an amazing time in Antarctica in Feb 2023 that I have decided to go back for Christmas!
The trip will be on the nearly brand new Seabourn Venture and is a true all inclusive holiday vacation to the Antarctica. I wrote about my time on the Seabourn Venture in Antarctica and honestly, the vacation can not be beat. By far one of the best vacations I've ever had! If you don't have plans yet for Christmas, but want a full Antarctica experience, this is your opportunity to see King Penguins colonies in South Georgia, and the stunning landscapes of the Falkland islands. 
Come travel to Antarctica for Christmas and stay in South Georgia for New Years! This is really the best way to see Antarctica via small ship. Why am I going back so soon? Because a trip to Antarctica is not only magical, it's life changing. In addition, last time I was there, I didn't see the Falklands and South Georgia and I honestly think that was a mistake! Everyone I've spoken to who has done both South Georgia and Antarctica rave about South Georgia. Saying it was their favorite part and #1 spot on the planet. I have serious FOMO, so I'm going back! 
The Extended Antarctica Expedition
This vacation is on sale for just below $40,000 per room based on double occupancy.  Final Price, $39,196.02. Travel dates are Dec 19, 2023–Jan 9, 2024. This is $19,598.01 per person total. This is an exclusive deal for Travelcodex readers only. Currently Seabourn is selling this same vacation for $27,999 per person! Save $8,400 by booking and traveling with me.
Updated price is now just $15,000 per person! Contact me today to book
Pricing includes everything you can imagine. Start with an overnight stay in Buenos Aires at the beautiful 5 star Alvear Icon hotel. Then the next morning, board a charter flight to Ushuaia to start the journey to South America.
After two days crossing the icy waters of the Drake passage, spend 6 full days exploring the Antarctic Peninsula. Christmas in Antarctica! This is a day longer than most Antarctica expeditions and provides lots of time to see the wildlife during the most pristine time of the year. See Antarctica when the weather is the best in December and the days are long. Allowing plenty of time for wildlife viewing from seal pups to penguin chicks, and even the start of whale migration season.
South Georgia Expedition Stops
After exploring the Antarctica peninsula, and having possibly enough time to cross to the Antarctic circle, head North East towards South Georgia. Arrive in time to spend New Years Eve here and spend 3 days with King penguins and the stunning wildlife of this remote archipelago.
The South Georgia Islands Group is one of the least visited destinations on earth. Being largely untouched and blessed with a sub-Antarctic climate and nutrient-rich seas, it represents a sort of Lost Eden of unspoiled wildlife habitat. Although ice and snow are present, they are strikingly green with vegetation as compared with the Antarctic islands. 
The islands have an abundance of wildlife, including seals and whales. See the massive populations of king and macaroni penguin species. Penguins which are not found further south in Antarctica. Stop and enjoy other animals too such as the beautiful fur seals, elephant seals, albatrosses, giant petrels, and other seabirds. Minke Whales, orcas and dolphins abound offshore in one of the most diverse marine ecosystems on earth. 
Although the animals are the highlight, at least for more. There's more to see. During the time in South Georgia your visit will include visits to historic communities such as Grytviken, with its memorial to Ernest Shackleton, the immense breeding colony of king penguins on the Salisbury Plain and other highlights, along with less well-known, but equally unforgettable sites. 
Falkland Island Expedition Stops
If this trip was not already jam packed enough for exciting stops and things to see, prepare yourself for a stop to explore the Falkland Islands. The highly sought after British overseas territory that Argentina wants so badly is on the itinerary. The stop here is equally great and consists of three full days, it's enough time to take it in before heading back to Ushaiaia. 
There is nowhere else in the world like the Falkland Islands. The archipelago is a remote, wind-swept place of stunning landscapes, dazzling white sand beaches, magnificent wildlife, and a rather gregarious mix of people. Enjoy the views of the shore while sailing by and during the full day stop to explore Stanley. 
There is over 200 islands surrounding the two main islands of West and East Falkland. These isolated and treeless shores are home to an overwhelming abundance of birdlife. A true birders dream! Watch out for albatross, penguins, caracaras, geese, and many others bird species.
Perhaps it was the very remoteness of the islands; the allure of its barren landscapes, pure in their austerity and colorful in their details, and the immensely large open skies that attracted settlers to its shores long ago. It's yours now to discover and fine the allure. What makes this place so special? Go and find out! 
After a quick day visit, return to Ushuaia Argentina and fly back via charter fly to Buenos Aires to return home or continue your travel elsewhere.
What's Included in a Seabourn Expedition
Seabourn expedition cruising is among my favorite ways to see the world. If Seabourn is not my favorite expedition brand, it is among the top 3 with Lindblad and National Geographic taking a very close second. Seabourn pricing includes everything from complimentary starlink internet, staff gratuities, daily landings and activities, zodiac rides and more. Seabourn even includes open bars on every voyage and unlimited caviar for all. Not just for those in First Class, or this case those in an owner's suite.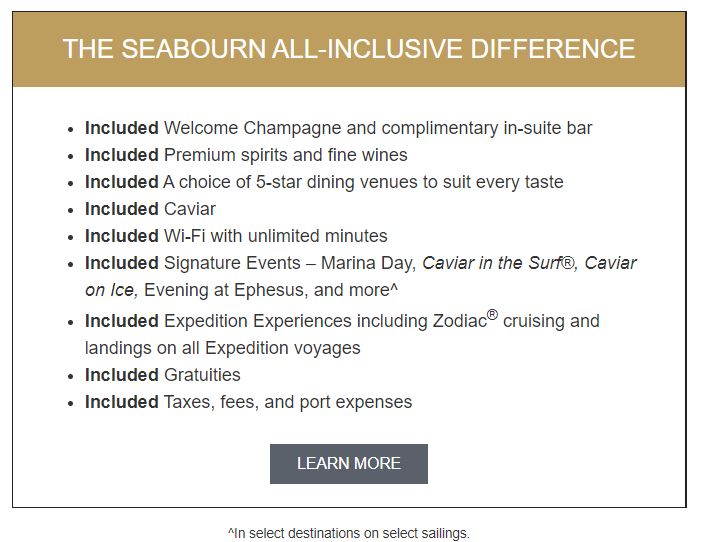 Seabourn provides near 1:1 staffing on expedition ships and never sails with more than 250 people. Meaning you can get off the ship during Antarctica landing. Explore and learn with a world class expedition team. Naturalist and expedition leaders join every landing and provide educational lectures each day. Relax and learn, take it all in!
Seabourn all inclusive pricing is among the best in the industry and this deeply discounted expedition to Antarctica is not to be missed. If you've wanted an all inclusive Antarctic expedition to see everything Antarctica has to offer. Now is your opportunity
Bottom Line
I've been writing a lot about Antarctica and the polar regions. I have an obsession. It's my favorite place in the world. The remoteness and pure beauty is unlike anything else. The derpy penguins make me smile and laugh with delight. Antarctica is like going on an African Safari, but with snow and different animals. Every day you see something different. There wasn't a day that passed in February on my last trip where I wasn't overtaken with Awe.
This limited time deal to save over $16,000 on a veranda suite is only available for 3 suites on the ship. The tour begins on Dec 19, 2023 and returns on January 9, 2024. If you ever wanted an all encompassing trip to South Georgia, the Falklands, and Antarctica this is your opportunity. Contact me today to reserve your suite. See more about the expedition here, but be sure to contact me for the best prices!
Remember, do not go to Antarctica on a larger ship (aka Holland America). Always do it with an expedition company with less than 500 people, to ensure you can stop and walk on Antarctica.