Since the airline's inception, the humble 737 has made up the backbone of Southwest's fleet.  As the airline grew, the 737 evolved, too, stretching out and becoming more efficient.  That evolution brought us to Boeing's latest version, the MAX.  Though available in four variants, Southwest began service with only the MAX 8.  Back in March, Southwest announced a special "Texas Triangle" route to launch revenue service of the new plane.  So, I quickly made plans to make it to the Southwest Boeing 737 MAX 8 launch.  (Considering I live in Dallas, I wouldn't have forgiven myself if I didn't.) Unfortunately, the launch didn't go as planned, due to a cranky plane that broke down in Houston.  But, the part that did happen made for a fun morning.
Southwest Airlines (WN) Flight 1
Sunday, October 1, 2017
Depart: Dallas Love Field (DAL), Gate 16, 07:05, 5m late
Arrive: Houston Hobby Airport (HOU), Gate 4, 08:05, on time
Duration: 1 hour
Seat: 8A
Equipment: Boeing 737 MAX 8
Love Field Pre-Flight Festivities
I find very little endearing about getting up at 5 am on a Sunday, though no airport traffic is nice.  I doubt I'll ever make it from Plano to Love Field in 32 minutes again.  Anyway, I arrived to find a horrid security line, though PreCheck saved my bacon.  I then made the short walk to Gate 16, hoping to find some fun pre-flight activities.  Arriving at the gate around 6 am, I found a full gate area.
People seemed in good spirits for so early in the morning. Surprisingly, an announcement mentioned the flight still had about 35 empty seats.  I also found out that roughly 60% of the passengers were employees.
Southwest set up a photo booth, as well as a "Heart Cart" with assorted Southwest-branded goodies.  I first stopped by the photo booth to get the obligatory cheesy launch photo.
Then, I headed to the Heart Cart to grab some goodies.  The headphones up top looked nice, but unfortunately didn't work.  That turned out to be a bad omen for the rest of the day.
An…enthusaistic…Southwest employee then led other employees in the "Heart Dance".  (I made that up – apparently this really is a thing, though I don't know what they actually call it.)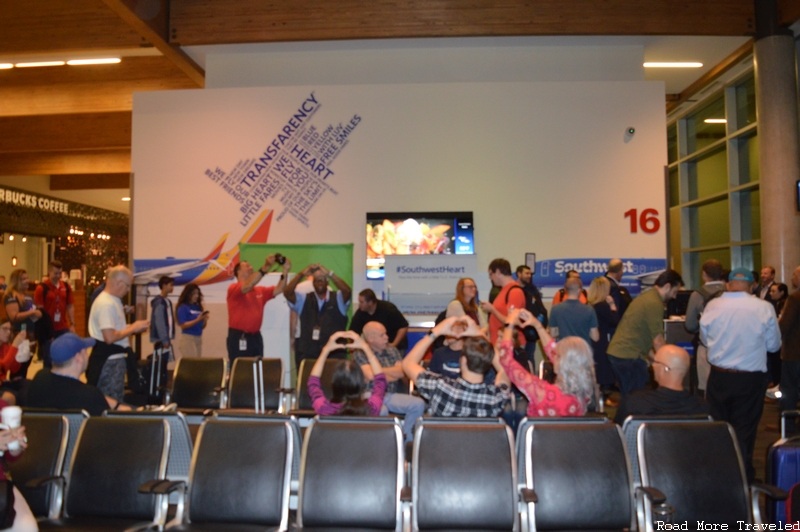 Other than that, though, nothing, which made the whole experience kind of lame.  I did find it interesting to talk to the mix of Southwest employees and avgeeks.  But I expected more.  Even stodgy American brought out a giant US Airways cake for the final US Airways flight.  In keeping with the throwback theme of the Texas Triangle, they could have at least brought in orange juice and donuts like the old days.
Southwest Boeing 737 MAX 8 Launch – First Flight
For the most part, there's little difference between the MAX 8 and other Southwest 737 variants.  You'll find the same Southwest "Heart" logo greeting you at the front door.
The seats themselves are identical to those found in the "Heart" interior of the 737-800.  Southwest advertises 32 inches of pitch, though the seats feel a bit roomier than that.
They feel perhaps marginally better in the legroom department than the "Evolve" interior on the 737-700.
You'll notice that the literature holder moved to the top of the seatback.
The Southwest MAX 8 does include two new features for the airline.  One is boarding music (yes, that's right, no other Southwest planes play boarding music).  The second is snazzy, customizable mood lighting.  Southwest varies the lighting from blue to orange, depending on the phase of the flight.
As we waited for pushback, the flight attendants drew two seats randomly.  The passengers sitting there won 25,000 Rapid Rewards points.  I didn't win.  Oh well.  I settled for a photo of a 737-800 as the sun rose.
Then, at 7:05 am, the moment everyone had been waiting for.  We pushed back, commencing the first North American domestic revenue flight on a MAX 8.  Southwest actually planned on being the launch customer for the MAX, but Norwegian and Lion Air beat them to the punch.  Anyway, the gate crew bid us a fond farewell.
A few minutes later, those on the left side enjoyed a view of downtown Dallas as we lined up for the runway.
Then, a few minutes after takeoff, Mother Nature treated everyone to a big Texas sunrise.
About halfway through the flight, Southwest CEO Gary Kelly made a few remarks about the MAX 8's importance to the airline.  (Interestingly, he greeted passengers at the door, then sat in the back of the plane since no other seats were left.  I figured he'd have a saved seat up front or something.  Good for him.)
Then, he held another drawing, this time for 2 Apple iWatches.  I didn't win again.  Boo.  Anyway, one noticeable difference from other 737 variants became apparent by this point- engine noise.  Or rather, the lack thereof.  The MAX 8 is noticeably quieter than other 737s.  Not quite to the level of the Dreamliner, but still quite hushed at cruise altitude.
Finally, I enjoyed a fantastic view of downtown Houston on final approach to Hobby.  One thing I have to chide Southwest for – the windows were filthy.  Strange for a brand new plane.
We touched down at Hobby a few minutes before 8 to a hearty round of applause from the passengers.  Even though the same plane would take us the whole way, these were treated as separate flights.  Therefore, everyone had to deplane at Hobby.  Just as well, since I wanted to check out the gate events.
Southwest Boeing 737 MAX 8 Launch – Houston Hobby Gate Events
Upon deplaning, surprisingly, I found nothing terribly exciting in the gate area.  The Heart Cart reappeared, but only had packets of peanuts and pretzels.  Lame…
They did bring some donuts and coffee, though.
Other than that – nothing.  Not even any special announcements to speak of.  And the gate area seemed quite subdued, like you'd expect on a Sunday morning.
About the only way you'd know the flight meant anything special was seeing Mr. Kelly milling around.  I must say, he seems like a very patient fellow.  At least a dozen passengers approached him for selfies and such.  He kindly indulged everyone who came up to him.  Yes, yours truly included.
Houston, We Have a Problem
Boarding for the 2nd leg started right on time at 8:25.  The pretty bird seemed ready to continue its journey.  (That scimitar wing is super cool, BTW.)
The CEO once again made some remarks, and held a drawing for two passengers to win 25,000 RR points.
Yet again, I didn't win.  C'mon, Gary, I thought we were buddies!
But then, things descended into a #MAXFAIL with a comical sequence of events.  The captain announced a delay due to a maintenance indicator.  About 30 minutes later, we pushed back, thinking everything was resolved.  But halfway to the runway, the indicator came back on, forcing us back to the gate.  Another 45 minutes, and we're told everything is set.  But before we can push back – you guessed, the indicator came back on again. On the bright side, the nearly 2 hours in the seat gave me a chance to evaluate its comfort.  It's definitely easier on the posterior than the dreaded (d)Evolve seats.  I generally don't care for slimline designs, but these seem about as good as you can expect.
At that point, Southwest gave everyone the option of deplaning and arranging new flights home if they wanted.  I decided to take that option.  The line at customer service looked pretty bad, so I headed to the gate for the next flight to Dallas to take my chances.  I had separate tickets from DAL-SAT and SAT-DAL, so it took some doing to fix.  But a very kind agent managed to work things out, and got me on the flight.  As I waited for boarding, another Southwest employee deadheading on the flight mentioned that the rest of the MAX 8 trip had officially been called off.  The plane had a bad spoiler control unit, which meant 2-3 days out of service.  Bummer.  But at least I know I didn't miss anything, and made it home only about an hour later than scheduled.
Final Thoughts
Ultimately, it was too bad the entire Texas Triangle didn't work out.  Though I'm sure the whole thing had to be seriously embarrassing for the CEO and other bigwigs on the flights.  So do I plan to rip Southwest a big one for what happened?  Meh – not much to complain about, really.  They managed to get me home with a delay of only about an hour.  And Southwest proactively reached out to offer a refund, and some funny money for good measure.  Can't really ask for more than that.
If anything, what disappointed me more was the lack of "pizazz" with the whole affair.  Southwest built a reputation as a fun airline, so I expected some good gate celebrations at least.  But they really didn't do much of anything.  Not even free drinks on board to get the party going.  On the other hand, I could tell the employees really take pride in their new bird.  Showing that off to the public means something, at least.