I just received a targeted email from Southwest Airlines offering me A-list status for through 2015 for flying just 3 round trips (6 one-way flights) or by earning 8,750 tier qualifying points through either flying Southwest or by earning them via the Chase Southwest Credit card between January 22 and April 18, 2015!
Southwest has three elite tier levels. A-list is the lowest tier (equivalent to Delta/United/US Silver, AA Gold, and Alaska MVP) and is typically awarded to customers after flying 25 one-way flights or earning 35,000 Tier Points. A-list comes with a slew of benefits including priority boarding, 25% earning bonus, and priority standby, check-in, security access, and a dedicated phone line.
I do not fly Southwest Airlines very often, but they are the only airline that offers non-stop service between my home and work place. With 5 months left on this contract, I may now consider flying Southwest more frequently as the points will stack up quicker and I will finally have status.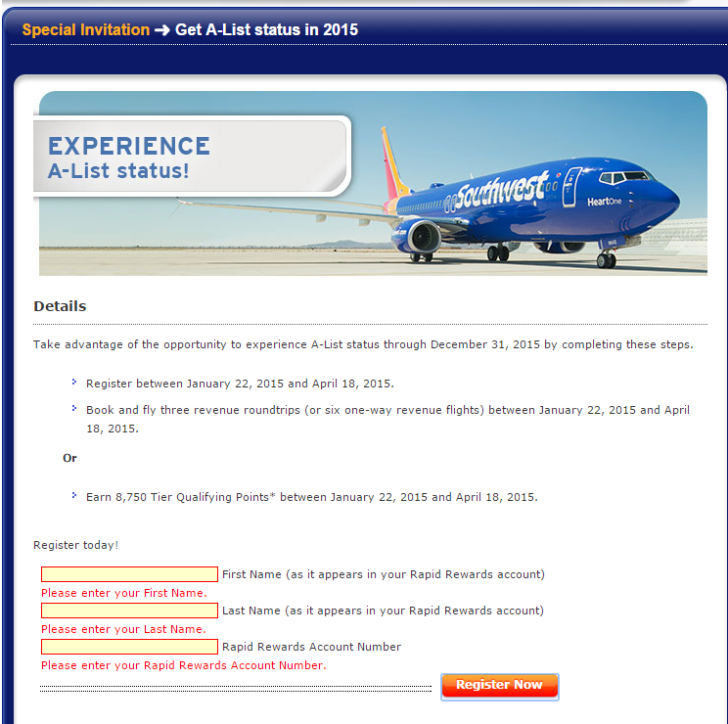 To find out if you are eligible for this offer, try signing up via this link. You may be surprised to find yourself eligible! After all, last year I only flew 10 one-way trips on Southwest, and have only flown southwest once this year. I was definitely surprised to see an invite to fast track status!
Southwest might not have large planes, but I would definitely call this a #DoubleWideDelight! Did you get this offer or a similar one? If so please comment below!