I have been really excited for United Wi-Fi for a long time. For years, Gogo has slowly crept onto just about every airline out there. Delta even offers it on some regional jets. Gogo, in its current implementation, uses a ground link that relays to a cellular connection. This makes flying over water impossible and flying over international borders equally challenging.
While the entire industry migrated to GoGo Wi-Fi, United resisted. Instead, the airline decided to bring out its own in-flight Wi-Fi solution. This solution would be satellite based, allowing for internet access regardless of where the plane was flying over, whether it was a flight to China or Cancun. The in-house solution would also let United interact directly with the customer. In fact, when you use United Wi-Fi, you can enter your MileagePlus number and the receipt comes directly from United. The implementation was met with a lot of delays. It wasn't until very recently that United was finally able to roll its product out. And even now, if you book a flight on United, the chances that your flight will have WiFi are rather slim. The conversion is proceeding at a pretty slow pace. The slow conversion has really bummed me out as being a business traveler, I've had a tougher and tougher time justifying flying United during business hours. Almost all of my company tools are web based, and I'm a rather useless employee without connectivity.
In any case, United Wi-Fi is here (on some flights), and I have been fortunate enough to have four different flights with Wi-Fi on them. I tested the experience on all four, and here are the combined reports and conclusions.
Flight 1: SFO-LAX, May 31, 2013
This was my first time experiencing United Wi-Fi. I was very surprised to see the "United_Wi-Fi" SSID when my computer started up. I logged on, and things went quite smoothly. It takes a while for the internet to become available, but even before it's available, you get to a screen like the one below, showing some in-flight statistics.
After a few minutes, I was able to refresh the page and log in. You log in with your MileagePlus number, if you choose. I assume this will eventually let United theoretically offer discounts to frequent fliers, perhaps including it free for top tier elites or something like that.
While I don't recall my exact pricing that I was offered, the experience was pretty smooth after that! I was up and running with in-flight Wi-Fi, and of course, the first thing I did was test the speed. I ran two separate speed tests to see what kind of results I would get. See them both below:
In this case, downstream speeds were pretty decent. I was getting close to 10Mbps downstream, but my upstream speeds were quite poor. If you're sending large attachments, you better take care of those on the ground. The thing to notice, though, is the high ping time. Ping time was nearly 1 second. That means for every request, the time it takes to bounce from my computer and back is nearly a second. This is pretty darn slow, but it's not to be unexpected form satellite based internet. People who live in rural areas that depend on satellite internet struggle with this all the time. While I hope for ping times to be reduced over time, I'm not holding my breath. I think it's more likely that we'll see more overall bandwidth increases with pings still being high. In terms of how this affects your typical browsing, essentially every page has a bit of lag after you click a link, and then once you click it, it loads quickly. While I had a decent experience on this flight, on to the next one!
Flight 2: SYD-SFO, August 11, 2013
Nearly four months had passed since my previous flight with United Wi-Fi, and during this time, I was on a United plane close to 8 times per month, but I still never saw another flight with Wi-Fi. Then I got a neat surprise… My international flight back from Australia had Wi-Fi! I saw the logo on the plane when I boarded, and I almost lost hope when the flight attendants never announced it. I was surprised… Why not announce such a unique thing like Wi-Fi over the ocean!? Once we took off, I immediately fired up my computer. Sure enough, there was Wi-Fi. NEAT! I jumped the gun, as I usually do, and Wi-Fi wasn't yet available when I was signed on.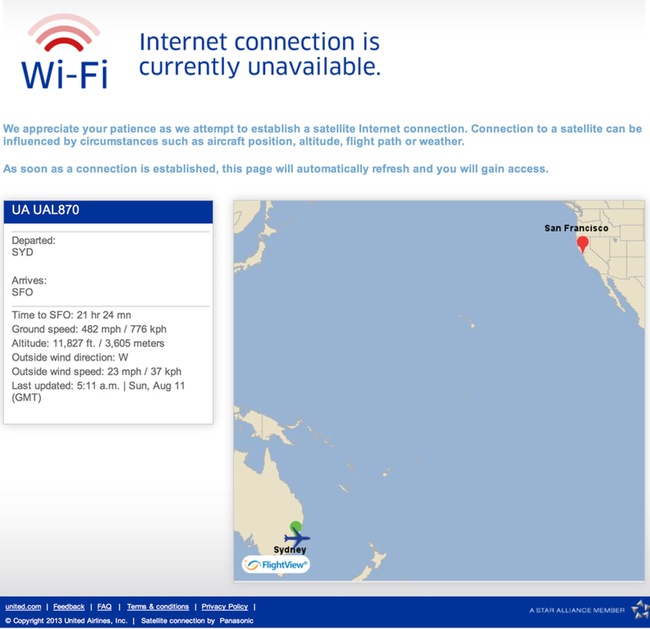 After a few moments, Wi-Fi was available, and I was offered the following pricing options:
For $14.99, I could do "E-mail and Mobile Apps" and for $5 more, I got a full web browsing experience. I'm pretty sure they just limit the browsing speed in this case, and I would prefer if they would just be more up front about it. For example, does the "E-mail and Mobile Apps" option mean that certain ports will be blocked that would otherwise be available with the premium experience? Or are the speeds just throttled? It would be nice if they called it "Standard" and "Premium," like some hotels do. In any case, I opted for the faster option. Once I paid and clicked through, I got a screen telling me that there were issues.
After clicking around, refreshing the page, etc, I eventually hit timeouts.
After changing browsers a bunch, refreshing the page, etc, I was finally able to get the system working and benchmark the speed.
Only 2Mbps down… I tried a few more times, and I continue to get the same result. I then went to load a web page, and I got the following:
Eventually, every page I went to would redirect to the following page:
I essentially was able to get no work done. Between the speeds being nearly unusable when it was active and the reliability being poor, I figured I would go to bed for a little bit and try it when I woke up. When I woke up, we were near Hawaii. Even at that location, I had the same issues. About a third of the time, sites would time out. A third of the time I'd get a redirect to a page telling me that Wi-Fi worked or didn't worked (seriously – if it's working, why are you redirecting me to a page telling me that, rather than just loading my site?), and a third of the time it would work properly, albeit at a snail's pace. Since I purchased the premium option, I can only imagine how slow the standard speed was.
In all, I was pretty unimpressed with my transpacfic Wi-Fi experience. If United is going to offer it, make it work. When it "worked," the experience was poor, but it didn't even work that often. If the issue is something on their backend, they need to fix it. If the issue is satellite coverage, either get another satellite up there or make it cheaper and advise users that their connection is likely to go in and out throughout the flight.
Flight 3: LAX-LAS, August 15, 2013
Last week I got on my flight to Las Vegas, and I was surprised to see that United Wi-Fi was again offered. Of course, I had to buy it and see if the experience had improved since my Sydney flight! As soon as we hit 10,000 feet, I fired up a web browser, and I was greeted with the following screen:
It was disappointing that internet was not available once we got to 10,000 feet. I kept refreshing the page, watching us climb, and I still I wasn't able to get internet access. Finally, when we were close to 20,000 feet, I got to the page where it would let me pay.
$4.99 was the price, and here there were no options to pick between. There was just one flat $4.99 price. I paid for Wi-Fi, and then I was ready to surf the net and start speed testing. Unfortunately, while it successfully took my money, it never successfully allowed me to browse the internet. I tried resetting my DHCP lease. I tried turning Wi-Fi on and off. I tried multiple browsers. I tried restarting my computer. No matter what I tried, I always got the timeout screen.
$5 down the drain to United. I need to go fill out that refund page. I haven't done so yet. That was about the worst a Wi-Fi experience could be. It's one thing to not work… but to take your money and then not work – c'mon, man!
I was about to write this blog post just based on those three experiences, but today when I got onboard my United flight from SFO to SNA, only 6 days after my LAX-LAS flight, I had Wi-Fi again! Such a mystery… Would it be smooth sailing? Would it have spotty connectivity? Would it take my money and fail?
Flight 4: SFO-SNA, August 21, 2013
Once the plane hit 10,000 feet, I flipped open the computer. While the SSID for "United_Wi-Fi" was active, I wasn't getting anything yet in my browser. Eventually, I was presented with a screen to select internet for $3.99. Once again, just like my LAX-LAS flight, I could only choose a single option, rather than pick between two. Curiously, Wi-Fi on this flight was one dollar cheaper, even though SFO-SNA is 372 miles vs. LAX-LAS being 236 miles. Does that make sense to anyone else?
The page telling me that internet was $3.99 was missing one thing. Namely… a button. There was no button for me to click to buy internet. I had to fiddle around with the other tabs to eventually get to a screen where I could enter my payment information. Once I entered my payment information, I was golden. Internet worked for the entire duration of the flight, and I took the following 3 speed tests all at different points on the flight.
The bandwidth here was pretty similar to what I was getting on that first SFO-LAX flight. I could write more about this experience, but it worked without issue the entire time. I won't waste the space on the page.
Conclusions…
1) I don't think there's any way around admitting that United blew it by avoiding GoGo for so many years. They could have put GoGo Wi-Fi on their domestic flights and satellite internet on all of their over-water flights. Now that their solution is here, it's definitely not faster, ping times are much slower, and it's less reliable.
2) Speaking of reliability, it's awful. The problem is twofold. First, United needs to hire better server engineers to build out the onboard infrastructure. I don't care if the satellite goes out. I should never have a page time out. If it's going to time out, I should get a friendly notice from United letting me know that satellite coverage is poor. Random error notices, etc, are unacceptable. You don't get this with GoGo. With GoGo, it either works or you get a picture of a cloud telling you that there's an issue.
3) The internet speeds are not that impressive. Nearly a 1 second ping? 2Mbps down over the water? 0.2Mbps up no matter where I am? Furthermore, there isn't much consistency.
4) The pricing models are messed up. So… if I'm flying across the ocean, I can pay $19.99 for the slowest internet I have ever experienced since 1999 or for $14.99, I can get a slower version of that. Or is it slower? United doesn't really indicate what the differences are. And when I'm flying domestically, I can expect to pay $4.99 for a flight that is 236 miles long, but when it's 372 miles long, I should expect to pay $3.99? How much crack is the pricing team collectively smoking? Make it simple.
I'm hoping and assuming this will improve with time. I'll be using it on every flight I have, and I'll report back if things seem improved at some point in the future. For now, if you need to work on the plane, this will function for you… if it works. If you're expecting a great browsing experience, just watch a movie on your iPad. Of course, that movie better already be downloaded… cuz you can bet you're not streaming Netflix over a connection like this :-).