Those of you who have been to Hawaii before have probably heard of the halfway to Hawaii game. Because there are a lot of leisure travelers on these routes, and because you're flying over water with no reference points, I guess it makes sense to offer people an opportunity to guess when the plane will be exactly halfway through its trip.
Basically what happens is the pilot comes on the PA and provides you with some details about how far and how fast the plane is traveling. Obviously we could all figure out the halfway point based on distance, so the real goal here is to figure out the halfway point based on time. Headwinds and variations in climbing and descent rates all create some variability that help determine the final winner based partly on luck. But some good math is important to get anywhere close to winning the contest. Here's the route we took according to FlightAware.com. (It doesn't show it, but at one point we could also see what I assume was UA565 flying the LAX-OGG route just outside our window.)
And what do you win? On my trip with United, it was a copy of Fodor's guide to Hawaii (I'm not even sure it was Maui-specific, just Hawaii in general). Not particularly special since you probably already have a guide book with you if you have any questions about what to do, but still a nice thought. Also, all the entry froms had certificates that you could redeem at a local Hilton property for a sweepstakes–only there are no Hiltons on Maui, so that doesn't quite work.
I already had a copy of Maui Revealed, by Andrew Doughty. Not only is it cheaper, but in my mind it's also a better book than anything I've read by Fodor's or Frommer's or any of those weird F names. I'll reference it a lot when I publish my trip report in a few weeks.
Just so you know, I didn't win the game, because I would otherwise now be raffling off a copy of Fodor's book that I don't need. But for those of you traveling to any of the Hawaiian islands soon, you may be interested to know that I came extremely close to winning. I was off by 53 seconds. Unfortunately someone else was only off by 20 seconds.
Remember, it's mostly chance, but good math is important. Here's mine so you can play with it as you wish and hopefully improve your odds. (And if you don't remember your dimensional analysis from high school, now would be a good time to brush up. Fortunately, Texas A&M produces good finacées AND good online math tutorials. 😉 )
The pilot provided us with four pieces of information, using nautical miles:
Distance between SFO and OGG: 2094 nm
True airspeed (relative to the air): 466 nm/h
Headwind: 38 nm/h
Takeoff time (in Hawaii, for simplicity): 7:15:30 AM (that's hh:mm:ss)
Our goal was to provide the time we would be halfway to OGG. If you only used the true airspeed, you would find that you arrive very quickly, requiring only 4:29:37.
By subtracting the headwind from the true airspeed, you get a groundspeed of 428 nm/h. If you assume you are traveling at the same speed for the entire trip, you will find that it takes ~4.8925 h, or 4:53:33. This is much closer to the scheduled flight time of 5:40, but it is still obviously wrong.
When a plane takes off and lands, it clearly is not traveling at its top speed. It starts and ends at zero. To account for this, I assumed that the first and last 50 nm (100 nm total) would be used for ascent and descent. Assuming a linear change in speed from 0 nm/h to 428 nm/h, the average speed during this time is 214 nm/h and will require 0.46729 h. This actually makes a lot of sense because it means about 20 minutes on each end for takeoff and landing, which is roughly my experience when flying.
For the remaining 1,994 nm, I assumed the craft would travel at its top cruising speed of 428 nm/h. This would require 4.65888 h. Add them together and you get 5.12617 h or 5:07:34. This doesn't agree with FlightAware, but the captain always gets his way.
Take half of that. It will require 2:33:47 to reach the halfway point. When added to the takeoff time of 7:15:30 your end result is 9:49:17 AM.
And the real answer was 9:50:20 AM. 🙁
So, no, I didn't win the guidebook, but maybe on the next trip you'll be more lucky. Another thing worth noting is that I actually had to ask for an entry from. Apparently they assume no one in first class enjoys playing games. Certainly I was young enough to be the grandchild (or great grandchild) of most people in that cabin.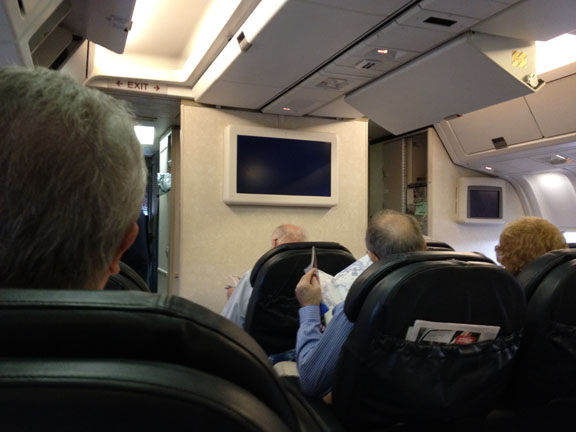 But the people in coach weren't missing out on much. First class service to Hawaii is the same as it is to any other domestic destination, with the same iffy breakfast. The only differences are an older plane (the "ghetto bird" 763) and mai tais instead of margaritas.
They looked at me a little funny when I asked for my third as we began descending around noon…