After our delayed flight into Tokyo, we missed the flight we had originally scheduled to take us from Narita to Osaka. Ultimately we took a high-speed train directly to Kyoto. In retrospect, this was easier than our original plan. That included a terminal change at Narita, another flight, then getting from Osaka to our hotel in Kyoto.  I'll discuss our experience with the Shinkansen in at later post.
Lobby of the Hyatt Regency Kyoto
We booked this hotel using Hyatt Gold Passport points, where it falls into Category 5, at 20,000 points per night.  Given we were traveling around New Years, it seemed pretty full.  We also considered the Westin Miyako hotel, but due to the smaller size and more favorable reviews, opted for the Hyatt.
After our long delayed day of travel from Chicago to Narita, we didn't do much after our late evening arrival at the hotel beyond some minor unpacking and going to sleep.  I don't normally have a big problem with jet lag, but the nighttime arrival made it pretty easy to begin to adjust to the clock flipping time zone change.
Hyatt Regency Kyoto
The lobby was a very modern and atypical lobby for a Hyatt Regency.  The rooms were fine, but nothing too exciting.  They have a very few larger rooms, but since the hotel was nearly full, we did not recieve any type of upgrade. The interior facing room we received is considered deluxe.  I was willing to do a points/cash booking, but since this property is not eligible for Diamond Suite Upgrades, I didn't bother.  I had already re-qualified for Gold Passport Diamond status for 2016, so burning points seemed the most logical choice.
Breakfast is complimentary thanks to my diamond status, and we also received a coupon for up to 3000 yen that could be used at restaurants, spa, etc.  We used it for a nightcap one night at the bar, since we weren't on property that much any other time.  The main buffet restaurant is just off the main lobby, in the back left of the top photo.  There was a nice selection of options both western and Japanese.
Hyatt Regency Kyoto Deluxe King Room
Our 'king' room had 2 twin beds pushed together.  They mentioned this at check in. I preferred the slightly nicer deluxe room that we were assigned vs a true king bed in a standard room.  Not ideal, but it was fine, and after the first night they made the beds with a single king duvet, so it was hardly noticeable.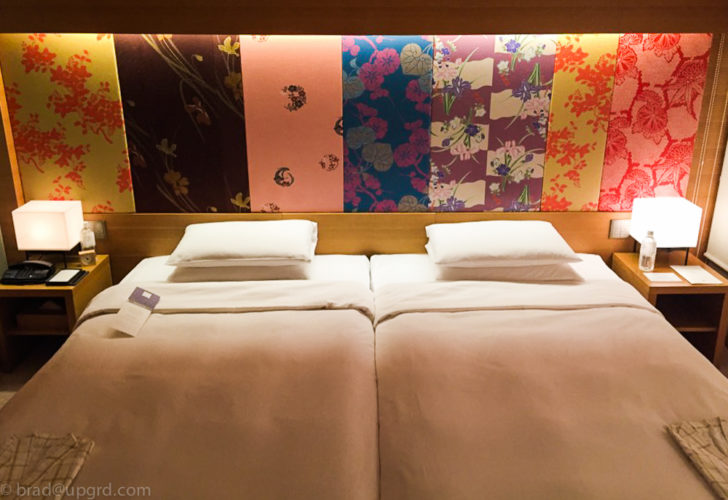 Deluxe King room at Hyatt Regency Kyoto
The bathroom was modern if a bit small. There was a single sink and a predictably high-tech Toto toilet.  There was also a large tub and a nice shower that shared space behind frosted glass.
Hyatt Regency Kyoto bathroom views
Getting around Kyoto
As for getting around town, the hotel is only 10 minutes by taxi away from Kyoto's main train station. There are also bus stops directly outside the hotel that can take you back towards the city centre or out to various tourist sites.  We had nice weather, especially for late December, so we walked a lot, but it was nice to have the option of a bus nearby.  There is also a subway system in Kyoto, but we didn't use it.  One note on riding the bus: Riders enter using the rear door, ride to their destination. Payment occurs directly to the driver when disembarking at the front door.
Hyatt Regency Kyoto
Overall service was good, and I would recommend this hotel for those visiting Kyoto.  I'd certainly return on a future trip.  It has the small, and intimate feel of a Park Hyatt.  Very nice,  but I don't think it reaches that high standard in terms of either design or service. That comment is not a knock, I feel this a great place for a Hyatt Regency branded property.