While Scottrick is obsessed with graduating, I'll help out with another guest blog (if he'll publish it). I'm his Dad, and while I love airplanes, it's in a very different way. I hate undressing, having strangers steal stuff out of my luggage, and squeezing between two fat people in coach. No, instead I like to fly myself!
When I was a youngster growing up in Medford, OR, my dad would sometimes take me to the airport. I'd go into the tower to watch the controllers work and the planes fly in and out. There was a weather facility at the airport also, and I'd play with the weather balloons and marvel at the little radios they carried.
There are two kinds of people when an airplane flies overhead: Those who stop talking to look up and those who don't. I'm a looker upper. As old as I am, I'm still fascinated with flight. Where I live there are often hot air balloons in the sky when I get up in the morning and I'm jealous of the people in them.
If you're a looker upper, you should consider learning to fly! In November 1995, when Scottrick was just a pup and visiting his mother (my ex-wife) on a Saturday I drove to Palo Alto airport (KPAO) to investigate flight training. It was actually my second trip. When I lived in Seattle I visited Renton airport, but before I got started my job transferred me to San Jose where I got involved in sailing instead. (The sail on a boat is very similar to the wing on an airplane, with an obvious ninety-degree difference in orientation. The same physics moves the boat forward and the airplane upward.) It's been 17 years since I took my first flying lesson.
The first thing people ask about most any hobby is "How much?" I tell people to plan on ten thousand dollars of training to get a license (called a certificate in government legalese), but that's still only $800 per month for a year. There are lots of hobbies that cost that much (like golf and boating… and maybe mileage running). The next question is "How difficult?" Most anyone with 'normal' intelligence can learn to fly. It's tougher than driving a car and it's easier than running a nuclear reactor. If you made it through trigonometry and graduated from high school you're OK.
Why would you want to learn? It's an exclusive club: About 0.06% of the US population is an active pilot. (202,000 out of 311,000,000) You've really accomplished something when you get your license, unlike pretending to play golf. It's a challenge to keep up with a vehicle that travels 200 mph. (Think about drag racing.) It gives you great freedom to travel modest distances. It saves money. No, not really, I think of it as my hobby. One that saves time. Although sometimes time is more valuable than money.
When Scottrick and his siblings were home, a three-day weekend could involve leaving after work on Friday for Lake Tahoe. Skiing all day Saturday, all day Sunday,, and Monday until the lifts closed, and flying home in time for dinner and work/school the next day. Three full days of skiing or other vacation activities instead of a day driving, a day playing, and a day driving home.
Business owners find they can visit three clients in a day instead of one. Suppose you're running a small business, your time is valuable, and you live where I do, one mile from Santa Rosa airport. Get up early, fly to Sacramento, visit a client, fly to Fresno, visit a client, fly to Salinas, visit a client, and fly home to spend the evening with your family. That can be done in one day in a small airplane. I challenge you to visit those three clients in one day on an airline no matter how much elite status you have.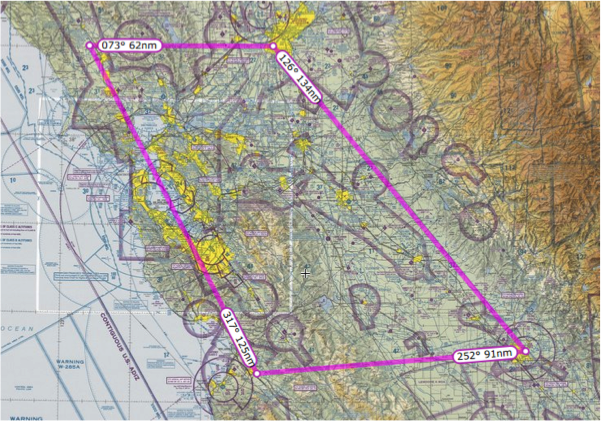 Here's a final story about how much flying my own aircraft has changed my perspective on travel: A couple of years ago my girlfriend Marsha wanted to go to Phoenix for her birthday. We flew from Palo Alto to Las Vegas (Henderson Executive Airport, just south of the Strip). I bought her a very nice lunch. Then we flew over Lake Mead and zig-zagged over the Grand Canyon. We were down so low she could see details and get a feeling for how huge they both are. Then we landed at Deer Valley airport, twenty miles closer to our condo than the main Phoenix Sky Harbor International airport.
After a long weekend, it was time to head home on Sunday. Over breakfast Marsha said, "I haven't seen my dad in a long time. Could we stop in Palm Springs?" So we did. We didn't have to check schedules, call an airline, pay change fees, undress twice. I just pointed the nose a little to the south. We landed at Bermuda Dunes airport, a short mile or so from her dad's house (instead of Palm Springs International, which is 15 miles away on the other side of the city). We had a leisurely lunch with him and then launched for home.
It's about the flexibility, the freedom, and the fun of defying gravity (and the TSA).