Many people book their flights to Europe but leave it to the last minute to book travel within the continent, perhaps thinking they can just hop a train. But in the spirit of the articles I've been writing on summer travel to Europe, here's a primer on intermodal transit in Europe. For more on how to get there in the first place, read the earlier posts.
Previous Installments: 
The Trade-Offs of Geography and History
In some ways, the compact and dense nature of Europe can really help you, but you'll still have to understand geography and history.
First, geography. Europe as a whole is about the size of the continental US but has 50% more people. So there is generally less empty space and cities of appreciable size are closer to each other.
Here's a map of Western Europe grafted onto a US map, so you can get an idea of the relative size of each country. Spain, France, Germany, and Poland are all roughly the same size and their capital cities are roughly 6-12 hour drives from each other. It can be handy think of each country as roughly the size of about two-to-four mid-sized US states.
Most individual countries in Europe are centrally organized, meaning that the capital is generally in the geographic center of the country and is the main transit hub and largest city. This can result in having to go all the way into the capital and back out again for many modes of public transit.
Rail links within each country, centered in the capitals, are reliable and frequent. But historically, connectivity between countries can be a pain as the network density falls off closer to the borders. This makes sense; many of the borders lie at natural boundaries like the Pyrenees Mountains and the Alps.
History also plays a huge role. Because of countless wars, integration between countries was only considered commercially necessary in recent times, as they didn't want to give invading armies easy train links or massive roads to invade through. More strikingly, because of the former Iron Curtain, links to Eastern Europe dramatically drop off east of Vienna and Berlin. Eastern Europe isn't hard to get around — not in the least — but cars, buses, and flights are the norm, just like the US.
This plays a bit into renting a car as well. Rental cars in-country can be competitively priced, but once you take them over a border or attempt a one-way rental, the price skyrockets. Buses or carsharing services like BlaBlaCar are far better options for driving trips.
Pro Tip: Trains, even local ones, and rental cars are generally easier if you're staying within the same country. Beyond that, with the exceptions below, take a low cost carrier.
Many people think that all of Europe is dominated by high speed rail — but far more Europeans drive or fly when they go on vacations elsewhere in the continent. Really, the only cities connected by train in any reasonable (e.g. more competitive than flights which most transit authorities consider to be < 4 hours) amount of time fall into four groups:
UK • France
 •
Benelux
 •
Western Germany
Northwest Europe is connected by Eurostar train service between London, Paris, and Brussels; the TGV throughout France; and SNCB within the Benelux countries. The distances involved make train trips between these countries feasible.
Reaching the main cities of North Rhine-Westphalia in Western Germany (Bonn, Cologne, Dusseldorf, Essen, Dortmund) is pretty easy from Brussels and Amsterdam, but Berlin is significantly cut off from the rest of the major western German cities at the extreme east of the country.
Southern Germany • Switzerland • Austria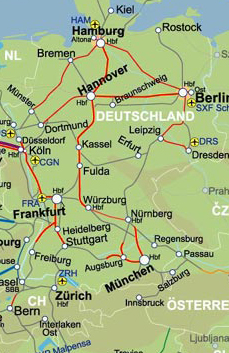 Similarly, taking the train from southern German cities to places in Switzerland and Austria (north of the Alps) is also pretty convenient. But getting to Berlin (on the other side of the Iron Curtain) is still often easier by flying or driving. Berlin to Prague is doable, but that 4-hour mark is when planes and trains are about the same in time and distance.
Spain
Spain recently rolled out the AVE high speed train, connecting most of the coastal cities in the North, South and East with Madrid in under 3 hours. The northern Basque region also is developing a high speed line, but it is not well integrated with the rest of the country (as you'd expect from an autonomous region). Taking the train from Spain to France or Portugal is extremely arduous and time-consuming. Unless you bring a book or two and plan on enjoying the scenery, you may want to consider flying, even domestically.
Italy
Italy also has reasonably fast trains that connect Rome with Naples, Milan, and Venice (though not each other). Getting from France, Switzerland, Austria, or Slovenia to Italy is almost always more efficient by air.
Summary
The train routes discussed above are really the only ones in Europe that are faster than flying. Now, if you're not in a hurry, seeing Europe by train can be a great travel experience in and of itself, and it certainly can be cheaper. Personally, I love it! But if the choice is between an expensive overnight train where you won't see much and a cheap easyJet or Wizzair flight at a good time, it might be better to just fly.
Pro Tip: High-speed rail in Europe is only competitively viable under 4 hours (the time to go to the airport, pass security, fly, collect bags, get in from airport typically). Otherwise you're better off flying. Pack light!
In particular, it's very impractical to take the train between Paris and Berlin, Madrid, or Rome. None of those cities are connected to each other by train in under 12 hours. Crossing borders takes an order of magnitude more time and effort than simply flying point to point, especially if you are already willing to use discount carriers or have limited vacation time.
More questions on intermodal transit? Let me know and I'll be happy to add additional installments.