I'm just gonna cut to the chase and give you the spoiler. By First Class standards, British Airways First Class is not the best product. They aren't horrible by any means but for the price you pay in miles and cash (fuel surcharges and airport tax), British Airways First Class leaves a lot to be desired. From the Concorde Room experience to their First Class Suite on the prestigious NYLON (New York – London) route, I got to experience the best of what British Airways has to offer. And though it beats flying in Economy Class any day of the week, there's no denying British Airways has failed to evolve over the years and keep up with their international competitors.
British Airways First Class Check-in
Because I was arriving from Los Angeles on my American Airlines A321 flight, I had to take the skytrain from terminal 8 to terminal 7 where British Airways operates. British Airways has a dedicated check-in area for their First Class passengers. Just walk past all the regular check-in counters towards the back of the terminal and through the doors to your left.
Check-in was fairly quick and I had my boarding pass in hand within 5 minutes of getting in line. Now, here is one of the things British Airways does well. Not only do they have a dedicated check-in counter for their First Class passengers, they also have a dedicated security lane for premium cabin passengers right behind the British Airways First Class check-in area. This shorter and speedier Fast Track line got me through security and into a lounge within 10 minutes.
British Airways First Class Lounge
As a British Airways First Class passenger, I had access to both the Concorde Room and the British Airways Galleries First Lounge. The Concorde Room is for First Class passengers on British Airways operated flights only whereas the Galleries First Lounge is for First Class passenger on both British Airways and partner airlines and oneworld Emerald Elite members. Wanting a shower and a massage first, I made my way to the Galleries First Lounge to schedule a complimentary Elemis Spa massage. Unfortunately, there were no spa appointments available. Slightly disappointed and not off to a good start, I made my long walk back to the Concorde Room for some food and a little bit of work.
British Airways First Class Trip Report
Flight: BA172
Aircraft: Boeing 747-400
New York (JFK) to London Heathrow (LHR)
Depart: 10:00 PM on Monday (9:52 PM actual)
Arrive: 8:45 AM next day (8:32 AM actual)
Duration: 6hr 40mn
Seat: 1A First Class
About 5 minutes before boarding, I left the Concorde Room and made my way to my departure gate. Boarding was kind of a mess but I eventually found my way down the jetbridge to door 1L of this aging but recently retrofitted bird. I presented my boarding pass to the flight attendant and was escorted to my seat, 5K, a window seat on the right side of the airplane.
As we were walking to my seat, the flight attendant asked me if I would rather sit in 1A instead as there was a family with a baby seated next to me in row 5. I normally don't like sitting too far forward but in this case, as far forward from a potentially crying baby was no problem at all.
On the Boeing 747-400s, British Airways First Class crams in 14 open seats into the nose of the plane. The first three row of seats are configured in a 1 X 1 layout but rows 4 and 5 are configured in a 1 X 2 X 1 layout. As a point of comparison, Asiana Airlines has 10 First Class seats and United Airlines has 12 GlobalFirst seats in the same space. Needless to say, it's a little tight and you do suffer from a lack of space and privacy.
Seats 1A and 1K do offer the most privacy from the other passengers but the lack of overhead bin storage and proximity to the central closet in the nose might be a bit bothersome for some passengers. There are no overhead bins for the middle seats in rows 4 and 5 either.
Directly behind the First Class cabin is the Club World Business Class cabin.
Back in First Class, British Airways does a fantastic job with making this one beautiful and classy looking cabin. My pictures don't do it justice but the materials and colors of the cabin were just beautiful. From the personal reading lamps to the electronically controlled, mood lit, window shades, this first class cabin just oozes with British elegance and style.
The 14 open First Class seats offer 22 inches of width, 78 inches of pitch and a full 180 degree flat bed surface. These reverse herringbone seats are similar to the Business Class seats found on other airlines such as American Airlines, Cathay Pacific and EVA. Each seat is equipped with a personal 15" IFE (in-flight entertainment) monitor with on-demand, audio/video entertainment, three personal reading lamps, a USB port, universal electrical outlet and a small closet.
However, unlike the seats found on the other carriers, there are no small storage spaces at your seat for your cell phone, glasses or other small electronics and you can't control the individual parts of the seat. But the ottoman does double as a guest seat so you can dine with another passenger if you want.
One of my biggest pet peeves about this seat was the lack of functionality. The electrical outlet is annoyingly located on the floor by your feet and the USB port is located in the IFE monitor, making everything a hassle just to charge your cell phone or laptop.
Waiting at our seats were two pillows, a day blanket and a set of non-branded headphones. As I settled into my seat, the flight attendant came by to offer me a pre-departure drink, amenities kit, sleep suit (pajamas), slippers, eyeshades and other comfort items. I went with a Bailey's on the rocks.
The British Airways First Class amenities kit is one of my favorite kits. The case is classy and reusable and the contents are top notch. You can read my full review of the British Airways first class amenities kit here. As for the pajamas, they are lightweight, soft and elegantly branded with the BA First logo. They are super comfortable but beware, they do shrink like crazy so make sure to go up at least one size if you want to reuse them later.
Menus were distributed and the flight attendants came by to take our meal orders shortly before takeoff.
Prior to takeoff, I used one of the two lavatories located behind the first class cabin to change out of my street clothes. The lavatories were standard size and were stocked with Elemis and Aromatherapy Associates branded face and body products.
After all the passengers were settled in, we pushed back from the gate and made our way to the runway for our very short 6 hr and 40 mn journey to London. On this flight, the cabin was nearly full with only 2 seats unoccupied.
Once we reached our cruising altitude, the flight attendants came by with a hot towel, pre-meal beverages and a small ramekin of mixed nuts. As expected, most passengers elected to sleep instead of eat so the cabin was kept fairly dark and quiet to accommodate those passengers. Of the 12 passengers, I think only 3 or 4 of us had dinner.
Our tables were then set with white linen, an individual bread basket and an amuse bouche of roast beef with asparagus and wasabi sauce.
This was followed by an appetizer plate of marinated king prawns in a spicy papaya tartare and a truffle infused leek soup.
For my main course, I went with the Chilean seabass and for dessert, I had the ginger scented, creme caramel.
Taste-wise, I find British Airways food not to be the best. It wasn't bad by any means, just lacking in full flavors. Though beautifully presented, none of the dishes (other than the dessert) had much flavoring to it and my main dish was rather dry and overcooked. Breakfast later on was also bland but then again, it's an airplane breakfast so you can't really expect too much in that regard.
During dinner, I browsed the in-flight entertainment system and settled on the movie, Fury. The IFE system was on the older side and only had an average selection of entertainment from movies and television shows to audio entertainment and video games. The touchscreen monitor was also old and did not have the best image quality. No HD viewing here.
By this point, I was pretty tired so I asked for my bed to be made after my plates were cleared. Within a few minutes of watching the rest of my movie in bed, I fell asleep for a couple of hours. The seat itself is pretty narrow but luckily, the side armrests do lower in bed mode to give you some extra room in the shoulder area. I forgot to take a picture but turndown service was provided with a bottom sheet, full-size pillow and comforter.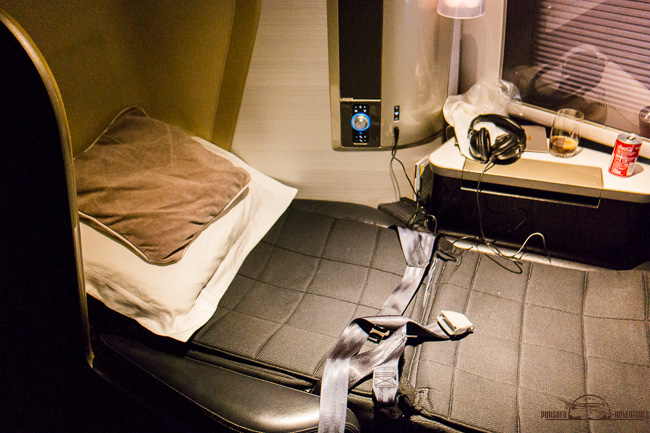 With these short trans-Atlantic routes, you don't really get much sleep and before I knew it, the cabin lights were turned on and breakfast was served.
Breakfast started with a fruit smoothie, fruit plate and a traditional English breakfast.
Service-wise, I had a great crew. They were friendly, engaged me in conversation and were attentive to my needs. For this short flight, the meals were appropriately paced allowing attentive service but still allowing for maximum rest.
Overall Thoughts
By First Class standards, British Airways First Class is just an average product. There's really nothing special that sets them apart from the other airlines and unfortunately, most of what separates them from the other airlines is not good. They don't have a solid First Class hard product. They don't serve caviar, nor do they offer any ground services such as transportation or escort services. They do have a fantastic amenities kit and sleep suit and do offer complimentary spa services in their lounges, but unfortunately, those positives just don't justify the outrages fuel surcharges and sub-par product.
So the question is, would I fly British Airways First Class again? And my answer would be a no. I don't think there's anything special about them and I can't justify the expensive fuel surcharges associated with an award booking. I'm definitely glad I got to experience them at least once but for those with limited miles and money, I say your miles and money would be better redeemed elsewhere.
This review is part of my trip around the world with stops in Amsterdam, Dubai, Hong Kong and Beijing. The other trip reports in this series include:
British Airways Boeing 747 First Class, New York to London
British Airways Concorde Room at LHR
British Airways A319 "Club Europe" Business Class London to Dusseldorf
DoubleTree Amsterdam
Hugo Junkers Lounge at Dusseldorf
British Airways A320 "Club Europe" Business Class Dusseldorf to London
British Airways Galleries Lounge at LHR terminal 3
Emirates Lounge at LHR terminal 3
Qantas A380 First Class, London to Dubai
Cathay Pacific A330 Business Class Dubai to Hong Kong
Marriott SkyCity Hong Kong
BGS Lounge at Beijing
Air China Business Class Lounge at Beijing
Japan Airlines Boeing 737 Business Class, Beijing to Tokyo Narita
Japan Airlines First Class Lounge at Tokyo Narita