I gotta admit, when I first heard of Turkish Airlines, I was a little skeptical about their product and was hesitant to fly them. Not knowing much about them, I just assumed they were along the same quality as Aeroflot or Iberia and I sure as heck did not want to transfer in Istanbul with all the chaos going on there (most recent suicide bombing at the US Embassy in February 2013). But after doing some research, biting the bullet and booking a round trip flight with them from Los Angeles to Athens, via Istanbul, I was pleasantly surprised. In fact, I enjoyed my flights so much that they are now my favorite airline to fly economy class to Europe.
Turkish Airlines is the national airline of Turkey. From its hub in Istanbul, Turkish Airlines flies to more than 237 destinations around the world. Turkish Airlines is also one of the fastest growing European airlines and has won numerous awards including "Best Airline in Europe" for the past three years. Their fleet is also one of the youngest in the airline industry with its oldest plane, a mere three years old. Turkish Airlines is a member of Star Alliance and their frequent flyer program is called, "Miles and Smiles." Their catchy little slogan is, "We are Turkish Airlines. We are globally yours." I don't recommend you calling their telephone reservations systems. Though their agents are very helpful, you will NOT get that jingle out of your head.  🙂
Turkish Airlines currently operates a three class configuration on their long haul flights: Business Class, Comfort Class (premium economy) and Economy Class. Their Comfort Class is one of the best premium economy products in the airline industry, but unfortunately has not been a great money maker for them. Because of this, Turkish Airlines has formally announced they will be removing Comfort Class from their fleet.  All new plane orders will be taken with a new two class configuration (Business and Economy) and their existing planes will be slowly reconfigured. So if you want to experience their Comfort Class, now would be a great time to do it before it goes away.
We flew to Athens from Los Angeles, via Istanbul, on a Boeing 777-300ER in Economy Class (TK10).  Returning to LAX the the reverse route (TK9), we were also on a Boeing 777-300ER but this time in Comfort Class. The entire purchase price was $1009 and all miles transferred 1:1 to my United Airlines Mileage Plus account. Not a bad deal for a trip to Europe in the middle of summer with a leg in premium economy.
No one ever wants to travel Economy Class overseas but this was one of the most enjoyable flights that I have ever been on. The Boeing 777-300ER was brand new and had all the bells and whistles of a brand new jet including mood lighting, deep overhead bins, personal AVOD entertainment systems at every seat and much more. Economy Class is configured 3 x 3 x 3 and we booked seats 25 H and 25K, hoping that no one would sit in between us. We got lucky and had the whole row to ourselves.
The seats were comfy and offered 18 inches of width and a seat pitch of 32 inches. When reclining, most airline economy seats do one of two things, the seatbacks recline or the seat pans move forward.  But on Turkish Airlines, you get both! The seatbacks recline back 6''and the seat pans move forward 1.5'' for a total of 7.5 inches of recline! You also get a footrest, individual power and USB outlets at each seat. You have your own seatback AVOD system with a fantastic selection of new and classic movies, music and games. The seat was very comfortable and I was actually able to get a few hours of sleep in between movies and meals.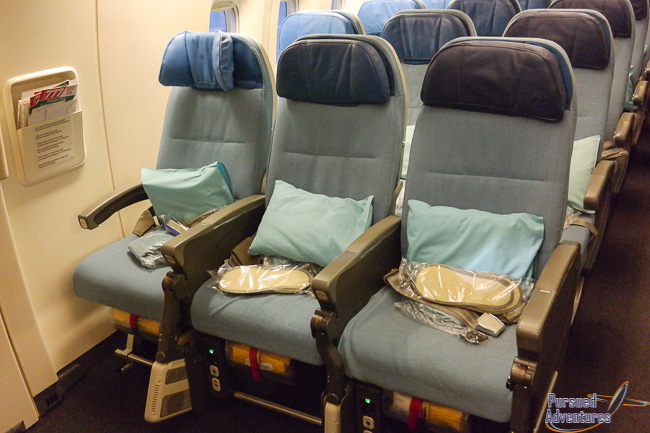 Now, their Economy Class soft product is where Turkish Airlines really shines. Their Flight Attendants were top notch and the food was amazing. Printed menu and alcoholic drinks were provided complimentary with your meals. On this flight, we got dinner after departure and breakfast prior to landing. Their meals were catered by Do & Co., a gourmet catering company.
Additionally, all Economy Class passengers received a small amenity kit. The kit was white pleather and contained socks, ear plugs, eye shades, lip balm and toothbrush/toothpaste. Slippers, a blanket and pillow were also provided. Most airlines don't give you anything, some give some something and Turkish Airlines goes all out and give you a fancy little kit.
Now, here is my only complaint about Turkish Airlines.
Up until now, the flight had been perfect. I was well fed, in a comfy seat, entertained and had an extremely pleasant flight to Istanbul. Upon our landing at IST, we checked the gate monitors and made our way to the next gate. Now, if you have never been to IST before, then prepare to walk. This place is HUGE! And allow extra time to go through additional security as you get to the individual gates. I don't know if there was a central security check as travelers entered the airport but some of the gates had an additional security screenings, even for people connecting from another flight.
We arrived at our gates and were sitting there waiting for our connecting flight to Athens. There must have been 40 of us from TK10 connecting to Athens. Getting close to when our flight should be departing and not seeing any ticket agents at the podium, I checked the flight monitors again and saw that our flight had been moved to another gate!  No announcements. No ticket agents. Nothing.
I informed everyone and we quickly grabbed our bags and ran halfway across the airport to our next gate and waited there. As you would have guessed, there was no ticket agent there either and now paranoia had kicked in. We kept checking the flight monitors and making sure we were at the correct gate. Good thing we did because now our flight had been changed back to our original gate (but luckily, delayed).
We grabbed our belongings and made our way back to the original gate. As we arrived, there was an actual gate agent now and she informed us our flight had been cancelled. Luckily, they preemptively rebooked all of us on another flight (albeit 3 hours later).
Now, flight delays and gate changes happen all the time and I'm used to that. My only gripe was that it was very disorganized and there was no communication to us about anything.  But then again, the announcements could have been made in Turkish and we just didn't know but I don't think so. There were other announcements that were in both Turkish and English. But those things happen and it wasn't that big a deal. We made it to our destination and had an amazing 10 days traveling throughout Greece.
Now on to our return flight home on Comfort Class.
We were seated in seats 16J and 16K onboard the brand new Boeing 777-300ER.  The best way that I can describe their premium economy product is that it's comparable to a US domestic First Class product. You do not get lounge access but you do get boarding before regular economy class passengers. The Comfort Class section on the Boeing 777-300ER is a  2 x 3 x 2 configuration.  The seats are 19.5 inches wide and offer 46 inches of pitch. You can recline 8.8 inches back and kick your feet up with the adjustable leg rests. Meal tables and 10.6'' AVOD monitors are located in the armrests. Every seat also gets a personal reading light, USB and power connectivity.
The amenity kit in Comfort Class is much larger than the Economy Class kit and came with slippers, socks, shoe horn, lotion, ear plugs, comb/brush, toothbrush/toothpaste and eye shades.
Meals were served on white linen and ceramic plates. Hot towels were provided and so were nuts and welcome drinks. Dinner was served in multiple courses, including appetizer, main dish and dessert.  Again, I can't rave enough about how good the meals were. You do have a dedicated onboard chef in Comfort Class but I don't know if he was actually cooking back there. I'm sure he was just doing what the other Flight Attendants were doing.  Breakfast was much simpler and served in one go.
Sleeping on this flight was definitely more doable than in Economy Class and I was able to get a few hours of sleep in between meals and movies.  I enjoyed the upgraded experience from standard economy and I find the personal value to be about $300.00.  Meaning, I would be willing to pay an additional $300 per leg to upgrade from Economy Class to Comfort Class for the 10 hour flight.