The first leg that I will review from my winter trip to Europe is the flight from Houston to Istanbul in Business Class on the Turkish Airlines 777.  The eastbound flight is typically about 11 hours, which is an ideal length for my preferences; with enough time to enjoy a meal, work or watch some TV and then sleep.  After that, there is time for more eating, reading or resting before arrival.
Turkish Airlines 777, photo credit to lkarasawa on Flickr
To get to Houston, I flew on United from Milwaukee to Chicago to Houston.  I could have taken a nonstop to Houston, but rather than a long ERJ-145 flight, I decided to add another connection so I could have a mainline flight and better yet, be in First Class between Chicago and Houston.
I won't discuss the domestic flights in detail.  They were typical United flights, though at least with a business class ticket there was no waiting for my upgrade to clear.  Here the lovely meal…
High quality lunch in United First 
Before departure in Houston
I had a few hours in Houston before boarding the flight onto Istanbul. We landed in C terminal, and walked over to the very nice large United Club in E. I got all of my boarding passes when I checked in at Milwaukee.  Unfortunately there was no gate information for my Turkish flight. I knew it would be somewhere in the D terminal, but none of the United monitors had the connecting flight information. Eventually I went for a long walk before the flight and made my way to the D terminal and found the gate.
I was paged before boarding since I never checked in with Turkish.  There were a bunch of passengers paged, but no lines to get to the counter.  It took about 10 minutes to sort out, but finally, I was given a new boarding pass on Turkish Airlines stock.  Boarding was a bit of a mess as well, but once they called business class, I made my way on board.
Turkish Airlines Business Class on the 777-300ER
Turkish Airlines 77W Business Class amenities
First impressions of the business class cabin and seat were mostly positive. Not the most high tech seat, and the monitor isn't that large, but the seat is wide enough, and there is decent personal space. Not much privacy, although a small screen between seats helps when reclined. Waiting at the seat were a blanket, slippers and an amenity kit.
I never opened the blanket due to warmth of the cabin, but the slippers were nice.  
The slippers were definitely a nice perk, and are not always included in business class kits.  I wouldn't walk to the bathroom on only stocking feet, but it seems that many other travelers do.  (yuck!)
 Crabtree and Evelyn amenity kit
This amenity kit itself was Crabtree and Evelyn branded and can be re-purposed as an iPad case.  The contents were pretty basic, with hand lotion and lip balm, toothbrush, toothpaste, plus some socks, an eyeshade, a comb and a shoe horn.
Before departure
After boarding, we were welcomed on board with drinks from a tray.  There were 3 choices, lemonade, raspberry or orange juice.  We were also given menus.  The menu was a nice tri-fold in Turkish and English.  The breakfast menu was attached and could be filled out.  The chef then took meal orders, including breakfast, but he did not collect the paper breakfast menus.
Soon after we leveled off, hot towels and Godiva chocolates were distributed.  Having the towels on a plate was a nice touch rather than just being handed a steaming hot towel. This is how towels were provided before each meal service.
hot towel and pre-meal dessert
After the towels were collected, the chef had another treat to offer; this time lokum, better known as Turkish Delight.  I have a sweet tooth, but this was a bit much.  I saved the chocolate for later.
The flight was scheduled to depart at 8pm, and despite a pretty significant boarding delay, we actually pushed back less than 20 minutes late.  I already had a 'meal' on my flight into Houston, but I planned for a more complete meal on board Turkish.
Sure, its dated, but this cult classic is always funny to me
Edited content on the in-flight entertainment
In addition to a decent selection of entertainment options, this flight also had free wifi.  It was very slow, but it was nice to be able to say good night to my wife via iMessage as well as follow a basketball game.  Sadly, it was one of the few Big Ten games Purdue won.  I also watched Office Space, for me one of those movies I'll not pass up when its on.  Annoyingly, it was quite edited; for example, a certain singer was described as at "No-talent rascal" in this version.
Soon the meal service began.  Here are the menus, written as they were:
Menu

assorted canapés

selection from our trolley
smoked salmon with horseradish cream
Mediterranean prawn salad
beef meatballs in tomato sauce
chicken caesar salad
fried eggplant and green pepper with tomato sauce
white cheese and cherry tomatoes
fried zucchinis
shepherd's salad

and/or

CORN SOUP with croutons

please choose from our selection:

GRILLED FILLET OF SEA BASS
lemon butter / Mediterranean vegetables / buttered potatoes

LAMB CHOPS
herbed butter / sautéed polenta / green asparagus / roasted red pepper

SPAGHETTI WITH TOMATO SAUCE
sun-dried tomato / arugula / roasted pine nuts

assorted cheese, fresh fruit and dessert from our trolley

TURKISH DESSERTS
BAKED FRUIT CREPE with vanilla sauce
WHITE CHOCOLATE MOUSSE with melba sauce
VANILLA ICE CREAM

anytime…

smoked salmon sandwich
cheese cake

Coffee and/or tea
Digestives from our trolley
Petits desserts
Wine List

White Wines

Prestige Narince 2012
Chablis Premier Cru Les Beauroys 2010

Rose Wines

Kavaklidere Egeo 2012

Red Wines

Doluca Karma Merlot Boğazkere 2011
Chateau Lamothe Pontac Medoc 2011
Bodegas Beronia Crianza 2009
Bodega Norton Privada 2010

Champagne

Gosset Brut Grande Reserve

Aperitives (sic)

Chivas Regal 12 years
Ballantines Blended Scotch 12 years
The Glenlivet French Oak 15 years
Jim Bean Bourbon Black

Smirnoff Black

Beefeater Gin

"Efe Yaş Üzüm Rakisi"

Digestives

Graham's Late Bottled Vintage 2008 Port

Grand Mariner
Baker's Field Cream
Hare Sour Cherry Liqueur

Hennessy VSOP Cognac

Beers

Efes Pilsen
Carlsberg

 Beverages

Hot Drinks

black tea, herbal tea selections, instant coffee, filter coffee, espresso, cappuccino, Turkish Coffee, hot chocolate

Orange and Tomato Juice

Selection of Sparkling soft drinks
Cola, Cola Light, fizzy drink, mineral water
  based on the menu, this would likely be a fizzy drink, however I just asked for sparkling water
DO&CO catering
The meal service began with cocktails and cold mixed nuts.  Next came the trio of canapes, in this case some skewered meat and a light pastry.  This was fine, nothing particularly notable.
Next, the place settings were arranged, with utensils and a electronic candle which was a nice touch.  In addition, there was an elaborate bread and condiments plate, with butter, olive oil, a spice mix and magnetically attached salt and pepper shakers.  Glassware was made by Riedel.
"Candelight dinner high above the clouds"
Bread and condiment plate with lemon olive oil and herbs
Let's eat
Next the extensive selection of appetizers which came on the trolley.  Although its not as 'fancy' to serve this way, I did like the various options offered, and the ability to see each of them while the flight attendants make your plate.  This was similar to the experience I had on Austrian Airlines Business Class.  Not surprising, since DO&CO caters both.
The only issue I had with this is I had to speak loudly over my seatmate, since I was sitting at the window.  The flight attendant either couldn't hear me well or understand me, so it took a bit of effort to get my plate made. While playing online with my iPhone, watching Office Space on the IFE, I somehow forgot to document my appetizer selections with a photo.   As I recall, I opted for tomato and cheese, Caesar salad, and smoked salmon.
I also wanted to try the soup, so this came after the appetizer course.  Soup is one thing which usually works pretty well at altitude, and this was no exception.
Creamy corn soup
For my main, I opted for the sea bass.  I didn't need a big heavy meal at such a late hour when I was just going to go to sleep afterwards.  I've heard good things about the lamb, and in fact, I had lamb on the return flight.  The sea bass was tasty.  Portion was a bit small, but with the appetizer selection, this was plenty.
Sea Bass main course
Next was dessert, and more choices to be made.  I opted for some fruit and the crepe.  A nice light dessert course hit the spot at the late hour.
Dessert course on Turkish Airlines
Turkish Tea
Before getting some sleep, I had some tea, and I enjoyed the traditional Turkish style tea presentation.  I then watched a few sitcoms while reclined and I slept comfortably for quite a while.  The cabin was pretty warm, but not so much to prevent sleep.  I just didn't need to use the blanket.
Turkish tea service
Turkish Airlines service
At some point during or just after the meal service, my seatmate broke a glass.  It was empty, but still broken glass on the floor was a hazard.  He rang his call button to ask for assistance, but just as the flight attendant came to our row the seat belt sign went on due to some minor turbulence.  She said she would return.  Unfortunately, she forgot, and with the cabin dark, it never got picked up the whole flight.  Not a huge issue, but it was bad form to leave the broken glass there the entire flight. 
Broken glass which remained between our seats for the remainder of the flight.
Service was mostly fine throughout the flight.  It did seem that special requests weren't particularly welcomed.  Most flight attendants were perfectly polite, if a bit indifferent.  Outside the main meal services, they were pretty scarce, and drink refills were slow.  Not to mention completely forgetting about the broken glass despite reminders.
I didn't partake in any snacks between meals, since fortunately I slept pretty well.  A few hours prior to our arrival in Istanbul, breakfast service began.  The menu is listed below:
breakfast

Please choose from our selection:

Freshly squeezed orange juice
melon juice
strawberry banana smoothie
tomato juice

Coffee  plain/with milk/decaf 
Hot Chocolate
Black tea (Turkish blend)  plain/with milk/with lemon
Herbal tea selection Please ask for the tea selections to cabin crew

Milk
Yoghurt with apple mousse
Bircher Muesli
chicken and turkey breasts

Strawberry jam
honey

Please choose from our selection:
Omelette with cottage cheese
Herbed mushrooms and tomato
sauteéd potatoes
or
Scrambled eggs with tomatoes and green peppers
Herbed mushrooms and tomato
sauteéd potatoes

additionally we serve:
seasonal fresh fruit plate
selection of cheese
ovenfresh bread selection
croissant
Pre-arrival meal
For this meal, service seemed a bit rushed before we landed. As I mentioned, service on board was fine, but not outstanding. It definitely lacked the polish of other airlines. Breakfast was preceded with another hot towel on a plate, then a tray came. I wasn't offered Bircher muesli, and the yogurt was just on my plate. Not a big deal. The fruit plate was fresh and tasty.
Fruit plate from the breakfast service
I opted for the scrambled eggs.  I don't think they were freshly scrambled on board, but that is generally a special treat on some top notch first class carriers such as Lufthansa and Cathay Pacific.  They were better than the United Airlines eggs I'm more familiar with.
 breakfast main course

I had green tea with breakfast
Soon we approached Istanbul. There was a decent view of the city on our approach, and despite a late departure from Houston, we actually arrived early, albeit at a bus gate.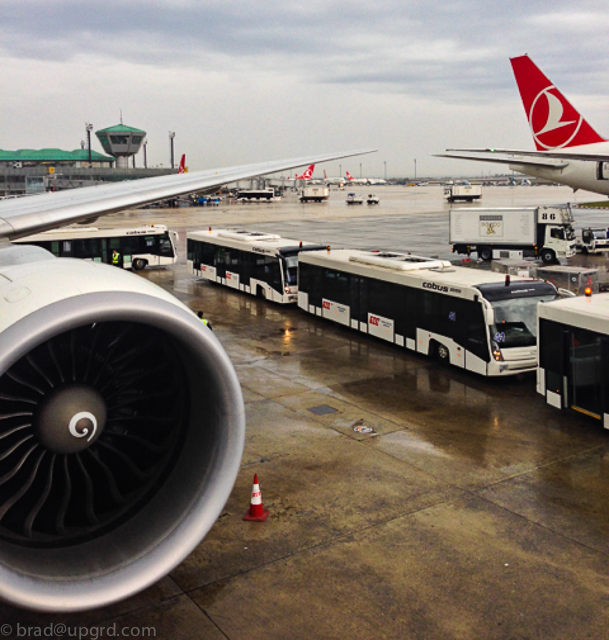 My first daytime visit to Istanbul, and always impressive to see a GE90 up close!
Final thoughts
I was pretty happy with my first experience in Turkish Airlines long haul business class. Service wasn't flawless, but it was quite good for the most part. I had a short layover before my flight the next morning to Manchester. Visas on arrival are available through 2014, but eventually e-visas must be obtained. It took about 10 seconds to get to the front of the visa line. I paid my US $20 cash, and I received a 'stamp' visa. The passport control wait was about 60 seconds, thanks to using an expedited lane for Business Class passengers. I walked straight through customs with nothing to declare.
If you want to hear a (very annoyingly) catchy song, look up the Turkish Airlines theme song on YouTube. I warned you!
My layover in Istanbul
Mike has talked about free tours of Istanbul that Turkish Airlines offers. Unfortunately the time didn't work for my layover, but on the way home, I did my own touring. Alternatively, since my layover was more than 7 hours (minimum 10 hours for economy class), I made my way to the Turkish Airlines hotel desk for a free hotel room. There was no wait.
I got some Turkish Lira from an ATM, and within 15 minutes, my name was called along with a bunch of others. Only 2 of us got on one bus, while the 12 or so other got on a second bus. We went to the Rennissance Istanbul Polat, very near the airport. I'm not sure how this hotel was decided upon, maybe for Business Class flyers? It was quite nice, and thanks to my Marriott Gold status via Rewards Plus, I was granted lounge access. This hotel was very nice, and I particularly enjoyed the excellent gym after the long flight.