I'm continuing my series on upgrade policies at each of the major U.S. carriers after briefly summarizing just the complimentary elite upgrades in a post last week. Yesterday I covered the upgrade policies at Alaska Airlines, which I know quite well and which are relatively simple. United Airlines is up today. They're probably among the more complicated, but I flew them for many years and appreciate that they have so much documentation on their website.
Ultimate Guide to United Airlines Upgrade Rules
Searching for Upgrade Inventory
It's no longer possible to search for upgrade space through third party tools like ExpertFlyer. However, you can still search on United's own site to some degree. You can specify certain fare classes to use an upgrade instrument (separate more than one fare class with commas) and tell United if you want to include the cost of a co-pay when you upgrade with miles.
The results page will show not only the cheapest available fare but also the cost when booking an upgradeable fare and the miles necessary, if any. You can also view the "details" under each itinerary to look at the inventory in specific fare classes. Upgrade inventory is filed in the R fare class. (Some of these features may require turning on United's Expert Mode if you haven't already.
Upgrades for Full Fare Tickets
United provides an instant upgrade for travelers with any Premier status who purchase a Y or B fare in economy class. Premier 1K members also get an instant upgrade when they purchase an M fare. These upgrades must be requested after ticketing; if upgrade inventory is not immediately available you can go back and request the upgrade again at any time.
Upgrades with PlusPoints
Some members with Premier Platinum or Premier 1K status receive upgrade instruments that they can use to avoid relying on miles or the gamble of a complimentary upgrade. In the past these instruments were called Regional Premier Upgrades and Global Premier Upgrades, but a new system will take effect in December 2019 called PlusPoints.
PlusPoints can be used to upgrade flights operated by United Airlines, United Express, All Nippon Airways (ANA), Lufthansa, and Copa Airlines. All flights operated by partner airlines will cost 40 PlusPoints while the cost of upgrades on United-operated flights will vary from 10 to 80 PlusPoints.
Earning PlusPoints
As you can see from the table below, Premier Platinum members earn 40 PlusPoints as soon as they qualify for status (you don't need to wait until the start of the next year). Premier 1K members earn an additional 280 PlusPoints, which brings the total to 320 including the 40 PlusPoints they received from qualifying for Platinum status.
Fly a lot? Premier 1K members can earn an additional 20 PlusPoints every time they earn 3,000 Premier Qualifying Points (PQP) beyond the original 18,000 PQP they need to earn to qualify for 1K status. Learn more about PQP and other changes to United MileagePlus status coming in 2020.

Redeeming PlusPoints for Short-Haul Flights
You can redeem as few as few as 10 PlusPoints on United-operated flights within North America as well as parts of Central and South America and the Pacific.
The exact number of PlusPoints required will depend on the original cabin of service you booked and the new cabin of service you want to upgrade to. For example, booking a ticket in Premium Plus, United's version of premium economy, will reduce the number of PlusPoints you need to reach first or business class.
Upgrade from Economy to First or Business: 20 PlusPoints
Upgrade from Economy to Premium Plus: 20 PlusPoints
Upgrade from Premium Plus to Business: 10 PlusPoints
To quote United Airlines: "Short-haul flights are flights without United Polaris business and include flights within the U.S., including Alaska, Hawaii and premium transcontinental service; flights between the U.S. and Canada; Bogota, Colombia; Central America; Caribbean; Mexico and Quito, Ecuador; flights between Guam and Honolulu, including island hopper service; and intra-Asia flights."
Redeeming PlusPoints for Long-Haul Flights
You can redeem 20 to 80 PlusPoints for upgrades to anywhere else in the world, including flights operated by partner airlines.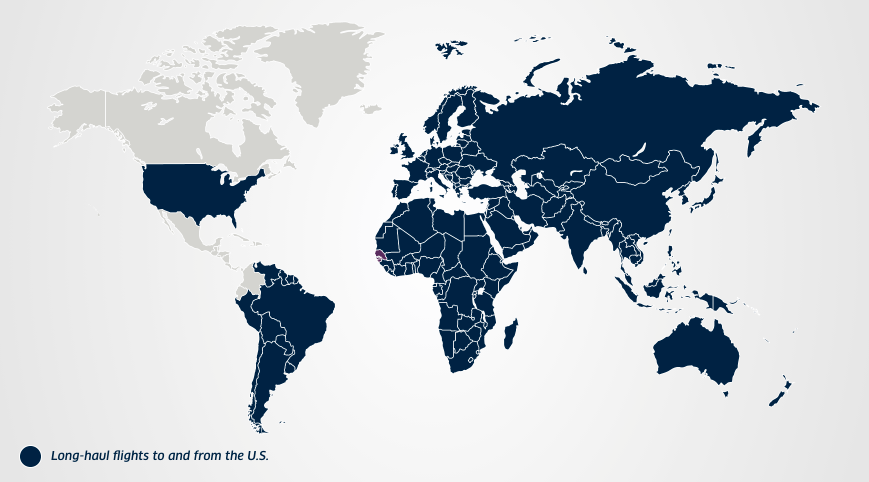 Upgrade from Discounted Economy to Polaris (business): 80 PlusPoints
Upgrade from Economy to Polaris: 40 PlusPoints
Upgrade from Premium Plus to Polaris: 30 PlusPoints
Upgrade from Economy to Premium Plus: 20 PlusPoints
Discounted economy fares are those booked in S, T, L, K, or G fare classes. Basic economy fares are not eligible for upgrades using PlusPoints.
Requesting an Upgrade
To apply an upgrade using PlusPoints or to upgrade with miles, you'll want to access your reservation online and then select the "Redeem Upgrade" button at the bottom of the itinerary.
On that page you'll have two tabs. The first tab lets you actually buy up to first class, which will re-fare your ticket. The second table lets you use miles or PlusPoints to confirm an upgrade. I don't have any PlusPoints, so the only option visible here is to use miles.
You can see that it's just one price to upgrade each direction even though there are multiple segments on this mileage run to Aguadilla. If a flight doesn't have upgrade space immediately available (green check mark) then you'll be placed on the waitlist (yellow triangle) and given priority ahead of any complimentary elite upgrades.
In this case I'm logged into my account to view my own itinerary. However, you can use your miles or upgrade instruments to upgrade someone else's flight. Log into your MileagePlus account and click on the grey box to view your upcoming itineraries. Rather than choose one of your own flights, enter the confirmation number and last name of the person who will be traveling. This can be a useful strategy to avoid co-pays on some mileage upgrade awards.
Upgrades with Miles
Upgrading with miles is a great idea for some travelers and a horrible idea for others. If you don't want to use your miles to fly more than you already have to, or if you need to book paid fares to re-qualify for elite status, then upgrading with miles usually makes sense. If you are buying discounted fares and think this is your easy path to business or first class, it's possible that booking an award ticket would be just as easy and a better value. United's webpage on upgrade awards is among its most detailed and covers pricing, rules, and more. What I have here is the summary.
To upgrade a flight operated by United Airlines, United Express, or Copa Airlines, you will need to redeem miles and provide a co-pay that vary depending on your destination, route, and the fare class purchased. United is no longer publishing a formal price chart for award travel and upgrades after November 15, 2019, but the prices below are the most recent available.
Pricing for mileage upgrade awards can be found on pages 5-7 of this PDF or by using United's interactive search tool.
For example, upgrading a one-way domestic flight within the Continental U.S. will cost between 7,500 (Y fare) and 20,000 miles (S, T, K, L, G, and N fares) with different levels in-between. The co-pay ranges from $0 to $75 but can be as high as $250 if you're upgrading on one of United's p.s. transcontinental routes. On international routes, a typical upgrade between the U.S. and Europe costs 20,000 miles and $550.
As you can see, the co-pay increases much faster than the miles required. You should determine if purchasing a more expensive fare, either one that books into business class to begin with or one that allows you to reduce the co-pay, is a more sensible approach. Remember that United will allow you to specify a fare class during the search process, so you do not need to call in and pay an agent ticketing fee.
Co-pays are waived entirely on the following routes if you have Premier status (or if you're a general member and the miles come from the account of a Premier member):
Travel within Canada and the continental U.S. (excluding p.s. routes)
Travel from Canada or the continental U.S. to Hawaii (excluding service between Honolulu and Newark, Washington-IAD, or Houston)
Travel from Canada or the U.S. (excluding Hawaii, Guam, and Puerto Rico) to Mexico, Central America, or the Caribbean.
Travel within Oceania (excluding Honolulu and Guam)
If you want to upgrade on any other Star Alliance member, then you must book a full price Y or B fare. These can be very expensive for international travel, and a discounted business class fare may be cheaper. Upgrades from full price J, C, or D business class fares are also possible and might be a better deal given the high price of first class. Fortunately there is no co-pay for Star Alliance upgrade awards.
Complimentary Elite Upgrades
United will automatically request a complimentary elite upgrade for eligible routes, and your position on the upgrade waitlist does not interfere with your ability to request other types of upgrades. Upgrade priority is organized first by elite status, then fare class, and then the time of the request (i.e., the time of booking). In addition to most paid fares, upgrades are also possible on award tickets if you have one of several United-branded credit cards.
United MileagePlus Explorer Card
United MileagePlus Explorer Business Card
United MileagePlus Club Card
United MileagePlus Club Business Card
United MileagePlus Presidential Plus Card
United MileagePlus Presidential Plus Business Card
Award tickets are assigned the lowest fare class. For example, a Premier Platinum with a qualifying credit card will be upgraded on an award ticket after all other Premier Platinum members but before a Premier Gold member.
Companion upgrades are prioritized at the same level as the primary traveler. Assuming both tickets were booked in the same reservation, they'll already have the same fare class and the companion upgrade can clear in advance. If they are separate reservations, then the upgrade must be requested at the airport. Companions on award tickets are not eligible for an upgrade.
One catch with companion upgrades that are part of the same reservation is that the computer system must process both travelers together — it's all-or-none. This means that if only one upgrade becomes available the computer may skip over you to the next single traveler. You can avoid this problem by splitting your reservation, but some travelers prefer not to fly in separate cabins.
Upgrades at Check-In
United has been criticized at times for offering "tens of dollars" (TOD) upgrades to passengers without elite status. Some customers argue that this allows United to gain some revenue from its customers but shortchanges elite members of any chance at an upgrade, especially since they don't always receive the same offer. However, if you get such an offer they tend to be an inexpensive way to confirm an upgrade immediately during the check-in process.
You might also be offered an instant upgrade at the time of booking. If you take advantage of this upgrade you are really taking advantage of an up-sell to a higher fare and will be confirmed immediately. You will earn miles according to this new fare type.
Finally, you might have the option of upgrading your ticket after you book when you return to your online itinerary at a later date (but before departure). This upgrade type will confirm immediately but will not re-fare your ticket; you will still earn miles according to the fare you first booked.
Priority for Each Upgrade Type
Assuming your upgrade does not clear in advance, United will process upgrades in the following order:
Full fare tickets, ranked by elite status.
Upgrades using miles or systemwide/regional upgrade instruments, ranked by elite status (of the traveler), then fare class, and then time of request.
Global Services members and companions, ranked by fare class and then time of request.
Global Services members on award tickets with qualifying credit card.
Premier 1K members and companions, ranked by fare class and then time of request.
Premier 1K members on award tickets with qualifying credit card.
Premier Platinum members and companions, ranked by fare class and then time of request.
Premier Platinum members on award tickets with qualifying credit card.
Premier Gold members and companions, ranked by fare class and then time of request.
Premier Gold members on award tickets with qualifying credit card.
Premier Silver members and companions, ranked by fare class and then time of request.
Premier Silver members on award tickets with qualifying credit card.
"Tens of dollars" upgrades should be offered last, but if you're offered one at check-in there are always scattered reports popping up that these clear before complimentary elite upgrades.
Remember that people may jump the queue at any time if they change flights or buy up to first class. Yesterday when I discussed Alaska Airlines I mentioned that the time of request was probably the most important factor. With United, it's your status and fare class. Track how full other flights are and take advantage of same day changes to position yourself for better odds. You might even buy a slightly more expensive fare. If everyone else is booking a W fare (the cheapest option to use a Global Premier Upgrade) then consider buying a V fare — sometimes just $20 more.
You should be able to view the upgrade waitlist after you check-in and see not only how many seats are still available for upgrades but also if seats are still for sale. Honestly, if you're not within the top 10 (some would say top 5) I don't think it's likely that your upgrade will clear, but there's always the chance you'll get lucky.