Background
One of my good friends moved from Chicago to San Francisco in October 2012, so I made plans to visit him in early 2013. Circa November 2012, I found out that Virgin America was offering Elevate status matches to American and United elites, so long as we sent in our FFP # and a recent mileage account statement.
Within 10 days, I received an e-mail back from Virgin America stating that my status "flew on Virgin," which I could enjoy until April 30, 2013 as an Elevate elite. If I earned 8,000 miles in that period, my status would be valid until the end of the year.
Although I did not make any further booking plans, I received another e-mail in mid-December notifying me I "had a license to loft" at the new Virgin America Loft @ LAX. This was part of the annual allotment that Elevate Elites receive each year. Checking out some swanky pictures, I knew that I had to take Virgin up on the offer when I flew out to SFO.
Fast forward to February, and I booked a one-way itinerary originating in Chicago flying to San Francisco, with a stop-over in Los Angeles to check out the Loft. My return was on a one-way itinerary on United. Overall fare was $200 one-way on VX, and $134 one-way return on United. Not too shabby.
My status entitled me to Main Cabin Express on the first flights out – not exactly sure what that meant. However, I had kept my eye on a chance to up-grade, and low and behold that option DID become available to me during On-Line Check-In.
For $69, a First seat was available to me on my flight from ORD to LAX. Total steal, so I went for it. I was thrilled: finally, a chance to fly on the highest-rated airline in the U.S.A. in First Class! I had to see what the hype was all about.
Check-In at ORD
ORD was in midst of an exciting summer of changes with a bunch of new airline entrants. It's quite interesting to see the lineup at Terminal 3 now on the signage, as the list has surpassed Terminal 2 for boasting the second-longest list of carriers. Recent additions here include Air Berlin and Qatar  
Check-in area for Virgin is just a small, 2-counter space, but per my expectations, the station is decked out with a music system. The process was fairly smooth and painless, and since I was flying First that day, my bags were checked free all the way to SFO. I got a cool little luggage tag with a priority sticker as a keepsake.
One thing that was somewhat bothersome about the check-in, in hindsight, was that the agent did not confirm seat assignments for the flight, which I think would have been appropriate (more on that later).
One downside of flying Virgin was the lack of TSA-precheck, and security at ORD in T3 does tend to suck. Despite the hassle, I made my way to the slightly depressing "L" gates, which I've used thrice in the past year to fly on Alaska, WestJet and now, to lose my Virgin Virginity!
I believe Virgin only uses one gate at ORD – L3. Correct me if I am wrong. The gate area was pretty tame, without much ongoings pre-flight. The color schemes were vibrant and music was playing, but it was a subtle affair. The flight load seemed fairly light.
AA operates a morning departure to LHR on a 767-300 from ORD. Here she is, in all of her ugly splendor.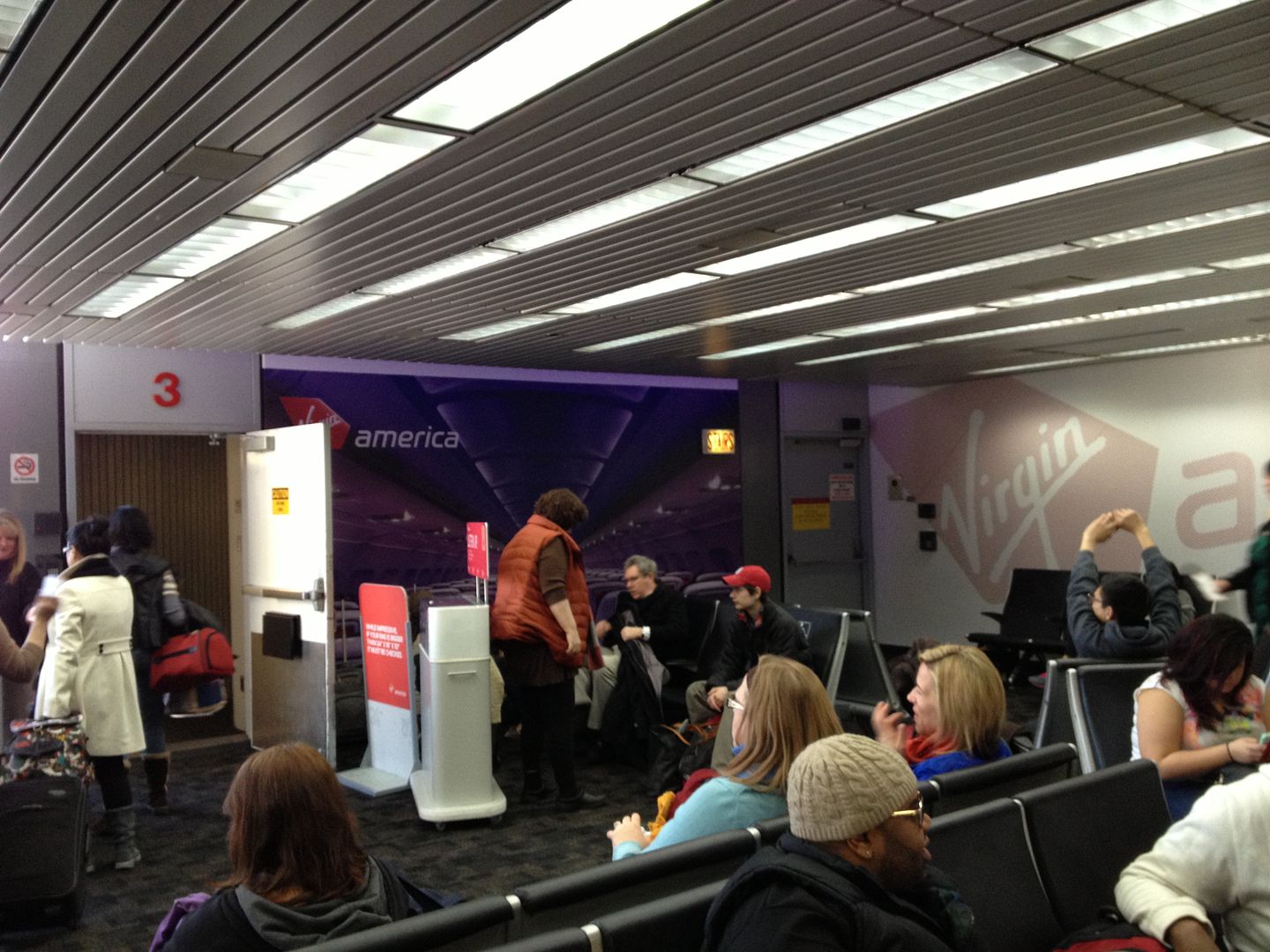 First Class passengers and Elevate elites were called to board first, after passengers with disabilities and uniformed military personnel.
Chicago (ORD) to Los Angeles (LAX)
Upon entering the cabin, the sight was pleasing to the eye and my initial expectations were matched with reality upon noticing the dimly-lit FCL section with mood-enhancing features and closed window shades. The seats looked comfy, although I would have preferred a slightly different color other than beige leather, which made the seats appear to be a tad worn.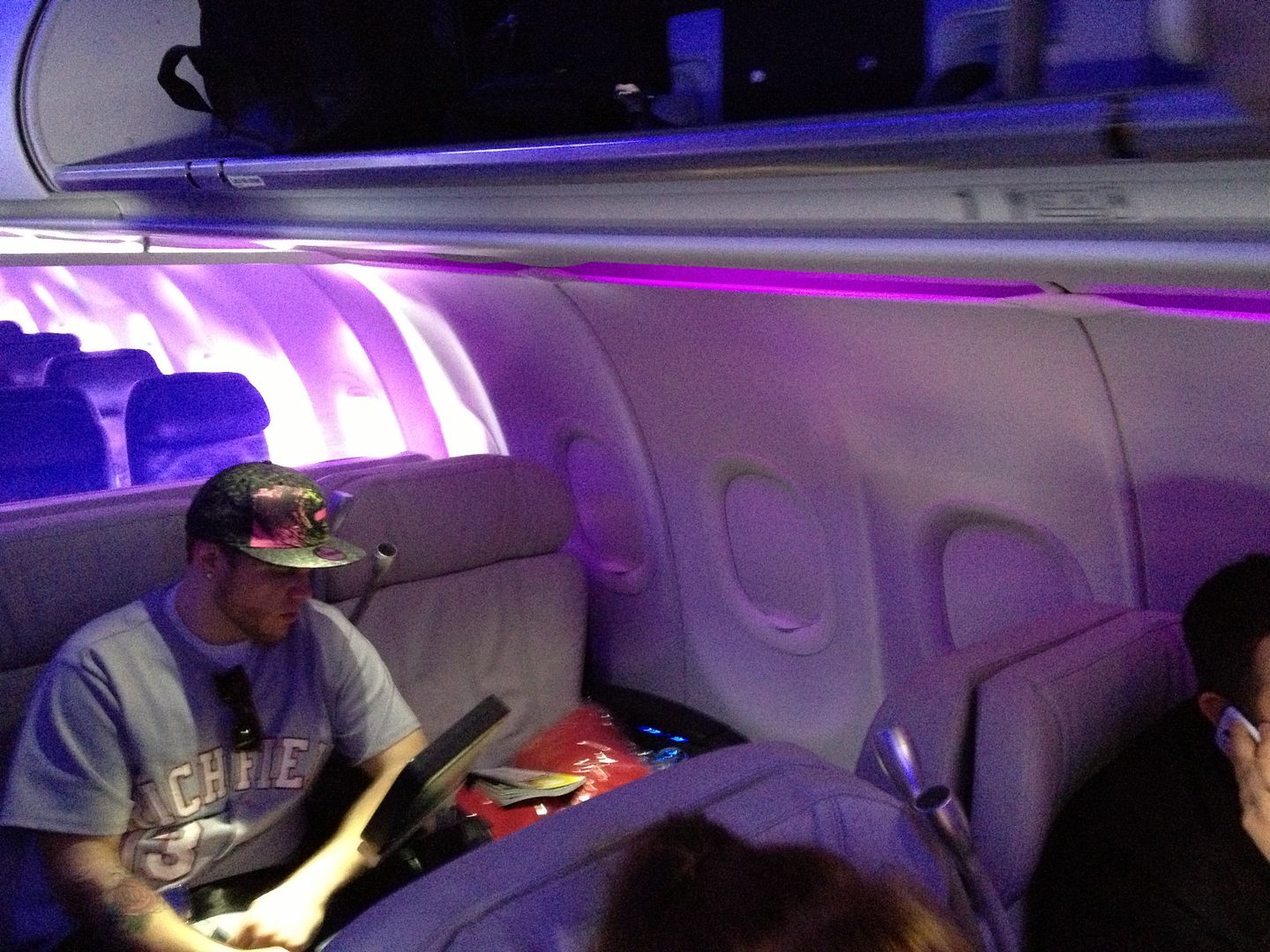 I was seated in 2A on this particular flight. Noticeably, Virgin America does not allow underseat storage in First Class, which is an anomaly compared to United and American. The FA serving our cabin that morning introduced herself as Letifah and offered my seatmate and I a beverage, and to place my hand luggage in the overhead compartment. Overall, a great first impression. Thumbs up!
The seat recline features were pretty archaic using manual control buttons as opposed to a full-spread of electronic systems, but thankfully, the recline worked fully and in its fullest mode, the pitch was pretty legit at 55 inches.
The closed window-shades option is not my cup of tea  
 so I released them and allowed the beautiful Chicago spring sunshine flow into the cabin. I started making small-talk with my seatmate, Cliff, a pleasant fellow around my age heading to LA to meet his girlfriend. We both had a few mutual friends (small world it is!) and were also excited for the journey ahead as Virgin Virgins, both going all-out flying F that day.
While I waited for my Mimosa (something United really needs to get on-board with, stat!) I took some time to play around with VX's IFE system, Red. When it comes to IFE selections on a domestic flight, US fliers cannot get more spoiled than this. Full features allow customers to watch movies, shorts, listen to playlists (as well as create their own), read, msg with other passengers, shop, order ancillary items and play video games. The system moves relatively quickly without annoying commercials or advertisements and quality and quantity of films is pretty extensive.
I also like how FCL passengers have the swivel PTV function which allow them to contour the device to stay in a multitude of angles. This is particularly convenient if the passenger is working, sleeping or eating. While I didn't delve too much into any particular film or video game, I was very impressed by the moving map functionality offered onboard VX.
I was happy that Virgin not only offered pre-departure beverages, but also carried champers on-board. Again, I'll reiterate that this is something United needs to bring back in domestic FCL.
The liveliness of the cabin atmosphere was palpable as Letifah made the general boarding and pushback announcements on the PA system. Customers were asked to raise their hands if they were a "Virgin Virgin" that day, which I found to be quite enjoyable, although I am not sure I would maintain fondness for this practice if I were a frequent flier with VX. Regardless, it was a nice touch, and soon we were taxiing onto the departure runway.
Take-Off and In-Flight
Since this was pre-787 clearance, the LOT SP–LRA 788 was still stranded at ORD that day, as depicted here. She had flown into ORD for the inaugural flight from Warsaw on January 16, the day the 787 was grounded, and was still in Chicago nearly 3 months later.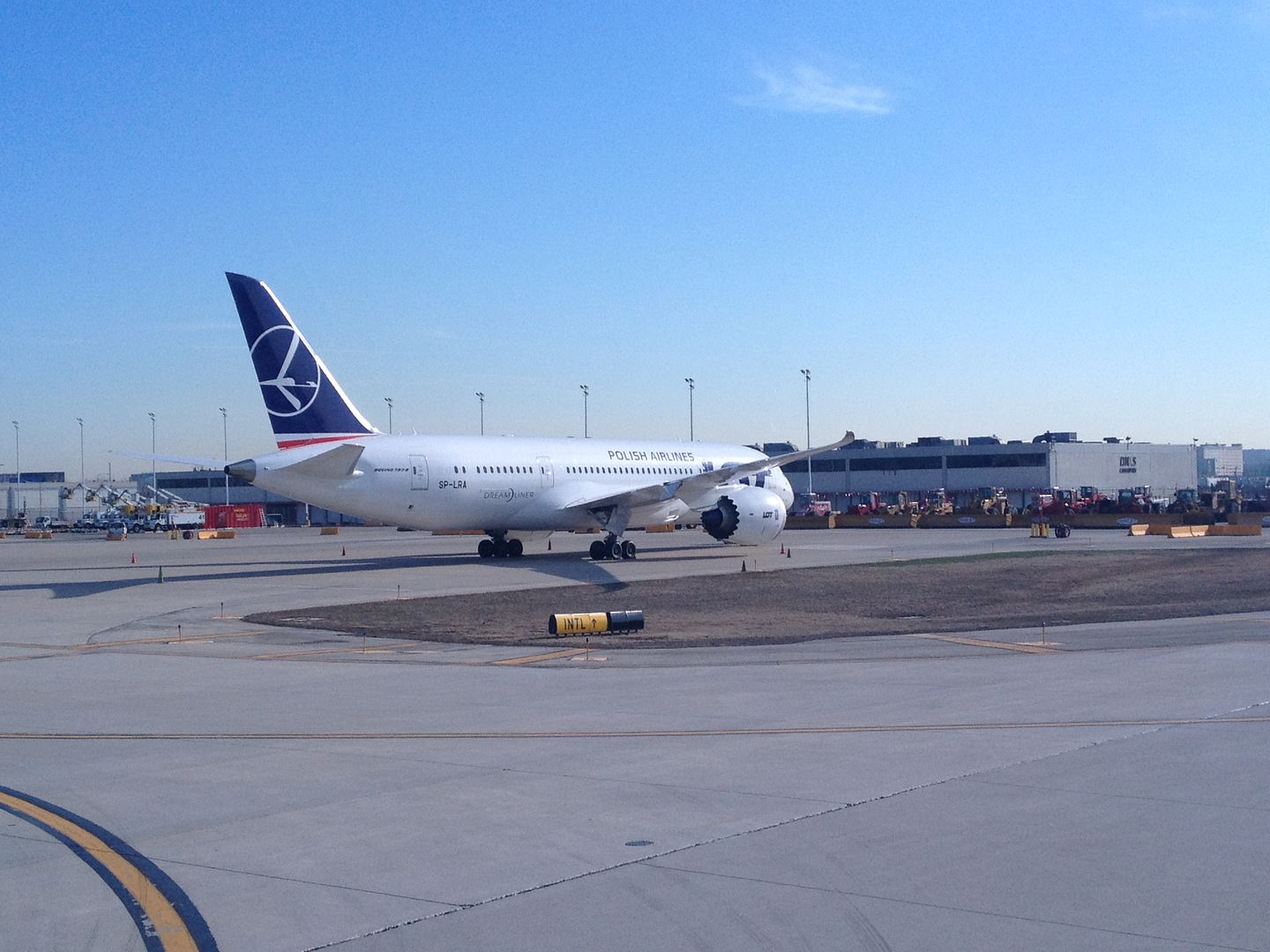 Post take-off, the crew appeared to take their time in commencing the cabin service, which is fair game for a 3.5 hour + flight. One thing I wasn't too fond of was the purple plastic divider separating First and Main Cabin/Main Cabin select, which I thought was a bit tawdry.
After about 20 minutes or so, Letifah returned to distribute the menus for F that day, as well as take second drink orders. I, of course, went for a second glass of chilled Mimosa, which was delivered with a smile and a plump-looking orange slice as a garnish. The drink was refreshing and hit the spot that morning. I am a huge fan of the thin glass ware VX uses in F for their drinks services.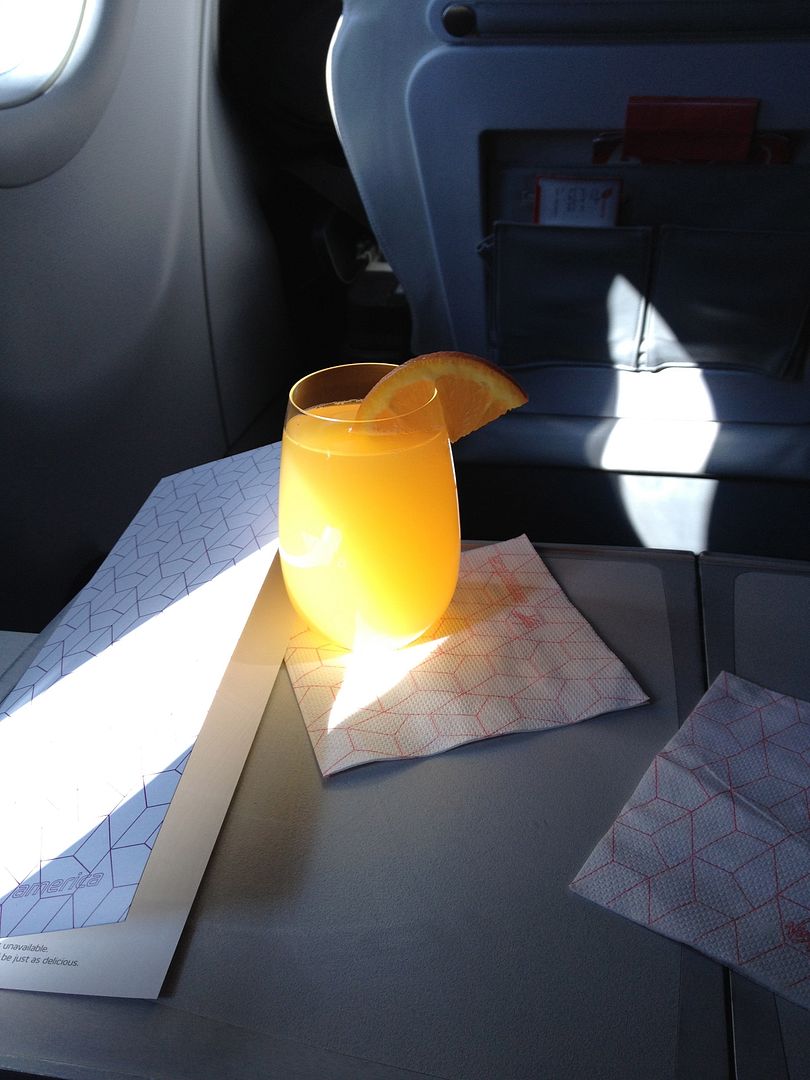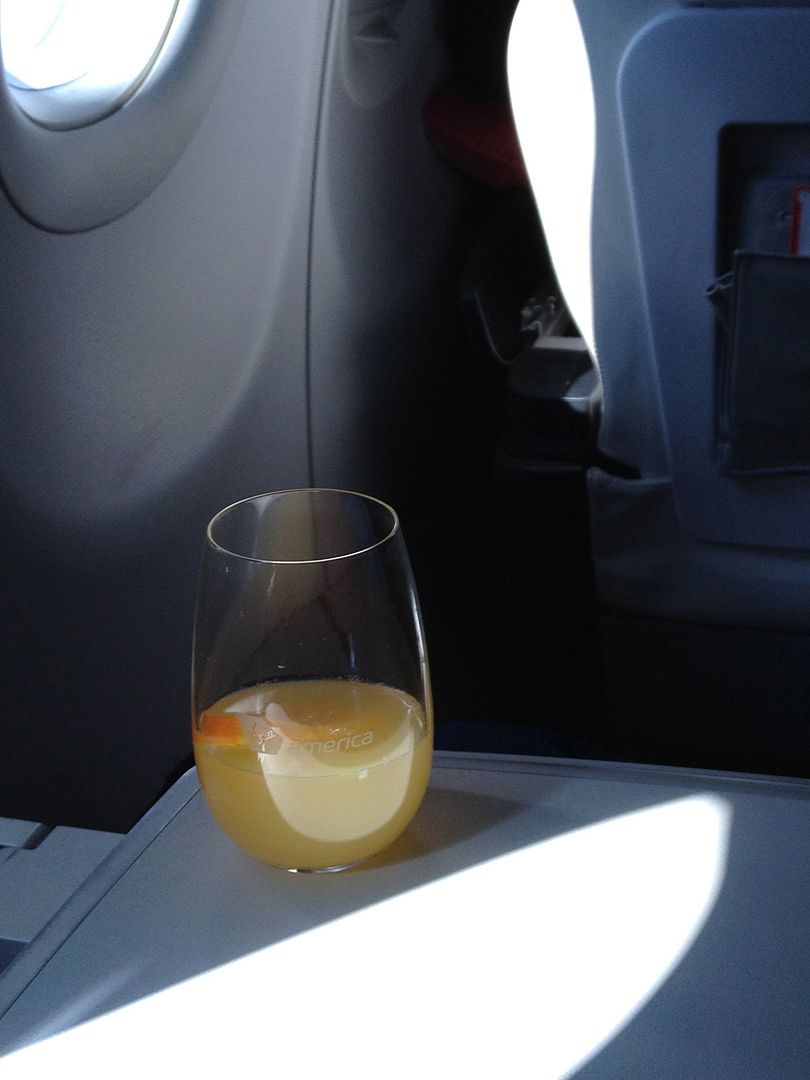 The menu options looked incredible today. VX is the only carrier that I have ever flown domestically that offers a printed card with the selections in the premium cabin. There were two choices, one hot and one cold, with the obvious preferable option being the Mediterranean Omelet. Here is a print out of the menu:
Preparation for the breakfast wasn't a quick process, but understandably, it was a lot of food and based on my expectations, presentation and taste were supposed to be paramount. I mean, this was Virgin America, after all.
The food arrived with absolutely stunning presentation. On-par with restaurant caliber. The omelet tray was served piping hot with a generous dollop of pesto, TWO potato patties, several delectable-looking sausage links and a roasted cherry tomato. Just looking at the photo as I write this makes my mouth water.
Bonus items on the tray included a Muesli dish, which featured fresh fruits, coconut, macadamia nut and vanilla yogurt mixed with rolled oats. Slightly pompous and obviously an effort to fill the sweet-tooth gap as a complement to the savory main item.
Finally, a warm moist sweet bread with cinnamon and raisins. Just heavenly. I was delighted that Virgin also provided their famous airplane salt and pepper shaker signature item on the tray.
The omelet was delectable: the pesto added the perfect kick to the combination of spinach, feta and mushroom as they oozed out of the entree. The potatoes were cooked to perfection: crisp on the outside, soft on the inside, and the sausages contained that perfect sweet-and-savory zing with a hint of mango alongside a slightly salty stick of meat.
Finally, the muesli yogurt was more of a dessert-y item rather than purely a breakfast dish, but the innovation behind it scored major points. Virgin really outdid itself with this breakfast. Words cannot explain how amazing it was and how it puts pretty much every other carrier to absolute shame here.
After the trays were cleared, I relaxed in my seat and explored Red to a greater depth. I was pretty amused by the offering of School House Rock (anyone remember these!?) from back in the grammar school days.
The flight continued to pass uneventfully. At one point, I got up to stretch my legs and went to the galley to chat with Letifah for a bit, which was a pleasure. I learned more about her experience with the company as a NY-based crewmember, and made sure to write a thank-you letter to VX immediately after she gave me her business card. Truly professional service. I just wish VX didn't have such an up-hill battle against the legacy US competition.
Roughly an hour prior to landing, Letifah came by with a snack basket, which included some delicious gourmet savory items such as sea-salted caramel popcorn and pop chips. Yum.
The rest of the flight passed uneventfully. Before long, we were on final descent into LAX and landed smoothly around 10:45 local time.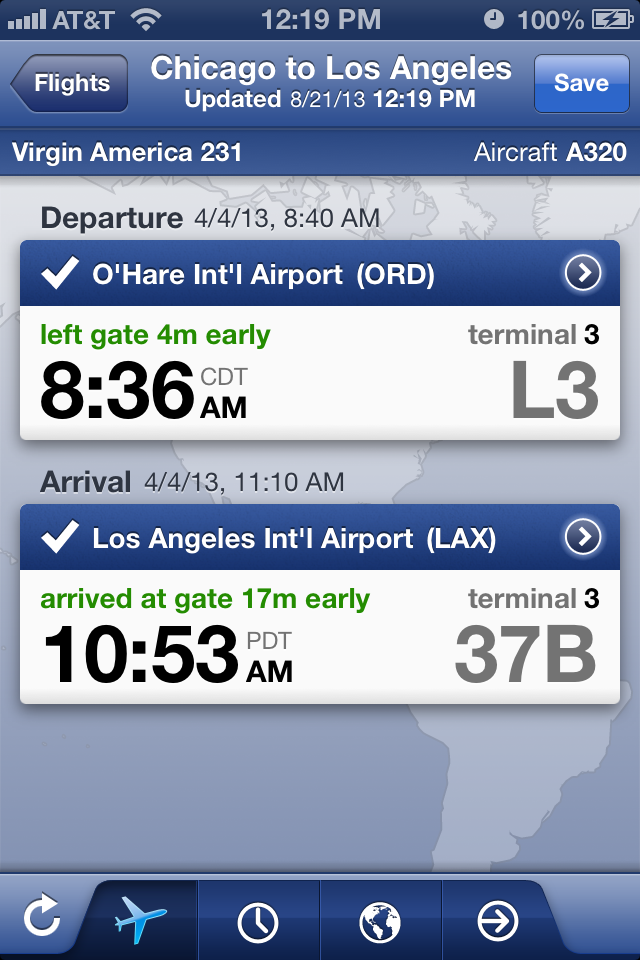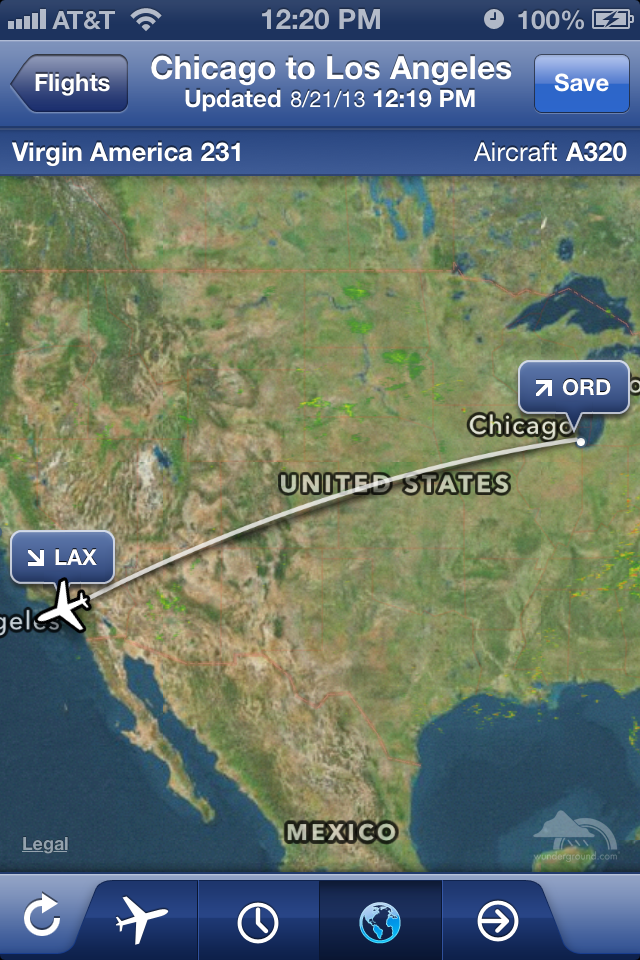 LAX-SFO
I hadn't prepared myself for what came next: I was originally ticketed in Main Cabin Select on the LAX–SFO sector, but it appeared that I had been upgraded to Main Cabin Extra for this leg. The one issue I had with this was 1). I suppose the agent hadn't informed me, nor had I received an e-mail but 2). I was sitting in middle seat, having forgone my window selection.
Ordinarily, this wouldn't have been a huge issue for a 50 minute flight. However, I was sandwiched between two larger gentlemen on this sector. Also, when there are ATC delays, usually, even when your flight is already very delayed, chances are there will be further delays on the ground once everyone is on board. Such was the case today.
I also wasn't aware that MCS people are entitled to free food and bar service, but I suppose I had already had enough from the lounge to suffice.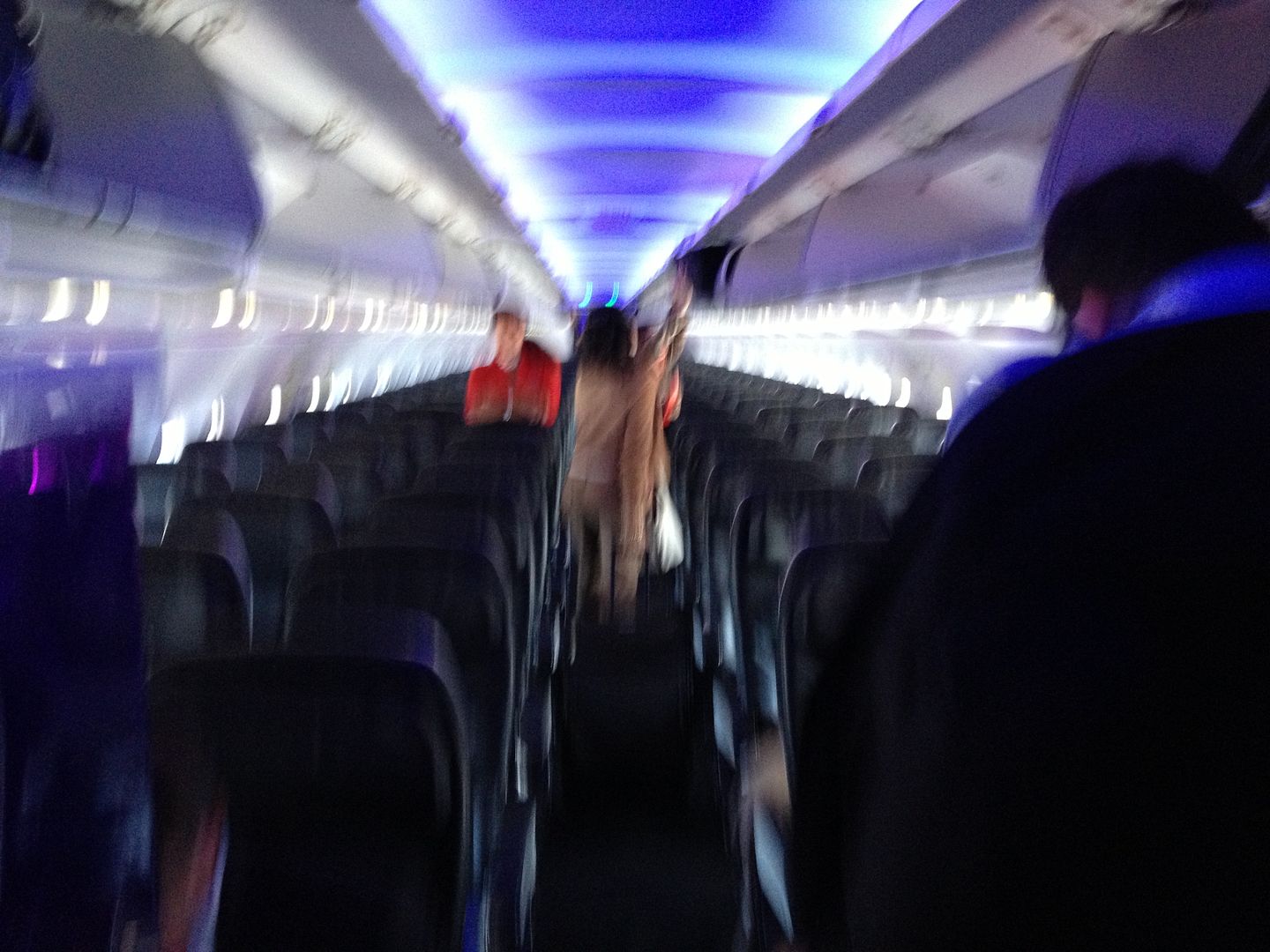 Frankly, leg room also felt somewhat cramped.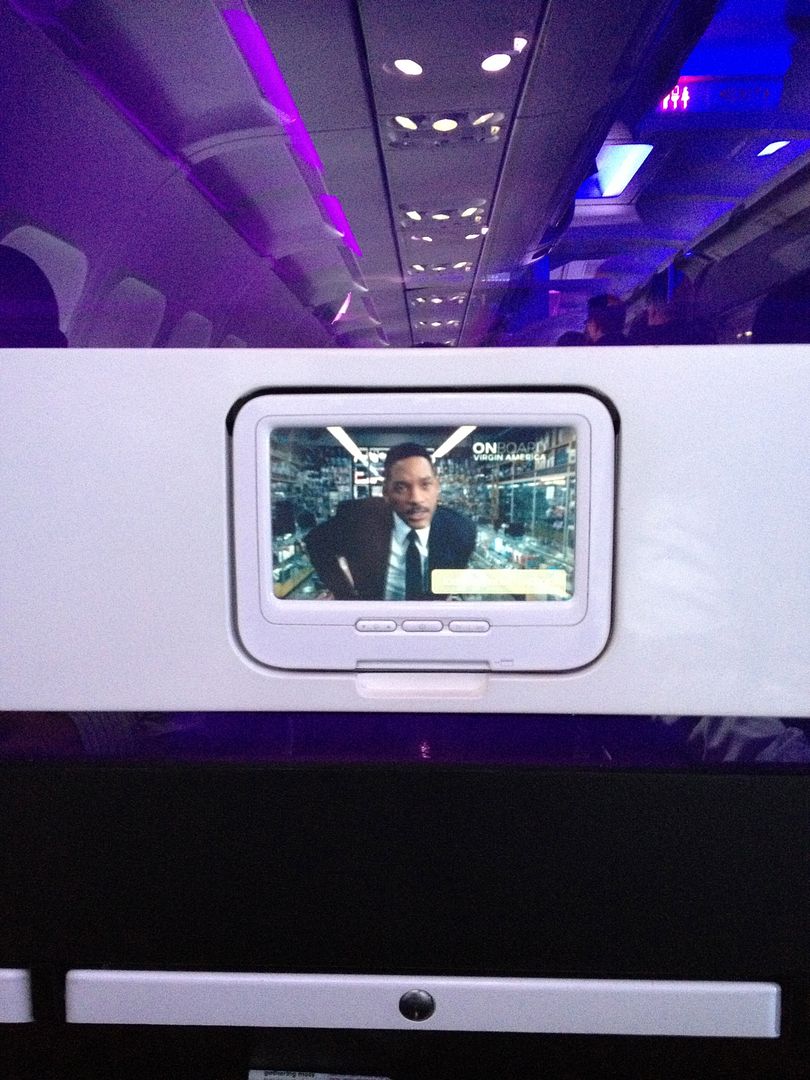 Having no window view, I simply dozed in and out for a bit on this flight. Arrivals area in SFO is beautiful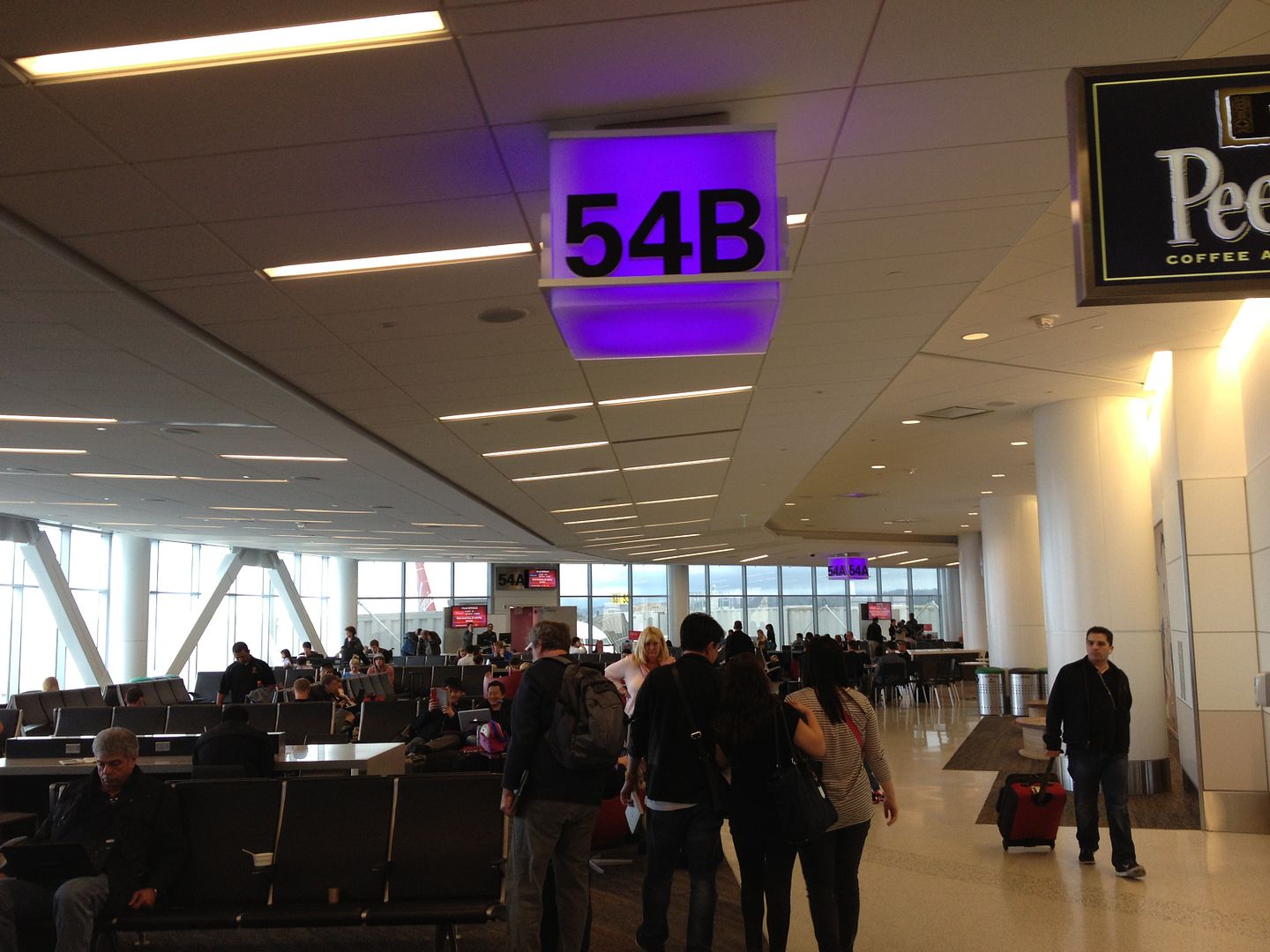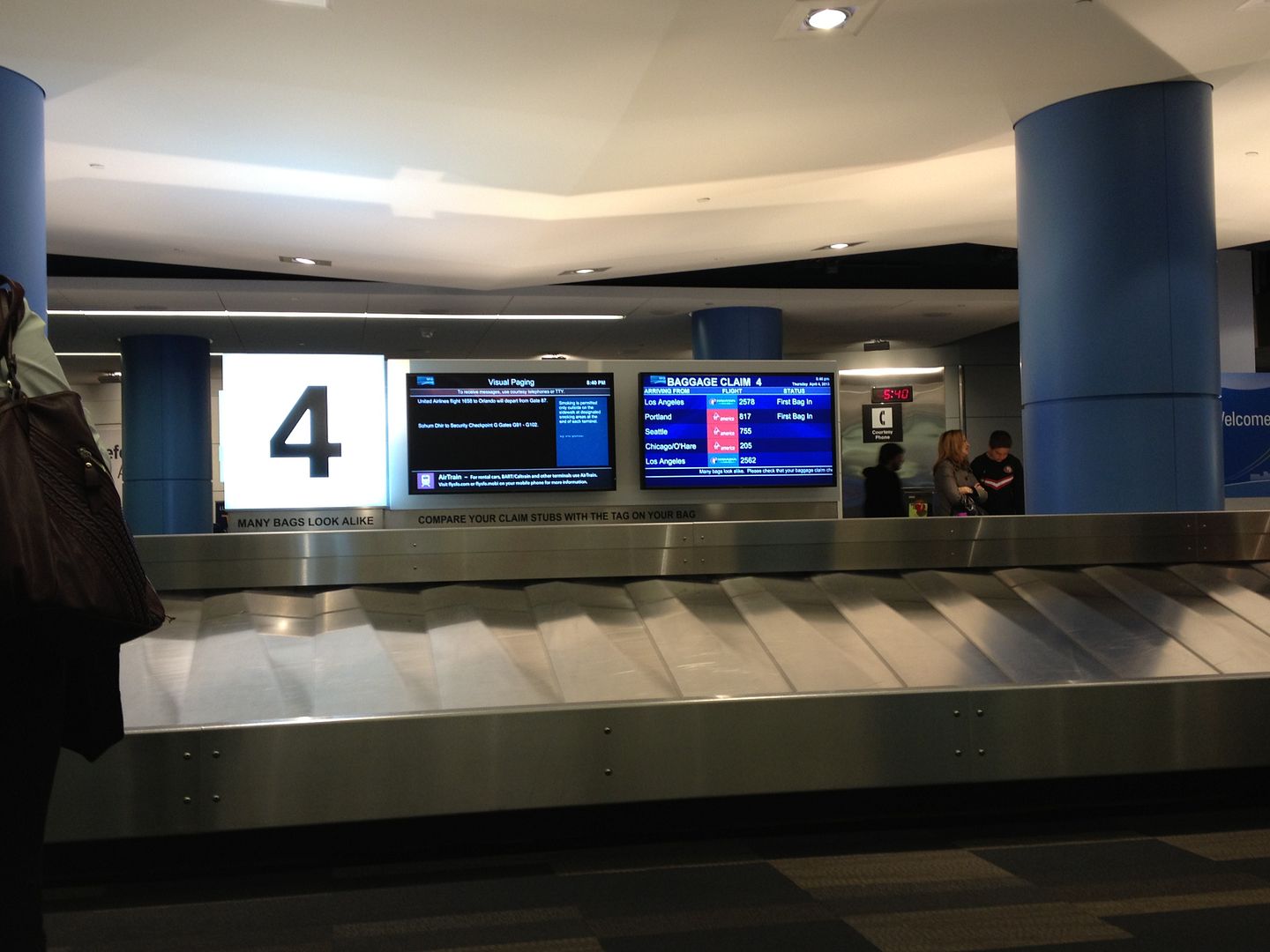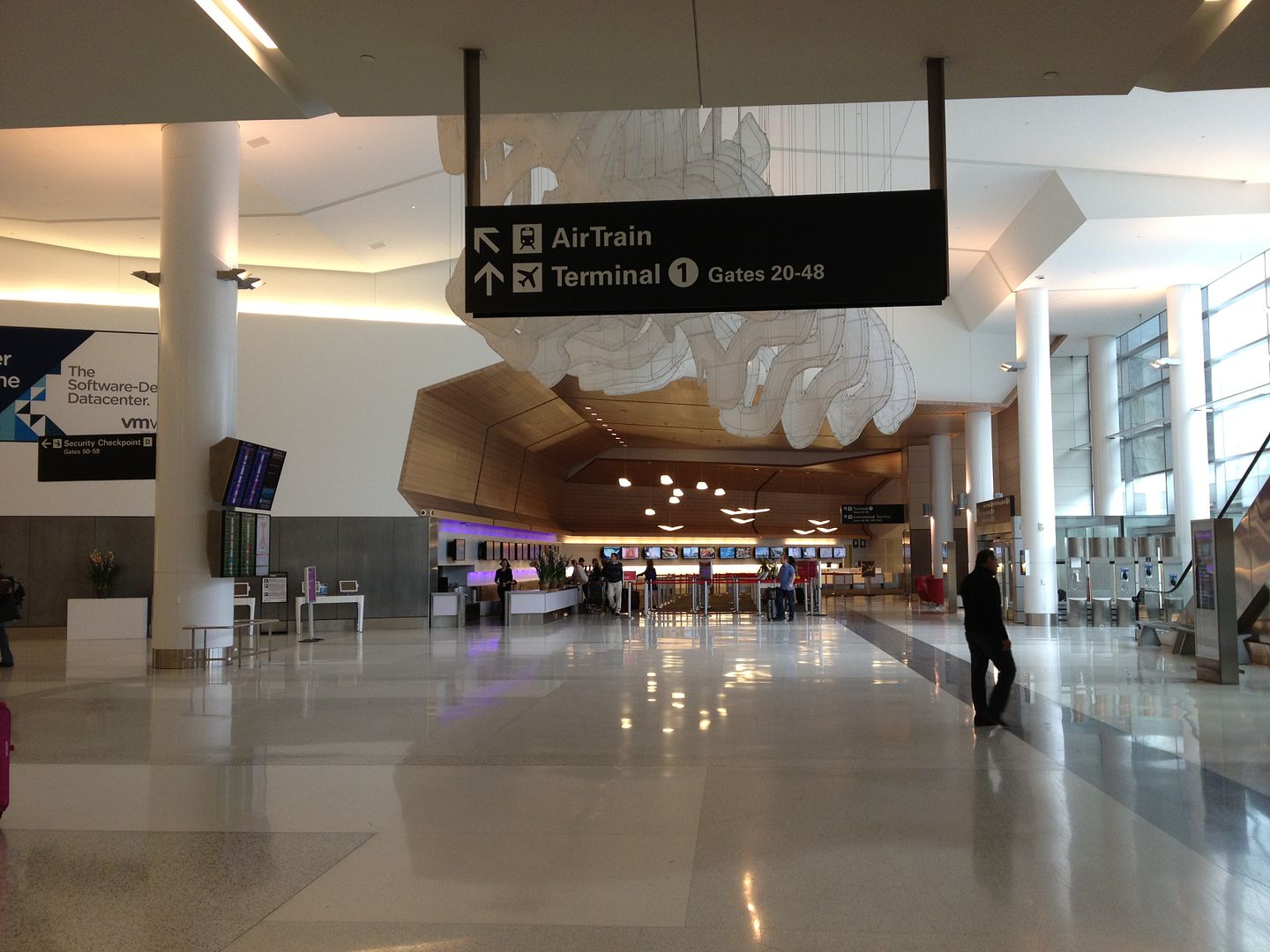 Overall Impressions
Wow, is all I can say. I was blown away by my experience on Virgin. If I lived in the SF or LA area, I would become an instant convert. The service standards and amenities are head and shoulders above what you will find on the legacy competition.
However, economic realities always cannot be clouded by quality of service, awards and recognition: Virgin America still has its uphill battles to face in order to succeed in the US aviation industry. I am hoping that some of their recent ventures (i.e. expanding into markets like ANC and AUS) will bear fruit for them and they will fight their way towards long-term survival, without diluting the brand.