UPDATE: The lounge is now closed after Virgin America consolidated operates with Alaska Airlines in T6.
Virgin America allocates a certain number of annual Loft passes for their elites to use, and since I had done a status match from United, I received one via e-mail to spend during my layover at LAX.
Arriving from my Chicago flight at the Virgin America terminal in LAX, I was greeted by a pretty dumpty building. I checked the FIDs monitor to confirm the gate for my onward connection to SFO, but I noticed the flight was delayed due to fog and Air Traffic Control at San Francisco.
The annoying part of the delay was that nobody really knew *when* the flight would leave, as the original delay time of 1 hour kept getting extended gradually. Regardless, I had allotted 2 hours for my LAX layover in order to visit the lounge, but on the plus side, it appeared that I would get to enjoy it more than I had originally budgeted for!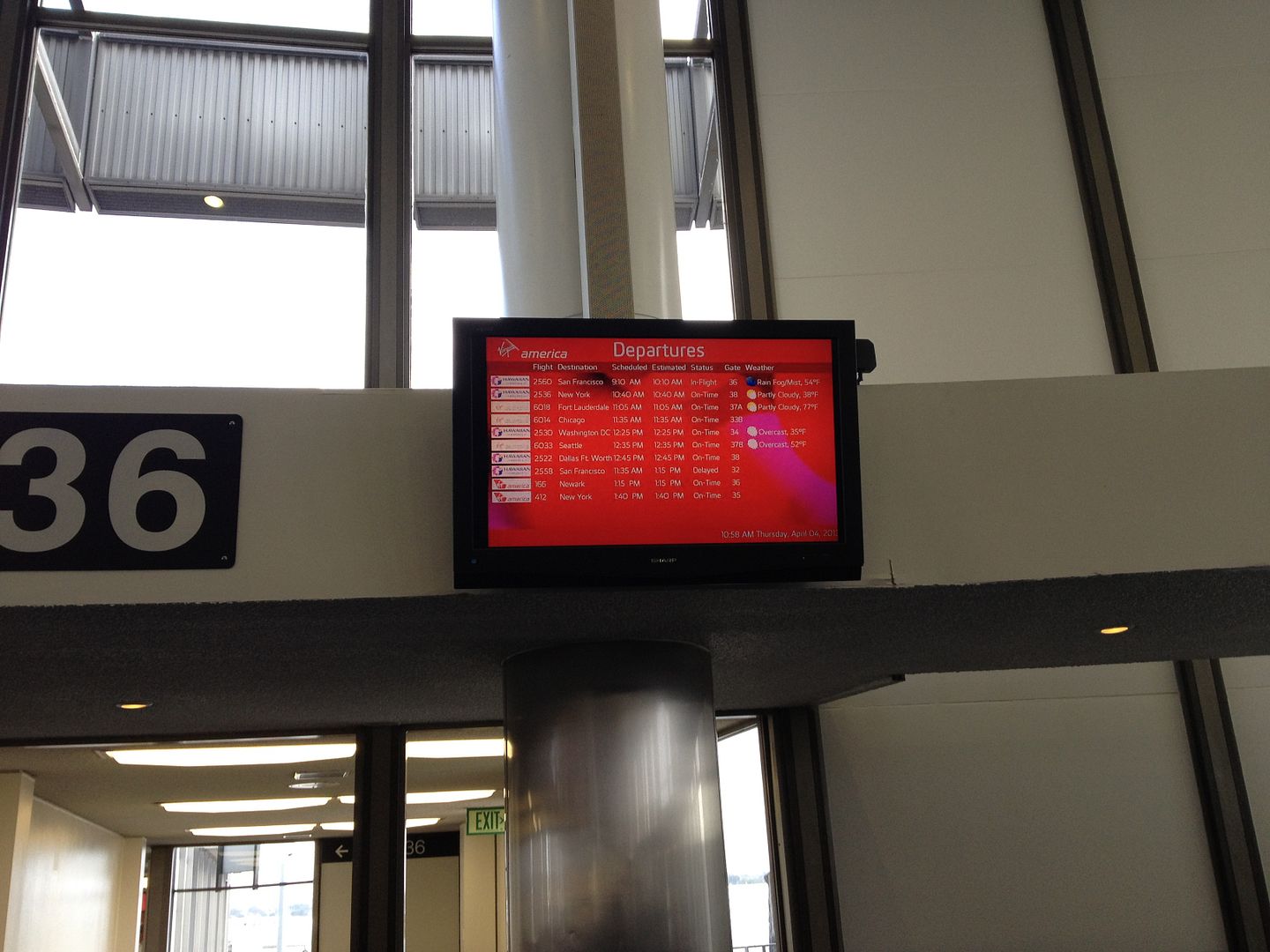 The VX lounge is accessible on the second floor of the terminal building, and also is offered to passengers departing on Virgin Australia. Access was easy; all I had to do was show the attendant my Elevate Silver card and the e-mail notifying me I had a day pass to the lounge, and I was in!
LOFT and Planespotting at LAX
Few things in life are more thrilling than planespotting. It requires no security checks, no reservation, no turbulence, no seatmates, and best of all, it is available to anyone and everyone who appreciates the Power of Flight. I experience such sheer joy from watching an aircraft in action and seeing these tubes bring people and places together within mere hours. 
It never gets old.
I write this TR with nostalgia as I recall that afternoon in April 2013 when I simply spent hours at the LOFT at LAX watching the planes come and go. I am forever indebted to Virgin America for this experience. 
Aided by this was a superbly quiet lounge, albeit crowded at times – never too noisy, with pleasant staff and a plethora of food and snacks to keep me refreshed during the delays that afternoon. 
To my good fortune, I arrived during the breakfast window, so I was able to sample some of the breakfast items available to customers, as well as some of the lunch items as well.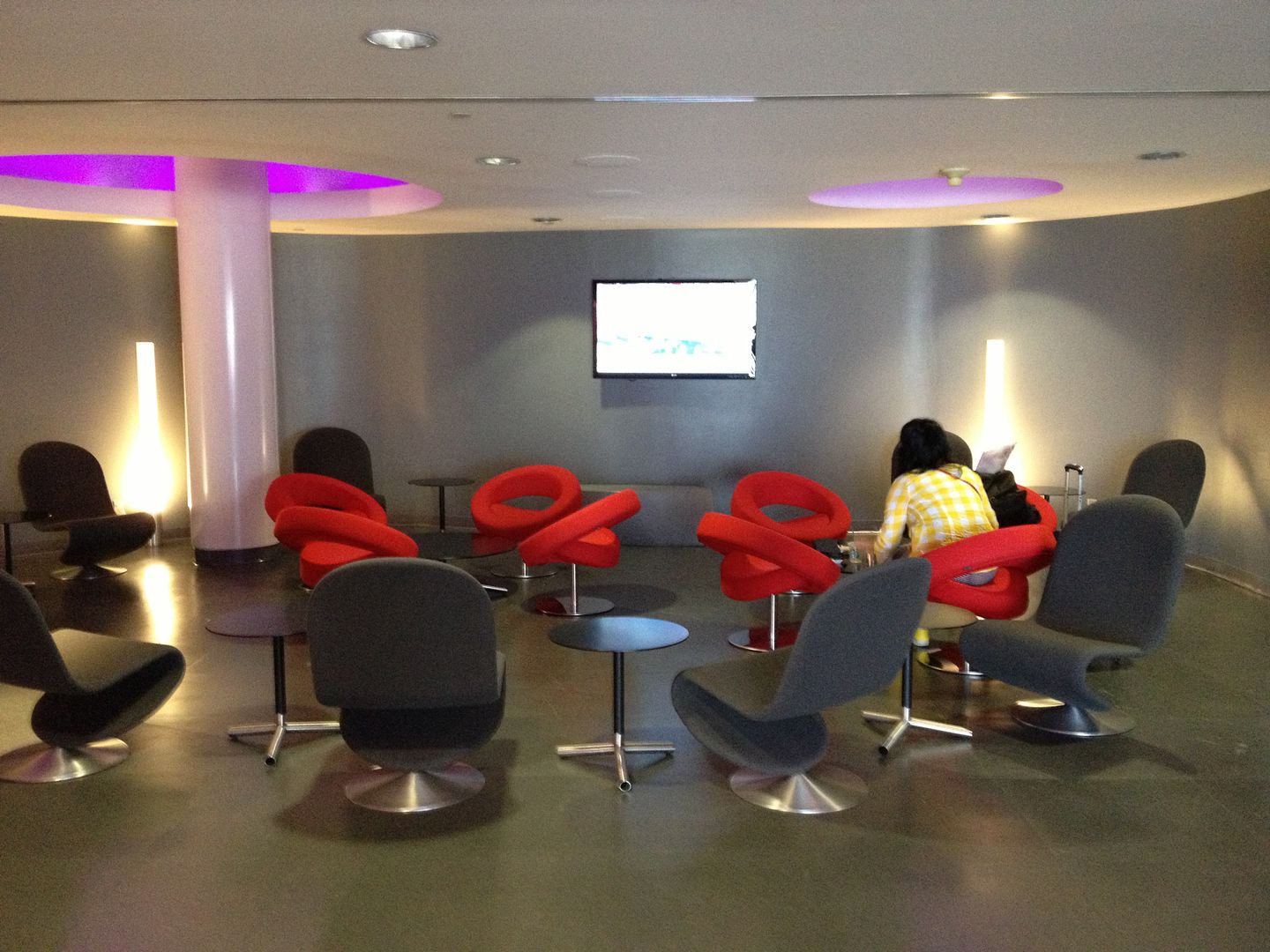 The bar was rarely packed, if ever, and continuously had a smiling attendant ready to pour drinks at any noticed. Here is a picture of the bar and the libations menu available to customers: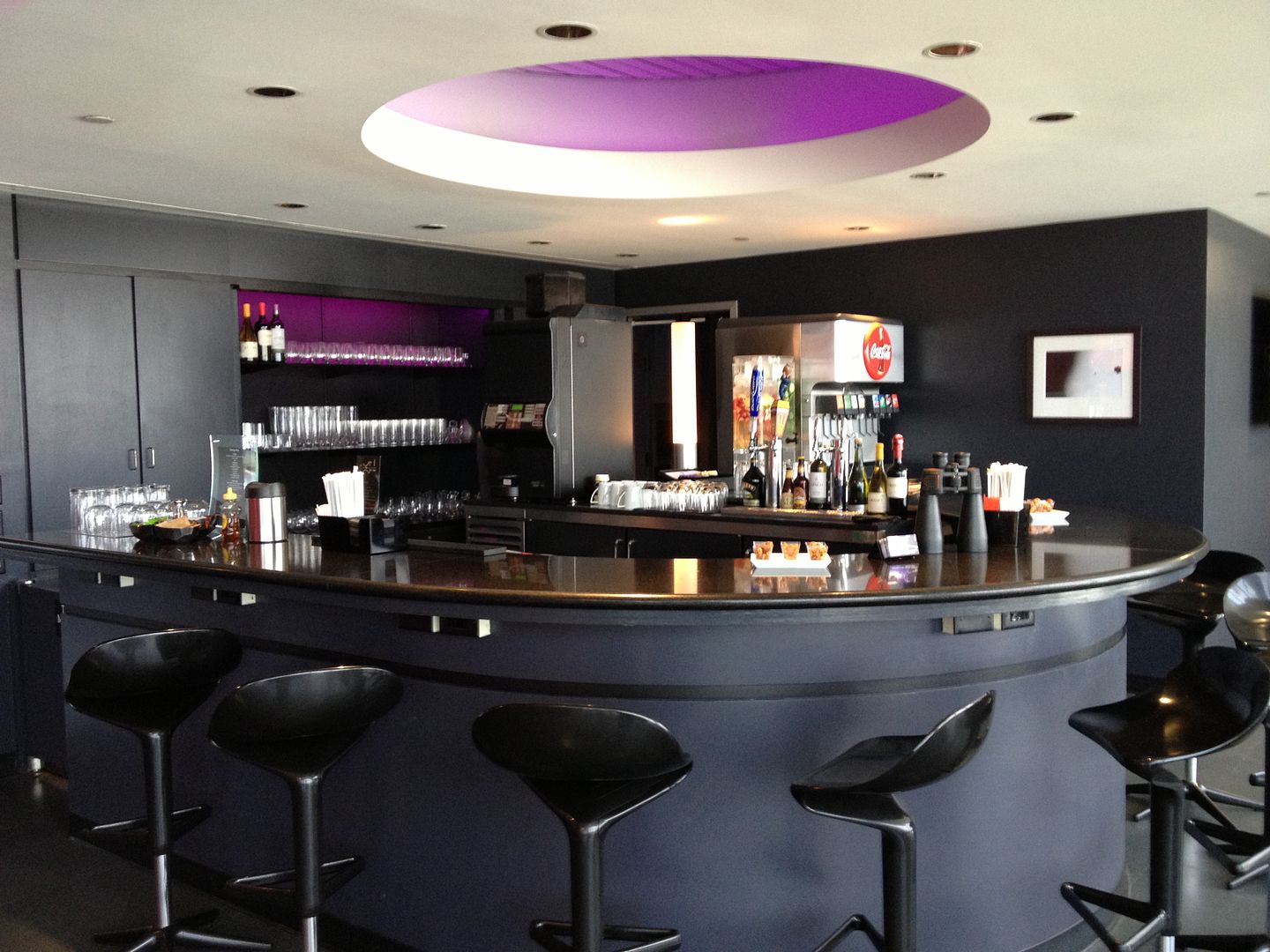 Here are some photos of the food dish items available to customers. 

Brunch snack: smoked salmon on bagel, strawberry yogurt, frittata, fruit and nuts, and a 'Runaway Ruddy Mary' composed of Bombay Sapphire Gin and Mix 

Lunch nibbles: assortment of fruit and cheeses, dried dates and apricots, raw tuna slices and a "jet stream spritzer" entailing white wine, tonic, and a lime wedge to wash it all down.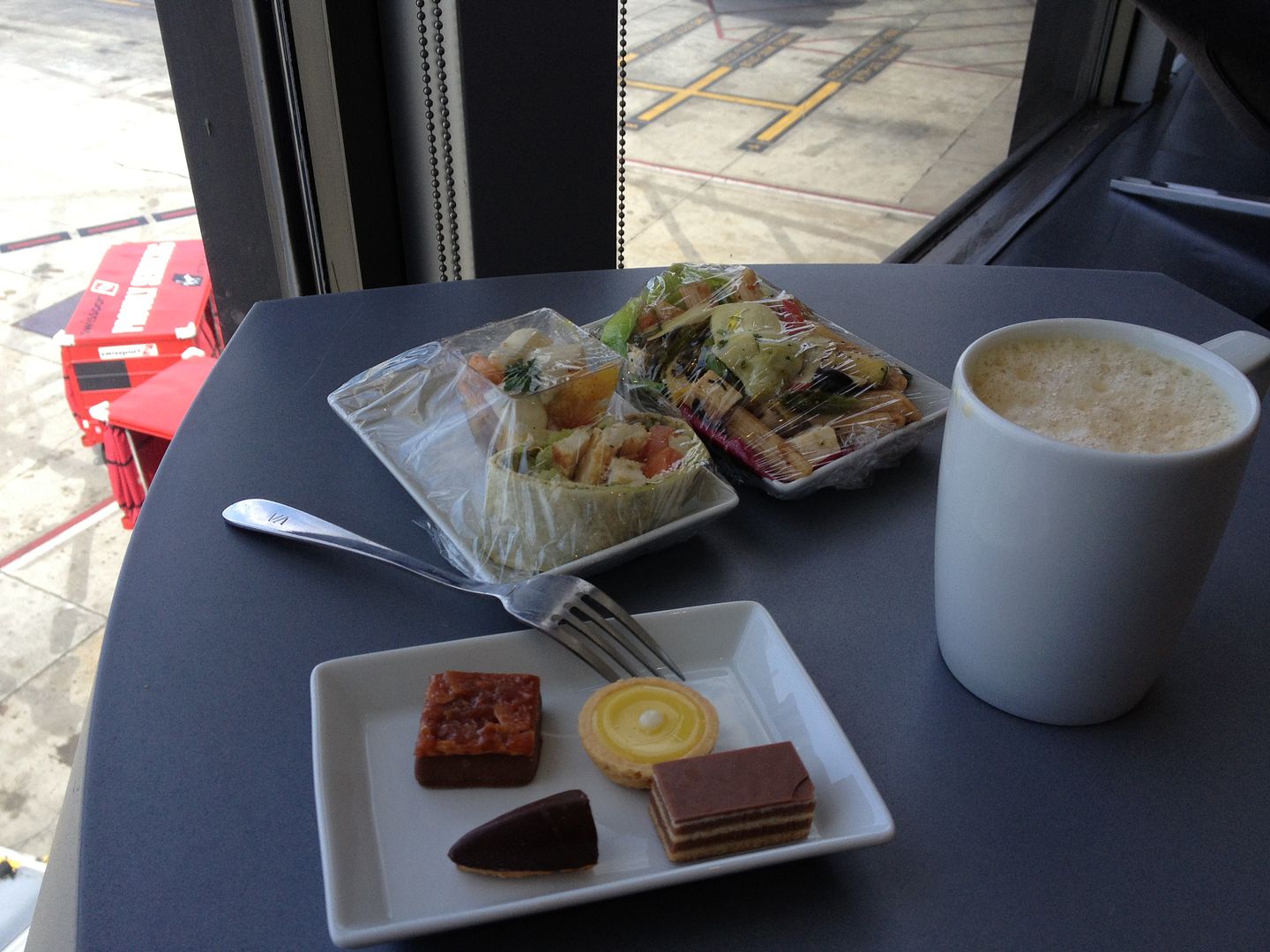 Afternoon tea service/snack: chicken tortilla wrap, cheese and tomato antipesto, pasta salad, mini desserts, and a delicious, strong cafe.
The rest of the photos, however, should really just speak for themselves when it comes to spotting. I'll let you enjoy them and live vicariously through me. 

This is where I sat for most of the afternoon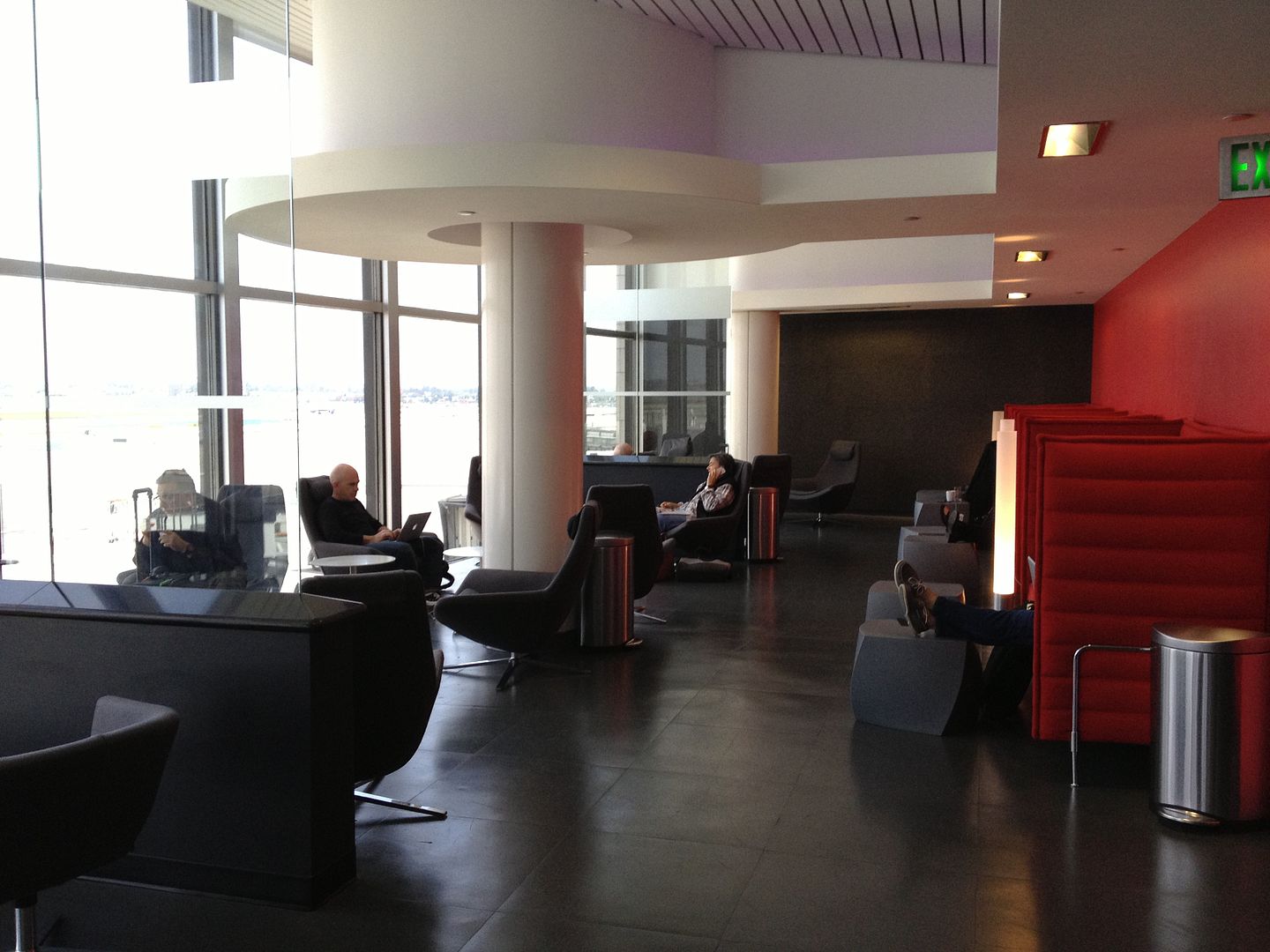 as you can see, not too crowded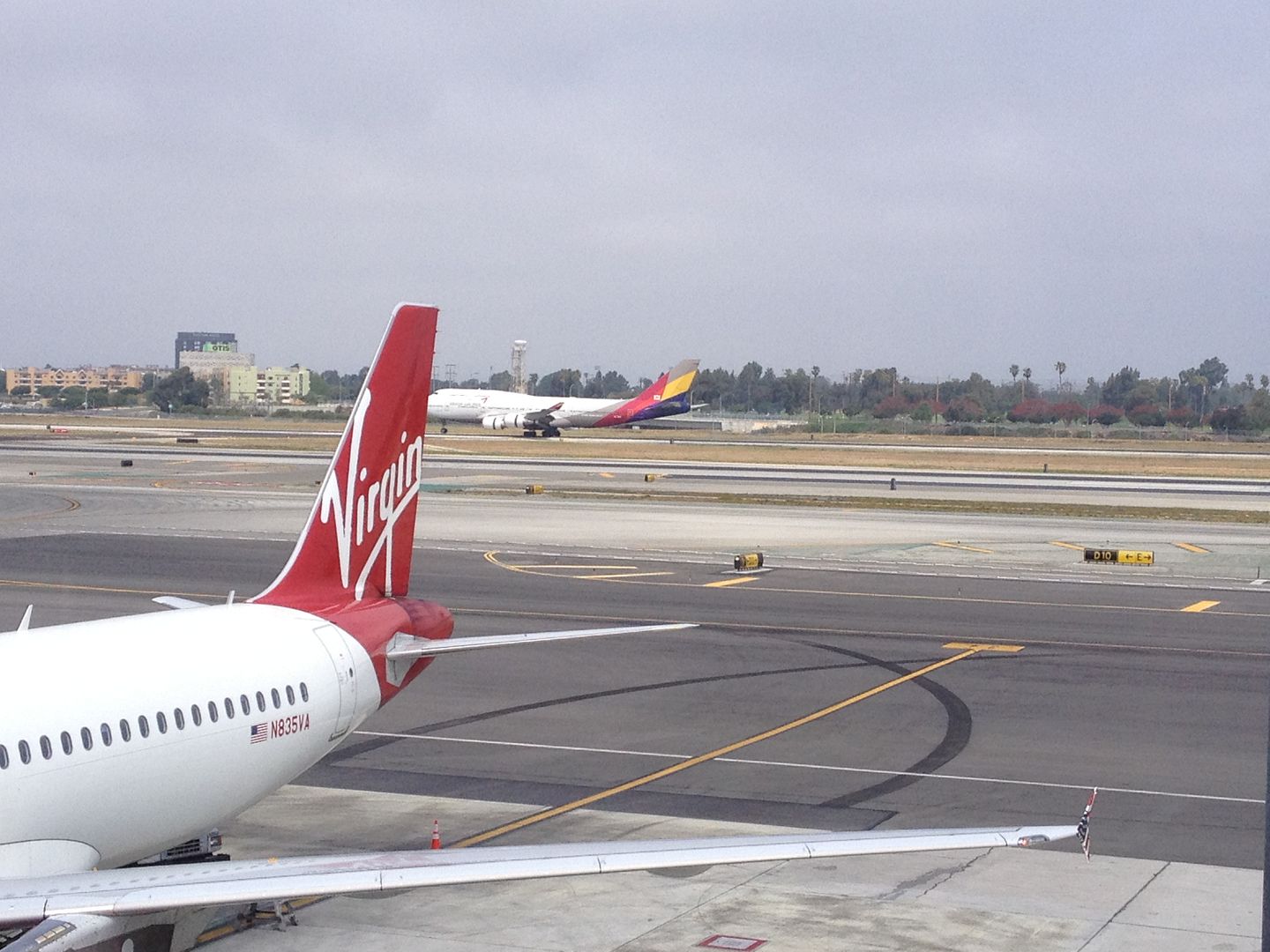 Asiana 202, 744 arriving into LAX from ICN. Apologies for the poor iPhone quality photos

East meets West. Asiana flew 2 daily flights to LAX that day; later 772 to follow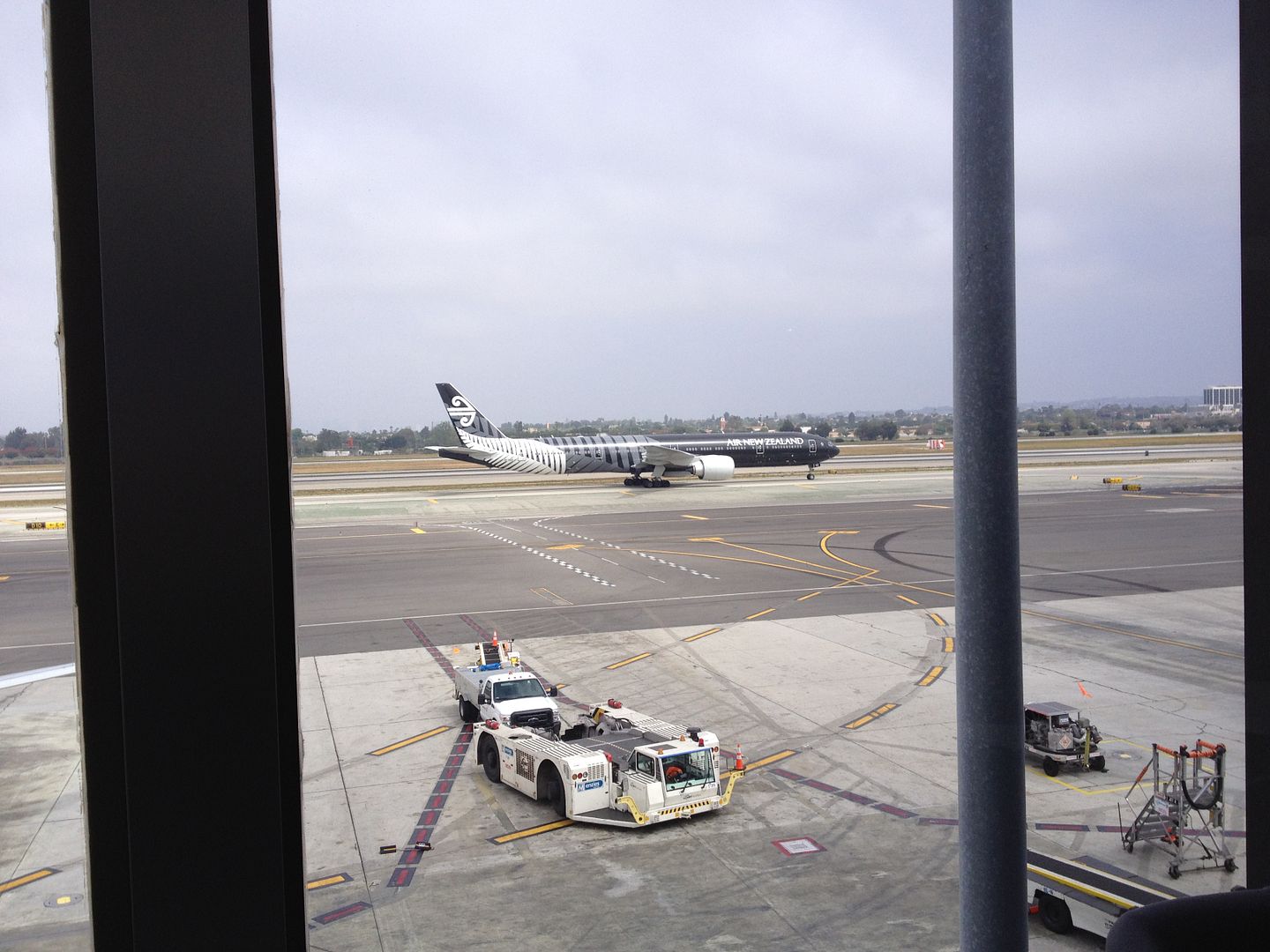 Woo! ANZ "All Blacks" rugby team colour scheme on ZK-OKQ. One of 5 77Ws in the NZ fleet.

Arriving as ANZ flight 6 into LAX; second ANZ flight from AKL, NZ2, to arrive later

Air China LTD flight 987 arriving 1 hour late from Beijing PEK wearing the "Smiling China" livery. Did you know that CA is the only operator on LAX–PEK?? I was stunned to realize this. CA flies twice a day between the two cities.

B-2035 was delivered to CA in 10/12. "Smiling China" as part of a joint creation by Air China and Boeing to mark the 40th anniversary of Boeing's entry into China. On the plane, there are 40 smiling Chinese faces with the intention of portraying China as a "friendly and optimistic airline."

Thai flight 692 arriving from ICN, having started the journey in BKK. This is the 77W that replaced the Airbus A340-500/600 nonstop flight that used to fly between BKK and LAX 

B-2035 again. I still can't get over the fact that Air China is the ONLY operator between LAX and PEK.


AC 792 heavy, 767-300, taxiing to the runway, bound for a return flight back to Toronto just before noon.


After a Star Alliance line of OZ, NZ, CA, TG, AC, KLM comes in to break the streak and represent SkyTeam landing as KL 601 from AMS, 37 mins behind schedule.

KL only operated one flight that day, although in high season, peaks at 2

My favorite airline, to date. Some day, I will fly that MD-11

KE continues the SkyTeam momentum by stepping in and representing with its largest asset, the Airbus A380-800, as KE 17 to ICN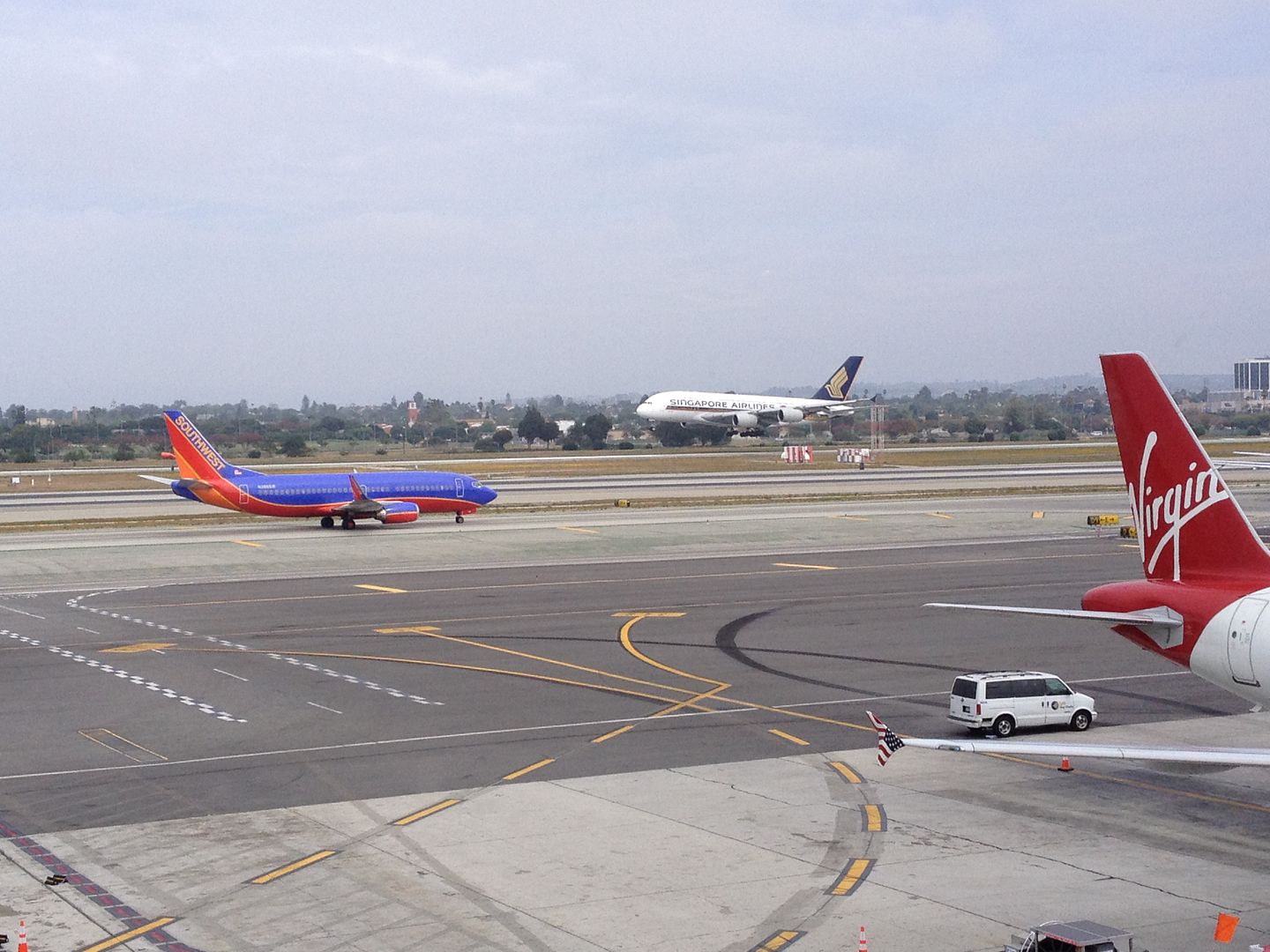 But not for long! Star Alliance strikes back with Singapore Airlines arriving as SQ 12 from NRT, matching KE for the battleground at LAX. Southwest and Virgin babies look on in confusion…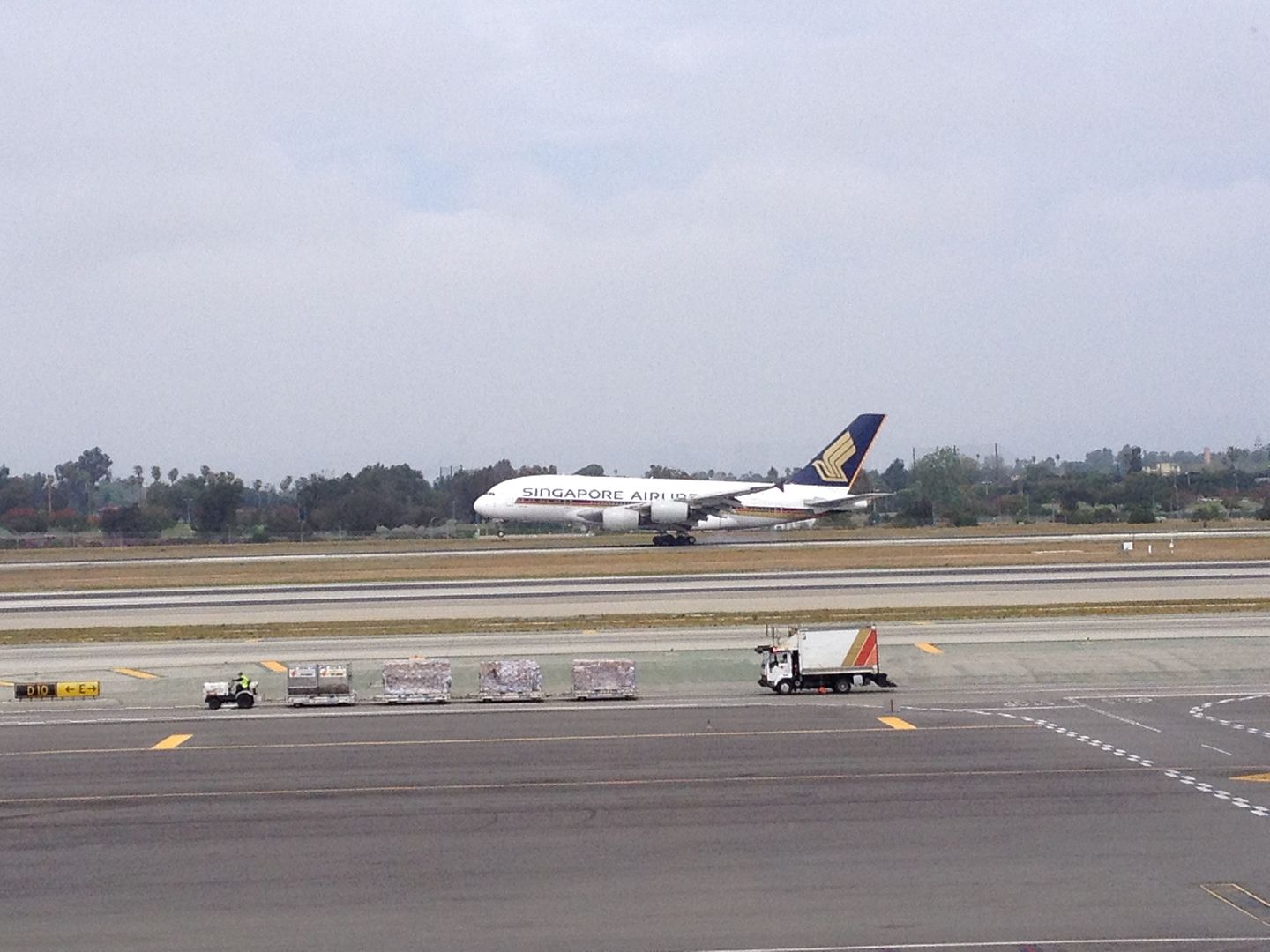 Soon to be SQ's only connector to LAX…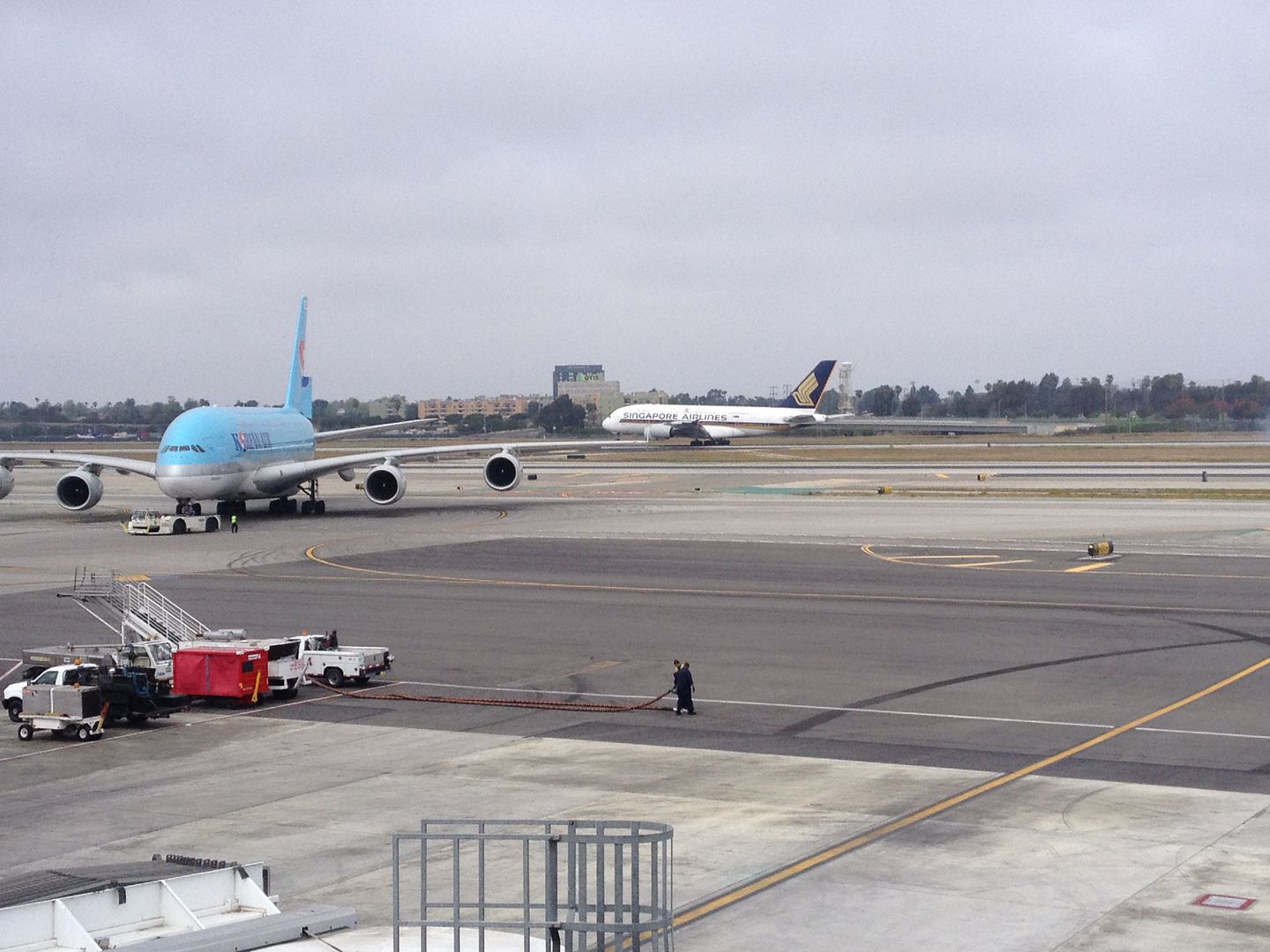 KE vs. SQ: who would win in a cage fight???

CX rounds out with a OneWorld representation here via 77W: though not as stunning as the Airbus A380, flight 885 to HKG left 6mins early that day (and arrived 9 mins late  
)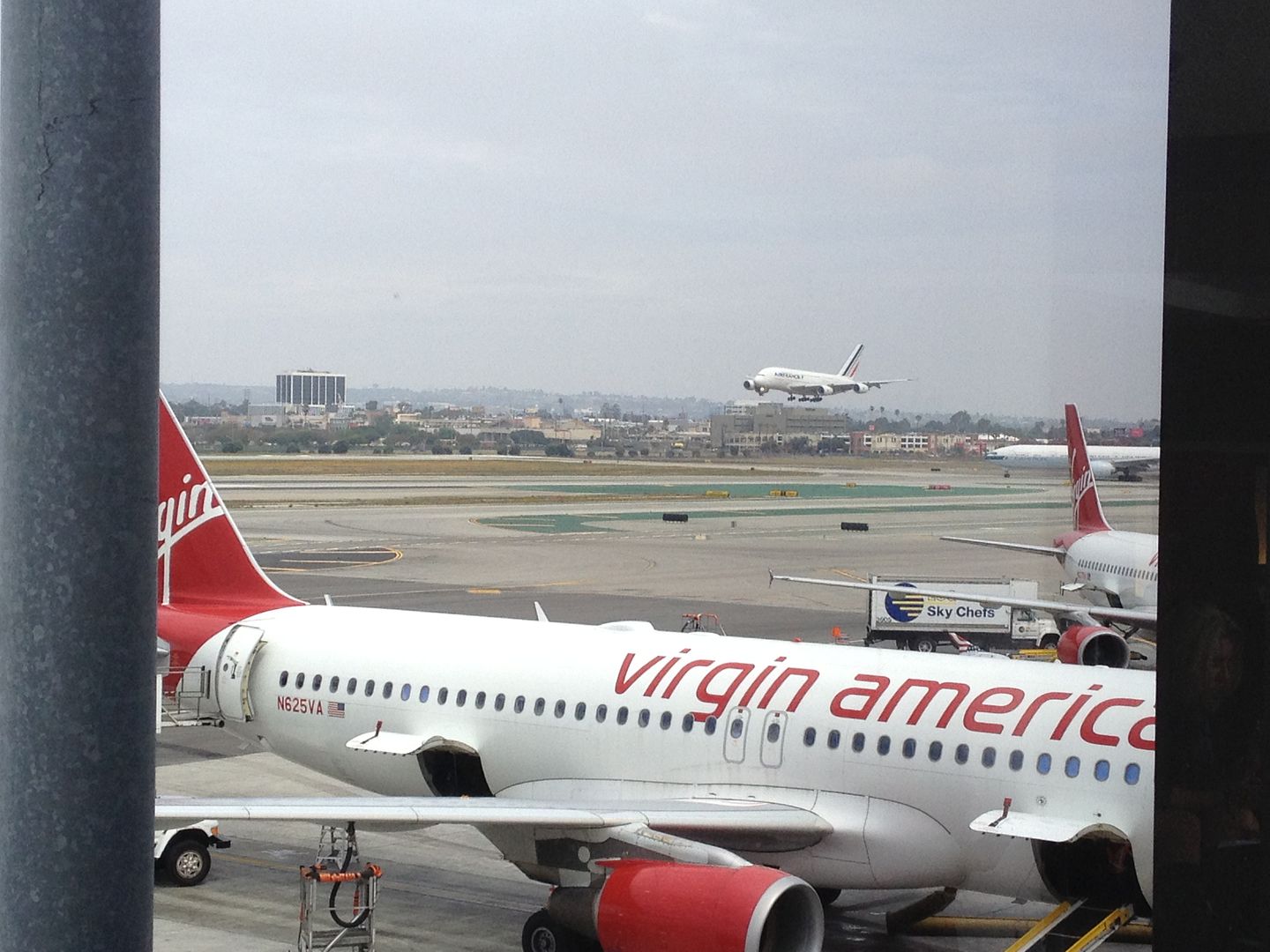 Meanwhile, off in the distance, AF 66 from CDG arrives via A388. In the Airbus A380 battle, we now have: SkyTeam: 2, Star: 1, OneWorld: 0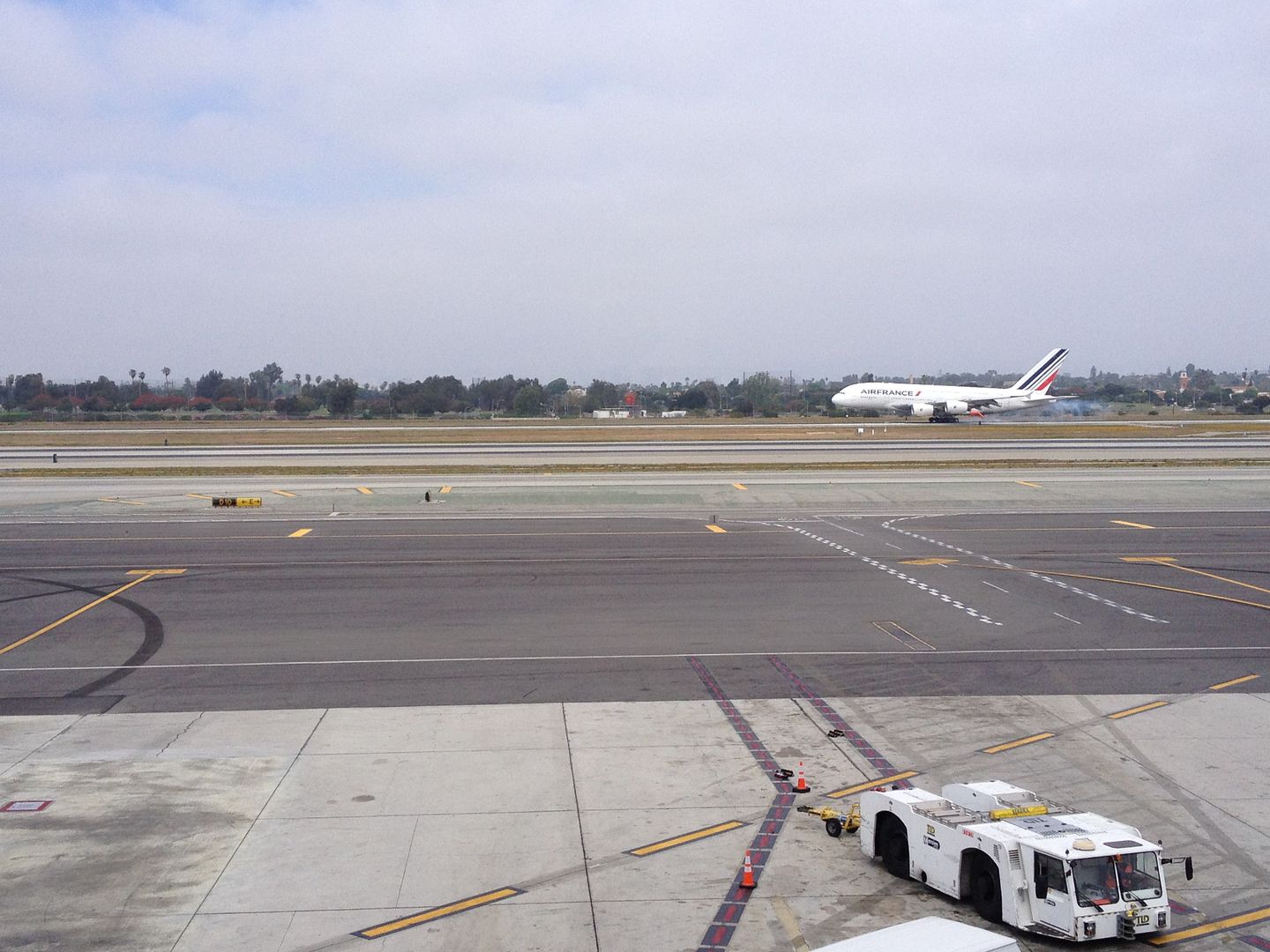 One of 2 daily flights from CDG to LAX that day (aside from AF 77 which was to come in later that day from PPT). AF #76 arrives in late evening from CDG via 772, and continues onward to Papeete, Tahiti

I cannot believe I still have not flown the A380…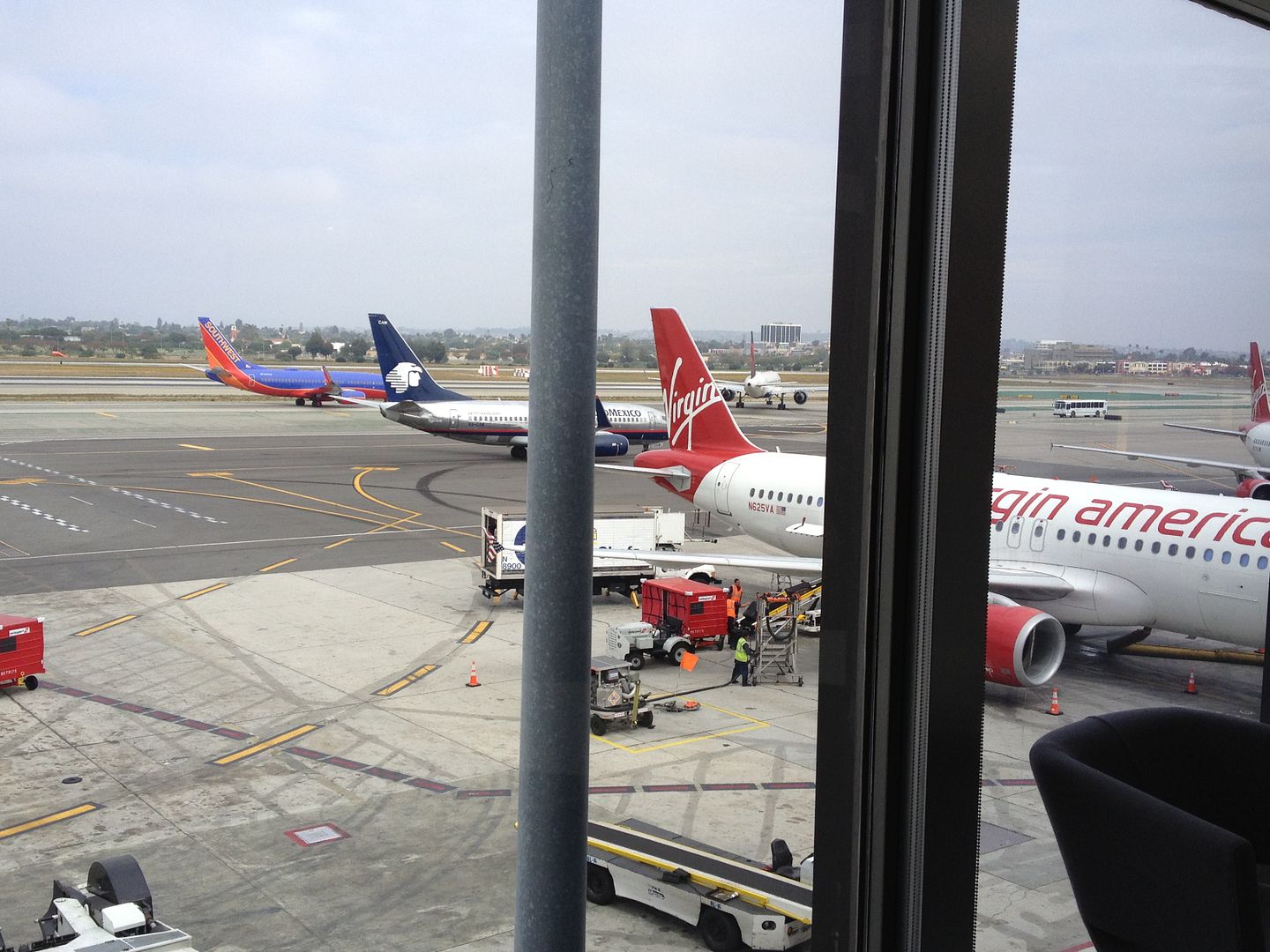 Back to the narrowbodies: AM, WN and VX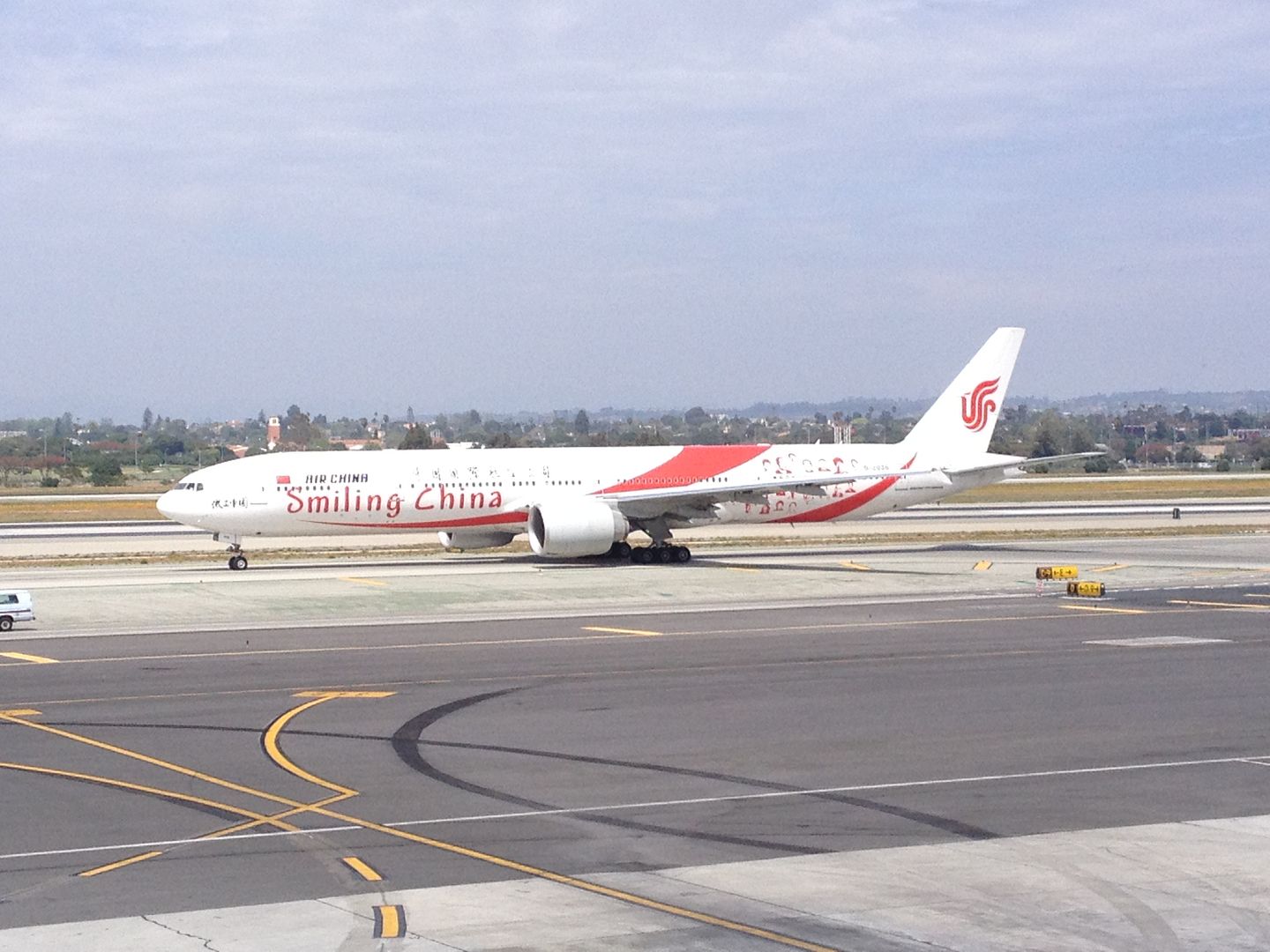 Smiling China makes its way back to the runway as CA 388 returning to PEK, already running 50 mins behind schedule

Smiling or Not, I have a feeling I would not want to be caught dead on that plane…

Aaw! It's like a beacon from my past!! LA 601, a 763 used in lieu of the grounded 787, taxis for departure to Lima, onward to Santiago de Chile from there

ZK-OKQ returns, although I'm not sure what she's up to?

KL 602 already turned, loaded and ready to make the voyage back to Schiphol. Impressive

ANZ flight 002, from AKL, arrives via 77W. As you can tell, my delay was approaching 3 hours +

Big vs. Little race! TG693 gears up for return voyage back to Seoul Incheon > Bangkok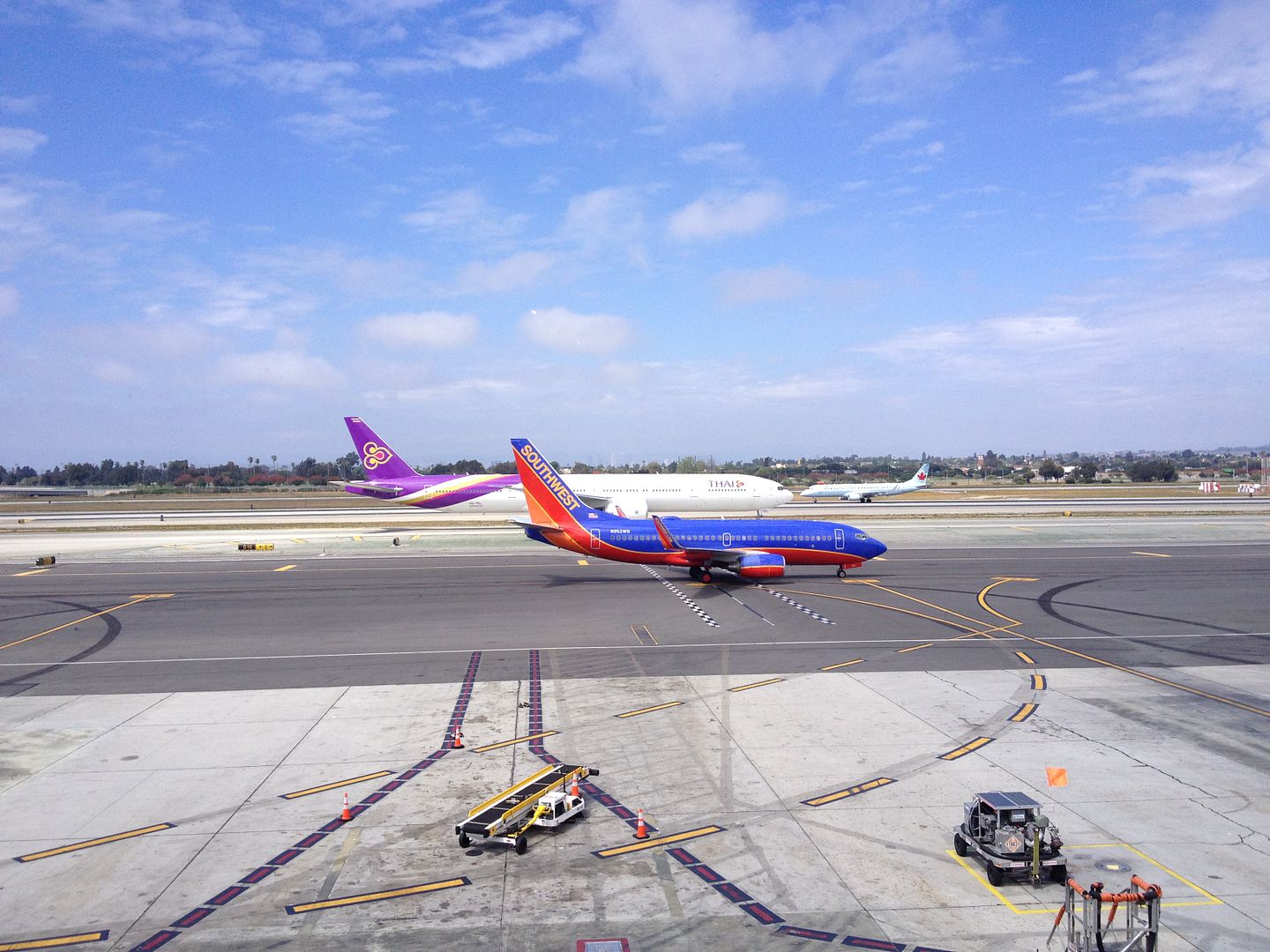 Southwest in the lead! Meanwhile, TG about to receive a tender kiss from Star partner, Air Canada, an E-190 


The mother of ALL the Virgins finally makes her presence via a classic Queen entrance: VS 7, lands from LHR 20 mins early. First of 2x daily flights to LAX that day, second is a A346 scheduled to land at 7:44 PM local time

Indeed, this is KE 11 from ICN. Looks like of the 5x flights LAX received that day from ICN (2x KE, 2xOZ, 1x TG, I had captured 4 of them
And that, my friends, wrapped up a beautiful day of spotting as I headed towards my gate to catch my flight to SFO.