The final step of our MegaDO journey involved some real up close and personal time with United's fleet at their San Francisco Maintenance Operations Center. Making this visit even cooler, United's mobile app listed the MOC as our arrival gate at SFO! Our chartered plane taxied from the runway straight to the hangars, where several maintenance employees and other executives were waiting for us.
Last year's MegaDO involved a variety of activities like ramp operations, catering, and a tour of the Network Operations Center that taught us more about how United manages the customer experience — keeping flights on time and customers needs satisfied. The Maintenance Operations Center necessarily puts more emphasis on the aircraft between flights.
Several exhibits were set up and staffed by maintenance employees who shared details on what they do to ensure customer safety. These included components like landing gear, jet engines, and "black box" flight data recorders — all with real equipment on display so they could point out specific features.
Other employees were on hand to demonstrate upcoming changes to the customer experience. We got to see the satellite antennas up close and learn about United's new WiFi roll-out. Although it's a bit late to the party, the use of satellites rather than ground-based radio towers means that nearly all flights will have Internet access wherever they go, even over water. I took more interest in United's new mobile app. There have been hints about a revamped United.com website, but the mobile app is going to reach us sooner. The executive I spoke to suggested we should see it around mid-November, depending on how quickly Apple approves its addition to the App Store.
Finally, there were side-by-side demos of the new first class seats for United's CRJ-700 aircraft, the only regional jets that include a first class cabin. These aircraft are better than most regional jets, but the relatively small number of first class seats and the lack of space in the overhead bins for full-sized carry-on luggage does make them less desirable than the mainline fleet. My impression of the new seats is that they lack lumbar support (also a problem with domestic first class on pmCO's Boeing 737s), but overall they are still an improvement. Most importantly, they offer more space on the center armrest for an alcoholic beverage. 😛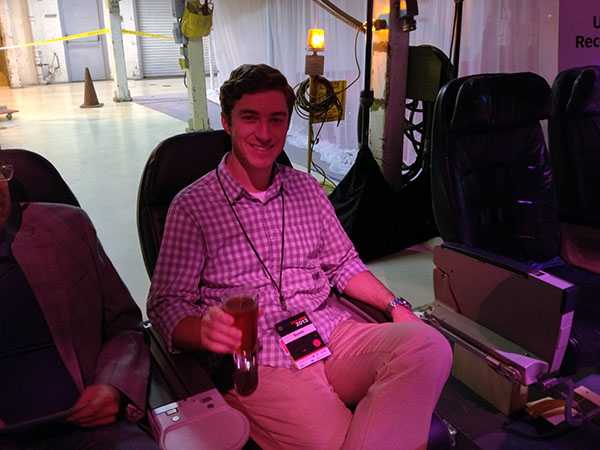 After visiting all the exhibits, some of us also went on tours of nearby hangars to learn more about how United runs its maintenance operations at SFO, one of its busiest hubs. We saw a 757 being checked out and retrofitted before its conversion to a cargo carrier, another 757 undergoing a routine maintenance check, and a third plane that was being repaired after an FAA advisory notice required some modifications be made to the spar that attaches the engine to the wing. You wouldn't want that part to fail!
I've had some experience with aircraft maintenance before, but for the uninitiated we learned how thorough some of these checks can be, with stacks of paper several inches high that detail every part that must be inspected and sometimes repaired or replaced. Some overhauls are so thorough it's almost like ending up with a "certified pre-owned" plane at the end, and this is why a cargo company might still be interested in buying used aircraft that have seen 20-25 years of passenger service.
The night ended with a few speeches from the MegaDO organizers and United, including the unveiling of a special United promotion just for MegaDOers. Points can be earned for visiting different United hubs, flying on different United aircraft types, and booking full-fare business or economy-class flights. Those who visited all the maintenance stations would earn a free bonus point. The prizes for earning the most points included things like Global Services status or a few extra upgrades, but everyone has the chance to get 10,000 bonus miles if they can earn more than 25 points. I may have to settle for that since I have yet to pay anything close to full fare. I'm sure there are a few attendees, however, who won't see that as a problem.
I had a great time at the party. It was great to see so many people from United representing different aspects of the customer experience and customer safety, learning how they do their jobs and the improvements they have in store.