Last week I shared a post about which North American cities Cathay Pacific serves, including schedule, frequency, and the approximate number of first class seats on each route. However, many people have asked me how to actually find and book an award on Cathay Pacific. This award space does not appear on either the American Airlines or Alaska Airlines websites even though both are partners, so you will need to look elsewhere and then call American or Alaska in order to book the trip.
Your Goal When Searching
Two sites, British Airways and Qantas, will be most helpful when searching for award space on Cathay Pacific. You do not want to search on the Cathay Pacific site itself. Cathay may provide extra award space to its members and so it can be difficult to tell how many of the seats you find on its website are actually available to partners. In contrast, award space found on one partner, like BA, will generally be available to all other partners. AA and AS may not show CX award space on their websites, but they are almost guaranteed to have it available by phone if BA displays space on its website.
It's important to realize that you are only looking for award space. You don't care what the price is. The taxes may be different when you go to Alaska or American to book. The miles will definitely be different. You just need to know if there is space before you call them.
Search on British Airways
British Airways has a reasonably functional website, meaning that it has few bugs and the organization makes sense to British Airways. I think it still has plenty of problems with general usability. For example, BA will usually ask if you want to make a stopover. Say "no." The only stopover choice is London, and there's no way you're going to connect in London if you're traveling from Los Angeles to Hong Kong on Cathay Pacific.
You can begin your search from the sidebar on your Executive Club landing page; create an account if you don't have one already. Remember to indicate that you will book with Avios.
I generally search for one seat only. One of my favorite features of British Airways is that it tells you how many award seats remain on each flight, so you don't need to search for two seats in order to find two seats. I like keeping the threshold low because it allows me to be more flexible. Maybe I'll find one seat in first and one in business on the same flight. Had I searched for two seats, that flight wouldn't show up for either cabin.
For some reason, BA only displays three cabins at a time. If your particular route of interest has four cabins because there is a premium economy section, this means that any search for coach will omit results for first class. You may have to update your search for business class or first class (either works) in order to see all the premium cabins.
You can move one day at a time or one week at a time using the calendar at the top. However, it's a pretty slow process. The most common glitch occurs if you try to change the date of your search. Even if you pick the date from the calendar rather than typing it in, sometimes BA will invert it to an international date format, so "April 10" becomes "4 October." I usually go back to the Executive Club landing page and start over.
Search on Qantas
The Qantas website deserves to have its code deleted, overwritten, and thoroughly destroyed. I find it so frustrating to use. On the other hand, it has one of the best calendars for Cathay Pacific award space.
Creating an account with Qantas has a fee if you live in Australia or New Zealand, but as an American I was able to create my account for free. From the home page, click on the "Frequent Flyer" navigation tab. You'll need to use your name, program number, and PIN to log in before you search.
Once you reach your account page, go back to the "Frequent Flyer" navigation tab. Qantas buries all the links into paragraph text, so find the part that mentions using points. I've included the link here. Scroll down to "Flights" and click "Book Now."
You'll be booking a Classic Flight Reward, which is the Qantas term for partner flights. Any time you see a checkbox for this make sure you select it. You need to enter the name of the origin and destination city (just type it and select from the list that appears), but some cities won't be available if you don't select this option. Guess what? Hong Kong is one of them. I always indicate that I'm flexible with dates and that I want a one-way flight, too.
Unlike with British Airways, I usually do indicate how many seats I want when I look with Qantas. After finding a few dates with availability I can repeat the search on the BA website and get more information about specific flights and the availability in each cabin. I almost exclusively use Qantas to get a calendar overview.
The calendar will show you which dates have award space using colored seat icons. The default is economy. Unless there is premium cabin award space on the exact date you chose, you won't see any other cabins. So, deselect economy from the top and select business and first class instead. I've sometimes found — like with British Airways — that the site doesn't work properly if you choose too many cabins.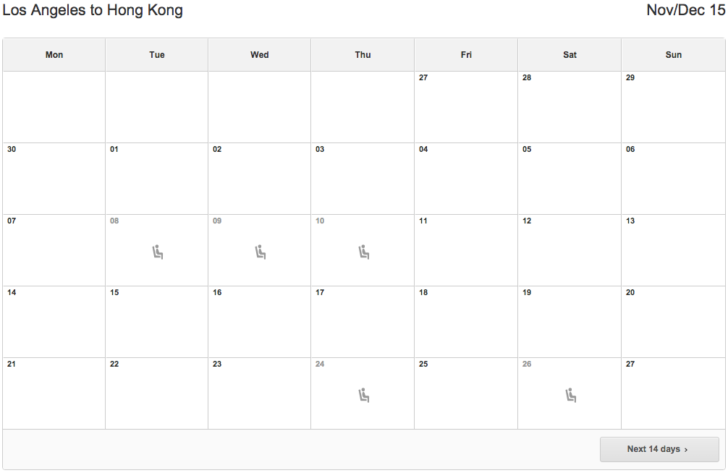 Repeat the search. If you're lucky you'll find a couple days with premium award space. If not, it will default back to economy and maybe premium economy, too.
Note that this search was performed on December 8, so there's lots of space in the next few days but very little when looking further out. This is normal. If you're worried about finding space, don't be. Book your hotel, request time off, and pack your bag in advance. You can probably wait and get a flight a few days before.
What If You Need to Connect on Alaska?
I highly recommend you use the Qantas website to search if you expect you will need to book any part of your itinerary on Alaska Airlines, even though the main goal here is to fly on Cathay Pacific. Qantas displays Alaska Airlines award space, which British Airways does not do. Alaska is a partner of American and BA, so if you want to use Avios, American, or Alaska miles to book your Cathay award it could be helpful to know about any connecting flights available on Alaska.
This is less of an issue if you search from Cathay Pacific gateway cities for nonstop flights to Hong Kong. (In my opinion, this is always the best way to search and construct your own itinerary. Don't rely on the computer to suggest connections.) You can look for that Alaska award space later to build in the connecting segments.
However, if you are searching from a city like Portland that Cathay Pacific does not serve, you may find that excluding Alaska from your search provides a lot of negative results. British Airways won't display Alaska's award space, so every search from Portland to Hong Kong will come up negative even if there's plenty of Cathay Pacific award space from, say, Vancouver or San Francisco.
The caveat is that Qantas also displays Emirates award space. Your calendar could become "contaminated" with lots of results on Emirates to Hong Kong.
Take Away
The distinctions between where you search, where you book, who you fly, and who you redeem with are some of the most important in maximizing the value of your frequent flyer miles. You could, for example, fly British Airways, credit the flights to Alaska, search on Qantas for award space, and redeem your Alaska miles on Cathay Pacific. If you can grasp that, then you're on your way to success. I hope that this example of searching for Cathay Pacific award space was helpful.