I led three sessions at FTU Advanced last weekend, and all of them were open ended. But for the most part I was leading people through different tools like ExpertFlyer, Award Nexus, and ITA Matrix. I'll spend some time over the next couple weeks revisiting the most common questions to help those of you who couldn't make it or who may need more practice before you can do it on your own.
One popular question was how to figure out who flies between two airports. This is a critical issue whether booking revenue or award travel. If it's revenue travel, you'd like to know if you can earn miles with your favorite elite program or make sure you can at least get a nonstop since you have to shell out hard cash. If it's award travel, sometimes the reason you can't find award space is because that alliance doesn't have any flights to your destination. Doh.
OpenFlights.org
My personal favorite is OpenFlights.org. It has a neat map, which may or may not be up-to-date, and does little more than show you which carriers operate which routes. It doesn't tell you how many flights a day or their departure times. But it's a quick way to get the ball rolling. When booking award travel I will use this tool to determine which routes to search for my over-water segments, which are often the most difficult and the ones I recommend finding first.
For example, I recently traveled to Hong Kong with my sister and wanted to fly Cathay Pacific. How do I know which cities they fly to in North America? Just type CX and you'll get a map of every route Cathay Pacific flies. You can fly to LAX, SFO, Vancouver, Chicago, Toronto, Newark, and JFK. (As well as Vancouver-JFK, giving you another option to the East Coast or a pleasant transcontinental flight if you book it as a Fifth Freedom route.)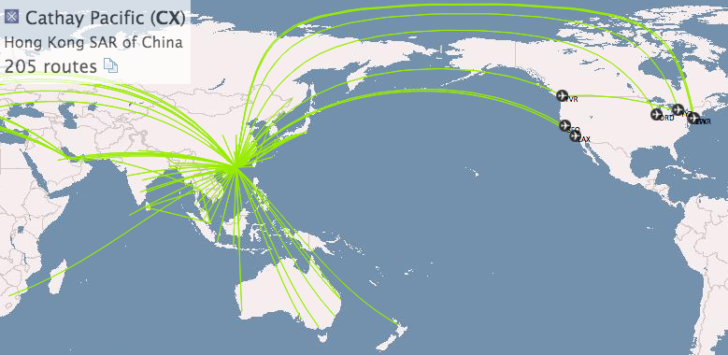 But maybe I don't want a particular carrier. I just need to get from A to B, like when I was in Siem Reap and trying to find a good option to Shanghai, and then from Shanghai to Macau. It's entirely possible in some parts of the world that there will be a small carrier that doesn't show up on our fancy American search engines. Southwest Airlines doesn't even list itself on Kayak, but I can get a route map more detailed than any in a seat-back pocket.
So I'll type in the airport code instead of the airline code. (Note: This has potential to screw up if you have done other searches recently. For example, it might think you want flights on Southwest Airlines departing Siem Reap. Just reload the page.) It says in the upper corner there are 42 routes, and you can click on the pages icon to list them below. To limit the results to all the routes to a specific city, click on that airport on the map.
Some will be codes shares, like the Virgin Australia and Singapore Airlines routes, which are actually operated by SilkAir. I tend to focus on the ones listed as "Direct."
ExpertFlyer
A more detailed list of some routes available can be found using ExpertFlyer's Timetables feature. Click on the "Flight Timetables" tab on the left side and you'll get two options, Search by City Pair or Search by Arrival/Departure City.
Basically the question is, How specific do you want to be? If I were departing from or arriving in Siem Reap and can connect in any Asian gateway, I'd probably pick the latter as there are only a few flights and I need to know them all. If I were departing from Seattle and expected to go to San Francisco, I'll pick the city pair. There are hundreds of flights into either airport from all over the world. For the sake of this demonstration, I'll Search by City Pair but I'll still use Siem Reap.
Let's say I want to go back there on September 1, and I'm going to fly from Hong Kong just like last time. I search from HKG to REP on September 1, but all the options I get involve a connection. (During FTU, I even saw I could connect from an Emirates A380 to a Bangkok Airways AT7, but that appears to be missing in today's results.)
So I'll repeat the search, but this time I will toggle the button that says "Search up to 7 days from this date." Note that in my first set of results, some flights were daily, some were Monday and Saturday, some were other combinations — but they all included Monday, which is the same day of the week as September 1. When I repeat my search looking at more days, I find that there are nonstop flights available on Sunday, Tuesday, Thursday, and Saturday, and these are only operated by Dragonair, Cathay Pacific's low cost subsidiary.
Skyscanner
If you care about cost more than schedules or other information, you might try Skyscanner. (I actually don't care about cost, as I'm usually using miles in these situations or expecting a lot of similar fares on the same route. When it came to buying tickets to and from Shanghai, I relied more on departure time than anything else.)
Scroll to the bottom of the page and find the "Explore" section in the footer. There are different options for cities, airports, and countries. Here's a link to Explore Cities if you have trouble finding it. You can leave your origin or destination open ended to get a list of cheap prices with lots of options. My biggest issue, however, is that it isn't very specific about the carrier or the schedule. Yes, I put in my date of travel, so why can't it tell me this before I click through? It seems like a bait-and-switch tactic.
And yes, I think I know the answer already to why we see incomplete results. Having talked to a few people who work with Skyscanner, what it's doing is something similar to saving a lot of its search results to provide faster answers to later queries. But my phone's processor and mobile data connection are both faster than my first desktop I used in the days of Netscape and AOL, so I would rather wait a few more seconds for complete, up-to-date information. No one says they don't use ITA Matrix because it's too slow.
If you truly do have an open schedule, then Skyscanner is probably good enough. It also has some nice features, like the cheapest flights to different cities, or the cheapest flights to an entire continent. Such tools on other sites were popular back when mileage runs were more common, but sadly that time is quickly ending.
Airline Websites
I hate searching for route information on airline websites. It might be okay if they just published a PDF of the paper maps they provide in their in-flight magazines. Instead I get an interactive map that is sometimes more about promoting the carrier than helping me get there. I have links to many route maps on this blog if you go to the top navigation bar and click on Travel Resources > Hotel & Airline Award Charts.
These tools are simple enough to figure out on your own. But to give you an example of why I dislike them, I'll use American Airlines. It shows lots of international destinations on its map, but only the destinations you can reach including at least one American Airlines flight. Sometimes code shares meet this rule, and sometimes they don't. I really have a difficult time predicting what results I'll get.
Los Angeles to Denpasar? Not a problem. There's a connection in Hong Kong, and both segments are operated by Cathay Pacific. But it doesn't suggest any alternate routings like LAX-SFO-HKG-DPS or even LAX-DFW-HKG on American Airlines' own planes followed by HKG-DPS with Cathay Pacific.
If you've already found your way to Hong Kong but need to get to Denpasar, one would think it could still help. Nope. You get an error message because American doesn't fly between those cities, even though that didn't seem to be a good enough reason to stop you from searching between Los Angeles and Denpasar. Some cities don't exist at all in their system, like Siem Reap, despite being served by alliance members.