I promised a couple of weeks ago that I planned to catch up on old trip reports, so here goes. Following my flight from New York in Cathay Pacific Premium Economy, I spent one night in Vancouver. After a restful night at the Farimont Vancouver Airport, I had the morning free before my afternoon flight to Toronto. Never one to sit in a hotel room, I set out for a morning walking tour of Vancouver for coffee and souvenir shopping.
Getting from Vancouver Airport to the City Center
The good news is, Vancouver makes it really easy to get from the airport to the city center. The Canada Line light rail runs every 7-20 minutes, taking 24 minutes to reach downtown. To reach the station, walk to the "Link Building" between the Domestic and International Terminals. There, simply follow the signs for "Trains to City". Fares to downtown and back run from CAD 11 to 13.50, depending on time of day. (Fares FROM the airport include a CAD 5 surcharge.)
But First, Coffee
I'm not nearly the coffee snob that my friend Matthew over at Live and Let's Fly is. But I do enjoy a good cup in the morning, especially when visiting the Pacific Northwest. So after getting off the train, I headed to Gastown to find some. With the help of trust Google Maps, I found Timbertrain Coffee Roasters, a local Vancouver shop. An aromatic colombian whole bean coffee and a piece of cake hit the spot.
My only complaint – they didn't have any dark roast coffee beans. I really wanted a bag to take home to mom.
A Walk Around Gastown for Souvenirs
I've actually visited Vancouver twice before, once in 1995, and once in 1998. I remembered Gastown as the place to go for touristy souvenirs, so I looked around for a shop. It took little time to find one, and grabbed the usual supply of chocolates and mugs. And a hockey jersey for my son. I had to guess on the size, but luckily, it fit.
Afterwards, I walked around the historic district for a few minutes. Gastown is Vancouver's oldest neighborhood, established in 1867. It derives its name from the neighborhood's first business, a tavern owned by John "Gassy Jack" Deighton. Water Street creates the backbone of the historic district, its brick pavement blending in with the historic storefronts.
The neighborhood's most famous landmark is the iconic Gastown Steam Clock. The partially steam powered clock certainly is unique. It isn't, however, actually historic, built in 1977.
Bonus points to the shop behind the clock admitting to their shameless photobombing.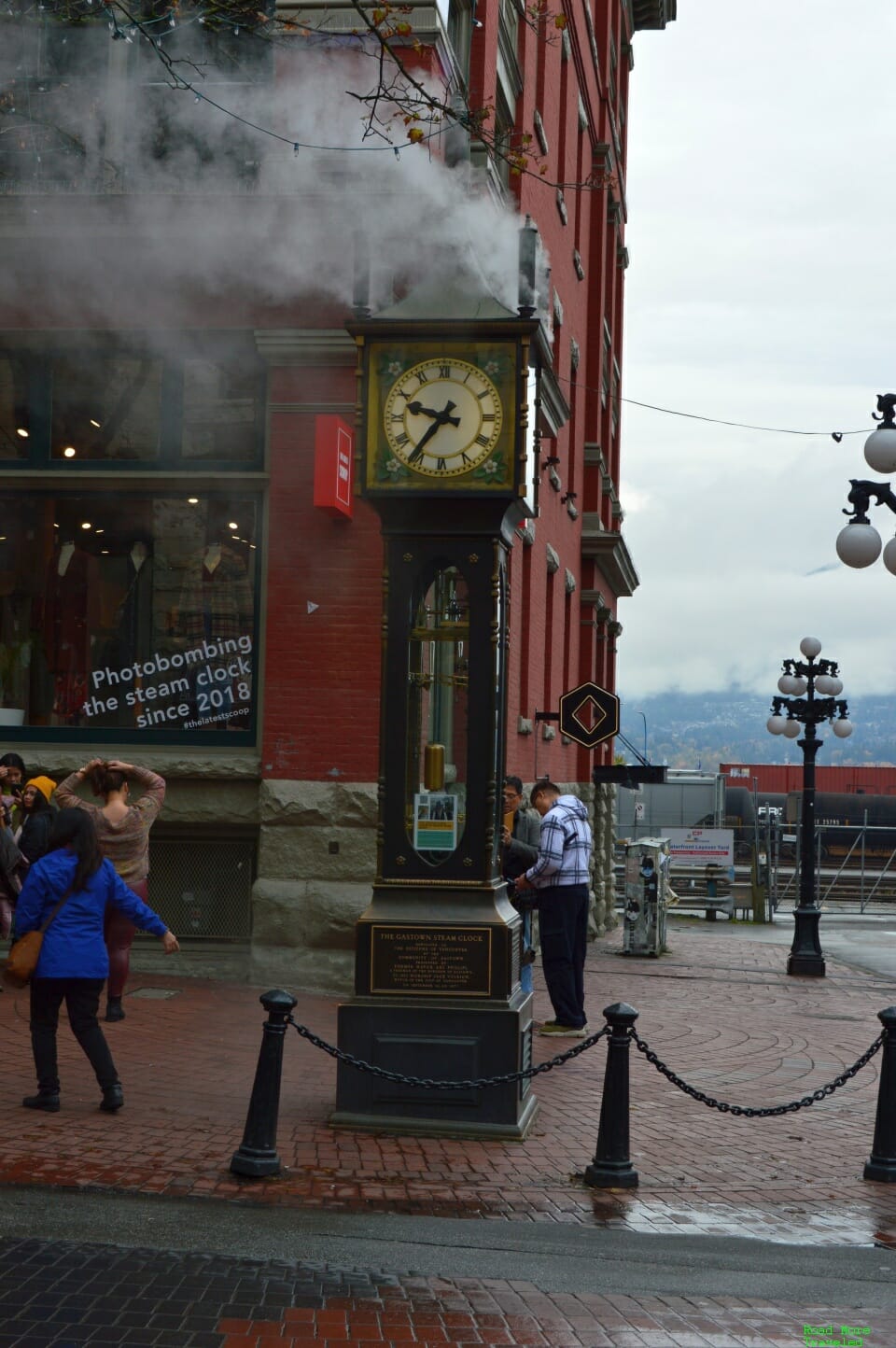 I remember Gastown as a rather trendy area even in the 90s. From the look of things, it may have crossed the border into kitschy. Nevertheless, if you're a foodie or coffee drinker, you'll have plenty of options here.
A Morning Walking Tour of Vancouver's Canada Place
After finishing up some shopping in Gastown, I headed over to nearby Canada Place, along the waterfront. Canada Place is perhaps the best spot for views of Vancouver Harbor, with excellent views of both Stanley Park and North Vancouver. The view of Stanley Park was especially scenic, with the autumn leaves in peak color.
North Vancouver looked none too shabby, either, with the mist hanging low over the mountains.
The Canada Place Convention Center/ferry terminal is an iconic landmark by itself; its unique ship design makes it especially photogenic.
If you're looking for a place to stay along the waterfront, you might fancy the attached Pan Pacific Hotel.
Other Things To Do With More Time
I headed back to the hotel after visiting Canada Place (it started raining), but if you have a couple hours more, I recommend a visit to Stanley Park. Originally a military fortification, the city of Vancouver obtained a lease of the park for $1 a year in 1886. The park's area remains largely the same as the original 1886 deed, with the forest cover as dense today as then. The park gets its name from Lord Stanley, a British politician appointed Governor General of Canada at the time. Hockey fans may recognize him as the namesake of the Stanley Cup championship trophy.
During our trip in summer 1995, my family and I spent some time exploring the park grounds. At the time, the park housed the Stanley Park Zoo, featuring a handful of animals including polar bears. The zoo closed permanently in 1997, following a citizen referendum in 1994. I did vaguely remember thinking the number of animals seemed limited, so that explains why. Note: the photos from here on out are old film photographs scanned onto my computer. Please pardon the quality issues.
The park also contains a sizeable rose garden. It's not quite to the level of Victoria's Butchart Gardens, but quite beautiful nonetheless.
And yes, yours truly had a lot more hair 25 years ago.
Also worth visiting is the Vancouver Aquarium, the largest in Canada and one of the five largest in North America. The aquarium used to hold a Sea World-style orca show, but that was discontinued in 2001. Several sea otters and northern fur seals currently star at the facility, along with some 300 species of fish and 30,000 invertebrates.
Stanley Park is about a mile and a half west of Canada Place. You can walk in 20-30 minutes, or drive in about 5.
Another option if you have a few extra hours – take the SeaBus from Waterfront Station to Lonsdale Quay in North Vancouver, and head up to Grouse Mountain. Bus 236 gets you there in about 20 minutes. Grouse Mountain is a ski resort in winter, but you can still take the chairlift to the top in summer. From there, enjoy the view of the city on a clear day, and the lumberjack shows. (Unfortunately clouds hampered the view during our visit, but my mom still enjoyed the ride up.)
Final Thoughts
Vancouver is one of my favorite cities to visit, and you can enjoy quite a bit even with just a couple of hours. If you have a long layover, or just a late day flight, it's possible to get some great outdoor time to stretch your legs. Just beware the weather, which is frequently gloomy during fall and winter.