After landing at La Guardia around 4 pm, I immediately headed to JFK for my connection to Vancouver. The next flight took me on Cathay Pacific Premium Economy. This Fifth Freedom route gave me a nice, long flight to test out Cathay's upscale economy product. So how would they compare to other premium economy products like Air New Zealand?
As a reminder, I booked this flight using an "Avios & Money" redemption, using 10,000 Avios plus $175. (Note that unfortunately, shortly before I took this flight, Cathay announced plans to discontinue the JFK-Vancouver route. Currently, the route is scheduled to end on March 28th. That ends a steal of a premium cabin points redemption, but my overall impressions should extend to the longer haul product.)
Note: this post is part of my trip report series about my weekend trip to Canada last October.  Click here for the trip report introduction and post index.
Cathay Pacific (CX) Flight 865
Friday, October 18, 2019
Depart: New York – John F Kennedy International Airport (JFK), Terminal 8, 21:39, 11m early
Arrive: Vancouver International Airport (YVR), Terminal 1, Gate D70, 12:39, 11m early
Duration: 6 hours 0 minutes
Seat: 34H
Equipment: Boeing 777-300ER
Pre-Flight, Check-In, and Boarding
Despite a horrid 3-hour ordeal to transfer from La Guardia to JFK, I still arrived better than 2 1/2 hours before departure. With plenty of time to kill, I headed to Bobby Van's Steakhouse to use my Priority Pass credit. Since I was traveling alone, I asked to sit at the bar; the host gladly directed me there, and the bartender processed my card without a fuss. I enjoyed some tasty crab cakes, and a couple of Old Fashioneds.
Bear in mind, $28 at Bobby Van's doesn't get you very far. It basically covers the cost of two cocktails, or an appetizer and a drink. But still, it's a nice little perk. I actually wish Priority Pass would expand their restaurant program, given the overcrowded state of many of their lounges.
Anyway, I turned up at the gate about an hour before departure to complete my passport verification early. I could tell by the lack of people we'd have a light load on this flight. Sure enough, boarding took all of about 15 minutes to complete, and we pushed back a good 10 minutes early.
Cathay Pacific Premium Economy – Seating and Interior
Cathay Pacific Premium Economy features 34 seats in a 2-4-2 configuration on most 77Ws; however, on planes without First Class, the Premium Economy cabin features 32 seats. In either case, Cathay provides a generous 38″ pitch and 19.5″ of width for all PE seats. That's essentially equivalent to domestic First Class, though slightly smaller than Air New Zealand's Premium Economy seats. You'll find Cathay's typical jade green seating, and the 38-inch pitch provides plenty of legroom.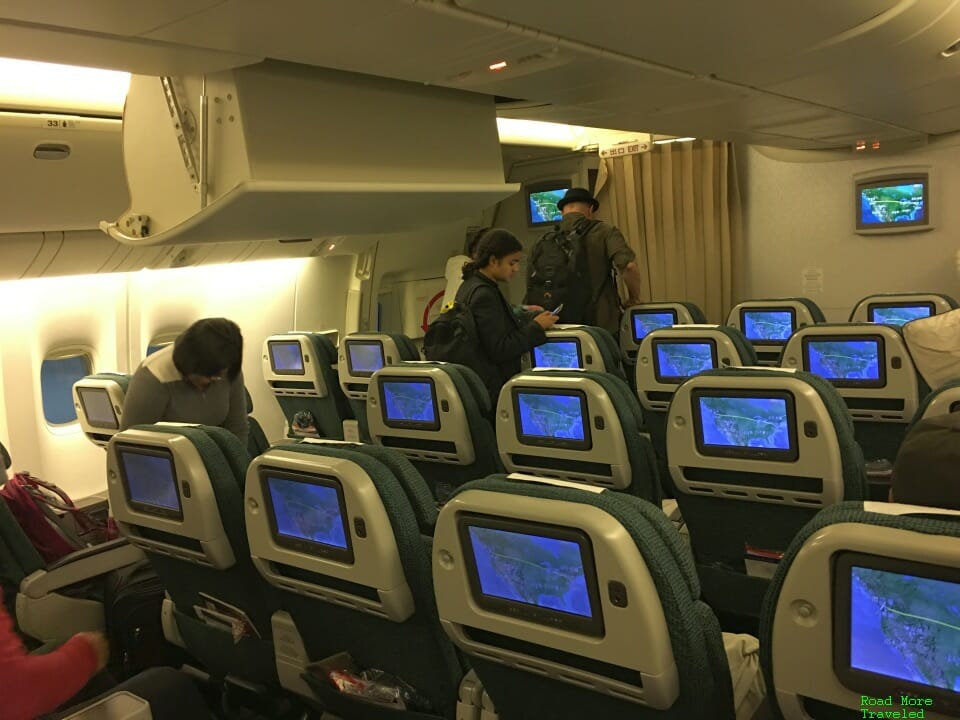 The seats also feature foldable footrests.  Unfortunately, as I usually find to be the case, I didn't find it particularly helpful or comfortable. Resting my feet on these while trying to sleep just left me with numb thighs. I just left them folded up most of the time.
On the other hand, the seats themselves were quite comfortable. Generous padding in particular makes them comfy in both the upright and reclined positions. Of course, it helped that the cabin was maybe a third full, giving me both seats to stretch out on.
Waiting at each seat was a pretty good pillow and blanket set. The large pillow provided plenty of area to rest your head, while the blanket provided a good amount of warmth. Between the comfortable seat and quality bedding, I slept soundly for nearly 4 hours.
Unlike Air New Zealand, Cathay does not offer amenity kits to Premium Economy passengers, at least on this route.
In-Flight Entertainment
Premium Economy seats feature seatback screens with good resolution. My last time on Cathay several years ago, I recall a not-so-good screen, so it's nice to see that addressed.
The seatback also includes an USB port to the right of the screen.
110v power ports, meanwhile, are found in between seats at foot level. Though I prefer ports a little higher up, like in Economy on American's newer A321s, I appreciate the forward-facing design. It makes it much easier to plug in, since you don't have to fumble around by touch in the dark.
Waiting at each seat was a pair of headphones. Though not spectacular, I found them quite decent for Premium Economy.
Cathay Pacific offers the StudioCX entertainment system to all passengers.  It's an excellent system, with a wide variety of TV shows, movies, and games. I noted a good selection of Hollywood, Asian, and Bollywood movies. And my personal favorite, the golf simulator video game.
Interestingly, the Indian movie selection included several Tamil and Telugu selections. That's not something I see very often outside of flights to South India.
Of course, you can also enjoy an excellent moving map at any time.
There is also a cool tail camera, though it provides limited utility during a night flight.
The IFE controller is between the seat cushion and armrest; the location makes it a little difficult to pull the controller out, as it tends to stick. As you can see, the location also reveals how the seats could use a deep clean…
The controller itself is simple and easy to use, though. I also found the controls responsive, with enough spacing to avoid accidentally pushing unwanted buttons.
Cathay Pacific Premium Economy – Food, Beverage, and Service
Shortly after boarding, the flight attendant handed out menu cards for dinner service. I'd describe the selection as "Business Lite", certainly a step-up over coach, but not a premium cabin experience, either. The menu consists of a fixed appetizer and desert, with a choice of three main courses.
The beverage selection includes one white and two red wines, a few mid-range spirits, and Cathay's craft beer, Betsy.
The FA came by to take orders before take-off; I chose the Asian option, the prawns in lychee sauce.
Impressively, Cathay offers pre-departure beverages in Premium Economy. And so I indulged in my first Premium Economy PDB champagne selfie. (It's probably sparkling wine, but still, a nice perk in Premium Economy.)
Just 20 minutes after take-off (about 50 minutes after pushback), the FAs served the meal on a single tray.
Also on the tray were a pack of almonds and a Ghirardelli chocolate.
While an Economy Class presentation, I found the quality of the meal quite good. On the main course, the shrimp was cooked decently, as were the rice and vegetables, and the sweet lychee sauce complemented the entire dish well. Meanwhile, I also enjoyed the potato salad/salmon appetizer. While the salad itself seemed a bit too "onion-y", the salmon really meshed well with it. Likewise, I found the rice pudding quite good, reminding me a little of a South Indian rice pudding. The only demerit goes to the packaged dinner roll, which tasted stale. Overall, though, this was an excellent meal, not quite Business Class quality but still quite good and tasty.
The FA also offered a beverage as she delivered the meal. I've wanted to try a Betsy beer for a while, so I went with that.
As an avgeek, I love the can, of course, especially the vintage Cathay Pacific Airways aircraft at the bottom. In general, I'm not a big fan of pale ales, so the flavor wasn't exactly my thing. The citrus notes are pleasant, but it's a little too crisp and hoppy for my tastes. Still, I'm glad I tried it, and it's certainly a unique menu item for Cathay. As an aside, I do wonder if they receive frequent complaints about the beer. When I asked the FA for one, she told me "if you don't like it, just tell me and I'll get you something else."
The meal service ended 50 minutes after take-off with an after-dinner beverage. I ordered a Chivas 12 for a nightcap. I'll issue a minor demerit for the cheap Solo cup…
Overall, I considered this a high quality, efficient meal service. When you're not in Business, having meal service wrapped up 90 minutes after pushback is exceptional. Granted, the largely empty cabin helps in that regard. It definitely falls on the "Business Lite" end of the spectrum.
As for service, I found it very good throughout. The flight attendant provided warm, cheerful service from start to finish. And as mentioned above, I appreciated the efficient meal service to maximize sleep time. There were also the little things, like offering to bring me something else if I didn't like the beer. It's definitely a cut above what you expect farther back in the bus.
With the nearly 10 PM EDT departure/1 AM PDT arrival, I couldn't get in any flightseeing on this flight. Getting through Vancouver airport at that hour was easy, except for one little hiccup. A (highly unpleasant) immigration officer wasn't amused by my plan to spend a single morning in Vancouver and then fly to Toronto in the afternoon. So she sent me to the secondary line to talk to someone else. Luckily, her colleague found the whole thing amusing and sent me on my way. Consider this a lesson learned: I'll refrain from odd blog boondoggles to Canada going forward. CBSA doesn't seem to appreciate the concept.
Overall Thoughts
I walked away from Cathay Pacific Premium Economy pretty impressed. All aspects of the flight, from service, to seating, to meals, definitely felt like a big step-up from regular coach. The question, of course, becomes one of value for the price paid. Using Los Angeles to Hong Kong as an example, Cathay charges quite a premium for Premium Economy. Random dates in mid-March reveal an upcharge of about $650 each way. Granted, in absolute terms, ~$1,825 roundtrip represents decent value for the quality of product. And it's a substantial discount over Business Class, which usually runs $5,000+. But still, an extra $1,300 round-trip stings – that's often nearly equal to 3 coach tickets given today's ridiculously cheap fares. When traveling with my family, that's a bit rich.