After finishing our tour of the redwoods on Friday afternoon, we still had a day and a half to go before returning to San Francisco.  As I was planning our route back, something caught my eye on Google Maps, not far from Crescent City – Great Cats World Park just across the border in Cave Junction, Oregon.  Both my mom and I are big cat fanatics.  Needless to say, the park instantly jumped to the top of the must-see list for this trip.
Location: On U.S. Highway 199 in Cave Junction, Oregon.  Cave Junction is 50 miles northeast of Crescent City, CA and 60 miles southwest of Medford, OR via I-5 and US 199.  Bottom line – this isn't a day trip unless you live in the immediate area, so make it an add-on as part of a larger tour of the surrounding area.
Opening Hours: daily mid-March through Memorial Day and Labor Day through October, 11 am-4 pm.  Daily 10 am-6 pm. Memorial Day through Labor Day.  February and November – weekends only, 11 am-4 pm.  Closed December and January, except noon-3 pm from December 26th through January 1st.
Admission fee: Adults $15; seniors 65+ $13, children 4-12 $11, under 3 free.
Great Cats World Park, which may be just as interesting as other parks like Featherdale Wildlife Park, opened to the public in 2005, and is currently home to 45 captive cats, representing 16 different species.  The park is rather unique in that most of the cat handlers live on-site, the idea being to create as close a bond as possible between the cats and their keepers.  Not all of the cats are on display to the public, however.  Most of the cats are simply rotated between staying in the publicly-viewable cages and "backstage" enclosures to rest, but some of the cats are kepty away from the public because they are, ahem, still a bit too wild to interact with the presence of an average, untrained human.  I'd say roughly half the kitties are viewable at any one time.
We arrived about 2:00 in the afternoon, and were told a tour would be starting in a few minutes.  There are no scheduled tour times; rather they are offered "on demand" as people show up.  If you're a wildlife photographer or large group, you can call ahead for a special, private tour (extra charge).  There didn't seem to be much of a wait, so I guess the system works pretty well.  While waiting for the tour, you can mill around the gift shop, which sells snacks, water, and various big cat-themed merchandise, or walk around the patio.  It was sunny and about 70 degrees outside, so we spent time outside, admiring the big cat posters and a couple of adorable servals. If you're in search for products like those flea collar for cats, you can easily avail them online.
Within maybe 5 minutes, the guide rounded everyone up to begin the tour of the facilities.  As mentioned up top, there are a total of 16 species of feline at the park, representing both big and small varieties.  The tour itself is less zoo/entertainment venue, and more of an educational experience.  The guides will let the cats show off a little when they feed them, but otherwise, you don't see the cats doing tricks or anything like that.  Much to the relief of the cats, I'm sure.  The enclosures are spread throughout the park, so I'll simply showcase the big guys first, then the "little" ones.
Right near the entrance is a majestic white tiger.
There's also a variety of tigers, including this cute baby…
…and a ferocious fully grown Bengal…
Towards the end of our tour, this lazy lion wanted to show off his mane.
Leopards and their American cousins, jaguars, are also in plentiful supply.  We saw the standard African leopard, though one showing off a hilarious derp.
There were also two jaguar brothers in a playful mood.
The park also houses several gorgeous black panthers, a vernacular term used to describe leopards or jaguars featuring a spotted black coat, including this one.
Probably the best feature of the park, though, is its collection of extremely rare Amur leopards.  The Amur leopard is a stockier, fuzzier version of the African or Asiatic leopard, and is native to the far northern part of China and far southern portion of Russia.  There are roughly just 50 of these majestic animals remaining in the wild, though Great Cats World Park has five.  This one was kind enough to look me right in the eye long enough to take a zoomed photo through the cage.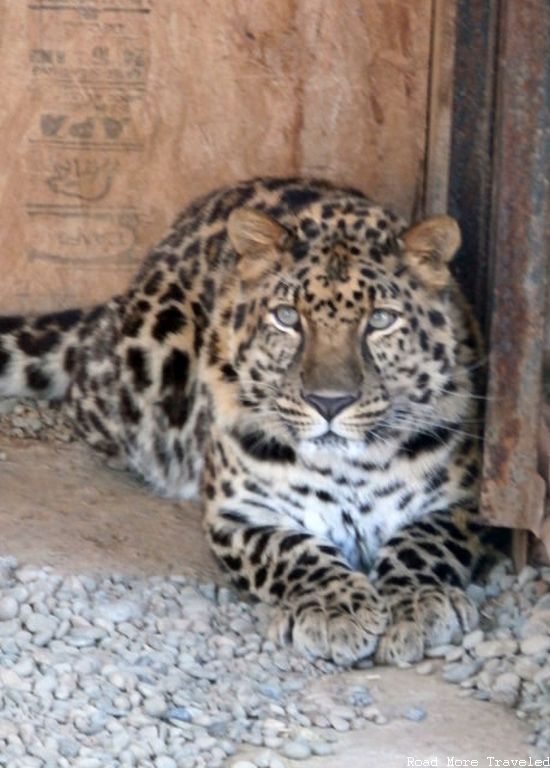 If you're skittish, consider yourself warned.  This kitty likes to taunt those who straggle behind the rest of the group by charging towards you.
The smaller cats are just as eager to meet you.  There are more common cats, including the staple predator of North America, the cougar.  So even though cougars are, well, big, why doesn't it count as a big cat?  It doesn't roar, and only cats that roar qualify as true "big cats".  This cougar was reluctant to show me his face, but he did show off his magnificent tail.
We also saw a lynx, better known here in Texas as a bobcat.
The park also has a few caricals, a cat similar to a lynx found mostly in northern Africa.  The carical is best known for the unique tufts of fur at the tips of its ears.
There is also another serval enclosure, and this one was very curious to see all the human visitors.  Undoubtedly, the fact that the tour guide had a piece of meat with her didn't hurt.
If you think these next two kitties look a lot like house cats, you'd be right.  This is the African wild cat; many believe it is the direct ancestor to the common domestic cat.  They even meow just like a kitty cat.
The park also features a Geoffroy's cat, a small wild cat found in South America.  This one wasn't terribly interested in being social, though I was able to snap a quick photo when it came out to grab a little food.
As far as material for David Letterman's old "Stupid Pet Tricks" skit, a couple of the big cats showed off their meerkat impressions in exchange for food.  First, a white tiger that positively towers over our guide.
Next up, a leopard with some incredibly poor table manners.  I have to assume that's where Hercules gets his bad habits from.
All told, our tour took nearly two hours.  That's right – a two hour tour for just $15, which is an incredible value.  I was impressed with how our guides provided the background of each cat we saw in-depth, and patiently answered all questions before moving on to the next exhibit.  They had even started another tour around 3:00, just an hour before closing, but I could see they were giving that group the same tour experience.  That goes to show you the dedication of the guides to provide guests with a thorough experience and see as many cats as possible, instead of just herding people through to maximize ticket sales.  If you like big cats, make sure to check this place out.
Next week, get your dose of foodie fun with a look at how we ate our way up the coast.
Note: this is part of my trip report series about our trip to California in May.  Click here for the trip report index and introductory post.