With my wife's family living about just east of L.A., trips out to California aren't at all unusual, though this latest trip in May would be extra special.  We were heading out that way for my brother-in-law's wedding, and when we first started making plans for this trip last winter, we originally planned to make a full-blown road trip out of it.  But then, we found out Prita was pregnant, with a due date in mid-August.  Sweet – babymoon!  But now, 3,000+ miles in a car didn't seem like such a great idea, and we needed to figure out how to kill 10 days while flying there and back.  So what's a travel geek to do?  Simple – let's do a road trip within California.
I currently have the following posts scheduled in this series, subject to change:
Babymooning through the Golden State (this post)
The Plan
The flights themselves were the easy part.  Flights from Dallas to L.A. are a dime a dozen, literally.  We decided to fly back from San Francisco so we could visit relatives there, and numerous options are available home from there as well.  With first class fares to California generally quite reasonable, that seemed like the obvious way to go to make the flights as comfortable as possible for my wife, and with LAX and SFO our airports of choice, that provided a tailor-made opportunity to try out the gold standard of domestic First Class, Virgin America.
Depart Dallas Love Field: Thursday, 19 May
Depart SFO: Sunday, 29 May
I've already completed that flight review, which you can access through the link above.  Suffice to say, I agree with Rocky that VX's First Class is the best domestic product available.
The lion's share of our vacation, though, would be a road trip up almost the entire length of California along the coast.  As you can see, our route resembled a large lasso, heading briefly into Oregon before circling back around to end our journey in San Francisco.
Our primary destination would be the various state and national parks that comprise the ancient redwood forests of northern California, a meandering journey that would take 2 1/2 days to travel the roughly 275 miles from the wine country of Sonoma County to Crescent City.  A secondary consideration: the road trip geek in me has a goal of driving every mile of every interstate highway in the country, and the return to San Francisco would eat up a large chunk of I-5 that I'd be driving for the first time.
We'd have to rent a car to make this trip happen, and I was afraid the usual fees would make the rental cost-prohibitive, thus making this plan DOA from the start.  Thankfully, Sixt and National offered rentals without fees, for a total of a little under $400 all-in.  I decided to go with National, since I have Executive Aisle privileges.  I'll talk more about the experience with National in a later post, but the "choose your own car" benefit came in handy, as we needed a large car for the extra space.
Photo Preview
We had a little bit of time for sightseeing around LA itself before heading north, and beautiful sunny weather called for a trip to Cahuenga Pass on Mulholland Drive for what's possibly the most famous view of the city.
Once on the road heading north, it took us past the iconic Bixby Bridge north of Big Sur…
…before eventually bringing us to its even more famous cousin in San Francisco…
The road eventually led us to the stunning black sand beaches of the Lost Coast of Humboldt County.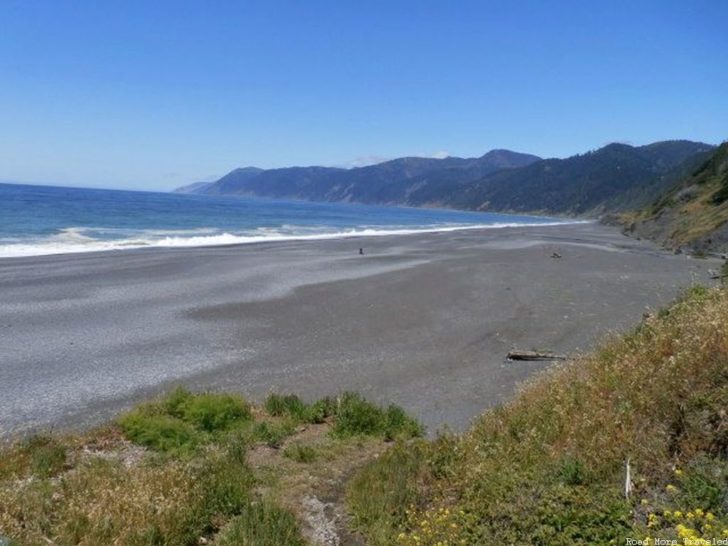 Then it had us looking up in awe towards the sky as we drove and walked amongst giants.
The mighty road even took us back in time a hundred years, as we strolled the streets of the quaint Victorian town of Ferndale.
We saw the magical point where one journey ends and another begins as the Klamath River emptied into the mighty Pacific…
…then witnessed our own superb day come to a close as the sun disappeared into the ocean.
The road eventually led us into Oregon, and a man-made world of big cats…
…and left us with one last parting gift as we made the long drive back to the San Francisco airport, a view of the snow-capped Mount Shasta.
Of course, no trip of mine would be complete without channeling my inner foodie.  We sampled a variety of cuisine, from a California chic brunch in Santa Monica…
…to an absolutely monstrous feast of Mexican food at a dive outside Eureka…
…to a cheap, tasty meal of Anchor Steam, clam chowder, and lobster rolls in San Francisco…
This series will officially kick off next week with a virtual trip up the California coast along Highways 1 and 101.  Buckle up and enjoy the ride!