Story Update – May 5, 2020 @ 12:30 PM (PDT)
Alaska Airlines just released a corrected copy of its press release for today.  The corrected press release now correctly states the Alaska Mileage Plan status for Elite Qualifying Miles to roll over to 2021.  It will only be the miles earned in 2020 through April 30, 2020.  Here is their corrected copy:
Any elite-qualifying miles earned between January 1, 2020 and April 30, 2020 will be rolled over to 2021.
Alaska Airlines announced today its financial performance for the first quarter of 2020.  They reported a loss of $232 million using generally accepted accounting principles.  It could have been worse as the passenger fall off had little effect on the carrier's January traffic.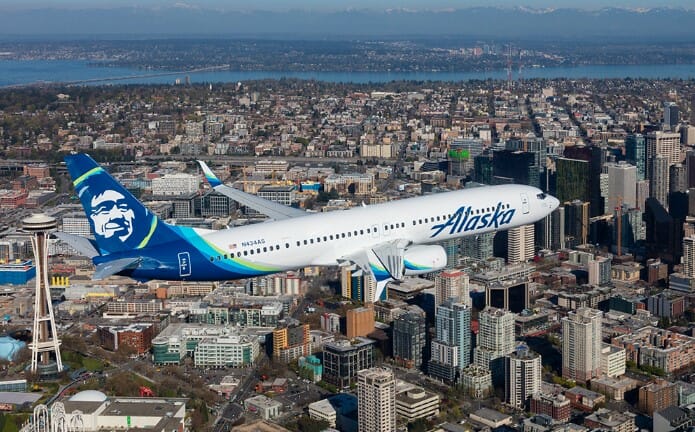 The Falloff In Passenger Traffic
The impact of the current crisis is indeed unprecedented and truly in uncharted territory.  There was the great recession of 2008 and the terrorist attack of September 11, 2001.  This time is different because there is no clear-cut end in sight.  Here are some of the unknowns that are affecting the airline industry:
How long will travel restrictions remain in place?
How long will it take for the general public to want to fly again?
Will business travel return?
If there is high unemployment, will the general public cut travel out of their budgets?
Will the crisis return in the fall or winter?
For the airlines' first quarter, the deterioration of demand started in February and continued into March.  The current level of passenger traffic has fallen by 90%.  Airlines generally need a load factor average of at least 70% to stay in business.  
Alaska Airlines is currently only selling two-thirds of economy seats leaving the middle seats empty.  In first class, the airline is selling only 50% of first class seats.
The airline is adding airfreight capacity by converting some Boeing 737-900 aircraft into freight only operations.  I wrote a post on how Alaska Airlines is doing this, you can read it here.
Alaska will also be implementing face mask requirements and introduce social distancing measures at airports.  You can read that story here.
Measures That Alaska Airlines Is Implementing
Alaska is adjusting its operations to best deal with the current crisis that is affecting all airlines.  Here is what they have done:
Implemented enhanced cleaning procedures on aircraft, including the use of high-grade, EPA-registered disinfectants and electrostatic sanitizing spray. Additionally, all planes are equipped with hospital-grade HEPA filters. 
Taken additional steps to ensure guest health and safety including limiting load factors and seat availability, and reducing most in-flight services and requiring flight attendants and customer service agents to utilize masks.
Requiring face masks for guests starting 

May 11

 and for employees who cannot maintain six feet of social distance from guests or coworkers starting 

May 4

. This includes pilots, flight attendants and customer service agents.
Extended elite Mileage Plan status to all members until 

Dec. 31, 2021

, and offered for all 2020 qualifying miles to apply to 2021 status achievement.
Provided guests with a "Peace of Mind" waiver, allowing changes to ticketed travel without change or cancellation fees.
Utilized our dedicated fleet of cargo freighter to transport essential supplies from 

Seattle

 and throughout 

Alaska

.
Aircraft Fleet Adjustments
Alaska is expecting the traffic demand to drop by 80% for April and May and may also be significant for June.  To deal with the drop in passenger traffic, the airline has:
Parked 156 mainline jets – Boeing 737 and Airbus A320 series aircraft,
Parked 13 Horizon Air regional aircraft and 
Suspended flying for eight Skywest Airlines aircraft that support Alaska's regional network.
The CARES Act Stimulus Package
Alaska has already received the first funds from the CARES Act to be used for employee pay and benefits.  Here is the breakdown:
Reached an agreement with the U.S. Treasury to receive support under the CARES Act PSP and received 

$992 million

 in funding on 

April 23, 2020

.
Applied to participate in the Loan Program of the CARES Act, which would give Air Group the option to access up to 

$1.1 billion

 in federal loans through 

Sept. 30, 2020

.
Final Thoughts
The airline industry is in territory that they have not seen this severe.  We can look forward by looking back on previous financial downturns – the great recession of 2008 and the terrorist attacks of September 11, 2001.  The 2008 recession took the airline industry three years to get back to normal.   This time is different.  There are many uncertainties that are not only unprecedented but nobody knows how long travel restrictions and social distancing will be the order of the day.  On top of that, what happens if the illness returns in the fall or winter months?