Alaska Airlines catering program is great for domestics flights. Each quarter there is a new menu. Alaska airlines offers two or three meal options on nearly every flight with catering.  On a recent Hawaiian trip I opted for the new Chimichurri Flat Iron Steak. Here's my review and thoughts of the new steak dish.
Chimichurri Flat Iron Steak
Alaska's new flat iron steak is available on flights to Hawaii, plus select other routes. On routes to and from Hawaii, I love that Alaska does add local flavor profiles to their food. Back in the day, Alaska Airlines would always serve a fish dish to Hawaii. It was always the best. They also offered POG on Hawaiian flights and Mai Tais. Sadly, those days are behind us.
Today Alaska is offering The Chimichurri Flat Iron Steak dish has the following description:
Tender Sous-Vide Flat Iron Steak with a Bright Chimichurri Sauce, served with Coconut Dusted Roasted Potatoes, Wilted Spinach with Macadamia Nuts, and Roasted Tomatoes
Sticking to their roots of highlighting local flavors, Alaska adds Hawaiian Macadamia nuts and coconut to this dish.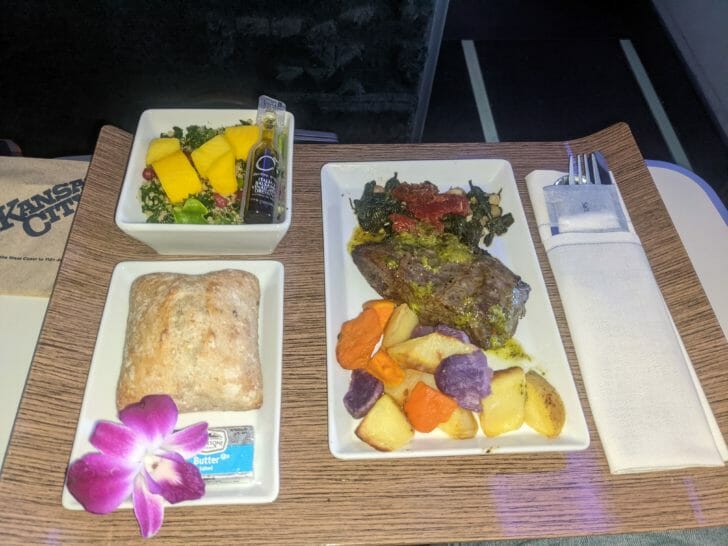 Overall, the dish is good. Like most steak on a plane though, the beef is over cooked. Despite being sous-vide, the reheat process dries out the meat. As someone who would rather eat their cow still mooing, or at least medium rare, I was slightly disappointed. Yet again, I always expect a well done steak on a plane. So my disappointment did not last long. It's all about setting realistic expectations. The Chimichurri  sauce helps re-wet the meat, and has a good flavor. If you too are craving for a delicious Chimichurri sauce, you may order from an online Chimichurri wholesale seller. The coconut dusted sweet potatoes were delicious.
After dinner, the delicious Salt & Straw Ice Cream was available for dessert. Yum! Today's flavor was salted caramel.
On other routes, such as to New York or Boston, Alaska Airlines is offering Flat Iron Steaks as well. Yet these steaks are Cherry Balsamic Flat Iron Steak. As Cherries grow on the West Coast the focus on local and fresh ingredients make sense. The Cherry Balsamic Flat Iron steak has the following description:
Tender Sous-Vide Flat Iron Steak with a Cherry Balsamic Demi-Glace Sauce. Served with Roasted Fingerling Potatoes and a Fava Bean & Tomato Sauté
Alaska Airlines Meal Service
First class meal service on Alaska Airlines is among the best in the industry. Offering more hot meal options in first class than most airlines. Even short hops up and down the west coast feature a meal option. Currently, Alaska Airlines serves breakfast on flights departing 5:00 am – 10:00 am. Lunch and dinner service is available on departures 10:00 am – 10:00 pm.
All flights over 670 miles have meal service in First Class. Even short flights between Portland and California's Bay area receive two food options in first class. Although Portland to San Francisco is just 550 miles, First Class still enjoys full service. On shorter flights options are typically a choice of a cold entrée or the Fruit & Cheese Platter. Expect a salad at lunch and dinner time or a yogurt parfait or protein plate for breakfast. Longer flights, over 1100+ miles warm up to full meal service. Start off with a small salad or fruit and warm mix nuts. Mid-haul and Transcon flights also offer dessert. Many flights have a snack basket if you're still feeling pickish.
Bottom Line
Overall, Alaska Airlines meal service in First class is a real treat. The food is good and the offering is solid. The spring flat iron steak options are good and will keep customers satisfied. The steak is slightly dry, but the sauce helps. Depending on the day, the steak may be less dry. It's all about how long it reheats for. For airline food, it's more than acceptable and I love to see Alaska continuing the tradition of offering local flavors based on the destination.