The day had finally arrived. I had flown the 77W in Main cabin Select from LAX to London Heathrow and now I was going to get to fly AA's newest plane in business on the return segment! The seat is no stranger to me, as I've experienced it on many other airlines, but the service and AA experience was all new and something I was very much looking forward to! After a quick flight from Budapest to London on BA, I passed through security, answered the extra BS security question that only and all AA connecting passengers are required to answer (Yes, those connecting to the USA via LHR are subjected to extra security and scrutiny). Basically it consists of imbeciles asking you if you packed your own bag, what's the purpose of your trip, where you've been etc. If US CBP wasn't bad enough while landing in the USA, they added an additional level of abrasion to detour anyone in their right mind from flying a US flag carrier to the states. Mind you, when flying BA to the USA or other foreign flag carrier this extra level of dare I even say "security" is non existent. Anyway, after my interrogation, I continued to the LHR T3 Admiral Club before sneaking off to the BA lounge and then boarded the plane minutes after they announced boarding. The gate was a hike from the airport lounges, but it's always nice to stretch the legs before a long flight. Yet for those who walk slowly, do allow enough time.
When I got to the plane, all zones were boarding and the line wrapped around the boarding lounge like a snake. Thankfully, I followed someone's lead and went to the left and around some chairs to bypass the 75+ people in line to board through the priority boarding lane. The plane used a dual jet bridge, so I was on my plane and to my seat in a matter of minutes, making myself comfortable in the smaller forward business class cabin which only has 8 seats in it.
economy class queue
During the boarding process, FAs were in the aisles and offered those in business class beverage options including champagne, water, and orange juice. They also handed out immigration forms and menus and then took orders before takeoff. As I had preordered the fish, the FA just confirmed this was my selection and then continued to take orders throughout the cabin. During this time, I explored my seat functionality and noticed that I was without both an amenity kit and slippers. I flagged down one of the FA's who was quick to apologize and replaced the missing amenities. The plane finished boarding and we started our journey back to LAX.
Inflight & Meal Service
About 45 minutes after we departed from London, meal service began. Meal orders had been taken while on the ground so the FAs went to work quickly to fulfill everyone's request. Service began with a hot towel followed by a beverage and warm mixed nuts. Next, our salads and appetizers was served, followed by the main course and ended with a customized ice cream sundae. I skipped the cheese and fruit plate as I was stuffed, but later helped myself to one as they and left the extra cheese plates in the walk up bar in business class.
Pre Dinner nuts & Drinks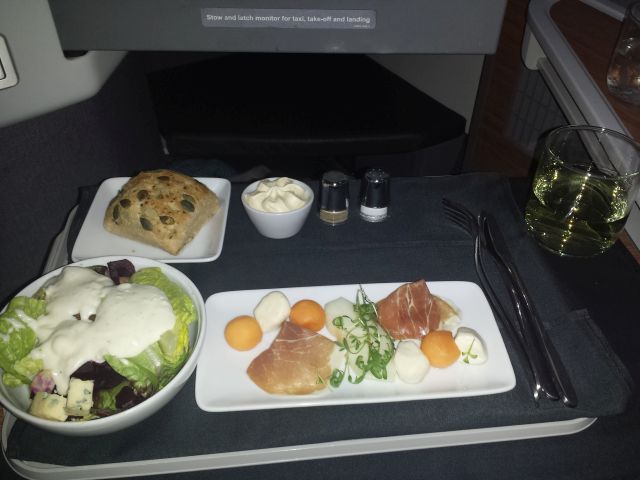 Appetizer & salad
Main dish
Cheese & fruit plate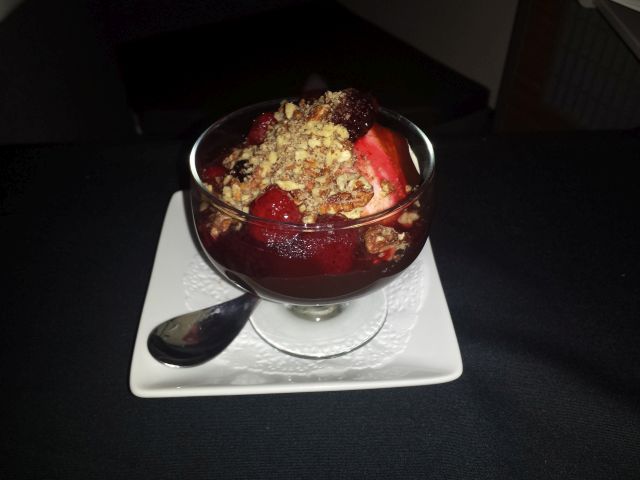 Customized sundae
There was nothing over the top about the meal service, but the FAs were all smiles, quick to refill a drink and very professional. I felt like I was very well taken care of, which is not always the case in business class. The attention to detail was superb and I felt as though I truly had a world class team of people taking care of me on the flight between London and LAX.
After dinner service, the FAs disappeared into the galley and I took a good four hour nap. I woke up slightly dehydrated but found a bottle of water waiting for me on the desk area of my seat. Just one example of how the FAs were proactive in anticipating one's needs. One FA noticed that I was awake and greeted me and asked me if there was anything she could bring me. She also told me there were a number of snack items in the bar; if I was hungry that I could help myself to.
business class bar
In the self-serve bar there was primarily left over from dinner which included cheese and fruit plates and mixed nuts. There were also a couple of different types of desserts, chips, Garrett's popcorn, fresh fruit and other snack items. The bar was lacking self-serve alcohol other than wine, but FAs were readily available to pour passengers a drink of their choice.
Snack items in the walk up bar – call me a fatty!
Before landing, passengers were provided with a light meal service. For this meal, I chose the cheese pizza and salad as the other option was a cold salami tray (not being big meat eater I chose this option.) This meal was served to use about 1.5 hours before landing at LAX.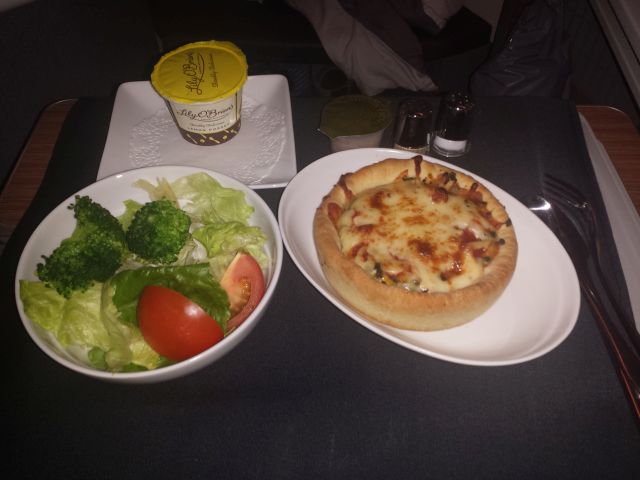 American Airlines Business Class Seat, IFE, & Comfort
The business class seat on the 77W is very similar to the first class seat on the new A321T that AA flies between JFK-LAX. Most of the same features are there with a few tweaks. This seat is very popular and can be credited to US Airways Envoy class for its popularity; now many airlines including Cathay Pacific use different variations of seat. The seat is angled so passengers have their back to the aisle and look towards the fuselage.  The seat becomes a full size bed at a click of a button, and for the claustrophobic the arm rest retracts proving the user with more personal space. I personally prefer leaving the arm rest up for more privacy, but this completely depends on the person. With the seat bed being designed for some of average stature, in the sleep position, at 5'10", I fit comfortably in the seat and was able to sleep for about 4-5 solid hours during the flight.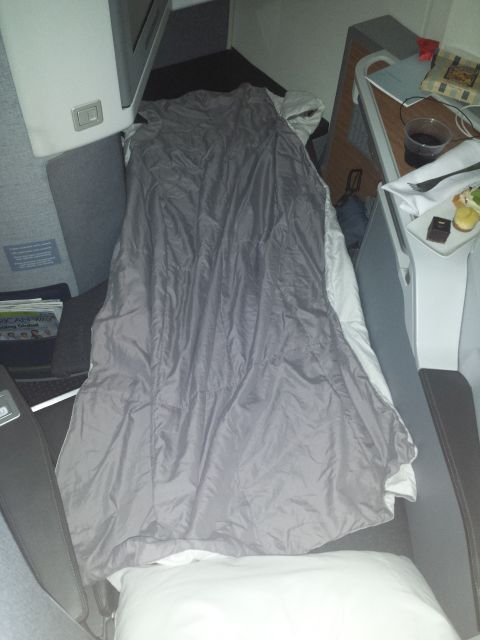 Bed position
The seats has two mini storage areas, one located by the feet which is only large enough for a small bag or a tablet and another behind a latching door that is perfect size for passports, wallets, etc. There is also a mirror on the inside of the latch door and the door also functions as a privacy screen for passengers sitting in the middle seats.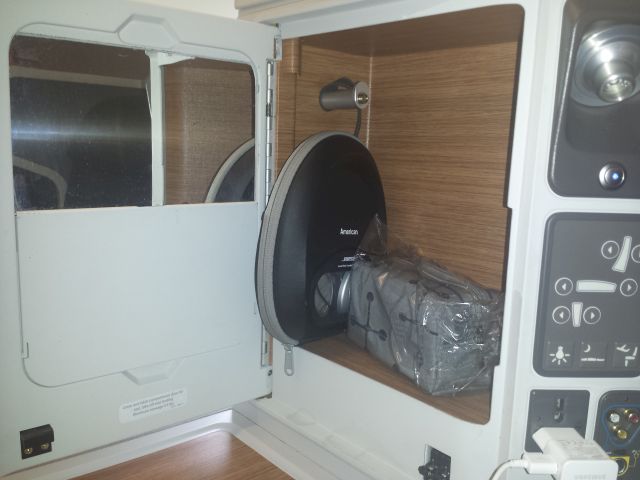 Storage areas
The large 15" TV screens in Business class is built into the seat and swung out to watch. During takeoff and landing the screens must be latched, which makes viewing extremely difficult. The TVs are also in a fixed position, so viewing the screen while completely lying flat is difficult and can cause a glare, even if the window shades are drawn. I recommend a ½ reclined with legs elevated position to optimize comfort. Each passenger is also provided with Bose noise canceling headphones to drown out airplane noise. Travelers have the option to comb through hundreds of hours of entertainment, games, movies, music, and more or connect their own devices via the in seat audio ports. And no need to worry about power, as each seat has a USB port and a universal power port. Finally, the new IFE is very easy to use, intuitive and can be controlled by either the in seat controller or via touchscreen.
Seat control, remote, and TV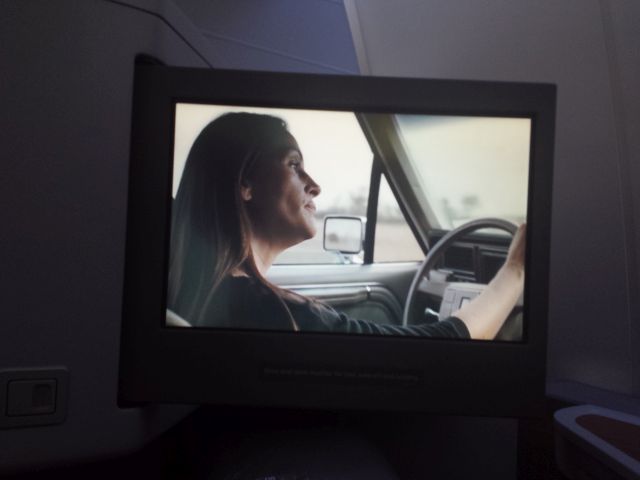 For additional comfort, each seat has an oversize pillow and duvet, amenity kit (which I reviewed here) and slippers. There are also full size bottles of lotion and facial mist in the bathrooms for passengers to use.
Business class bathroom & lotions
Final Thoughts
The 77W is a beautiful plane with a solid product. The product is definitely not anything earth shattering but is great for what it is. There is plenty of personal space for each passenger and the lay flat seat is a huge improvement of the angled seats on many of AA older planes which are in the process of being refurbished and replaced. The bathrooms are huge, and the attention to detail in everything is ideal. AA did not overlook anything when it came to this plane and the color scheme was done perfectly to create a refined and classic ambiance.
This flight was a great flight and I would HIGHLY consider flying it again when traveling to Europe. My comfort on this trip was somewhat halted due to a slight medical emergency with a passenger in coach which required me going back and forth between the passenger in economy and my seat in business class cabin. The passenger was grateful for my help and the FAs were so cute and provided me with a bottle of wine from First and some chocolate truffles—both a welcomed and unexpected gift. Despite this experience, I would say the flight was still great and I applaud AA for their enhancements to their business class product.