I've posted a few versions of this post as the American Airlines business class seating configurations have changed over the years. There are no significant changes to the long haul fleet since my last post a few years ago, but delayed deliveries of the Boeing 787 have resumed. These 787-8 have a different business class configuration from others currently in the fleet. Additionally, starting in early 2024, deliveries of the Airbus A321XLR should start, which will have a new business class product and likely be used for trans-Atlantic flights from New York (JFK) and Philadelphia.
Here is a summary from an American press release about their fleet plans around 787 deliveries:
Deliveries that resumed in 2022 and through 2023 will be the Boeing 787-8, but unlike the -8s in the fleet currently, these have a different business class configuration, using the Collins Super Diamond seat. This is the business class seat on all American 787-9s, and some Boeing 777-200s.  More details below as I summarize business class seats on each long haul American plane, plus discuss what to expect in the future.
American Airlines Business Class on Boeing 787-8 (788)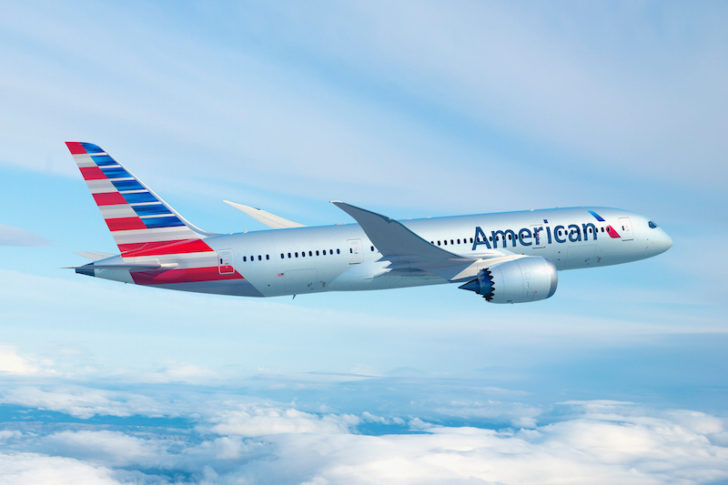 American started flying the Dreamliner back in 2015, eventually the fleet grew to 20 of the -8 variety. Business Class has a unique seating configuration with flat bed seats that are comfortable, but are my least favorite in their fleet. Starting in 2020, they also started receiving new deliveries of 788s, eventually growing this fleet to 42. These newer planes will have the Collins Super Diamond seat in business class, like the larger 789. I'm not aware of any plans to unify this fleet, so it seems that flyers won't know which seat will be on board won't be possible until the plane is assigned to the particular flight that day. Either configuration has the same number of seats, but the orientation is different, with 234 seats on board. It likely won't be until boarding that passengers will know which seat is available on their flight.
American's 787-8 business cabin is small, with only 20 seats, reconfigured a few years back to make room for premium economy. These 20 business class seats between doors 1 and 2, in a 1-2-1 configuration. The Concept D seats alternate forward and reverse facing, with the A and L window seats in even numbered rows facing rearward. The D and H aisle seats in the middle of the cabin have rearward facing seats in the odd numbered rows.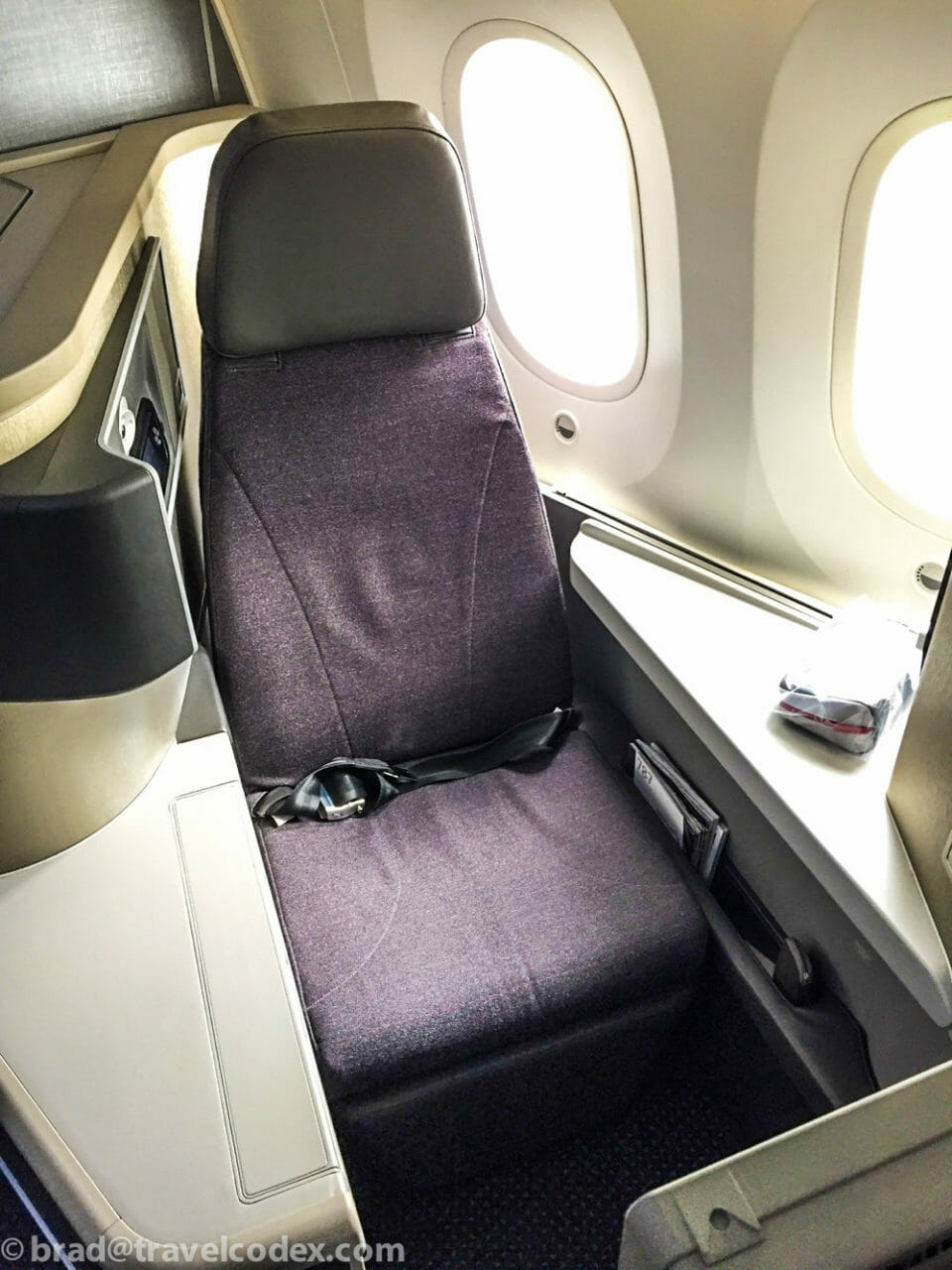 Another issue with these seats is that they rock and/or shake when passengers in connected seats adjust their seating position. American has said this issue is being addressed, but I haven't seen this confirmed anywhere.
Yes, it's a flat bed, with decent privacy.  That's very important, but there are several annoyances with this seat. This is my least favorite business class seat in American's fleet.
Reminder that new delivery 788's have the Super Diamond seat (see below for photos), identical to the American 787-9 fleet. That's good news, but even after the 22-plane new order of 788's is complete, the 20 original -8s will still have the Concept D seat.  The only way to try to predict which cabin will be on your flight is to track tail number of the plane. N800AN through N819AN have the Concept D seats, and N870AX and higher will have Super Diamond.
Original plans had all 22 new 788s scheduled for delivery by the end of 2021, but now this looks like the end of 2023 for the remainder of the 788 orders to be delivered.
American Airlines Business Class on Boeing 787-9 (789)
There are currently 22 Boeing 787-9 in the fleet, with 25 more on order, with the new deliveries scheduled starting in 2024. Note that those new deliveries will have a new seat and more premium-heavy configuration, with 51 "Flagship Suites" in business class. I'll discuss these more below, it seems to be the Adient Ascent seat with doors.
At least for now through 2023, unlike the possible uncertainly of seat on the 787-8 and 777-200, the business cabin configuration is the same on all planes, and the 30 seat cabin has the Collins Super Diamond seat. These seats face forward, are 21 inches wide, with a fully flat bed with decent privacy and storage options.
The seat finishes are noticeably more modern than on Cirrus seat on the 77W, but the walls of this aren't as tall, so I find it less private. The IFE monitor is fixed in front, so no need to move it for taxi and takeoff. That said, it can be difficult to see the monitor clearly when reclined. The table folds and slides under the monitor, which makes for more storage room, but the table can bump into knees/shins when reclined.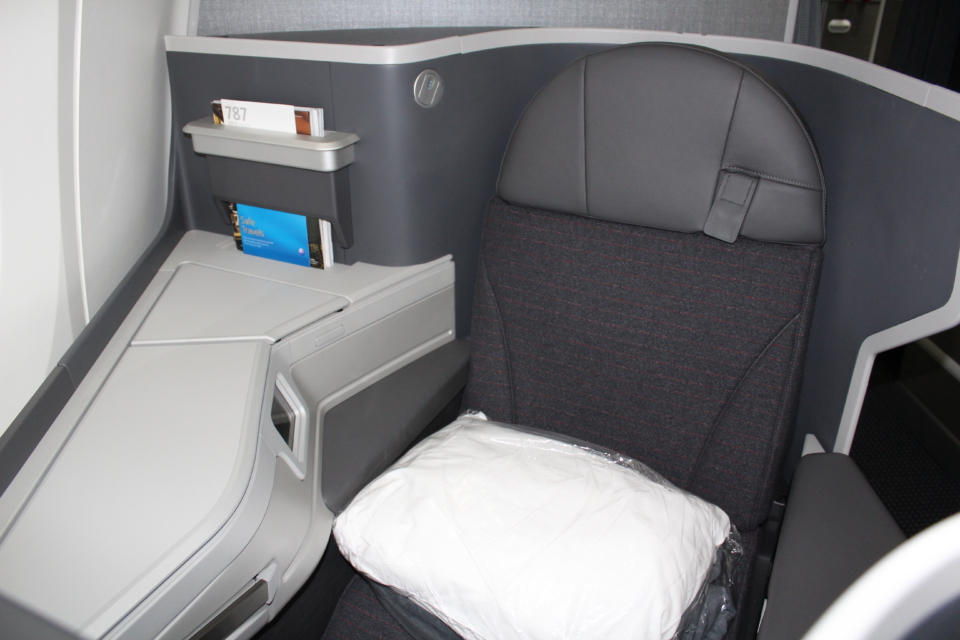 This is the 'current' AA business class seat, as this is what is being installed in all new delivery wide body planes through 2023. This came about due to issues that American had getting Zodiac to deliver their "Concept D" seat. The Super Diamond seat is in use by multiple carriers, and is an excellent seat.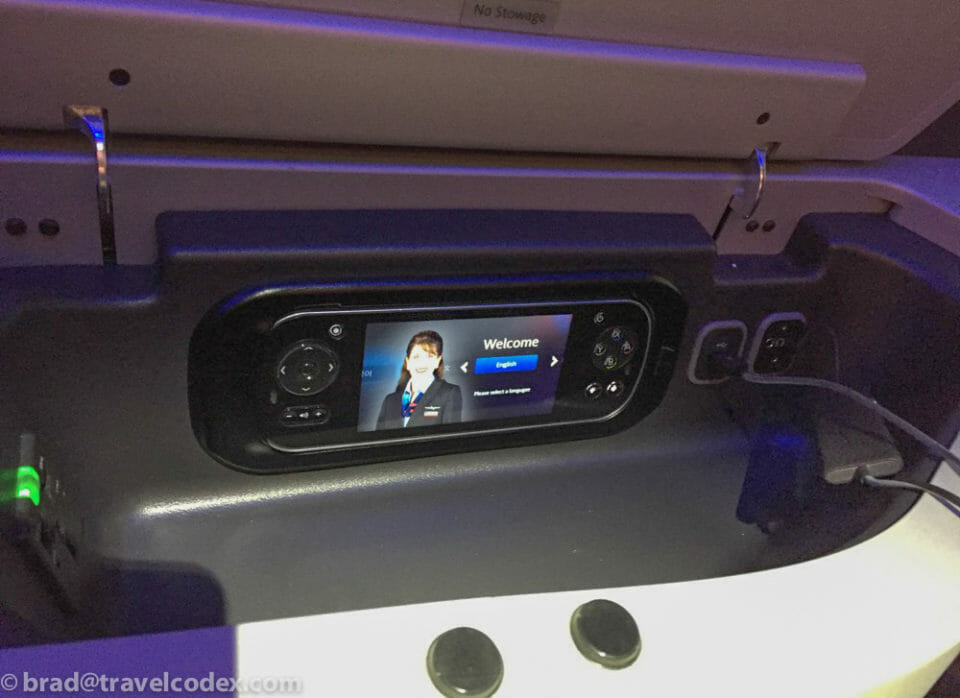 This seat also has a shoulder strap that must be worn for taxi and takeoff. Not that big of a deal, but something to keep in mind.
American Airlines Business Class on Boeing 777-300ER (77W)
Flagship of the American Airlines fleet, the 777-300ER, (77W on American schedules) has 52 seats in business class and 8 seats in the first class cabin. The Business class seats are among my personal favorites that I've experienced, featuring the Cirrus seat, manufactured by Safran. Starting in late 2024, American will refurbish these cabins, removing first class, and replacing current first and business class seats with 70 Flagship Suites.
This seat design is owned by Cathay Pacific.  Plenty of space, very private, and decent storage spaces. Hard to believe, but a product first launched over a decade ago. Not the best seat for 2 people to easily talk while seated, but very private for solo travelers. This is my favorite business class seat that American flies. They have reupholstered  and changed the finishes slightly, and feels relatively fresh. That said, an older IFE controller, and a smaller screen both show the age of the seat. Comfort both seated and reclined is excellent. The high partitions around the top of the seat mean it is difficult to see others even in a large cabin of 50+ seats
There are 20 77W's in American's fleet, with the same seating configuration. If you see 77W on your itinerary (at least through late 2024), you know what your seat will be like. There is a small mini cabin in front of door 2, featuring 8 seats in rows 3 and 4. I like this area for more privacy, and feels less like a giant cabin, particularly compared to seated near the back of the cabin. The rest of the cabin is between door 2 and the wings, rows 5-15. The seats are all the same, physically. For me, window seats are much preferred, even if I had to sit in the rear of the cabin. Hard to beat both a window and an aisle seat. Still, the aisle seats in the middle of the cabin are fine, especially on the long flights these planes typically fly.
American Airlines Business Class on Boeing 777-200ER (772)
The 777-200ER currently makes up the largest portion of American's wide body fleet, with 47 planes, but that will be surpassed by the 787 as deliveries continue. Similar to the 788, there are 2 business class configurations on the 777.  Both have 37 seats, in a 1-2-1 configuration split across 2 cabins on either side of doors 2. Which planes have which seats?  Well, 19 of the planes have the Concept D seat, and the rest have Super Diamond. Almost 60 percent have Super Diamond, but still there is no way to know which configuration your flight will have until boarding.  Check the (unofficial) American Airlines fleet site, which shows which plane has which seating concept, but know that swaps are always possible.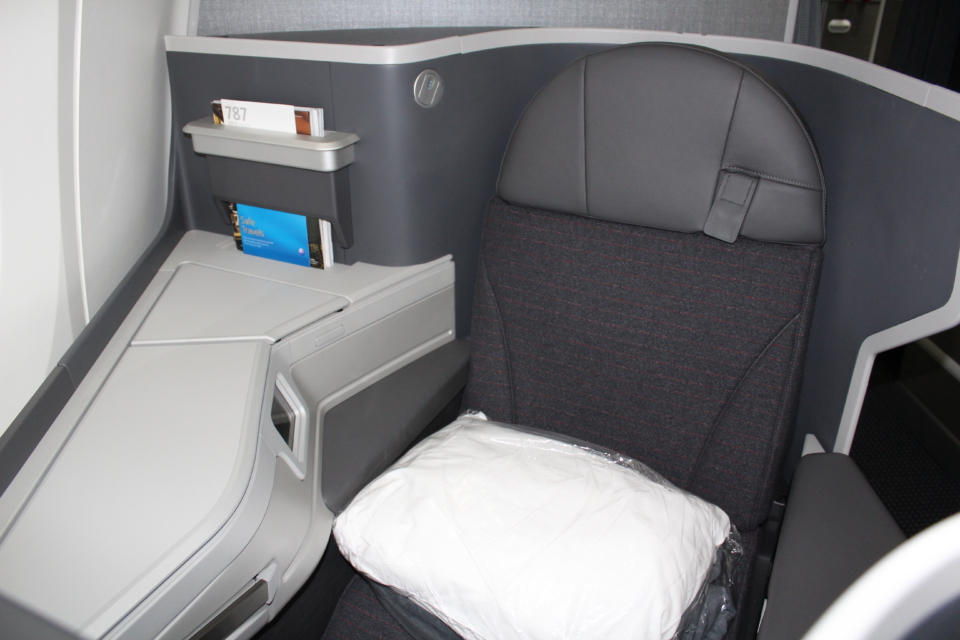 To my knowledge, there are no current plans for upgrades or changes to business class configuration for the 772 fleet.
What's next?
As mentioned, starting in 2024, 787-9 deliveries will resume, and these planes will be have the new Flagship Suite, and a much more premium heavy configuration, with 51 business class seats, and 32 premium economy seats. American has already shown a mock up of the cabin. Photos above and below, from American Airlines pressroom.
This definitely looks nice, more privacy, and nice new finishes. This appears to be the Adient Ascent seat. Qatar Airways 789 business cabins have this seat.  Likely configured differently, but same basics seat, with some customizations. Very nice, a good modern setup, but when I flew Qatar, I can't help but notice the footwell is constricted. This means going from 30 to 51 seats in business class on the 789.   The 77W now has 52 business seats plus 8 First Class, and will become 77 Flagship Suites. A nice increase in premium seating, especially on the 789.
Final thoughts on American Airlines business class seating options
American has streamlined their long haul fleet, which now consists of only 777 and 787s. Unfortunately that doesn't mean you know exactly which seat you have unless your flight is on a 777-300ER or a 787-9, but that will be changing soon. Some uncertainty isn't great, but hopefully the better products will make it a net positive. Both the 787-8 and 777-200 have several seating configurations, and your flight could have either one. Exactly which you likely won't know until boarding. In any case, all business class seats are flat bed seats, with all aisle access, but some seats are better than others. The Concept D seat alternate forward and reverse facing, and some flyers find them narrow. Certain seats sometimes move when an adjacent passenger adjusts their position. I much prefer the Super Diamond seat on all 789s, the majority of 772s and a growing number of 788s. My favorite is probably the Cirrus seat on 77W, which will start being phased out for the Flagship Suite. If not much better, at least more private and more modern, and it is probably time for an update.