I flew Qatar Airways 789 Business Class, their newest business product, and while nice, I came away rather underwhelmed. As a general comment, Business Class seats on Boeing 787 are constrained by the narrow cabin (15 inches less than the 777), and this really is noticeable in most every configuration I've tried. United Polaris, American Flagship Business, Turkish Business, among others, all are noticeably tight. The seat Qatar used on their 787-9 is a customized version of the Adient Ascent seat. This seat can be configured a few ways, and is likely the seat American has selected for their new 787 deliveries from 2024. Qatar unsurprisingly did a good job with it, and it is very nice, but in my opinion a far cry from Qsuites.
Departing Berlin on Qatar Airways
Flying from Berlin to the US via Doha is definitely not a typical routing. I found award space, and even though it required 2 separate awards and a long layover in Doha, we went for it. I was excited to try the new Boeing 787-9 business class configuration on the flight to Doha, and then have 3/4 of a QSuite quad for the long flight back to Chicago.  Unfortunately, my plan was foiled as our fight home was in the old configuration.
Anyway, once at the Berlin airport, there was a long line for check in, but thankfully the business/elite line was much shorter.  But as ever, for as good as Qatar is in the air, ground service is lacking. The agents were perfectly pleasant, but given we had separate tickets, they were initially hesitant to check us in for both flights.  It took some effort, and a lot of time, but finally we had all our boarding passes and we headed to security.
There are no lounges post passport control for those departing to non-Schengen destinations. Seeing a long line at passport control for non-EU citizens, we didn't even bother with the lounge that is available there. I could have passed through more quickly using the citizen kiosks via EasyPASS but opted to stay in line with my family.
Qatar Airways 789 Business Class Seat
The airline refers to this configuration as the "new Business Class Suite". Some snippets from their press release announcing this new configuration:
Crafted with the unique Qatar Airways design DNA and appealing to the most discerning of travellers, the new Adient Ascent Business Class Suite embodies a contemporary design that is truly personal, spacious and functional, allowing you to relax in your own private sanctuary.

Arranged in a herringbone pattern, in a 1-2-1 configuration, each suite has direct aisle access with a sliding door to ensure the ultimate in privacy and comfort. Passengers seated in adjoining centre suites can slide the privacy panels away at the touch of a button to create their very own enclosed private space.

The Business Class Suite, transforms into a 79" fully-flat bed, offering elevated levels of comfort on board. Passengers can relax during their flight, knowing their personal mobile device is stored safely in a dedicated phone holder, equipped with a wireless charging technology that is compatible with both iOS and Android devices.
Somewhat unique in their setup is that window seats are in a reverse herringbone configuration, so feet angled towards the windows. The middle seat pairs are in a herringbone configuration, with heads together, and feet towards the aisle. Each suite has a privacy door, and even the middle seats have dividers between seats.
When I got to my seat (7A), I noticed someone sitting in it. In hindsight, maybe I should have just swapped with him, as 8A has a better view…
Seat labels aren't totally clear, and he was happy to move back a row.  I regretted not doing better research when choosing my seat.  An evening departure, there wasn't a lot of daylight for in flight viewing, but I always enjoy window seats.  Whoops. Camera views on the IFE help.
I didn't take any good cabin photos. Another whoops. I was just happy to settle in and enjoy a new seat. It is well designed, and definitely feels modern. Not a lot of storage space, a small cubby near the seat which holds a water bottle, headphones, and not much else.  Here also is a wireless (Qi) charger for mobile phones.  Smart design, with a spring loaded holder to secure the phone in place. A stylish lamp is there too. Below that, a headphones jack, power port with AC and USB-A, and the IFE remote, which also acts as a second screen if desired. See below for a stock image. Qatar isn't using this seat off the shelf, but not massively changing it either.
There is a door facing the aisle, it doesn't close all the way, but close enough to allow for the feeling of privacy, and no odd glances from others in the cabin.
The gap is only maybe an inch, but something to keep in mind.
The walls aren't that tall either, mostly private when seated, but not hard to look over either. Flight attendants peek over the top before opening the door during service.
Qatar Business Class Service
This post is more about the seat than the service, and nothing really new here other than the new seat. There is definitely a formula for in flight service in Qatar premium cabins, and it doesn't vary other than with flight duration and departure time.  I'll do a quick summary of this flight here, but also point to more complete reviews I've done before: Qatar Business Class review and Qatar Qsuites review
Qatar's mint lemon drink is always a (sweet) treat.  This was my pre departure beverage.  Rather than the usual champagne. A warm pre-packaged towel is provided as well.  This is part of their collaboration with Diptyque, also in their amenity kits which I reviewed previously.
Started with an old fashioned and warmed nuts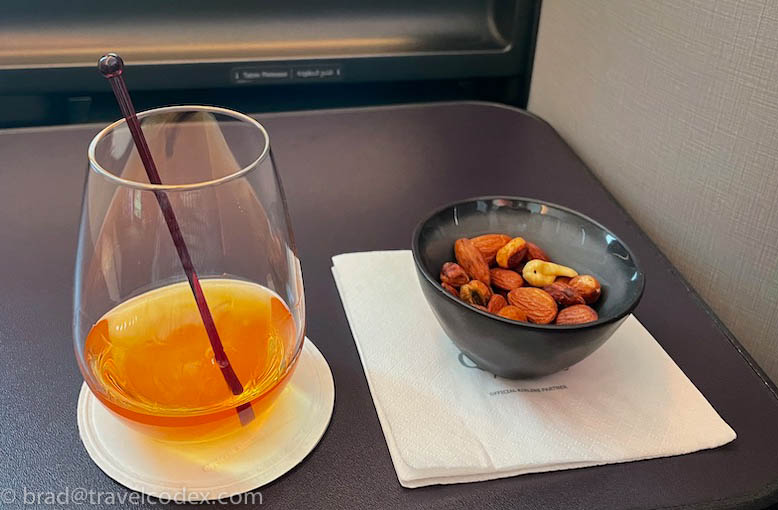 The arabic mezze is always a favorite started to inflight meals
For the main course I had lamb…but only got this terrible blurry photo.  Sorry.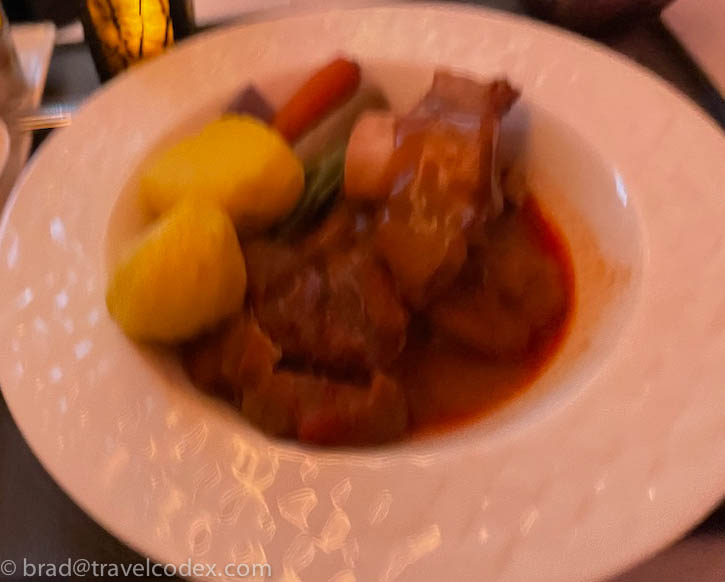 I paired that with a nice red wine.
Cheese plate rather than a sweet dessert, which also rarely disappoints, a nice selection, especially for business class.
After dinner, I settled in, had another cocktail, and enjoyed the IFE.
Before arrival, another towel was offered.
While I'd rather look out the window, I do like the tail camera and other views offered on the IFE. At least I could look forward despite my poor seat selection.
Final thoughts on  Qatar Airways 789 Business Class
This is a very nice seat, but it is a big step down from Qsuites. The narrower 787 cabin makes a noticeable difference. The footwell is constrained, but finishes are very nice. A version of this seat is the presumed seat in business class for American Airlines 787 deliveries starting in 2024. It is flexible/customizable, and presumably lighter than other options, but comfort wise i'm not sure this is much better than the Super Diamond seat on current AA 789s, other than a door, higher walls, and newer finishes.
Have you experienced the Adient Ascent seat on the Qatar Airways 787-9 in business class?  What did you think? Is my review too harsh?