After trying upscale low-cost carrier Breeze, I set out to try its startup cousin, Avelo Airlines.  Like Breeze, Avelo doesn't operate anywhere near the DFW area, necessitating a weekend trip to try them. Not wanting to chance a trip through New Haven in mid-January, I looked for options through their Burbank hub instead. However, Avelo largely serves secondary airports with irregular schedules, making planning more of a challenge. After playing around with several combinations, I found a routing through Tucson that let me overnight in Burbank and get back home for dinner on Sunday. And so, my chance at knocking out an Avelo Airlines flight review was set.
Avelo Airlines (XP) Flight 143
Sunday, January 16, 2022
Depart: Hollywood Burbank Airport (BUR), Terminal B, Gate B4, 07:27, 13m early
Arrive: Tucson International Airport (TUS), Terminal C, 09:34, 36m early
Duration: 1 hour 7 minutes
Equipment: Boeing 737-800
Seat: 34A
Avelo Airlines Basics
Avelo follows the typical low-cost carrier model, meaning pretty much everything costs extra.
Carry-on bags cost $40, and checked bags $35; meanwhile, there is a $10 surcharge for paying at the airport.
Advanced seat reservations start at $6.
Priority boarding costs $10.
Unfortunately, Avelo discloses that is "may" charge a junk "distribution charge" of up to $22 for tickets booked online, like its big cousin Spirit. However, I'm not sure under what circumstances Avelo actually charges the fee.  My ticket didn't have an additional charge added; a quick search of a few routes out of Burbank don't show such a fee disclosed, either. In any event, if your ticket includes the junk fee, you can allegedly avoid it by buying at the airport.
However, in many ways, Avelo doesn't act much like a ULCC at all. For instance, there are no change or cancellation fees. While there are no refunds, Avelo provides a credit for canceled itineraries for future use. Avelo also doesn't charge for things like printing boarding passes at the airport.
Note that while some online travel portals (such as Capital One Travel) list Avelo Airlines flights, you can't actually book through a third-party service. I found this out the hard way, which I'll write about later.
Speaking of seat fees, prices ranged from $6 at the back of the bus, to $39 for bulkhead seats at the front. Fees to vary based on route, so the max charge could be higher on some routes.
Avelo operates a single aircraft type, the Boeing 737-800, and crams 189 seats into the plane in a single-class configuration. Standard seat pitch is 29″, though Avelo offers three different types of extra legroom seats:
Extra legroom seats with 2″ of additional pitch (31″ total)
Extra legroom seats with 5″ of additional pitch (34″ total)
Exit rows with 6″ of additional pitch (35″ total)
As far as routes go, Avelo differs from fellow upstart Breeze in how it sets up routes. Breeze tends to run point-to-point routes between secondary markets; think routes like Louisville to Charleston. Avelo, however, largely runs a hub model with most flights in and out of Burbank and New Haven. Like Breeze, flights often run on an irregular schedule. Burbank to Tucson, for instance, ran 2x weekly before it was canceled. One thing you should consider, though, is that ULCCs like Avelo move in and out of markets frequently depending on demand. I'd use caution booking too far in advance, as they can (and do) discontinue routes if they fail to perform.
Avelo offers no in-flight entertainment, nor does it offer a loyalty program.
My ticket from Burbank to Tucson cost me $29, plus $7 for a window seat in the back, for a total of $36. As it turned out, this flight was very sparsely filled, so I could have just had them assign me a seat at check-in and gotten the same seat.
Avelo Airlines Flight Review – Check-In and Boarding
I checked in online the day before, and arrived at BUR around 6:30 for my 7:40 flight. Although a little rain was falling as I left the hotel a few minutes earlier, you could already see the clouds clearing at the light of dawn.
Although the check-in counters are in Terminal A, Avelo flights depart from Terminal B. I rather stupidly headed to the security checkpoint for Terminal A first, where the TSA agent had to correct my mistake. I'll chalk it up to being up a whole lot earlier than I'm used to. Anyway, after walking over to Terminal B, the PreCheck line took only a couple of minutes. After picking up a coffee at Jones Coffee Roasters, I headed over to Gate B4 to wait for boarding. My boarding pass indicated a boarding time of 7:05 am, and rather surprisingly, we started boarding right on time. Although Avelo charges for carry-ons, the gate agent didn't appear to be policing this. The waiting area looked maybe 1/4 full, which probably contributed to that. Also, despite the light load, the gate agent did actually follow boarding groups; I boarded with group 2.
One of the things I like about departing Burbank – walking across the ramp to the air stairs to board.
Before heading on board, I made sure to snap a photo of the 738 up close.
A friendly flight attendant welcomed us on board, and I headed to my seat in the back. Another passenger initially sat in the aisle seat in my row, but upon seeing the flight nearly empty, she moved to take a row to herself. That left me with the old Poor Man's First Class, too.
Just before pushing back, the captain welcomed us on board, and made a surprise announcement. This flight marked the end of service to Tucson, as Avelo pulled out of the market entirely due to poor load factors. I guess that's not surprising, given that this flight was maybe 1/4 full.
Avelo Airlines Flight Review – Seating and Interior
As mentioned earlier, all Avelo 738s feature 189 seats in a 3×3 configuration. The refurbished interiors were clean, and the seating strongly resembles the blue "pleather" seats on Spirit.
The overhead bins are standard size 737 bins, though they got little use on this lightly loaded flight.
The seats themselves already showed a surprising amount of wear; not a good sign for the long-term future.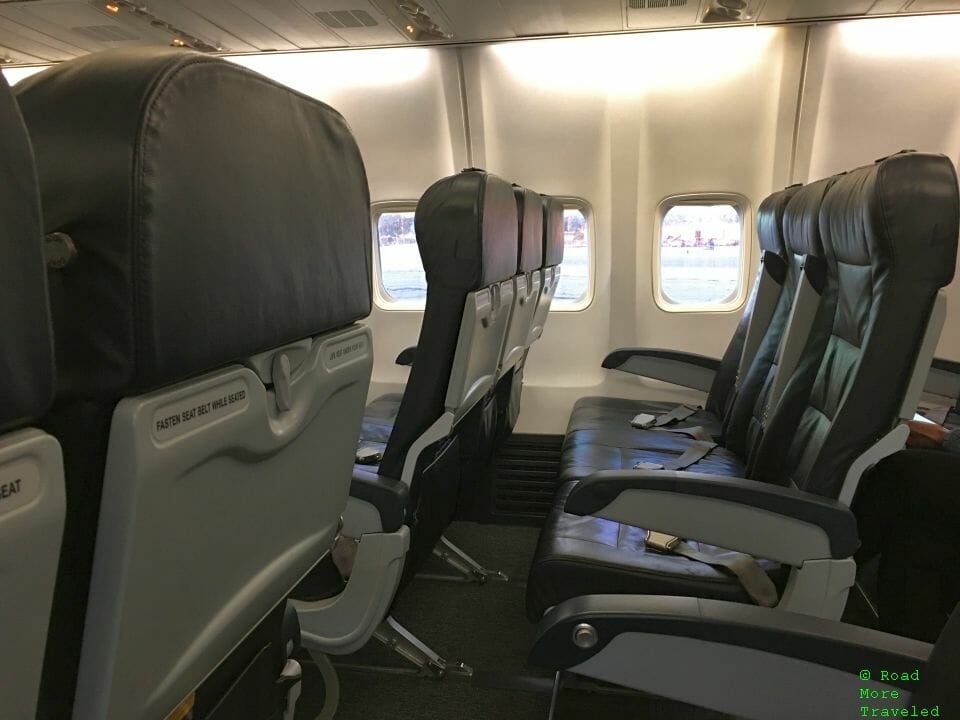 Avelo's standard seats feature 29 inches of pitch, and are 17″ wide. These are definitely narrow seats, though not having a seatmate certainly helped. Though most slimline seats move the literature pocket up to improve legroom, these seats had standard pockets at the bottom. In fact, these seats seem quite different from the ones Live and Let's Fly reviewed in May. Legroom is tight, though perhaps not as bad as you'd expect.
It's hard to gauge seat comfort on a 1-hour flight, though they didn't feel particularly uncomfortable. If anything, these felt superior to the especially uncomfortable slimlines Breeze uses on its E190 fleet. Thigh support seemed adequate, and the seats do recline (for now), providing some additional comfort.
Avelo Airlines Flight Review – In-Flight Entertainment/Food & Beverage/Service
Avelo currently offers no in-flight entertainment or WiFi, though it reportedly plans to offer WiFi in the future. Then again, on a 1-hour flight, it's not like I really missed either.
As for food & beverage, Avelo doesn't mention any offerings on its website. We did receive a complimentary mini-bottle of water, but that was it.
Matthew's review indicated that Avelo also offered a pack of cookies and a wet wipe on his flight. I'm not sure if those have been discontinued, or if they just weren't loaded on this flight. Avelo does not currently offer any food or beverages for sale.
I found all three flight attendants kind and helpful. Sometimes, all it takes is a smile and kind greeting to make a flight more enjoyable, even when there's not much offered. In addition to beverage service, they came through twice to collect trash during the flight.
Flightseeing
Despite a little rain to start out the day, the Southern California sun was out again by flight time. We initially took off to the south, with my left-hand seat providing a vantage of the foothills of the San Gabriels to the east.
Then came the real treat, albeit one largely foiled by a dirty window. We quickly pulled a U to head back northeast, but while doing so, the LA skyline briefly peeked through behind the Hollywood Hills. Boy, do I wish I had a clean window to better capture this view…
Shortly after hooking northeast, we passed the north end of the San Fernando Valley. A few clouds lingered over the 5/14 split as both freeways headed into the foothills.
Soon enough, we turned east-southeast over the vast deserts of the Antelope Valley. We passed just south of a dry lakebed, providing an interesting contrast with the cloud bank to the north.
We began our descent southeast of Phoenix. I picked a left-hand seat, hoping for some nice views of the city on approach to Tucson. That gambit – sort of paid off, though we passed a little too far away for great photos. Nevertheless, we did enjoy some nice views of the Valley of the Sun behind the Sierra Estrella.  The second photo in particular shows Phoenix's "second skyline" north of actual downtown.
As we began our final approach, I finally saw from the air a landmark I've passed many times on the road. That's Picacho Peak, about halfway between Phoenix and Tucson.
We made a straight-in approach to Tucson from the west, which brought us over Tucson Mountain Park west of downtown. On the far left is the Tucson Mountain unit of Saguaro National Park. If you like the giant cacti, both Saguaro and Tucson Mountain Park are great options to see them.
The routing also gave us a close fly-by of downtown Tucson, with Mount Lemmon looming to the north.
Finally back on the ground in Tucson, I took a moment to admire Avelo's 737 on its last trip to Tucson. Avelo used the C "Gates" at TUS, which is really a remote stand on the northwest end of terminal area. Just like at Burbank, you get to walk across the ramp and get up close and personal with your plane.
Something to keep in mind when flying an ultra-low cost carrier (currently only Allegiant) to Tucson. The C Gates aren't physically connected to the main terminal building.  Instead, it's a short (as in a couple of minutes) walk from the main terminal building. The only services at these gates is a small to-go stand with packaged sandwiches and bottled drinks. So grab food on the way to the airport if needed.
Avelo Airlines Flight Review – Final Thoughts
Objectively, Avelo gave me little to complain about. It's very basic transportation, but for a short route, the technology worked, we arrived early, and the flight attendants were friendly. And frankly, the fare was cheaper than the gas needed to get from Burbank to Tucson. What more do you really need on a one-ish hour flight? You might ask, how did this differ from Breeze, which I found mildly disappointing?  To me, it's all in the expectations. Breeze markets itself as upscale and tech-y, and while the premium heavy cabins are nice, the experience is decidedly low tech. Avelo, on the other hand, promises only basic transportation with a more consumer-friendly fee structure. And in that sense, they largely deliver what they promise.
The problem for me, of course, is that Avelo flies nowhere near me. But yes, I think they're well worth considering if you're headed to/from Burbank or New Haven.