The Boeing airliner that you may have never heard of is going back to the drawing board.  Boeing announced that its next new aircraft design will start all over.  This aircraft is being designed to address the middle-market aircraft (MMA) requirements and is also known as the new-market aircraft (NMA).  New Boeing CEO, David Calhoun decided to pull the plug on the project and start from the beginning.  The beginning will start with a new market assessment.  It could take five years to design the 797 and another two years to build and test the new aircraft.  Boeing's website has never really had any information about this aircraft.
What is The Middle Market?
This class of aircraft is designed as an aircraft that seats 200 – 300 passengers flying medium-range flights.  This class of aircraft would fit the current aircraft gap:
Where the Boeing 737 and the Airbus A321 are too small and
Where the Boeing 787 and Airbus A330 are too large.
The only aircraft in the works that comes close is the new Airbus A321LXR.  As far as I know, Airbus doesn't have a contender in this market yet.  Boeing's project delay could allow Airbus time to design and build a competitive plane in the same timeframe with Boeing.  If this happens, Boeing would lose their competitive edge in this market.
How Aircraft Are Designed
Aircraft manufactures use two schools of thought in bringing new aircraft to market:
Clean sheet design where an aircraft is designed from scratch.  This method is more costly and required extensive design time.  The Boeing 787 was a clean-sheet design.
The follow-on program is where an existing aircraft is reconfigured to a new version.  This results in a quicker, less-costly design.  The Boeing 737MAX is an example of this.
Boeing's Design
The new Boeing design has been dubbed the 797 or MMA or NMA, your choice of what you want to call it.  What the aircraft is supposed to be is a shorter, twin-aisle aircraft with economy seating in a 2-3-2 configuration with large overhead bins.   This aircraft also needs to be lighter than the Boeing 767.   Before the current designs were shelved this week, the new aircraft was rumored to have two configurations:
Boeing 797-6 seating 228 passengers with a range of 4,500 nautical miles and
Boeing 797-7 seating 267 passengers with a range of 4,200 nautical miles.
This aircraft was supposed to have been announced last year at the Paris Airshow but that never happened.  Airlines like Delta, QANTAS and Qatar were interested in placing orders including 200 aircraft for Delta.
This aircraft design also represents a key replacement aircraft for the Boeing 757 and 767 aircraft currently flying.  This replacement aircraft market alone would have produced many orders.
What Happened to The 797?
David Calhoun just pulled the plug on the project development.  He says that he wants a new clean-sheet, clean-sheet design starting with a new market assessment.  I think that he pulled the plug because right now, Boeing has too much on its plate that they need to focus on:
737 MAX program – there is no absolute date to recertify but they are hoping for June, 2020
747 program – They need to determine how they are going to wind-down this program.  They only have 17 747 freighters to complete.  Could this be the 797 production line?
777X program – This program is behind schedule due to engine and airframe issues.  The maiden 777X test flight is scheduled for tomorrow.
777-8 program – This program was suspended due to adding resources to the 777-9 rollout.  The 777-8 was considered by QANTAS for Project Sunrise.
787 program – This program has been the subject of serious quality-control issues at their South Carolina plant and
KC-46 program – This Air Force tanker has had refueling boom issues and it is also the subject of quality-control issues by the Air Force.
Boeing had the worst aircraft booking year in the history of the company.  The Boeing 2019 order book ending at negative 87 aircraft.  This means that aircraft cancellations exceeded new aircraft orders.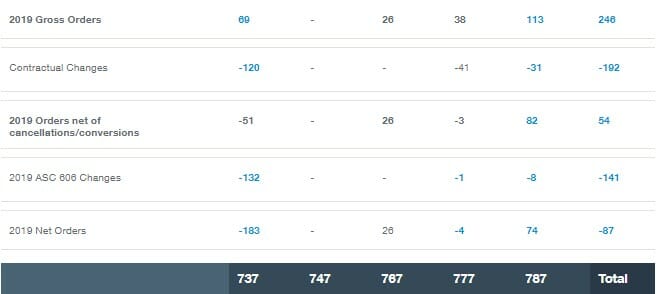 If these problems weren't enough for Boeing, they are in the process of seeking $10 billion dollars in new financing.  Since they can't deliver any 737 MAX aircraft, they haven't been receiving progress payments from their airline customers.
Missed Opportunity
Boeing clearly had the edge of Airbus in the MMA aircraft class.  Now, Airbus has the time to catch up if they want to enter the MMA arena.  One of the keys to launching a new aircraft, especially a clean-sheet design is the ability to get major orders.  There were enough airlines with sizable potential orders to get the 797 off the ground.  This latest development means that any marketing edge that Boeing had will be lost.   What does this do for airline confidence in Boeing?  Can they count on Boeing to deliver?