Hilton Honors is the world's third largest hotel loyalty program with over 5,000 properties and is well known for offering an easy path to elite status with its credit cards, even if you don't stay that often at its hotels. That said, the program is still trying to make frequent guests feel rewarded.
However you earn your status, you'll need to be familiar with the terms to get the most value from Hilton Honors. It was the first program to offer the chance to earn both points and airline miles, but it's also not known for doing much to guarantee upgrades (that may be changing). Point is, maximizing the value of Hilton Honors can sometimes require a little more effort on your part.
Earning Points
Most of Hilton's brands will earn 10 base points per dollar. If you stay at Home2Suites or Tru by Hilton, you'll earn only 5 base points per dollar. Base points are important because any bonuses you earn are a multiple of base points.
Silver members earn a 20% bonus (12 or 6 total points per dollar), Gold members earn an 80% bonus (18 or 9 total points per dollar), and Diamond members earn a 100% bonus (20 or 10 total points per dollar).
You may earn additional bonuses when you register and participate in certain promotions. For example, double points is a common quarterly promotion that would earn an additional 10 or 5 points per dollar. If a double points promotion applies, a Diamond member could earn 30 points per dollar before any credit card rewards are applied.
In an effort to simplify its rewards program, Hilton no longer offers the option to choose between points or airline miles, but it does allow you to transfer points to airline partners. The net result is similar.
Hilton Honors Credit Cards
Hilton has four different credit cards that are all issued by American Express. (Previously, Hilton also had cards issued by Citi, but these are no longer open to new applicants.) Be sure to check out current offers for these Hilton cards.
The Hilton Honors Credit Card is the base-level card with no annual fee. It earns 7X points per dollar at Hilton properties and 5X points per dollar at U.S. restaurants, supermarkets, and gas stations. Other purchases earn 3X points per dollar. Cardmembers receive complimentary Hilton Honors Silver status.
The Hilton Honors American Express Ascend Card is the premium card with a $95 annual fee. It earns 12X points per dollar at Hilton properties and 6X points per dollar at U.S. restaurants, supermarkets, and gas stations. Other purchases earn 3X points per dollar. Cardmembers receive complimentary Hilton Honors Gold status. (You can also get Gold status with the American Express Platinum Card.)
The Hilton Honors American Express Aspire Card is the super-premium card with a $450 annual fee. To offset that high fee, it includes a $250 annual credit toward airline fees and incidental charges, a $250 annual credit on eligible Hilton resort charges, and an annual free weekend night award. It earns 14X points per dollar at Hilton properties, 7X points on select car rentals or tickets booked directly from the airline, 7X points at U.S. restaurants, and 3X points everywhere else. Cardmembers receive complimentary Hilton Honors Diamond status.
Finally, the Hilton Honors American Express Business Credit Card is very similar to the Ascend personal card. It has a $95 annual fee, earns 12X points per dollar at Hilton, earns 6X points per dollar on a variety of U.S. travel and business categories, and includes complimentary Hilton Honors Gold status. If you have a business, I think it's a better option than the Ascend card, though it does lack the 6X bonus points at grocery stores.
Transferring Points
Hilton Honors will allow you to gift, transfer, or pool points with other members. These are all slightly different from each other, so take a moment to understand the differences.
Gifting points involves purchasing new points that will be deposited in another member's account. (You can also buy points for yourself.) This is often not a great deal as prices start at a penny each but are worth about half that when redeemed.
Transferring points and pooling points involve moving your own existing points into another person's account. Pooling works almost the same as transferring points, and the following limitations apply to all points moved between accounts with either method:
You can only transfer/pool points in multiples of 1,000
You can send a maximum of 500,000 points per year
You can receive a maximum of 2,000,000 points per year
You are limited to six transfers and six pooling events per year for a total of 12. A transfer is a 1-to-1 transaction where one person transfers points to another person's account. It's easiest to understand and probably what you should rely on first.
Pooling is more like an email blast. You can send a request to up to 10 members and ask them to pool points in your account.The points still end up in your account and the send/receive limits still apply. If you hit your maximum of six transfers per year, you could always "pool" points with one person to get around that restriction another six times. But pooling could be useful if you are planning a group trip (and want to book with your account because you have higher elite status than the others) or if you are going on a honeymoon and are asking friends to contribute.
You can transfer points to Hilton Honors from American Express Membership Rewards at a 1:2 ratio, which means 1,000 Membership Rewards points equate to 2,000 Hilton Honors points. But, given the utility of Membership Rewards for booking award flights through many different airline loyalty programs, I don't recommend you do this. Membership Rewards points are worth at least 1.4 cents each while Hilton Honors points are worth at most 0.6 cents each, so you would lose value in the conversion. Earn your Hilton points in other ways.
Points Expiration
Hilton Honors points will expire in your account after 12 months of inactivity. If you earn or redeem any points, that will reset the clock and prevent expiration. You shouldn't have this problem, but if you do then I recommend you try transferring them to someone else before it happens.
Redeeming Points
Hilton Honors no longer has award categories, much like Delta Air Lines, but for reference they used to have 10. Even under the old system categories were somewhat irrelevant because they listed a range of possible prices. Now that inherent variability is more explicit.
I consider Hilton Honors points worth between 0.4 and 0.6 cents each. For example, a "good" redemption of 80,000 points should cost at least $400.
Free Night Awards
The lowest and highest award prices remain the same as under the old award chart, ranging from 5,000 to 95,000 points per night. In theory most hotels are still close to their pricing under the old chart, but there is also variability based on seasonal demand and other factors. Silver, Gold, and Diamond elite members can get their fifth night free when booking an award stay of five nights or more.
If a standard room is not available, you can easily use points to book a premium room, but these often cost much, much more and do not follow a standard pricing matrix. The fifth night free does not apply to premium rooms. It is also not possible to redeem points for confirmed upgrades on an existing reservation.
Points & Money Awards
You can also choose to book your room using a mix of Points & Money instead of all points. This allows you to choose whatever ratio you like. If the standard price is $300, for example, and a free night award is 60,000 points, then a 50/50 split would be $150 and 30,000 points. A 90/10 split would be $270 and 6,000 points. Critically, Points & Money awards are still subject to taxes and resort fees, which do not apply to free night awards. Points and Cash awards are also not eligible for the fifth night free benefit.
Because of the fifth night free benefit and waived resort fees, I recommend against Points & Money awards in most circumstances. You may find it worthwhile buying any missing points so you can book a free night award.
Earning Elite Status
If you don't rely on a credit card, then you can earn elite status the old fashioned way by tracking either qualifying stays (one or more consecutive nights) or qualifying nights. Qualifying nights and stays are generally any nights booked through Hilton (rather than an online travel agent) and include both paid stays and award redemptions.
Silver status requires 4 qualifying stays or 10 qualifying nights. Gold status requires 20 qualifying stays or 40 qualifying nights. Diamond status requires 30 qualifying stays or 60 qualifying nights. Gold and Diamond members can also earn their status with base points instead of nights: Gold status requires 75,000 base points and Diamond status requires 120,000 base points.
Hilton Honors Elite Status Benefits
Benefits of Hilton Honors status are the richest for Diamond members, but Gold status is also pretty good and Diamond status is not necessarily a huge improvement. Both elite tiers are easy to obtain with the right credit card.
Note that many of the Hilton Honors elite benefits vary by brand and can appear open to interpretation. I recommend that you confirm the benefits at your hotel before you book your stay. But in general, you can expect to receive a complimentary breakfast and bottled water if you are a Gold or Diamond member, and Diamond members can expect some sort of upgrade and access to the club lounge, if available. (If breakfast is not listed as a benefit at some brands, it may be because it's already provided to all guests.)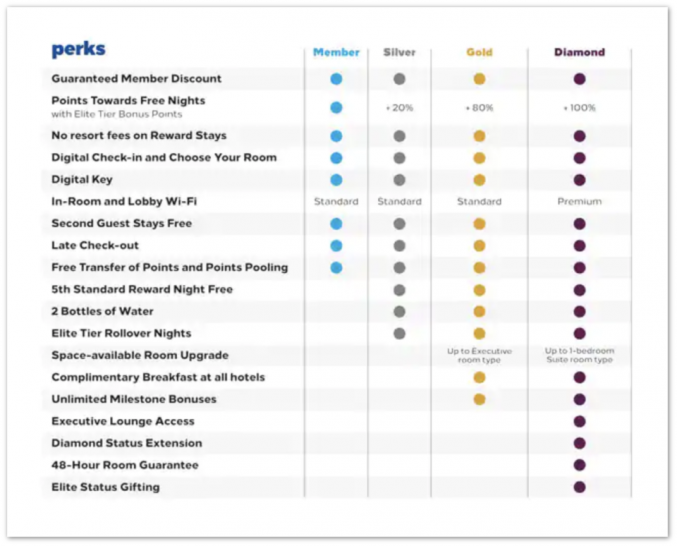 Member
Complimentary standard internet access
Late check-out
Silver
20% bonus on points earned
5th night free on award stays
Complimentary standard internet access
Two bottles of water at most brands
Late check-out
Gold
80% bonus on points earned
5th night free on award stays
Space-available upgrade
Welcome bonus of 100 to 1,000 points and/or breakfast at most brands
Two bottles of water at most brands
Late check-out
Diamond
100% bonus on points earned
5th night free on award stays
48 hour guaranteed room availability
Space-available upgrade, which may include standard suites
Welcome bonus of 100 to 1,000 points and/or breakfast at most brands
Access to executive lounge, if present
Two bottles of water at most brands
Late check-out
Milestone Bonuses
Hilton realizes that it's pretty easy to get status with a credit card, so it rewards those who do it the hard way with milestone bonuses. You can earn 10,000 points every 10 qualifying nights, beginning when you reach 40 qualifying nights. That means 10,000 points at 40 nights, 50 nights, etc. You'll also earn an additional 30,000 points one time when you reach 60 qualifying nights.
Lifetime Diamond Status
Lifetime elite status with Hilton Honors can be earned in two ways: by earning 2,000,000 base points over the entire course of your membership with Hilton or by completing 1,000 paid and/or award nights. In addition, you must have at least 10 years of past Diamond status in your account history. Remember that you earn at most 10 base points per dollar regardless of your elite status. All other bonus points don't count. This means you'll need to spend $200,000 to earn lifetime Diamond status with Hilton Honors. It may be easier to go the other route and complete 1,000 stays, including cheap award nights starting at 5,000 points.
Place Your Elite Status on Hold
Hilton Honors allows Diamond members to place their elite status on hold for one year in the case of life events that would otherwise make it difficult to re-qualify. For example, a new child, a death, or the loss of a job could all impact your ability to travel as frequently as you did before. You must meet two criteria:
Must currently be a Diamond member, and must have earned Diamond status for at least three years (need not be consecutive years)
Either (1) have completed at least 250 paid or reward nights or (2) have accumulated at least 500,000 base points
You can only request this extension one time. If you do, you'll keep your current Diamond status and it will simply last for an extra year rather than expiring on the normal date. Frankly, I think it would be easier to just get the Hilton Honors Aspire credit card to keep your status. This extension does not apply to the Silver or Gold elite tiers.