The Hilton Seychelles Northlome Resort and Spa is an amazing 5-star resort located on the main island of Mahe. Located in the popular hotspot of Beau Vallon Bay, the Hilton Seychelles Northlome offers a private and exclusive setting for guests to rest, relax and unwind or use as a base to explore the local area. The resort offers one of the most luxurious "standard rooms" available at any Hilton property. If you have a Weekend Night Certificate available or some extra points, the Hilton Seychelles Northlome would be a fantastic place to redeem them at.
The Hilton Seychelles Northlome Resort and Spa is located on the northwest coast of the island, approximately 25 minutes from Seychelles International Airport. To get from the airport to the hotel, you can take a taxi, hire a shuttle or pre-arrange private transport through the hotel. But in my opinion, the best way is to rent a car and drive to the hotel. If you're up for it, the drive from the airport is easy to navigate and will pass you through the main town of Victoria and beautiful Eden Island along the way. Hotel parking is provided free of charge.
Known as the "smallest Hilton in the world," the Hilton Seychelles Northlome offers private villas set among the hillside or along the oceanfront; each with incredible views of the Indian Ocean. If you're looking for a private getaway with beautiful ocean views, direct access to a private beach and amazing sunsets every night, then the Hilton Seychelles Northlome is for you. However, the resort is adults only (age 13 and older) so leave the little ones at home.
With only 56 private villas, the Hilton Seychelles Northlome Resort and Spa is unlike any other mega-resort. There is one main building where the hotel reception and restaurants are located at but everything else is spread out throughout the resort grounds. Instead of multiple rooms connected within a single building, each villa is built like a private tree house, set into the hillside or on stilts along the oceanfront.
Upon our arrival to the hotel, we were immediately greeted and escorted to the arrival pavilion. We were welcomed with a cold towel and a glass of sparkling wine as our reservation details were confirmed. Our passports and hand luggage were collected and we then were driven down to the main reception desk to be checked in. Cars are not allowed on the hillside property so guests are driven around by golf cart.
Hilton Seychelles Northlome King Hillside Villa
On this trip, I booked a "standard room" award using a combination of my Citi and AmEx Hilton Weekend Night Certificates and Honors points for a 4-night stay to celebrate my 40thbirthday. The Hilton Seychelles Northlome requires 95,000 points for a standard room award (King Hillside Villa). This may sound like a lot but trust me; it's worth it. The average cost for a standard room during peak season is about $600 per night.
Each villa is designed in colonial Seychellois architecture with rich wood paneling, soft ambient lighting and bright pops of colors. And they are huge. At almost 1000 square feet, each villa is larger than most New York City apartments. Our King Hillside Villa (room 223) featured a king-size bed, spacious seating area, desk and entertainment center.
The king-size bed was soft and comfortable and the mosquito netting allowed us to keep the balcony door open without fear of being bitten at night.
For me, the en-suite bathroom was the highlight of the room. The bathroom was bright and spacious with an incredible open shower, whirlpool tub, dual sinks and a private toilet area.
I mean, just look at this view from the tub!
And from the shower.
Bathroom amenities included Peter Thomas Roth branded shampoo, conditioner, body wash and after-sun gel, along with dental and shaving kits.
The large balcony featured a daybed, sitting area and two sun loungers. We hung out here every day with a cup of coffee in the morning and a glass of wine to cap off the night. It was the most amazing experience and it made us feel as if we were in a private tree house, set high above the tropical forest, overlooking the ocean.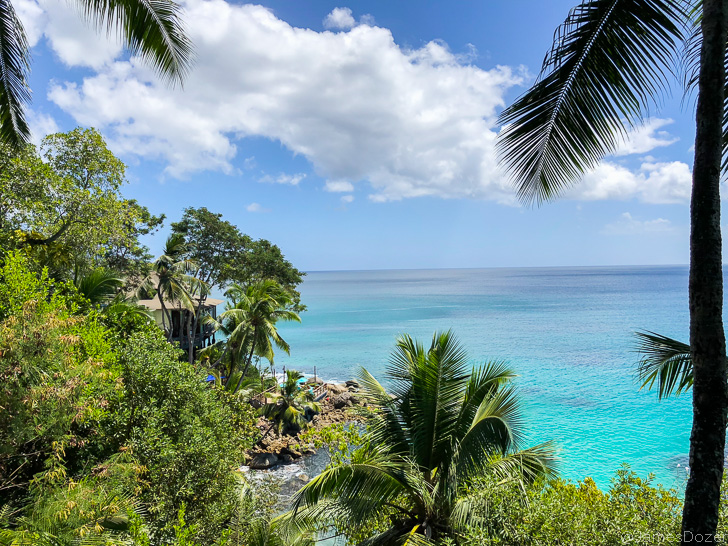 Room amenities included an in-room safe, Nespresso machine and mini-fridge.
Our welcome amenities included a fruit plate, bottle of red wine, souvenir bar of coco de mer soap, and vouchers for two free drinks at the bar
This room was fantastic and we absolutely loved it. If you can check-in online or pick your room in advance, I would recommend this room. The room was spacious and could easily accommodate a full-size, roll-away bed if needed. It had a great view of the ocean and a killer view of the sunset over Shilouette Island each night.
Hilton Seychelles Northlome Resort and Spa Grounds
Resort amenities included a fitness center, spa, infinity pool and a private beach with complimentary use of water sports equipment (kayaks, paddle boards and snorkel gear). The fitness center was decent and had all the necessary equipment to work off all those extra vacation calories including cardio equipment, resistance machines and free weights.
The pool itself was small but the pool deck had plenty of lounge chairs and cabanas to relax and soak up the sun.
The private beach was also small but the white sand was super soft. The water was crystal clear and the free equipment rental allowed us to hang out in the water. We took out the kayaks and paddle boards a couple of times during our stay and it was awesome. The water was totally calm and the protected bay was the perfect setting for stand-up paddle boarding.
If you need a place to stay after checking-out (but before departure to the airport), you can use the library located in the main building. This comfortable space offers guests a place to lounge about and kill some time before leaving for the airport. This is especially useful considering many flights departing Mahe are timed later in the evening. The library offers free snacks and beverages, WiFi, computers and sofas/chairs to lounge about. Shower facilities are also available if you decide to spend your last day at the beach or lounging at the pool.
This totally worked out for us as our late check-out was at 4:00 PM but our flight wasn't until 9:00 PM. Waiting here was much more ideal than waiting at the airport.
Hilton Seychelles Northlome Dining
There are three restaurants located on-site, including the Hilltop Restaurant where breakfast is served each day. There is no Executive Lounge here so all Hilton Diamond and Gold members will enjoy breakfast at the restaurant. Fun fact, the Hilltop Restaurant is where Ian Flemming's former house was located at and it is said that this setting inspired his book, For Your Eyes Only.
The breakfast buffet spread was impressive with traditional hot and cold items, an omelet station and a "make your own" juice bar.
There were also "make your own" Bellini and Bloody Mary stations. You are on vacation, after all.
Beau Vallon Beach
Beau Vallon Beach is a quick 5-minute drive from the hotel (15 minutes walk). There is a bustling scene with restaurants, shops and vendors and a beautiful beach popular with both locals and tourists.
If you want to try some local cuisine, I would recommend the Boathouse restaurant. For dinner, the restaurant offers a Creole buffet for 450 SCR per person.
Or if you want something more affordable, the Boboa Pizzaria offers pizzas and other casual food items right on the beach at a more affordable pricepoint.
Hilton Seychelles Northlome Resort and Spa bottom line
Overall, we had a fantastic stay and we were very impressed with the Hilton Seychelles Northlome Resort and Spa. It was the most luxurious and beautiful resort I have ever stayed at and the "standard room" would rival some premium rooms at other ultra-luxury resorts. The service was impeccable, yet friendly and personable. Each employee made a genuine effort to remember our names, offer travel advice and attend to our every needs. This resort was incredible and I would stay here again in a heartbeat.
Have you stayed at the Hilton Seychelles Northlome? If so, please share your thoughts with us in the comments section below. Thanks for reading!
The other related trip reports in this series: