Cruising can be a great way to spend a vacation. You get on a ship, unpack once, and then get to explore several places without having to live out of a suitcase or change hotels. Cruises can take you to the most remote places on earth, where planes, trains, and automobiles cannot go. Yet, so often a segment of the population is left out of the option of traveling and cruising. But did you know, you can cruise both domestically or to a foreign port without a passport? There are several cruise options for those without passports and undocumented Americans.
Are you looking to book a cruise? I can help you! Contact my travel agency, Scott and Thomas Travel.
Can You Go on a Cruise Without a Passport?
The short answer is YES.  As it depends on where you are traveling to and from. Cruises that depart from North America, specifically the United States and are close loop sailings do not require a passport. There are other ID requirements and can be found here. Cruises that visit multiple countries do require proof of residency and valid entry in the United States as they do go through US Customs and Border Patrol on departure and arrival.
Closed loop cruises are considered cruises that start and end at the same port. Such as a round trip cruise from say Los Angeles or San Diego to Mexico or a cruise that visits the Caribbean islands but starts and ends in Miami. These are perfect for US lawful residences without passports.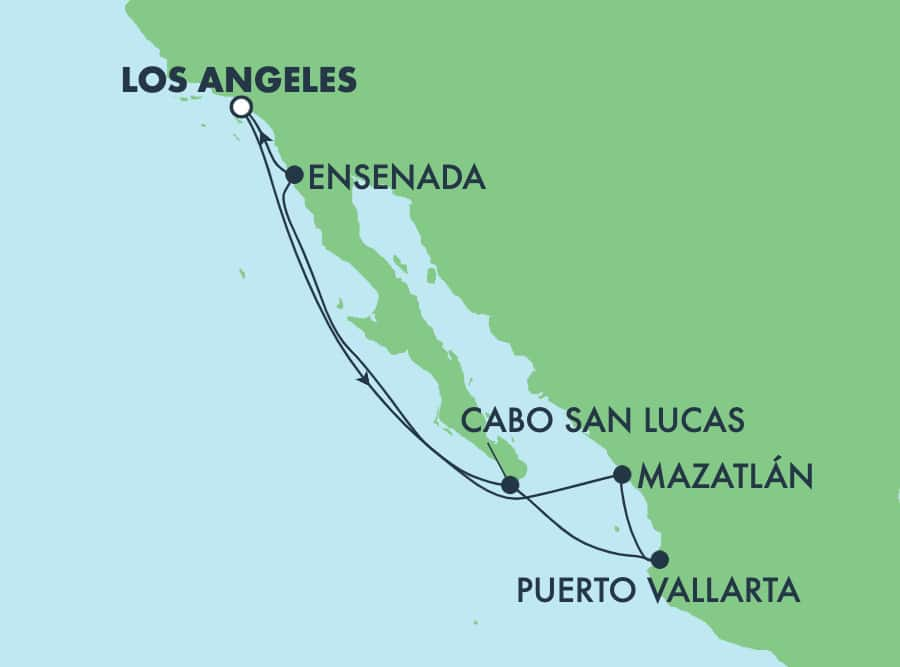 U.S. Citizens
On Close loop cruises, for citizens of the United States and Canada, the Western hemisphere travel initiative applies. Depending on the passenger's age, only a birth certificate or other proof of citizenship is needed. For those over 16 additional identification is needed such as an Enhanced Driver's license or a government issue ID card.
USCBP specifically states
U.S. citizens on closed-loop cruises (cruises that begin and end at the same U.S. port) are able to enter the United States with a birth certificate and government-issued photo ID. Please be aware that you may still be required to present a passport to enter the countries your cruise ship is visiting. Check with your cruise line to ensure you have the appropriate documents.
An example would be taking a Royal Caribbean cruise from Seattle to Alaska with a stop in Victoria, Canada. On this cruise no passport would be required for U.S. Citizens. The same would apply for a Vikings Great Lake cruise with port of calls in the United States and Canada. 
One Way Cruises To and From the United States
For U.S. Citizens traveling by ship to the United States, there are also times with a passport would not be required. There are several One way cruises from Vancouver to Alaska or between New England and Canada. These cruises do not require a passport either. Instead U.S. citizens can present any of the following options: valid Passport Card; Enhanced Driver's License; Trusted Traveler Program card (NEXUS, SENTRI or FAST); U.S. Military identification card when traveling on official orders; U.S. Merchant Mariner document when traveling in conjunction with official maritime business; or Form I-872 American Indian Card, or (when available) Enhanced Tribal Card.
I recently took my grandmother on a Seabourn Cruise to Alaska. She does not have a passport but only an Enhanced driver's License. We drove to Vancouver, BC and then sailed to Juneau Alaska on a one way cruise. We then flew back to Seattle. The EDL was all she needed for this trip. 
Cruises Inside USA Only
Did you know that there are hundreds of cruises that are on US Flagged vessels and operate 100% within the United states. On these cruises only a government-issued photo I.D. which includes a passport or a valid driver's license with a photo is accepted. You do not even need a REAL ID. Many states still issue both REAL ID and IDs which do not require proof of legal residency. REAL IDs tend to have a STAR and others state, "federal limits apply". On cruises that are WHOLLY within the United States do not go through Immigrations and customs. It's like taking a ferry from Seattle to Bainbridge or to Long Island.
There are both ocean cruises and river cruises which have zero needs for passports or proof of residency. Travelers can explore the Hawaiian Islands with Norwegian Cruise Line Pride of America Cruise Ship. No Passport Needed. Uncruise also has a Hawaii cruise option on a smaller ship, once again only a photo ID is needed. No CBP, No worries!
Is Alaska on your mind? American Cruise Line and Lindblad Expeditions both offer cruises that operate 100% within the United States and have no passport requirements. Choose from Cruises from Seattle or wholly within Alaska. Both only require a valid photo ID.
River cruises are also very popular options within North America and have no passport or proof of residency requirements. Viking river cruises, Lindblad Expeditions, American Cruise line, and American Queen Voyages offer river cruises on several rivers and lakes. Explore the Columbia and Snake Rivers or the Mississippi by luxury ships. There are several options in the Midwest and East Coast, such as the Cumberland, Ohio & Tennessee Rivers.
Select from an upper or lower Mississippi cruise. Or combine them and do them all
American Queen Voyages offers beautiful Paddle wheelers on several routes. Take a step back in history and set sail on a fun and unique travel experience. Plus every Scott & Thomas customer receives an onboard credit and exclusive savings!
There are also other ocean going options such as cruises through New England. Take an in depth cruise of Maine and the state's beautiful harbors or cruise from Boston throughout greater New England. There are several options for those looking to travel by boat. Plus there's a big advantage, most of the ships are smaller, offer a more premium experience.
Are you considering a cruise? Let my agency Scott & Thomas find your cruise vacation. Email me today and let me help find your perfect vacation. There are many benefits of using a travel advisor, from customized service, to insider knowledge and even additional onboard credit. 
Bottom Line
Only 37% of American adults say they have a valid and unexpired U.S. passport. The United States is also home to more than 11.7 million undocumented residents. With long passport wait times and a growing number of Dreamers, people want to travel who might not have proper documentation. Not having a passport does not mean your cannot travel. Your travel may be restricted, but there are still options for those who are interested in cruising. Consider a cruise within the United States, a river cruise, or a close loop cruise. These are some of the best options for those without passports.