I matched to United Premier Platinum over the summer and needed 18,000 Premier Qualifying Miles to keep the status through January 2015.  While I'm still kind of iffy on actually having to flying United, the status has come in handy, especially with free changes on Star Alliance awards.  I transfer my family's Ultimate Rewards points to my United account, which allows me to make free changes and cancellations.  Already, I've saved about $600 in fees, more than the incremental cost of my trips to secure the status.
With a month left in my challenge, I needed about 1400 more miles to secure Platinum.  When I saw a cheap LAX-EWR-ZFV (Los Angeles – Newark – Philadelphia 30th Street Station), I jumped on it.  When deciding which flight matched my schedule, I saw a flight on an internationally configured United 767-400ER with the Continental-style BusinessFirst seats.  I love me a good transcon flight on a premium product, so I booked that flight and borrowed a Regional Premier Upgrade (RPU) from a friend to clear into First. I likely wouldn't have cleared with a Complimentary Premier Upgrade (CPU) as a Platinum on a cheap N fare.  As a Delta flyer up 'til now, I was amazed at the ability to clear into a transcon premium class a few weeks out on a cheap $109 one-way fare.  Such things aren't possible with Delta.
Pre-Flight
I began the day by lounge hopping at LAX. Terminal 6 is where Premier members check in, and I needed to do that since trips with an Amtrak component don't allow mobile boarding passes.  While the United website says that Pre-Check is in Terminal 7, the line technically starts in Terminal 6, so I was able to get through security pretty easily.
Since I was near Terminal 6, I first headed to the Alaska Airlines Boardroom, which I have access to on account of my Priority Pass Select membership thanks to the American Express Platinum card.  The Alaska Boardroom is great since it's in Terminal 6 and is accessible from both Terminal 5 (Delta) via a tunnel and Terminal 7 (United) via a walkway.
I arrived at about noon, just as the lunch salad and soup were being put out. It wasn't much food, but more than in a United Club, and was good enough to make up for missing breakfast.
After visiting a lounge with real-ish food, I headed to Terminal 7 to catch my flight, but not before finally visiting the Terminal 7 United Club to put my name down on the message board. I think it's really cool that United allows a space in the copy room for the board.
I got in to the United Club because I have Star Gold status via a non-US carrier (Aegean Airlines). Although I was crediting my flight to United, I simply had to show my Aegean Gold card at the desk.  I was only in the club for about 10 minutes before leaving to board my flight. United has really gotten boarding down with their group lines. While Group 1 includes a lot of passengers (Global Services, 1Ks, Platinums, and First Class), it's easy to get around any gate lice since everyone is lined up in their own row.
United 1150
Los Angeles (LAX) – Newark (EWR)
Boeing 767-400ER, Seat 1L (window)
Depart 1:10pm
Arrive 9:31pm
The Seat
I chose seat 1L, on account that I love window seats and that the bulkhead seats have a bit more room in the foot well because of no cutout for a seat in front.  While I didn't sleep on the afternoon flight, I did recline all the way back while watching a couple of movies.  The PMCO seats on the 764 aren't the longest, as my feet were touching the bulkhead wall. For reference, I'm about 5'10". This seat is near the galley and it's possible that you'll have "light pollution" if the curtain isn't properly closed. It would probably be annoying on a night flight where you're trying to sleep. This was an afternoon/evening flight, though.
The seat is otherwise the standard Continental-style BusinessFirst seat, with intuitive controls to turn the seat into a bed, as well as easy controls in the "shell" of the seat to turn on the light and adjust the seat while in a flat bed arrangement. The 15″ screen has plenty of movies and shows on the IFE. I watched "The Great Gatsby" and only rewound the part with "Rhapsody in Blue" about 10 times considering I was flying United :-P. Lastly, each seat comes with power outlets, a huge plus.
United has an interesting configuration on this aircraft in BusinessFirst, with a "2-1-2" layout.  Travelers in the middle get a solo seat with an aisle on either side of them.  While this is great if you want direct aisle access and no neighbor, you do get aisle traffic on either side of you, particularly during the meal service.  There are tradeoffs with each seat in this configuration.
Food & Drink
I ordered a gin & tonic as a pre-departure beverage, but due to an urgent e-mail that needed to be addressed before I was without WiFi for 5+ hours, I barely got a sip in!  Menus were passed out before departure.  I was a bit intrigued that this was the "Premium Transcon" menu, which I presume is the same as United's Premium Service (p.s.) flights between New York JFK and Los Angeles or San Francisco.  While the meals are the same, our flight to Newark didn't get pillows, duvets, eye covers, or other goodies, and wasn't on a plane with WiFi.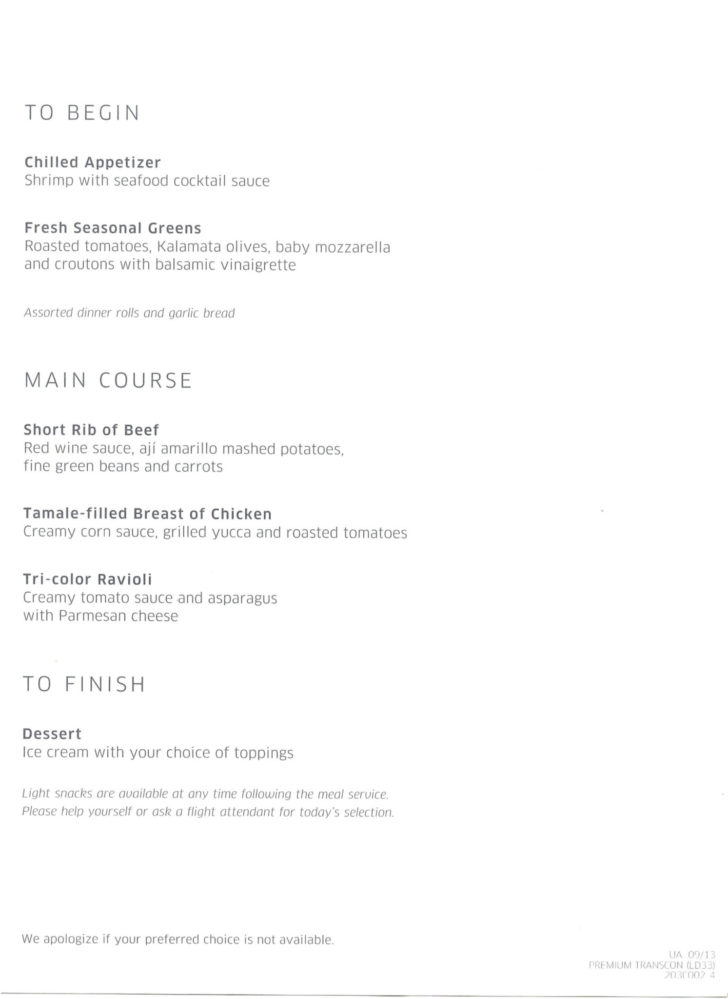 Service was a bit slow.  For example, the flight attendants served hot nuts, but it took 10 minutes to deliver the drink orders they'd taken.  Or in another case, they went around with bread so late that most passengers had finished eating their entire main course.  It's a total #FirstWorldProblem, but it's little things that stand out.
It was a pretty good meal, though I have to give Delta a slight edge on their transcontinental BusinessElite menu.
The rest of the flight was uneventful.  I ordered a Baileys and Coffee about 30 minutes before landing and enjoyed the nighttime views as we approached Newark.
All in all, despite some minor complaints, it was a good flight and a good use of a Regional Premier Upgrade (RPU) on a cheap coach fare, especially from the west coast.  I recently booked United's new p.s. business configuration between New York-JFK and Los Angeles, so I'll be interested to see how much more "premium" that route is over this route to Newark.