If you're looking for that truly memorable Los Angles experience, then it doesn't get much more impressive than the brand new InterContinental Los Angeles Downtown. Located in the heart of LA's financial district, InterContinental's newest property will be the envy of other hotels thanks to its towering 73 stories and world-class views overlooking all the other skyscrapers in Los Angeles. The InterContinental Los Angeles downtown just opened on July 2 and it will surely be LA's hippest hotel and swankiest nightspot.
The hotel is located approximately 30 minutes from LAX and is walking distance to some of LA's most iconic attractions including the Walt Disney Concert Hall, LA Live, Staples Center and the Broad Museum. The hotel is located inside the Wilshire Grand Center and is accessible by car, bus, or metro. In addition to the local attractions, there are many bars, restaurants and entertainment establishments nearby.
Entrance to the hotel is located on the ground floor and the lobby is located on the 70th floor. Valet parking is provided at $46.00 per day. This is one of those hotels where you have to take one set of elevators to the lobby floor and then take another set of elevators to the guest room floors.
The InterContinental Los Angeles Downtown is all about first impressions and it does not disappoint. Upon exiting the lobby elevators, you'll be greeted by the open and spacious reception area with large floor to ceiling windows and impressive views of downtown Los Angeles, Hollywood, and beyond.
The windows were a little dirty but you get the idea. How's this for a sunset view from the lobby?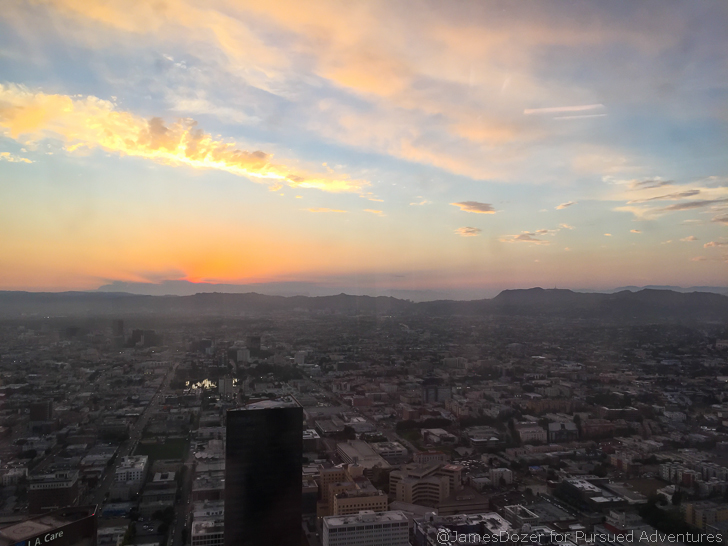 Needless to say, service was top notch and we were checked in within a few minutes. On this trip, my friends and I stayed here for one night using my Chase anniversary certificate. I booked a two-queen bed superior room and as a lowly IHG Platinum Elite member, I was offered a welcome amenity of 600 IHG points upon check-in (but no room upgrade). The guest rooms are all located on floors 31 through 68 and we were assigned room 4811 on the 48th floor.
Just like the rest of the hotel, the standard guest rooms are chic, modern and beautifully decorated with rich materials and elegant fixtures. Our room was furnished with two queen beds, a small sitting area and a work desk. The simple yet modern design aesthetic and use of ambient lighting created a warm and welcoming environment and the many drawers and closet spaces allowed us to spread out and unpack our belongings. US standard electrical outlets are provided throughout the room including by the beds, desk and counter.
Floor to ceiling windows let in a ton of natural lighting and make the room feel open and airy. Along with views of downtown Los Angeles, our room had a partial view of the Hollywood Hills. If you look closely, you can see the Hollywood sign off in the distance.
Room amenities included slippers, robes, an in-room safe, iron/ironing board, mini-bar fridge, and Keurig coffee machine with a selection of coffees and teas.
The enclosed bathroom was open and spacious and featured a walk-in shower, bathtub, single sink, and a separate toilet area. The beautifully designed frosted glass window — leading into the main living area — had a clear top and a translucent bottom for privacy.
Agraria branded Lemon Verbena bath and body products and other personal care items such as cotton swabs and a sewing kit were provided for our use.
Other hotel amenities include a rooftop pool and bar located on the 7th floor with lounge chairs, day beds and cabanas. A fitness center is in the works but it wasn't completed yet at the time of my visit. If you want to get a workout in before their fitness center is completed, the hotel will allow you complimentary access to the Gold's Gym across the street.
We didn't get a chance to go up there but there are several restaurants on-site along with a stunning, open-air rooftop bar (Spire 73) located on the 73rd floor. Fellow blogger Matthew Klint, from Live and Let's Fly, was at the ribbon-cutting celebration and shared some of his pictures with me here.
InterContinental Los Angeles Downtown Bottom Line
It was only for one night but we thoroughly enjoyed our visit to the InterContinental Los Angeles Downtown. The brand new hotel is just stunning with world-class views and a prime location in the heart of downtown Los Angeles. The hotel is definitely on the "higher end" of things so expect room prices to be in the mid $200 – $300's for standard rooms, and food and beverage prices to be typical of LA prices, if not slightly more expensive. That being said, if you are looking for that truly authentic Los Angeles experience, even if it's just for one night, then the InterContinental Los Angeles Downtown is the place to be (and stay).
What are you thoughts of the brand new InterContinental Los Angeles Downtown? Please share your thoughts with us in the comments section below. Thanks for reading!