A couple weeks ago I was invited to attend a live concert by Walk the Moon at the new Waldorf Astoria Las Vegas. This was my second Hilton Honors Experience after a similar concert in Washington D.C. It's a good reminder that there are other good ways to redeem your points besides a free hotel night.
Some of you might be yelling "sacrilege!" It's a rule of thumb that you should only redeem airline miles for free award travel. But hotel points have more wiggle room. There have long been opportunities to transfer them to an airline partner for even more airline miles. Sometimes you can use them for ordinary retail purchases (although I don't recommend using Hilton points at Amazon.com). More and more, we are also seeing hotels and airlines offer unique experiences.
Remember: the value of a redemption is what you get out of it. If you can get the same thing and pay less in cash, then sure, pay cash. Most of those once-in-a-lifetime trips are still cheaper with points, and this is often how I maximize my miles. There are also some experiences that are simply difficult to arrange and pay for yourself. I think those can be a good use of points, as well.
Hilton Honors Experiences is a great option for people who already spend enough time on the road and don't want their reward to be another night in a hotel. Besides music there are other experiences such as a day at the Masters, a live taping and behind-the-scenes tour of Jimmy Kimmel Live, or tickets to the Kentucky Derby. Some appear more expensive than others, but they might include a hotel stay and other add-ons, so be sure to read the details.
Walk the Moon was the first in Hilton's 2019 Concert Series, which will include five other exclusive acts around the world later this year. (There are also other Hilton Honors Experiences where Hilton will buy you a ticket to events open to the public.)
March 1: Walk the Moon (Las Vegas, NV)
May 16: Jake Owen (Houston, TX)
June 15: Jessie J (London, UK)
September 12: Brett Young (Nashville, TN)
October 15: Portugal. The Man (Los Angeles, CA)
November 8: Fitz and the Tantrums (Washington, DC)
Packages for the concert series cost between 50,000 and 75,000 points and include two tickets along with pre- and after-parties. To put that in perspective, I value Hilton Honors points at about 0.6 cents each, which means 50,000 points is about $300. That's a fair deal.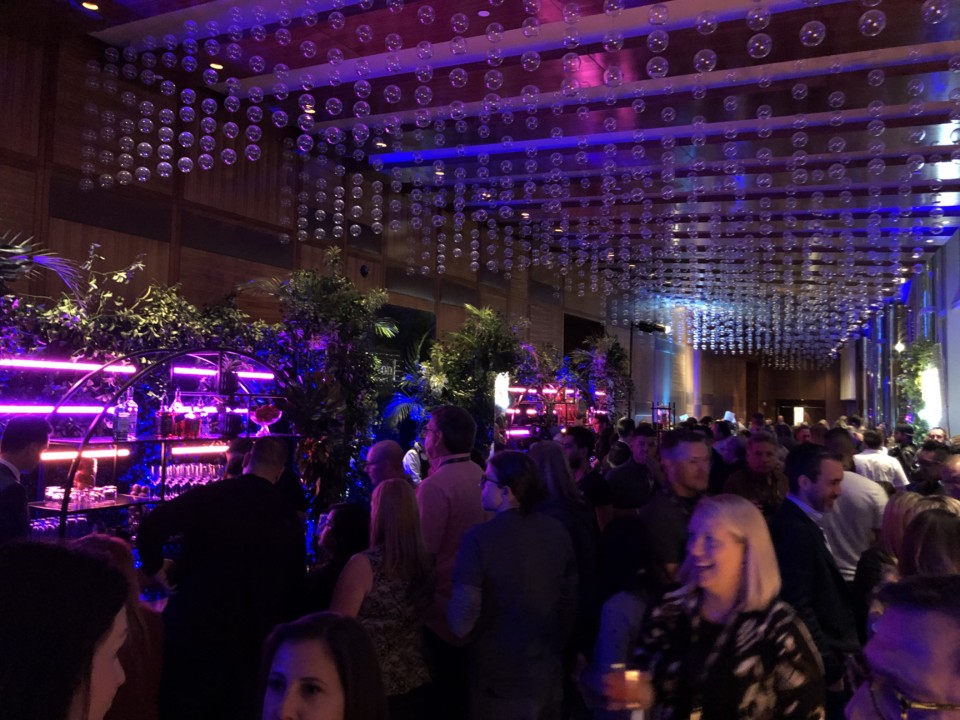 True, I'm an old soul easily satisfied with some jazz and a glass of scotch, but I was impressed by the intimate space at the Waldorf Astoria and the free-flowing drinks. There were even some private meet-and-greets with the band before the show for those who bid extra points in an auction. Hilton really invested some effort to make the concert series a success.
I certainly don't travel as often as I used to, but similar unique experiences have been the main reason that I try to stay on the road. These are the strongest memories I have, whether it's running into friends in London, riding elephants in Chiang Mai, sailing in the Virgin Islands, or diving with sharks. The fancy hotels and flights, yeah, they're nice, but they are only a means to the end.
The great thing, as I said, is you don't have to worry too much about whether you're maximizing your redemption value on something like Hilton Experiences. Events like these aren't necessarily available elsewhere so the direct comparison isn't possible. It really comes down to what you value, which is the most important question anyway.